Croatia offers the best gourmet experience!
Before we discuss the top Michelin restaurants in Croatia, it might help share some information on the history of Croatian dishes. This country can offer the best-tasting journey through the old and new. You can dine in an abandoned medieval village, pluck oysters on a click or taste handmade olive oils. And if this is not enough to convince you Croatia is the best destination for a premium gourmet experience, here are some other facts.
The capital city Zagreb gets you quick access to authentic flavors
Even a crowded and busy city like Zagreb can offer some interesting insights on Croatian cuisine. The capital city is characterized by cobbled streets, modern architecture, old alleyways, and local markets. And the best way to get a taste of a traditional recipe is in the heart of the Old Town. You can have your first Croatian dinner in Zagreb and experience a mix of influences from across the country. So, it would help if you got ready to indulge in a unique culinary experience based on new and old recipes.
Our tip is to check the city's local market. Here you can sample local flavors and ingredients straight from the locals. Make sure you try sljivovica, cherry brandy, plum rakia, and local honey.
Try the subtleties of Istria in Pula
Istria has numerous gourmet experiences to offer, and if you book a villa for rent near top local restaurants, we guarantee you'll spend your day trying diverse dishes. But we recommend you explore Pula beyond the impressive amphitheater and sophisticated architecture. Here the local Istrian cuisine was influenced by Rome and Venice, as is the case with the architecture.
Our advice is to try a dish with fresh mussels, the traditional Prsut, and a steak prepared by an ancient Croatian recipe. And since you're visiting Istria, make sure you indulge in a wine tasting session at one local istrian wineries.
Get a taste of the sublime truffles after a truffle hunting session near Rovinj
If you're looking forward to experiencing more Croatia, booking a truffle hunting adventure is the best idea for you. And staying in Rovinj can get you fast access to this. Besides the beautiful gothic town and lush green vegetation, you can easily reach from Rovinj, the town of Motovun. This is an iconic Istrian destination thanks to the truffle hunting and local delicacies made from such precious ingredients.
We encourage you to go for a forest hunt for truffles and enjoy a unique dish in this marvelous scenery. Make sure you request a glass of local wine so that your culinary experience is complete.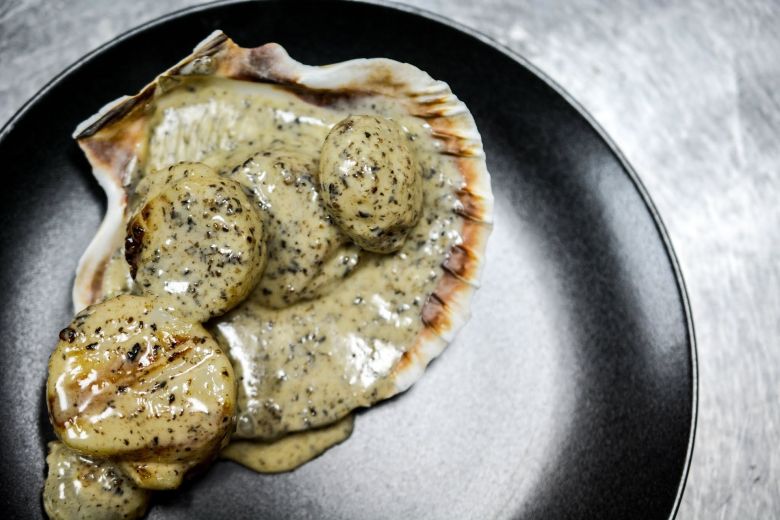 Dalmatian fine dining in Split
Split is popular among tourists thanks to the impressive Diocletian's Palace, the well-preserved remains of the Roman Emperor and several premium restaurants spread all over the city. This means you can have a fine dining experience in Split with seasonal Mediterranean produce and an outstanding wine list.
Some of the must-eat dishes in Split include grilled fish, brudet (a sea stew), the iconic prosciutto of Dalmatia, and Rozata (crème caramel pudding part of the Croatian heritage dishes).
Dreamy landscapes, island wine, and authentic olive oil tasting in Hvar
Hvar is famous worldwide because of its exciting setup and outstanding views over the Adriatic Sea. It is part of the UNESCO World Heritage List, and it can offer you an authentic Croatian experience. Besides this, Hvar is near the best olive farms in the area, meaning that you can indulge an olive oil tasting of several fresh organic produce sourced from the island.
Some of the local foods you'll find in Hvar include a local stew dish named Gregada and the famous sweet cookies Starogrosjki paprenjok. Our advice to check the local wine variety and get a taste of the premium white wine Bogdanusa.
Check out the dried figs and liqueurs in Korcula
Not many people know that Korcula takes its pride from the locally dried figs. This city has a vibrant 15th-century flair, and it can welcome you in a friendly dining environment. Most restaurants in the area are locally owned, meaning that you'll get the chance to experience an authentic Croatian dining approach. Korcula is a great place to taste dried figs, fragrant vegetables, and rakia. This area is also famous thanks to the qualitative olive oil products, so you might want to include that on your itinerary.
Our food tasting tips for Korcula include the must-try traditional homemade pasta named Makaruni. It would also be best if you didn't overlook the lamb, fish, and meat dishes. Some of the local wines from Korcula include the Posip, Postup, and Dingac.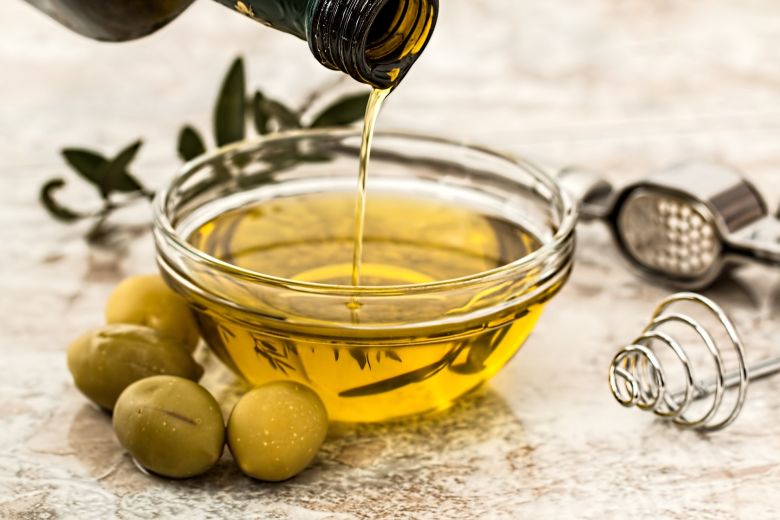 Receiving a premium culinary experience with top Michelin restaurants in Croatia
Now that we shared a small overview of the authentic Croatian cuisine dishes in the top cities, we can move forward to the best and most reputable Michelin restaurants. These are part of the famous Michelin Guide, meaning that they comply with thorough regulations, but at the same time, provide the best culinary experience in Croatia. So, let's see what you should include in your itinerary to make the best of your visit!
Dubrovnik's jewel, the 360 restaurant and its premium cooking dishes
According to Michelin's rating, this one-star premium restaurant is extraordinarily cozy and delightful. The 360 restaurant is a top location in Dubrovnik, thanks to the high-quality cooking approaches. The main feature of this restaurant is the unique position within the town of Dubrovnik. It comes with a terrace that goes along the medieval walls and fortresses of St. John. And the best part about having a fine dining experience at the 360 restaurant is that it opens up with a breathtaking sea view over the port.
Overall, this restaurant gets its inspiration from local flavors and ingredients. Also, you'll notice a lot of influences coming from the authentic Dubrovnik dishes and Mediterranean cuisine. According to the Michelin guide, some of the premium dishes you should try to include the Foie Gras terrine with homemade brioche, the roasted sea bass with sea fennel salad, spinach, and Swiss chard sauce, and the mango with white chocolate and champagne mousse.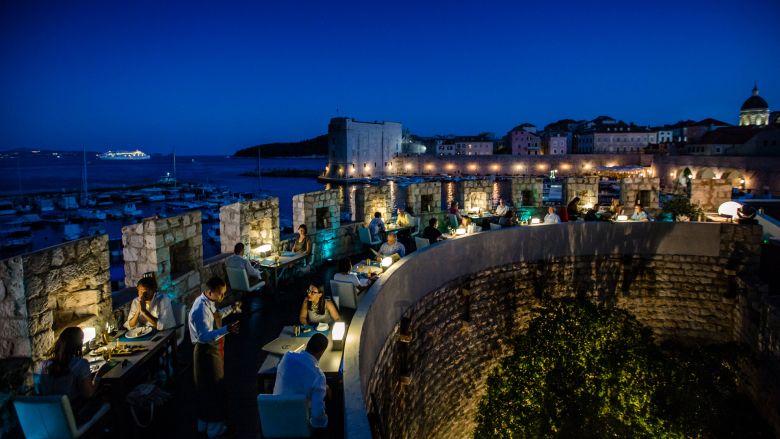 360dubrovnik.com
Gorgeous Mediterranean cuisine at Korcula's top location: the LD Restaurant
If you're looking forward to a unique dining experience, the LD Restaurant in Korcula might meet your expectations. It is part of the Michelin Star guidelines, and we can say that its menu deserved all the appreciation. Everything is ingredient-focused, meaning that you'll get the chance of indulging in dishes created based on the food available seasonally. Besides, each recipe starts with some inspiration from the rich Dalmatian cuisine, bringing you the best overlook on authentic Croatian dishes. We do like LD's terrace since it offers a panoramic view over the Peljesac channel and the Korcula archipelago. This terrace goes along the Old Town medieval wall, yet we recommend you consider an interior seat, too. It can provide a private dining experience to enjoy in a cozy environment.
Mostly, the LD Restaurant stands out due to the fresh local produce used in its cooking approaches. And as the Michelin guide indicated, some of their specialties stand out as the best in the region. Make sure you try the Bluefin tuna sashimi with corn panna cotta, the rack of lamb with green peas puree, and the chocolate caramel with whipped cream, toasted almonds, orange, and sea salt.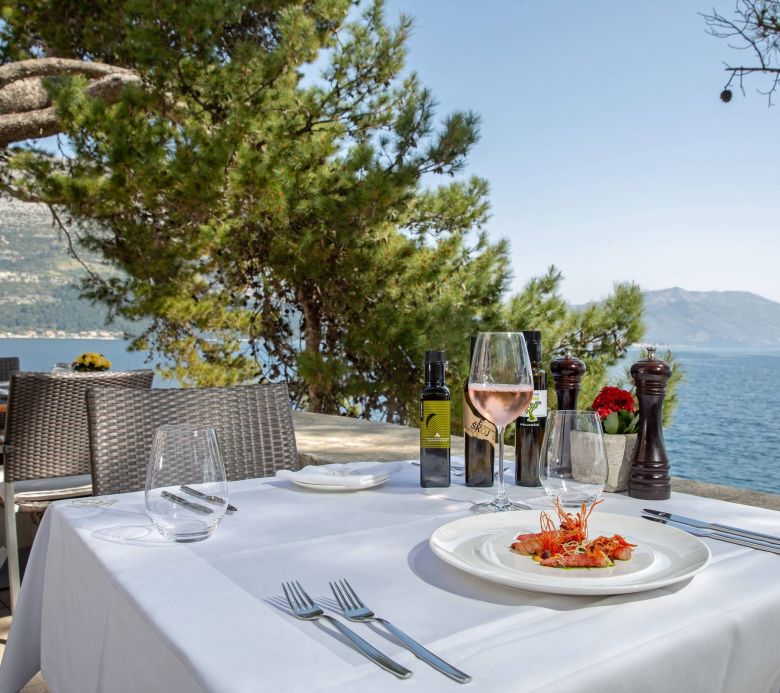 crogourmet365.hr
Modern cuisine in Zagreb available at Noel
Another top choice in the Michelin guide for Croatia is the Noel restaurant in Zagreb. This place takes its pride form mixing and matching premium local gastronomy with international approaches. And as the Michelin guide suggests, the Noel restaurant stands out due to the dishes' quality and fantastic location. If you're searching for a different culinary experience in Croatia, this might be the perfect place for you. The chef uses locally available ingredients to transform into modern and creative dishes inspired by Croatian, French and Italian cuisines. Our suggestion is to take your time to indulge in a wine tasting session. You'll be amazed by the variety available!
The Noel restaurant in Zagreb stands out due to its innovative menu. So, we recommend trying the almond risotto with seaweed, lobster, and lobster butter or the Adriatic fish accompanied by baked celery, garlic, and bone marrow.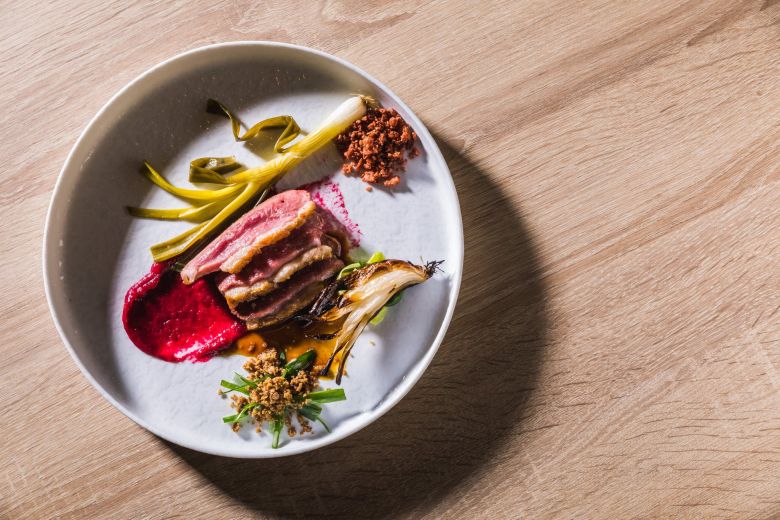 croatiaweek
Explore the rich culinary history of Sibenik at the Pelegrini restaurant
Sibenik is popular all over Croatia thanks to the Roman and Venetian influences. And you can easily notice this by a simple walk around the city. But if you aim to go even further, a stop at the Pelegrini restaurant is a must. This is another Michelin rated restaurant that will leave you speechless. Its menu features interesting local ingredients like mussels, oysters, sea urchins, and distinct fish types. But at the same time, you get the chance to taste unique meat-based dishes with a focus on veal and lamb.
According to the Michelin guide, this is one of the most comfortable restaurants in Sibenik. Also, the staff is more than welcoming and can provide additional information on the dishes available. The specialties you should try include the veal roll cevapcic with marinated mussels, the veal under the bell with fish and lardo, and the floating island, a dish based on crispy caramel.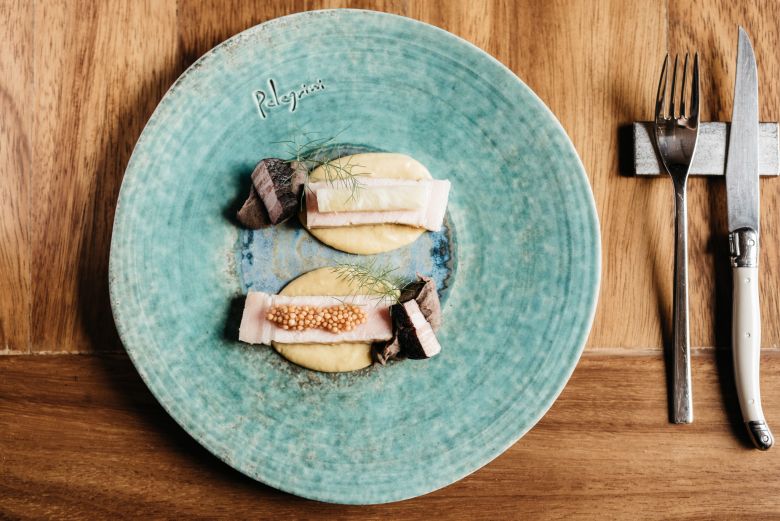 Pelegrini
Mediterranean sceneries in Novalja won't be complete without a dining experience at Boskinac
The Boskinac restaurant is an iconic location in Novalja, appraised by the Michelin guide. It stands out thanks to the chefs' creativity, who can mix and match the taste and smells of authentic Mediterranean cuisine. Besides, you can taste a distinct reinterpretation of authentic Croatian cuisines, which will leave you speechless. And the best part about dining at Boskinac is that it is known for its large reserve of authentic Croatian wines!
Each specialty from Pag Island has its proud place on this restaurant's menu. So, you can taste anything from local olive oil, cheese to the famous Pag lamb. As the Michelin guide recommends, make sure you try the Lamb from the Pag island dish. It is made from lamb muscle, crispy skin, carrots, pine tree, and wild island herbs.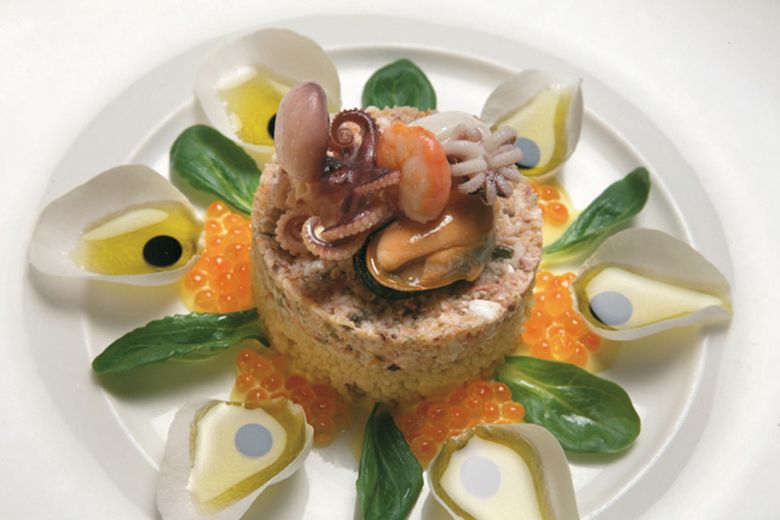 Gastronaut
Mediterranean cuisine with a twist at Draga di Lovrana in Lovran
Michelin's guide admits this restaurant has a breathtaking location, and we couldn't agree more. But what we like most about Draga di Lovrana is its unique approach to local and international cuisines. Everything is created from fresh produce, and you will quickly notice Mediterranean, French and Croatian influences on the menu.
Some of the best dishes at this restaurant are the beef tenderloin with pear, the sunchoke with algae, and the fennel root with lime, pepper, and almonds.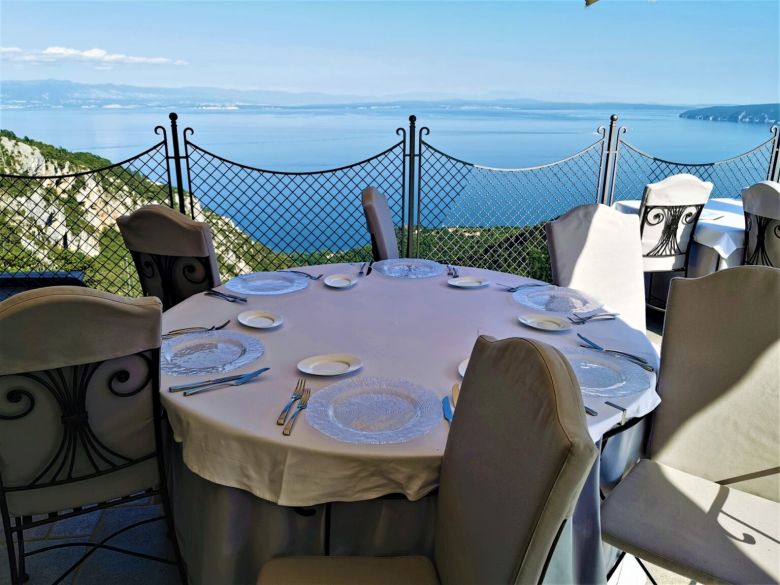 eatoutzagreb.com
Istria's best modern restaurant located in Rovinj, the Monte Restaurant
Among the best restaurants in Rovinj, you'll discover this Michelin rated restaurant named Monte. And you shouldn't expect a complete traditional culinary experience. Instead, you should know that everything here is cooked from a modern perspective. Some say this is the go-to place for a gourmet dining experience with a spectacular presentation. The chef aims to astonish with the creative dishes, which is why it should have a place on your itinerary.
The Monte Restaurant is located in Rovinj's heart and will offer a lovely view of the Sant Eufemia church. Make sure you try the pear metamorphosis and the suckling pig with lentils, pork rind, and onion marmalade.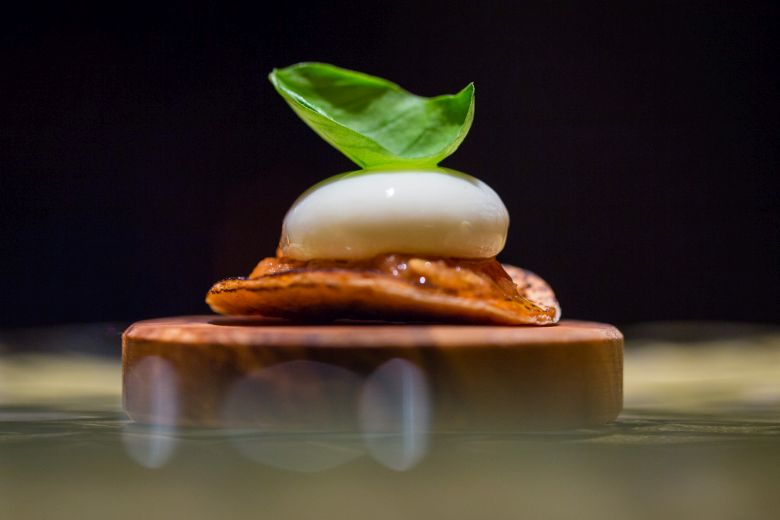 monte.hr
Conclusion
As you can notice, Croatia has a vast experience in fine dining. And if we take into account that this country still follows traditional recipes by heart, we can easily say that it is a destination worth checking by any food lover. The Michelin restaurants mentioned above offer a fresh perspective on local dishes, which is why you shouldn't miss them during your stay!