Why is Croatian cuisine versatile?
Croatian food is different from other European dishes that will make you fall in love with this country. Starting with spicy sausages of Slavonia and ending up with seafood from Dalmatia, Croatian cuisine is rich and follows traditional recipes.
The main thing that makes Croatian cuisine so versatile is the fact that it has influences from several European cultures. Italians left their knowledge about pasta, Greeks offered insights on how to make wine, while the Turks brought minced meat rolled in cabbage or vine leaves. 
And the best part about traveling to Croatia is that almost all traditional festivities are connected to food. No matter if we talk about religious events or a significant moment in someone's life. So, if you rent a villa for your trip, you will most likely be nearby the hub of the main event in Croatia! Moreover, there are plenty of local restaurants that wait to entice your taste buds with the best Croatian dishes.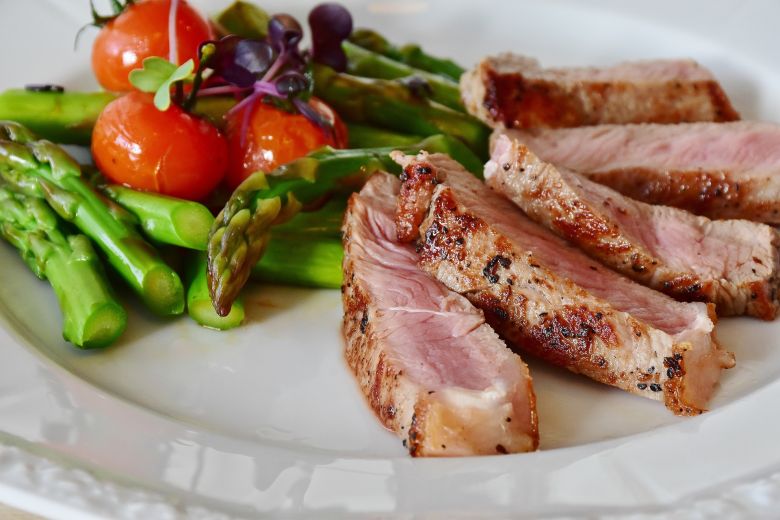 Dalmatian cuisine: the best Croatia has to offer!
We believe that Croatian food prepared in Dalmatia is one of the best, as it has a unique approach to cooking techniques. In most cases, traditional Dalmatian dishes are cooked in water. But there are plenty of recipes that use a grill or the peka, a popular method of baking. Overall, you will discover in Dalmatian cuisine food made from vegetables and seafood. You should know that Dalmatia has plenty of Mediterranean herbs, such as rosemary, basil, bay leaf, and safe. The area is known for its olive and olive oil production and is a direct competitor to Greece and Italy.
Dalmatian cuisine is a type of Mediterranean cuisine. Hence, dishes here include plenty of garlic, fresh herbs, spices, and olive oil. Restaurants that offer Dalmatian food on their menu are called konoba. We recommend looking for the famous Dalmatian prosciutto, a smoked ham served with cheese and olives as an appetizer.
All people in Dalmatia prefer simple cuisine dishes, based on plenty of fresh foods and local herbs. This offers a distinctive taste to all meals, and many food lovers travel to Dalmatia so that they get the chance to taste such fantastic dishes. And the best part about traveling to Dalmatia is that locals encourage you to eat fish and vegetables every day! We can say with certainty that this is one of the healthiest cuisines you will find! Don't forget that Dalmatia is popular for its wine production, too. A glass of red wine is a significant part of the richness of the taste for local cuisine.
Must-try dalmatian cuisine dishes that will leave you speechless!
So, know that you know a bit of Croatian cuisine and its history, let's see which are the best Dalmatian cuisine dishes you need to try at least once! We believe you will feel like you've tasted a piece of heaven!
1. Dinarski sir
Dinarski sir is a type of Dalmatian hard cheese produced in the Dinaric Mountains. It consists of a mix of goat and cow milk. We recommend it as one of the must-try Dalmatian cuisine foods, as it has a compact, dense, firm, and crumbly texture. The flavor is unique, and it is usually served with a glass of wine and marinated anchovies.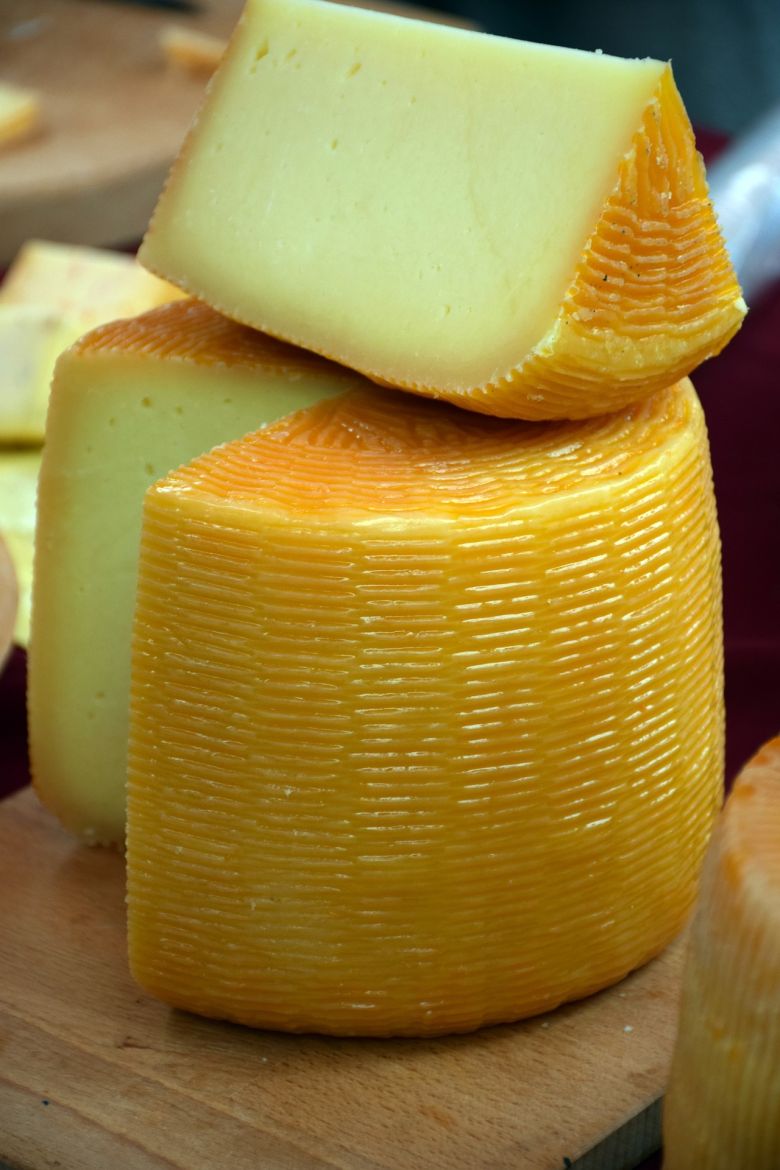 2. Kastradina
Kastradina is a meat dish popular in the Dalmatia region. Many tourists enjoy it because it is a smoked, salted, and dried product. Overall, it contains meat from lamb, goat, or sheep. Experts say that the recipe for this Dalmatian dish dates back to the 17th-century plague. Some say it was so nutritious that it saved the Venetians from the disease. Anyhow, the traditional recipe consists of meat stewed with kale and collard greens, which offer a tasty and robust flavor. Kastradina features plenty of herbs, onions, and garlic. In most cases, this dish is served with mashed potatoes or sauerkraut.
3. Torta hrapacusa
Torta hrapacusa is a rustic cake from the small town of Dol in Dalmatia. It is an interesting dessert, as the official traditional recipe for it is a guarded secret among locals. Mainly, this cake is made of a thick sponge and topping of walnuts, egg whites, and sugar. This Dalmatian dessert has an intriguing name, which can be used to describe the irregular-shaped rocks from Dalmatia. Even though it is unknown when this recipe was first cooked, it represents an authentic local delicacy you can only find in this area.
4. Bracki vitalac
Vitalac is a traditional food from the Croatian island of Brac. It consists of goat or lamb innards, making it one of the richest and tastiest foods in Dalmatia. Several animal organs are skewered, salted, and wrapped in lamb's sheath. The mix is turned over coals, while the skewers are covered in lamb's intestines. When the dish is ready, it is sliced and served with spring onions and bread. It is a tasty offal dish that goes well with traditional Dalmatian wine. 
5. Misanca
Did you know that this fantastic Dalmatian dish is the result of poverty? Well, misanca's recipe appeared as an aid for locals to overcome the shortage of food. It is created from wild, edible herbs. But you should know that today's recipe for misanaca is slightly different from the original one. It can be eaten in several ways, as it can be boiled in saltwater, mixed with swiss chard or spinach, to boost its bitter flavors. Also, it is a popular Dalmatian side dish for meat and fish. Many restaurants serve variations of this dish flavored with lots of pepper, salt, garlic, or olive oil.
6. Salata od hobotnice
Salata od hobotnice is a local dish made of octopus salad. It originates from Dalmatia, but it is famous all over Croatia. Usually, it is served during summer or Christmas Eve. There are plenty of variations for this octopus dish, but in most cases, it features plenty of olive oil, parsley, potatoes, salt, garlic, vinegar, onions, tomatoes, and octopus. What gives this dish its authentic Dalmatian flavor is the addition of wine corks during cooking. Also, many restaurants enrich this salad with lemon juice or capers, which is why it is best served chilled.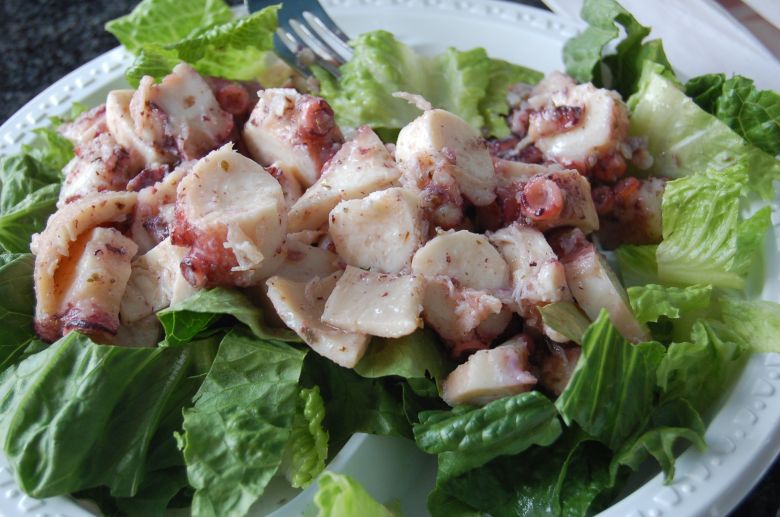 image credit: snowpea & bokchoi
7. Janjetina s bižima
This is a famous Dalmatian main dish of lamb with young peas. It is tasty and attractive, which is why many tourists choose it as their main course. The chopped lamb is sautéed in butter and oil, along with carrots, garlic, and onions. Also, there is plenty of tomato sauce and parsley. This dish is summer on low heat for up to an hour before the young peas are added. It is seasoned with rosemary, and it is served with homemade black bread.
8. Blitva na lešo
This is a vegan side dish, the most popular Dalmatian dish due to its simplicity. It is made of boiled potatoes, swiss chard, olive oil, and salt. It is one of the most nutritious Croatian side dishes, and it is served with steaks or grilled fish.
9. Pinca
Did you know there exists a Croatian Easter bread? Well, pinca is one of the sweetest traditional foods in Dalmatia. It is fragrant, and it is made from yeasted dough from eggs, flours, and butter. It is decorated with sugar, and the top is usually incised with the symbol of the cross. Most restaurants serve this rich pastry with a glass of red wine.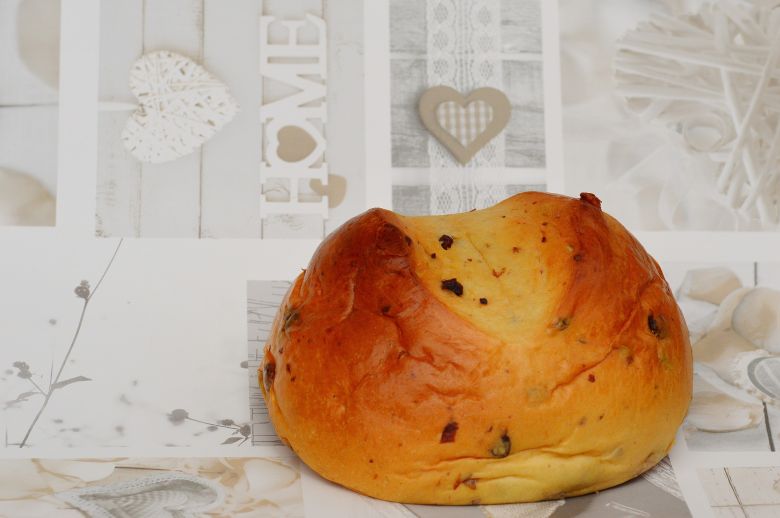 10. Gradele
Gradele can be translated as a traditional method of grilling fresh fish in Croatia, especially in the Dalmatia region. The fish is grilled entirely, including the head. And it is brushed with rosemary branches dipped in olive oil. This offers an intriguing flavor, perfect during summer. This fish is traditionally served with a sauce of olive oil, garlic, parsley, and a blanched swiss chard.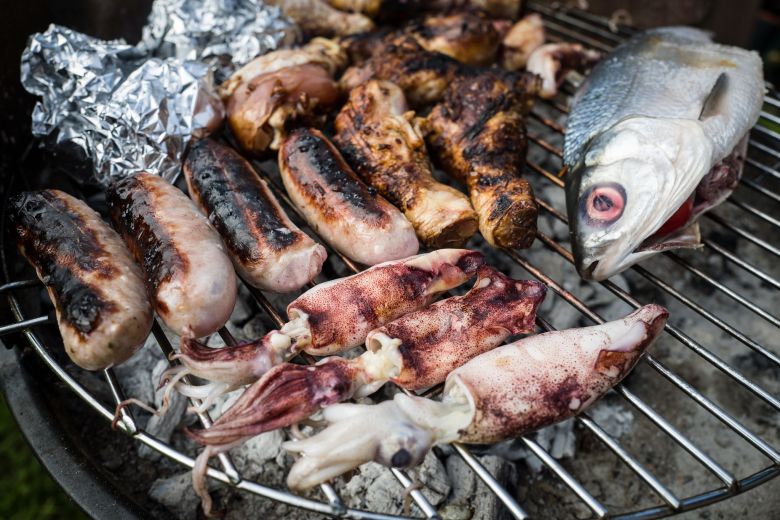 image credit: David Guyler
Another kind of special treat: Dalmatian wine
Dalmatia is not all about traditional cuisine. At the same time, Dalmatian vineyards offer fantastic wines dating back to the time when Romans and Greeks ruled the area. Each Dalmatian area provides special types of grapes, leading to several domestic varieties of wine. Of course, you can try the international famous Cabernet, Merlot or Sauvignon. But we do recommend you try one of the following Dalmatian wines during your stay in Croatia!
1. Plavac mali
Plavac mali is a red grape wine made in the southern region of Dalmatia. It is an interesting beverage, as the grapes in this area offer bold wines that will entice you with the taste of ripe fruit. This wine is known as the flagship from Croatian red wines, and it is usually served with aged cheese, game, or hearty stews.
2. Prosek
Prosek is a nice, sweet Dalmatian wine served with desserts. It is traditionally made all over Dalmatia via a passito method. This signifies that the grapes are dried before they are pressed. Prosek is a popular dessert wine with a balanced aroma of raisins, figs, apricots, and orange zest. And the interesting thing about this beverage is that it changes its notes as it ages. So, it can achieve an interesting taste of caramel, honey, and dry fruit.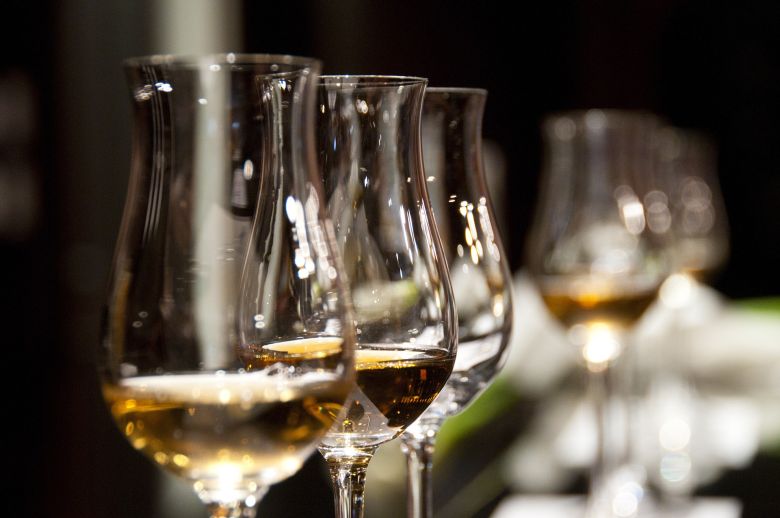 3. Babic
Babic is produced in central and northern Dalmatia, being known as the best Croatian red wine. It is an interesting wine, as it achieves a ruby red color, along with a full-bodied and rich acidity with mineral notes. Mostly, babic is a wine with aromas, including figs, herbs, and plums. But depending on its age, it can have subtle spicy notes. This wine is recommended alongside dark meat, stews, grilled dishes, and cheese.
4. Posip
Posip was the first white grape in Croatia with a protected geographical region. It is a type of Dalmatian white wine with a harmonious and full-bodied taste. It has an interesting golden yellow coloring, while its fruity aroma is completed by a subtle taste of almonds, Mediterranean herbs, and citrus fruit. It is best served with popular dalmatian dishes, like octopus, fish, and veal.
5. Marastina
Marastina is a grape variety extensively grown all over Dalmatia. It was used for centuries as a blending grape, but locals managed to create a great white wine variety. Marastina has a fragrant and fruity aroma, being served especially during summer. It can go well with seafood, fish, risottos, white meat, or cheese. 
6. Bogdanusa
Bogdanusa is a white grape variety characteristic to the Hvar region. It creates a simple to drink wine, usually served during lunch. It has a floral and herbal note, while its freshness allows you to drink it with plenty of dishes. Overall, this wine is recommended for a fish-based main course, but it can go well with light risottos, too.
7. Grk
Grk is a native Croatian grape from the island of Korcula. It is used for dry white wines, leading to a bitter and tart wine. Almost all grok wines are aromatic and mineral thanks to the balance of acidity and sugars. It is an excellent addition to gradele, as it can boost the flavor and taste of your dish. 
8. Faros
Faros is the best black wine produced in the Dalmatian region from grapes originating on the island of Hvar. This wine has a special fullness and bouquet of aromas. Overall, it is an interesting Croatian black wine due to the intense blueberry flavor.
The bottom line
Dalmatia is a Croatian region popular for its fantastic cuisine, great wines, and olive oil. Everywhere you will travel here, you will stumble upon intriguing seafood dishes and local beverages. And the best part about food traveling in Dalmatia is that you can always discover a villa for rent nearby a vineyard. Make sure you try some (or all) the local Dalmatian foods mentioned above! The growing scene of food in Dalmatia gets more and more attention yearly!