When it comes to tourism, Istria really has it all: beautiful beaches, impressive monuments, ancient history, loads of culture, incredible food… All ingredients for an awesome vacation are there. However, that last category also hides something very special, a nugget so tasty and so revered all over the world that it can be worth a small fortune. Yes, we're talking about truffles, and if you come to Istria you can opt to go truffle hunting, if the conditions are right, of course. This will allow you to explore the natural beauty of Istria, see interesting old towns and villages and even help you meet the locals and learn a thing or two about their way of life. How? Read on!
What you need to know about truffles
First and foremost, let's cover some truffle basics. Truffles are a very rare type of fungus, which makes them very sought after in restaurants all over the world. They cannot be farmed, so they only grow in nature if the conditions are just right, which is why truffles are so expensive. Generally speaking, they can be divided into two main groups – white and black truffles – although there are many more subspecies than that. But many experts will tell you that each truffle can have its own subtle but distinct flavor, so every dish made with them can be considered unique. The most expensive truffles ever found were also quite large specimens (around three pounds or 1.5 kilos), and they sold on auctions for more than 300,000$. Wow! Usually, though, they will weigh a couple of ounces (around 100 grams). 
How much do truffles cost normally, we hear you ask? Well, that depends on how good the year for them was, but a kilo (roughly a couple of pounds) of these things will reach several thousands of euros, easily!
You may be wondering where do truffles grow and where to find truffles exactly. Well, that's the catch – they grow in a special kind of soil, among the roots of certain trees, usually a few inches (up to 30 cm) below the surface, so they can't be spotted by a naked eye. Because of that, people often use specially trained truffle-hunting dogs to accompany them in their search. Due to their sense of smell, they can easily sniff one out and thus make the search so much more efficient. You don't exactly want to dig at every single tree in a forest, now do you?
Fun fact – some people have been known to use pigs for this particular purpose too because they too have an excellent sense of smell.
Istrian truffles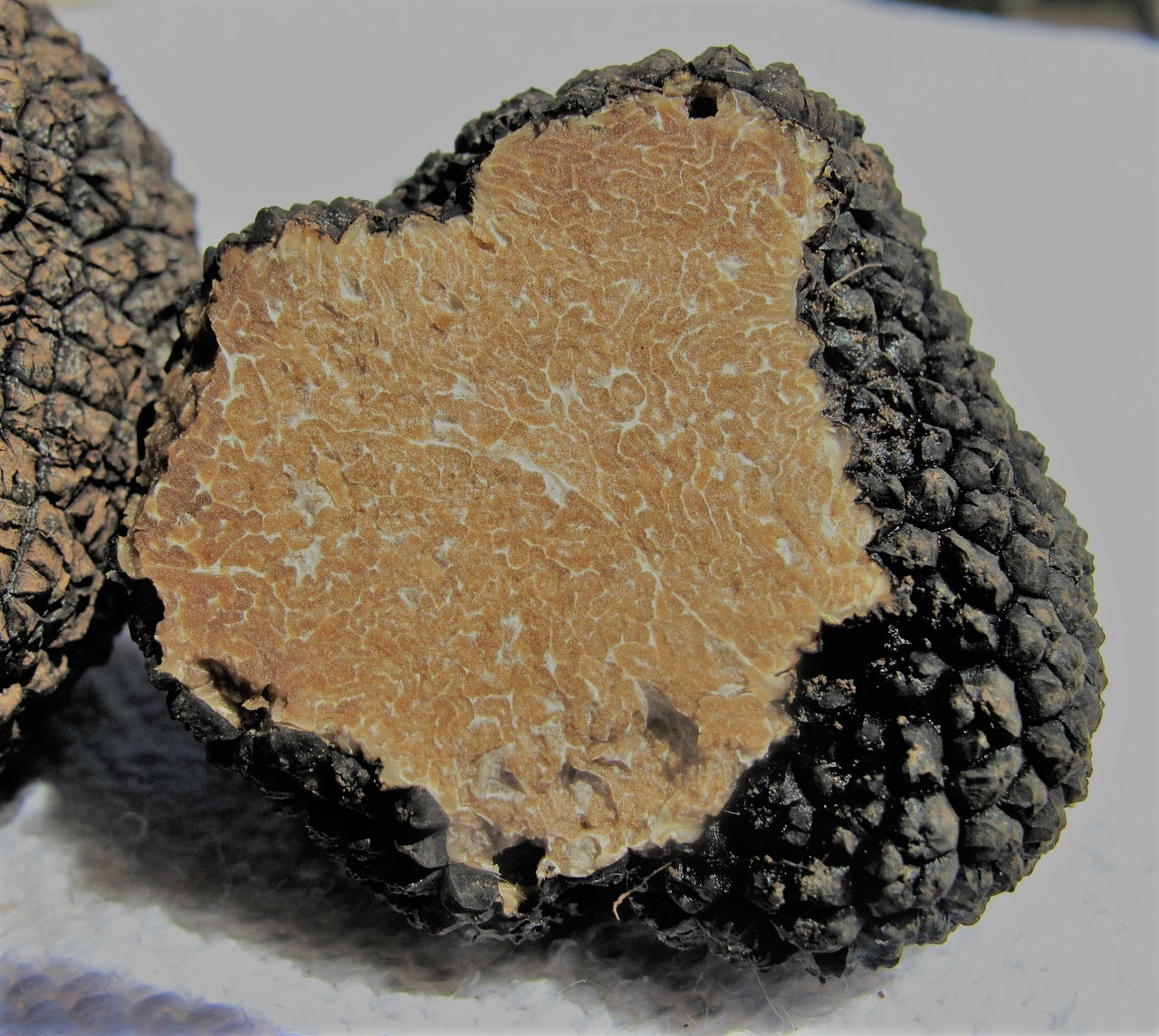 So how does all of this connect to Istria? Well, as already mentioned, the peninsula is one of the places where truffles grow regularly. While they can be found all over the world, the areas in which they do thrive are not very big or numerous, but Istria is one of them! Istrian truffles, especially the white ones, are held in particularly high regard and are considered to be among the best truffles in the world. However, several kinds of truffles of the black variety can also be found in the region.
You can find these exquisite lumps all over Istria, pretty much wherever there are woods and fertile ground. So no matter which villa you choose, you will always have truffle hunting as an option to spend your day and enjoy some beautiful nature. It's a fantastic way to explore the more remote parts of the peninsula and discover beautiful little towns and villages along the way. A great example of that is Motovun, a village up to the north also famous for its film festival. It is a lovely little place to explore, with stone houses climbing up a green hill, and the forest around it is known for the quality of truffles that grow there. So, heading out there is a great way to spend a day in Istria if you're a nature lover and would like something other than spending a day at the beach.
As already mentioned, truffles grow in all parts of Istria, so feel free to book a luxury villa (with a pool if you're here during summer) wherever you want. Once you choose your location, you will surely be able to get to a location where truffles can potentially be found by car because the whole region is very well connected. Therefore, don't think that you will have to miss out on this if you choose a city on the coast as the place to stay. Quite the contrary, if you're staying for several days or longer, an experience like this will enrich your vacation.
Meet the locals
But you don't have to go truffle hunting alone! This activity is also a great chance to meet some of the friendly locals who will be more than happy to show you around and tell you all about Istria. Many family estates and farms do this for a living and will make sure you get the best possible experience. They will treat you to some traditional food and offer you souvenirs you can buy from them before or after the hunt. They will also most probably have their own truffle-hunting dogs, so the chances are you will find a couple of truffles and all in all have quite an exciting hunt.
Besides, roaming Istria's countryside with an expert guide is so much better. They know where all the best places are and are generally very friendly. As a matter of fact, they are quite happy to share everything with you. There are plenty of tours that include something like this, so you really shouldn't have any problems setting everything up, but if you're into more exciting stuff, some truffle hunts take place at night. It's quite a fascinating experience. Also, you will be able to find festivals dedicated to truffles all over Istria in autumn, with various dishes accompanied by excellent wines celebrating this delicacy. This is because the white truffle is in season from mid-September until the end of the year, while the black truffle can be found on the peninsula all year round.
Istrian truffle food
Even if you don't find any truffles, don't despair. Check out local restaurants to see if they have some truffle dishes on offer. These are the hallmark of Istrian cuisine and you should taste at least some of them if at all possible. Istrian home-made pasta with truffles is a classic, so look for so-called fuži or pljukanci for the ultimate authentic experience. Remember to pair that with a bottle of Istrian malvasia and you will be enjoying the very best local gastronomy has to offer. Imagine having a dinner like that on a restaurant's terrace in front of an old stone house in a small picturesque town as the sun is setting. Magical, right?
Some places around the peninsula even serve truffle-infused ice cream for dessert, so do examine the menu carefully for this unique delicacy. But apart from these restaurant dishes, there is authentic Istrian truffle food that will make for an awesome souvenir. A piece of cheese with truffles is exceptionally popular among tourists, but truffles also come in jars of honey or bottles of oil. All those products can be used in cooking to give that distinct Istrian flavor to all your home-cooked meals. The honey, for example, goes well with both sweet and savory dishes.
In the end…
Truffles are very much one of Istria's symbols, and you really should find a way to experience them in some form while you're here. They are a hallmark of local cuisine, with some restaurants using them in very creative ways, as seen in the previous paragraph. But perhaps the best thing about truffle hunting in Istria is that they give you an excuse to explore the inner part of the peninsula, enjoy its nature, discover towns which look like they've popped out of a fairytale and to simply spend a wonderful day outdoors. It's just one of the reasons why you should visit this magical region, so you'd do well to keep that in mind when looking for a luxury villa to rent. It will make your vacation so much better!