Croatia: a premium destination for local craft beer and sunbathing
If you're wondering what craft beer has to do with sunbathing, the answer is quite simple. Enjoying a nice glass of local Croatian beer while sitting on a top blue flag beach is a unique experience you must try at least once in your life. Beaches in Croatia are popular because of their scenic beauties and beach bars available. So, if you're planning a trip to Croatia, you should start by researching local beaches. Don't forget to book a villa for rent to get access to the best amenities during your stay!
What does a blue flag beach mean?
The first thing we need to discuss is the importance of the blue flag label. The blue flag is a premium eco-label award offered to the best beaches and marinas that meet strict characteristics for both environmental purposes and water quality. This ranking system was first introduced back in 1987, and it is meant to offer guidelines on the best standards necessary for European beaches.
Nowadays, there are more than 2900 beaches and marinas across Europe, the Caribbean, and South Africa. It aims to value beaches and marinas' sustainable development depending on strict features concerning water quality, information, and proper environmental management.
In order to receive the blue flag award, a beach must pass standard criteria. Usually, these cover water quality, safety, services, and environmental aspects. You should know that water quality is thoroughly tested, and it is sampled 20 times during the summer. Only after all the results come on a beach can be ranked as a blue flag one. So, you can rest assured that choosing a blue flag beach in Croatia will get you access to the best sunbathing conditions in Europe!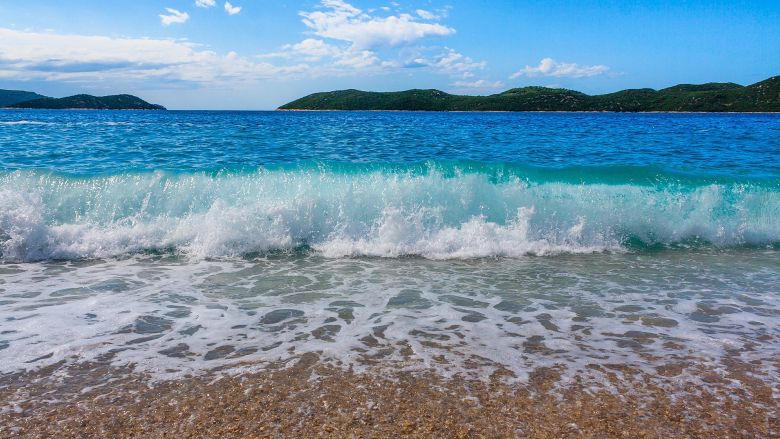 What's the Croatia track record with the blue flag award?
Croatia has long been recognized as a premium traveling destination for those searching for the best blue flag beaches in Europe. There are several picturesque marinas and beaches on the list, all of which featuring the highest water quality and services.
This country has more than 80 beaches and 18 marinas awarded with the blue flag. So, if you notice one on the beach, you should know that's a premium location! Split, Zadar, and Pula are the top Croatian destinations for blue flag beaches, but there is more! Next, we share our top picks for the best beaches you can stop by to admire the Adriatic Sea!
Which are the best blue flag beaches to visit in Croatia?
The Adriatic Sea is marvelous! And we can say from our experience there are plenty of reasons to indulge in its beauty. First of all, it has an interesting blue color you won't find anywhere else. But there is more! The Croatian part of the Adriatic Sea is known for its mild waves and comfortable swimming temperatures during spring, summer, and autumn. It is crystal clear in most areas, allowing you to discover the underwater world! And, of course, it is home to some of the most beautiful blue flag beaches in Croatia!
#1 Beach Amarin Rovinj
If you're into water skiing, water sliding, diving, or a volleyball beach session, this is the best place for you! Amarin Beach is at 3km distance from Rovinj, and it is a top destination for tourists visiting the area. It offers access to clean waters, along with a rich environment with local flora and fauna. This beach has a blue flag award, which is why you can access here to several facilities and services. For example, there is a sporting goods store, outside shower, beach bar, cafe bar, and even an a la carte restaurant. We do like this long pebbly beach, as it offers a particular view over the Adriatic Sea.
#2 Beach Bacvice Split
Another blue flag beach is Bacvice in Split. It stands out as the best family-friendly location, with plenty of child amenities to explore. It has impressive water quality, while its sandy beach will make you feel like you're visiting an exotic destination. And the best part about this beach in Split is that it offers access to physically challenged people, too. There are several beach facilities and services available to help you make the best out of your stay. Also, you should know this beach is constantly supervised by trained lifeguards since it is a top destination for families. There is a fun park available, with trampolines and a rubber castle.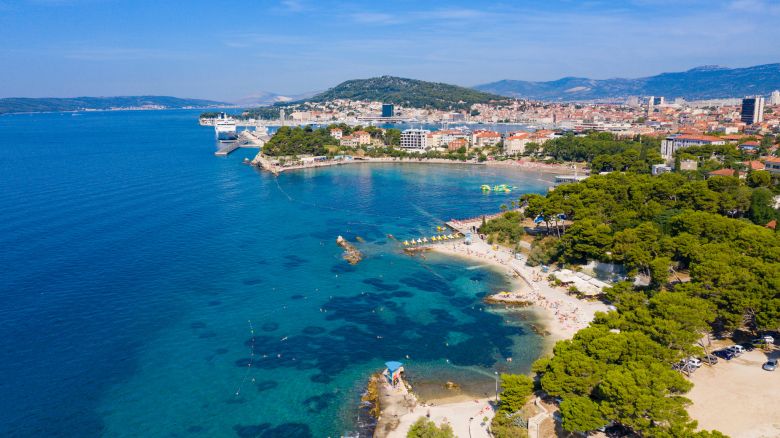 image credit: dronepicr
#3 Beach Bonj Island Hvar
Bonj beach is listed among the top 20 most beautiful European beaches! It would be best if you didn't miss the opportunity to visit it, since it was too awarded the blue flag award thanks to the water purity. We do like the turquoise-like scenery ad sunbathing possibilities. And since it isn't as popular as you might expect, it is suitable for those looking for a quiet place to relax. Besides the panoramic view over the town of Hvar, this beach offers water sports amenities. Also, check out the private massage centers for the best experience at the beach!
#4 Beach Borik Zadar
If you're visiting Dalmatia, it must include in your Croatian itinerary a stop at beach Borik in Zadar. It is ranked among the blue flag beaches, being recommended for families. Still, there is plenty of nightlife going on here, making it perfect for young people, too. This beach can be found at around 4 km from Zadar's city center, and it stands out due to the pine forest that surrounds it. It has excellent services and beautiful sandy beaches, worthy of a premium traveling experience in Croatia. There are plenty of child-friendly amenities, including a water park. You can also enjoy a delicious local meal or café at one of the bars available on the beach.
#5 Beach Borik Porec
Porec is a top destination among tourists, especially because of the proximity to blue flag beaches. Borik is a pebble beach that offers a unique view over Porec. But besides this, it is extremely easy to access thanks to the promenade that will walk you from the Old Town straight to the beach. It is an excellent choice for families, the elderly, and people with disabilities. Hence, you are able to enjoy clear blue waters straight in the middle of the city! You have all the amenities needed, along with a qualitative beach!
#6 Beach Drazica Island Krk
No matter if you're going for island hopping or merely searching for a remote area to enjoy your stay, a visit to the island of Krk is a must! This beach has a blue flag award, and it is popular due to the dense pine forest surrounding it. It is a top choice for tourists looking forward to enjoying the sea and the beach shielded by a lot of shade. Also, there are plenty of facilities, restaurants, and cafes, along with an adventurous zip-line attraction! This is a family-friendly beach, but it can suit the needs of solo travelers or couples, too.
#7 Beach Banje Dubrovnik
One of the most popular beaches in South Dalmatia in Banje. Near to the ancient city of Dubrovnik, this area attracts numerous tourists each year. So, if you want to enjoy this beach, it might be a good idea to rent a villa with a pool near it. It will offer fast access to the sea, and you can manage to avoid crowds, too. Overall, this blue flag beach is excellent because it is close to the city center. It offers a gorgeous view over the island of Lokrum. Still, this isn't a family-friendly beach, being meant for younger people and adventure-seekers.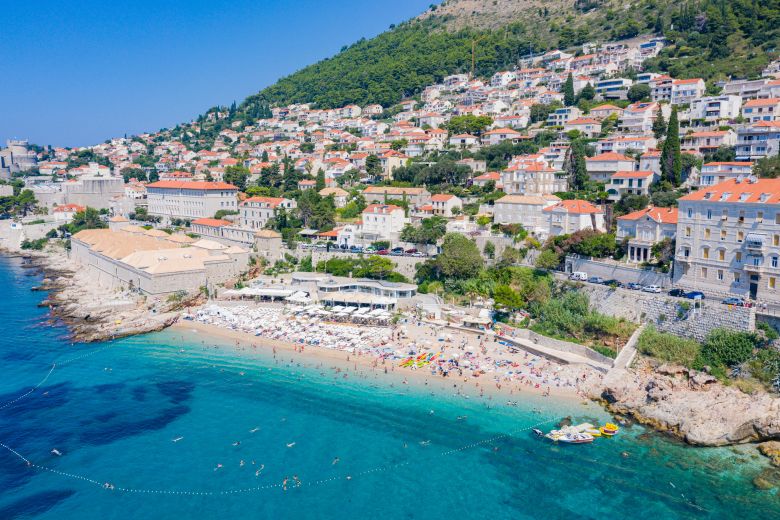 image credit: dronepicr
#8 Beach Kanegra Umag
If you're planning to visit Istria, but you're not sure where to stay, you should think about Umag. This is an excellent remote area with plenty of services to meet your expectations. Besides, all over Istria, you can discover comfortable villas for rent to benefit from the best experience. The beach Kanegra in Umag is one of the most romantic blue flag beaches in Croatia. It is well-equipped, the water has a pristine blue shade, and the sand is more than welcoming. Sports lovers can play tennis, volleyball, or even try sailing in Croatia.
#9 Beach Valkane Pula
If you want to explore the surrounding area of Pula, you should start with the beach Valkane. It is an awarded blue flag site you can reach by walking the promenade around Pula. It stands out due to the high bathing water quality and child-friendly amenities. But what we like most is that this beach is suitable for people with disabilities. Also, there is a sports center in the area for both children and adults from where you can book several activities like canoe, soccer, or paddleboards. And the best part about this beach is that it is home to an authentic local restaurant. It can get you the chance to explore the gourmet specialties from Istria!
#10 Beach Zlatni rat Bol - island Brac
This is a unique beach in Croatia because of its long tip that stretches to the sea. It is ranked as one of the most beautiful beaches on the globe, being a top meeting point for surfing and kiting enthusiasts. There is a pine forest around the beach, which shield premium cafes and restaurants to enjoy during your visit. This beach has a lifeguard throughout the day in the summer, so it might be safe for children, too. But this beach is a top choice for those searching for the best nightlife in Dalmatia!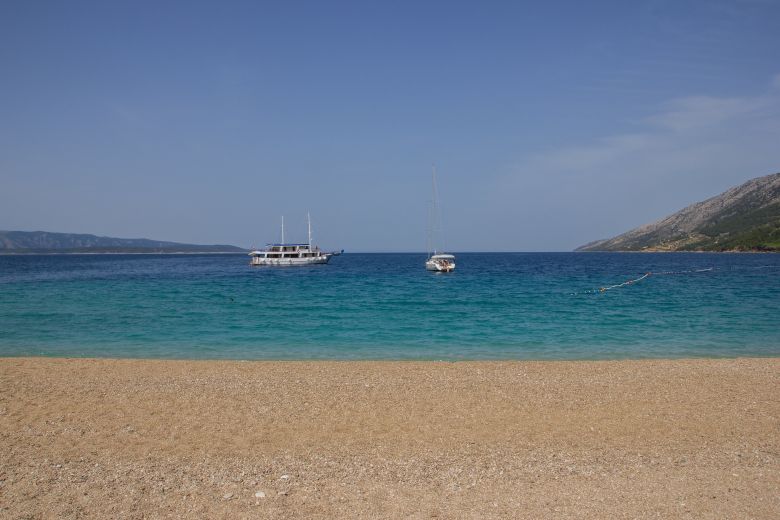 image credit: Gunilla
#11 Beach Plava Laguna Porec
This is a 250m long beach recommended for families with small children due to the smooth entrance to the sea. There is plenty of privacy on this beach, so you won't have to worry about indiscreet tourists. There are several amenities available, ranging from restaurants to children's water slides.
#12 Beach Ploce Rijeka
In Kvarner, on the Crikvenica Riviera, you'll discover the Ploce beach. It is yet another romantic beach you shouldn't miss with a gorgeous view of the sea. It is an ideal location for taking a stroll in the evening alongside your loved one! But of course, it is one of the most wanted destinations in Croatia for swimming enthusiasts. This beach is suitable for everyone due to the highest cleanliness standards.
#13 Beach Slatina Opatija Riviera
Slatina beach is a central point in Opatija. It is a gorgeous location beneath the mountain Ucka, and it has a long track record of welcoming tourists. Overall, this is a busy place since it is the most visited area in Croatia. This blue flag beach is an excellent choice for those looking forward to fast access and impressive services.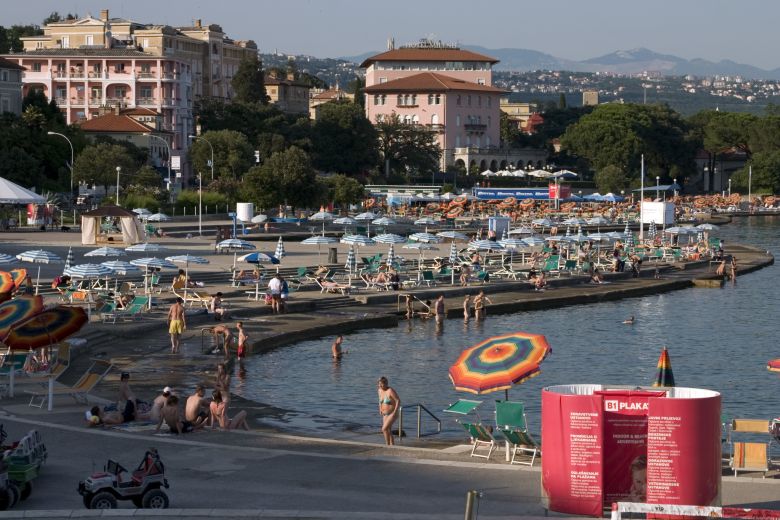 image credit: Jimmy Harris
#14 Beach Sol Polynesia Umag
If you're searching for a nudist beach in Croatia that also has a blue flag award, Sol Polynesia is the best choice for you! It is a rocky beach with sandy areas that offer a smooth entrance to the sea. Part of this beach is meant for nudists, and the area is separated by a pine forest.
#15 Beach Sv. Andrea Rabac
Another premium beach in Istria is Sv. Andrea, in Rabac. It is a sandy beach that welcomes families and ranks high among the most romantic beaches in Croatia. It is an excellent place to visit thanks to the souvenirs, groceries, and restaurants available nearby. Besides, the area is surrounded by forest, offering plenty of shade when you need it most.
The bottom line
So, this is what you need to know about blue flag beaches in Croatia. There are plenty of other places with this award, so you should pay close attention to the flag featured on a beach. And the best part about this is that you can find with ease a villa for rent to get you as close as possible to the best Croatian beach of your choosing!