Croatian caves: the basics
Croatia has an interesting coast with geomorphology that made room to impressive natural shapes, including easy to reach caves. And if you're wondering why Croatian caves are so attractive, the answer is simple. There are plenty of attractive openings on the coast, such as the Blue Cave entrance, which can be accessed via boat. Also, many visitors explore these wonders since they represent some of the most attractive European caves. 
There are plenty of caves in Croatia not so popular among tourists, and you can discover them below. You should know that only forty caves are open to visitors. Also, all caves are protected by law, meaning that you should act respectful both outside and inside the landmark. Visits in Croatian caves are usually done with an official escort to prevent damage to the natural wonders.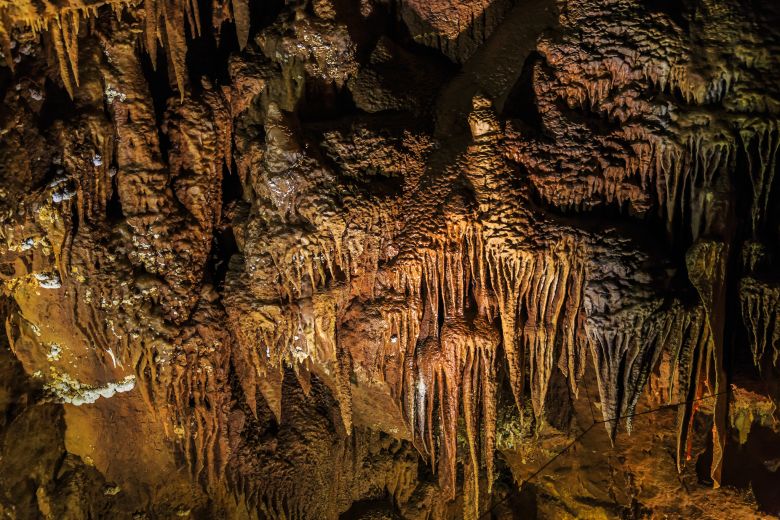 image credits: Bernhard Wintersperger
The magical caves in Istria
Istria is the largest peninsula in the Adriatic Sea. It is popular both locally and internationally thanks to its clear blue waters, sunny atmosphere, and welcoming people. Besides, there are plenty of villas to rent close to the seashore, so that you make the best of your stay here. It is a mix between lush vegetation and impressive coastline, with coastal towns like Pula, Rovinj, and Porec standing out as historical sites. However, the Mediterranean spirit is completed by culture, history, local cuisine, and activities. And the best part about Istria is that there are plenty of magical caves waiting for you to explore. We shared our top choices to help you create your next trip to Istria!
1. Mramornica Cave
One of the marvelous caves in Istria is the Mramornica Cave, or, as locals call it, the Marble Cave. It was explored by humans for quite some time, which is why you have access to sage paths and impressive interiors. You can spend plenty of time admiring it, as it is a fascinating natural wonder. 
This is the biggest cave in the Istrian peninsula, and you can find it near Brtonigla. And even though this case was first mentioned back in the 18th century, it is believed that Mramornica dates back to the prehistoric era. Anyhow, as for today, the area where visitors can wander around is well indicated, and it allows visitors deep into its interior. We believe the impressive view over the unreachable areas of the Mramornica Cave will leave you speechless! Keep a close eye for subterranean chambers, as they have multi-colored stalagmites and stalactites that reach up to 13 meters. 
2. Baredine Cave
Baredine Cave is located just outside Nova Vas, between Porec, Tar, and Visnjan. It is considered to be the most beautiful Istrian cave, and it was open for tourists back in 1995. Overall, this cave has 132m in depth located at 117m above sea level. Hence, the main attraction at the Baredine Cave is the landscape over the vineyards and olive groves. 
There is a 300m pathway for tourists, and it will take you through several impressive halls. But what we like most about the Baredine Cave is that it reaches down to an underground lake. This lake is positioned at 60m below the surface, and we can say from experience that it will leave you speechless. We recommend looking for the realistic sculpture of the Virgin Mary or the shepherdess Milka from Istrian Folklore. A fact that makes the Baredine Cave different from other Croatian underground sites is the olm, a species of fauna specific to the Dinaric Alps' karst areas.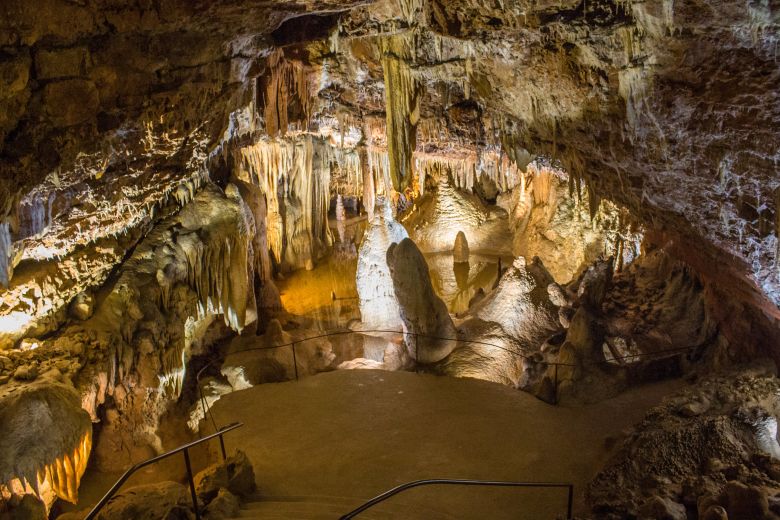 image credits: Shadowgate
3. The Cave of Pazin
Another interesting cave in Istria is the Cave of Pazin. It is located in the heart of Istria, at several hundred meters below the Pazin castle. The cave appeared thanks to the fastest Istrian undercurrent, Pazincica. Overall, the cave is protected by law due to its sensitive nature and position. It is visited yearly by numerous tourists, and access inside is done exclusively with a guide. 
You can explore the Cave of Pazin through a 500-meter-long trail. But guided professionals encourage you to go even deeper into the cave under their guidance. For several centuries, this cave got the attention of people all over the globe. Even Jules Verne or Dante got their inspiration from this site. We recommend you consider using the adventurous zip-line available inside for a unique underworld experience in Istria. 
4. The Kingdom of Festini Cave
Close to the Festini village and Zminj, you will discover an interesting site called the Kingdom of Festini Cave. It is popular due to its natural beauties, but the most impressive aspect of this site is the harmonious sound of drops inside. There are several paths for visitors with a total length of 100 meters. There are plenty of gorgeous dripstones forms, including the magician's hat. This is a natural wonder, as it was formed into the shape of a hat.
And there is more. This cave is different from others in Istria since it has both an idyllic scenery and services for its visitors. There is a bar, a children's park, and a mini-farm.
5. Romuald's Cave
Right in the Lim fjord, you will discover the Romuald's Cave. It has an access path of 105 meters, and it poses little to no challenges. The history of this cave is rather compelling, as Benedictine Romuald inhabited the site. Still, the interior of the cave is closed to visitors. 
We recommend you opt for a stroll or hike around the cave. Both the scenery and mysticism of the area will make you feel like you've stepped into another world! There are numerous guided tours to Istria's most gorgeous sites!
Dalmatia's wonders: the queen of Croatian caves!
We all know Dalmatia. It is the most beautiful area in Croatia, a go-to destination for tourists worldwide. It is a paradise for holidays, as it has a lovely position on the south-east coast of clear and tame Adriatic Sea. There is diversity in Dalmatia, which is why you can explore Croatian traditions, ancient Greek settlements, medieval communes, renaissance fortresses, and prehistoric caves. Dalmatia has five sites in the UNESCO World Heritage List, several natural parks, and it is known in Europe (and not only!) as the queen of Croatian caves. So, make sure you visit at least one of the following natural wonders!
1. Modra Spilja (Blue Grotto) Cave
Modra Spilja, or simply the Blue Cave, is one of the most famous landmarks in Croatia. It gives a lot of pride to Dalmatia due to its otherworldly setup and blue light. It is a unique geomorphological natural wonder on the island of Bisevo, near Split. You should know this is not a human-made cave, and all that you will see inside happens naturally. The cave is carved into steep limestone cliffs on the island, and it is 24 meters long. It can be accessed with a small boat. 
The Blue Grotto is famous due to the phenomenon inside. It shed a mesmerizing turquoise blue light when the rays of the sun hit the water. Keep in mind that you are not allowed to swim inside the cave. You can also visit the cave by yourself or with a tour guide, but in both cases, the cave is accessible only by boat.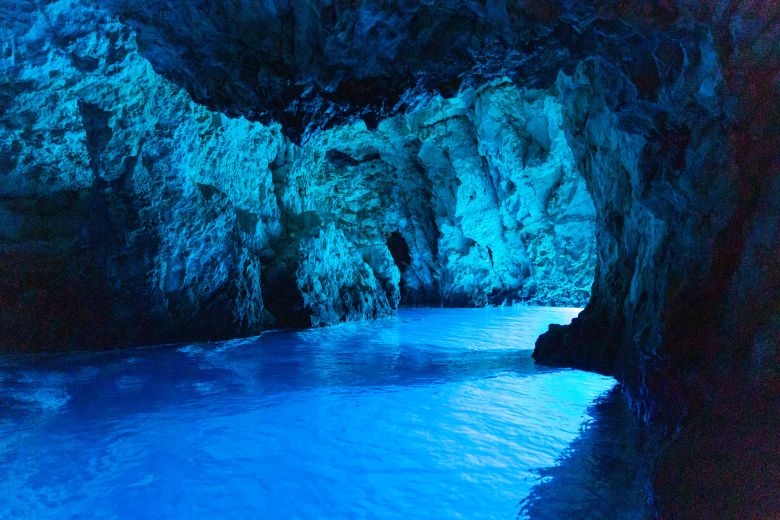 image credits: dronepicr
2. Odysseus Cave
Another landmark in Dalmatia is located on Mljet Island. The Odysseus Cave has a compelling history, as the legend suggests that Odysseus found refuge here after a shipwreck. It is believed the place where he met Calypso, but this myth was later associated with Malta. However, it is an interesting cave to visit, since it is not crowded with tourists.
The Odysseus Cave is one of the most beautiful swimming caves in the world, so make sure you bring your swimsuit. To reach it, you will have to hike for 15 minutes on a steep cliff. But we can say from our experience that the neon-blue waters will make you feel like you're in heaven. And the best part about this cave is that you will most likely discover a full-service villa for rent in a nearby town.
3. Modric Cave
The Modric Cave is a go-to landmark near Dalmatia's National park Paklenica. Even though this cave was discovered back in the 80s, it was only opened to the public back in 2004. Today, a visit inside the Modric Cave is different from the case with other caves. It has a challenging setup, as there are no paths, steps, or lightning. So, it is an excellent destination for those looking for an adventure.
You should know that access to the Modric cave is allowed only with proper equipment. You will need overalls, a helmet, and a lamp in order to wander freely inside. There are several corridors, halls, and gaps in this impressive 840-meter-long cave. 
4. Vranjaca Cave
In the middle of Dalmatian territory, at only 30 minutes drive from Split, you will get the chance to discover a hidden gem of the Croatian karst landscape. Vranjaca Cave is ranked as a natural monument due to its impressive geomorphological features. It stands out due to its numerous cave channels of a total 365 meters long. And most tourists say that touring all of them takes more than an hour. This cave allows visitors all year round, as there are several pathways with handrails, lighting, and additional supports.
Vranjca Cave is a beautiful site in Dalmatia, and it allows you to explore centuries-old formations. And the best part about it is that next to it you can access the best hiking trail in Dalmatia. It takes you to the popular peak of Mosor Mountain, at an altitude of 1235 meters.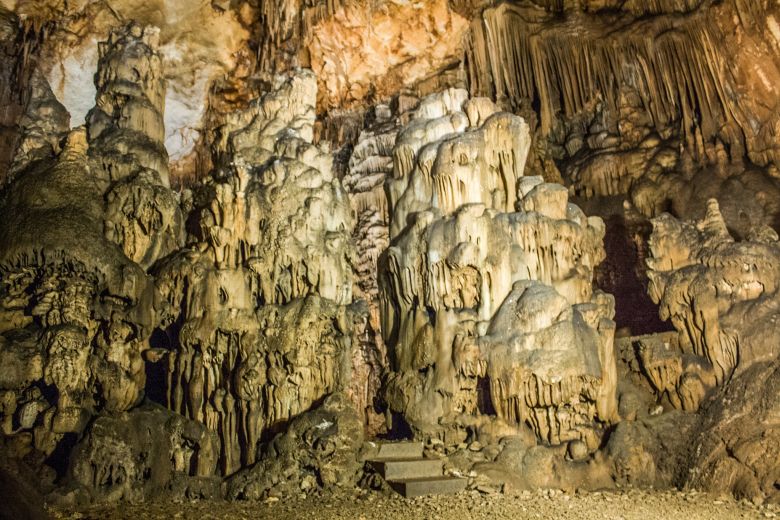 image credits: Shadowgate
5. Zmajeva Spilja Cave
Zmajeva Spilja Cave is known as the Dragon Cave due to the intriguing relief of a dragon discovered inside. We do recommend a visit here during your stay in Dalmatia, as it has a somewhat mysterious vibe. This cave is above Murvica, on the island of Brac. And the Dragon inside was carved by a monk back in the 15th century. There are plenty of ancient symbols on the walls, so make sure you look all around you. Mainly, the Dragon's Cave is a spectacular tour in Dalmatia, as it exceeds your expectations concerning speleology. Keep in mind that walking inside it is challenging due to the deep limestone hill.
If you're planning to visit Dalmatia in summer, you should know that this cave gets rather busy. During the summer months, it is best to visit the Dragon's cave as early as possible. The Dragon's Cave represents one of the four monasteries in Bol, being rich in Slavic history, mysteries and conspiracy theories.
The bottom line
Visiting Dalmatia has plenty to offer you. And we suggest you do this: first of all, book a beautiful villa for rent in your chosen area and make sure you are close to the main landmarks. Afterwards, look for local cave tours so that you receive plenty of information during your visit. Of course, if you love strolling around by yourself, you can choose a cave in Dalmatia, which allows visitors to enter without a guided tour. But no matter what you opt for, we can say with certainty that these Croatian caves will mesmerize you!