Table of contents
Croatia is known worldwide for its impressive UNESCO World Heritage Sites, local cuisine, wineries, and olive oil production. But there is something more you should add to your Croatian to-do list. This country is a hidden gem when it comes to waterfalls.
Surprisingly, Croatia is home to the most breathtaking waterfalls in Europe. The region of Dalmatia, in particular, is abundant with karst rivers cascading from the Dinaric Alps. As a result, stunning waterfalls can be found throughout the country. Coupled with pleasant weather, Croatia has become an ideal vacation destination. Consider renting a full-service villa near one of the natural parks to fully immerse yourself in nature during your stay.
When visiting Croatia's waterfalls, the scenery varies depending on the season, offering a unique experience. With the presence of caves, underground formations, and abundant water, these natural wonders create a captivating spectacle. In our experience, this display is unparalleled in Europe.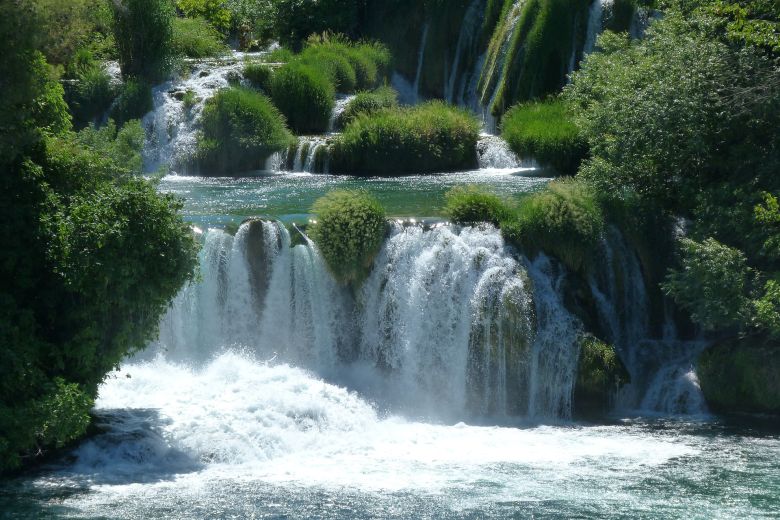 Istria: an impressive waterfalls experience in Croatia!
Istria has so much to offer, from wine tasting and amazing nature to parties, accommodation and food. But did you know there is something more compelling about this region?
Well, many tourists visit yearly Istria due to the hiking trails around the Seven Waterfalls Trail. Old villages and lush vegetation surround the magical waterfalls. So, spending the day wandering around this hiking route will fill you with gratitude. The trail starts at a hilltop overlooking the scenic Mirna River Valley. And as you move forward to the forest, you will discover the seven Istrian waterfalls that reach up to 26.5 meters. Let's take a look at the best waterfalls in Istria!
1. Zarecki krov Waterfalls (Pazin, Istria)
This is one of the largest waterfalls in Istria. The water here falls from ten metres high, making it the go-to place for those looking forward to diving, swimming, hiking, or fishing. Some say the most challenging hiking and climbing route in Croatia is around this waterfall.

2. Gologoricki dol Waterfalls (Cerovlje, Istria)
Among the astonishing hills of central Istria, you will discover the Gologoricki Waterfall. Overall, this is an untouched place, offering access to a rather remote and wild area.
3.

Kotli (Kotle) Waterfalls (Buzet, Istria)
This waterfall is positioned in a place hard to reach, but it is an exciting site you should add to your Croatian travelling list, as there are still 15 houses standing in the area. The village and waterfall appear to be frozen in time.
4.

Sopot Waterfalls (Labin, Istria)
This is an unusual waterfall, being a mix of harsh terrain, compelling forests, and plenty of falling water. It is a rocky site with a waterfall that reaches up to 30 metres high. For the best experience, we suggest visiting the waterfalls during the autumn or spring seasons. This is when you can witness the highest volume of water cascading down the hills, creating a breathtaking sight. Additionally, the weather during this time will be more pleasant, making your hike to Sopot Waterfalls even more enjoyable.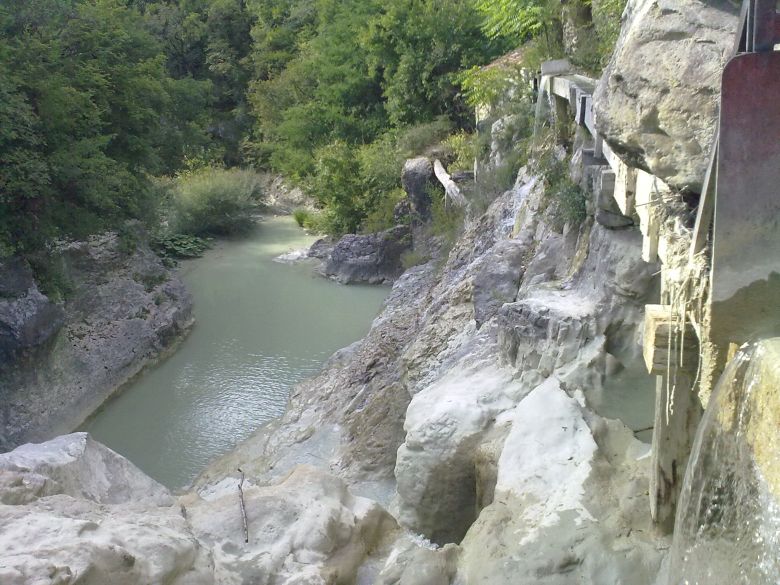 image credit: rg-fotos
Plitvice waterfalls: an astonishing network of Croatian waterfalls and karstic lakes!
Plitvice Lakes in Croatia is a remarkable natural wonder with 16 terraced lakes, lush valleys, and 90 waterfalls. It is often hailed as Europe's most beautiful national park. With various accommodation options available, you can enjoy a pleasant stay amidst nature. However, keep in mind that the park can get crowded during the summer due to its popularity.
The lakes boast mesmerizing colours due to their mineral composition, creating ethereal waterfalls. The water is clear and free from algae or mud. If you're wondering which waterfalls to visit, here are our top recommendations.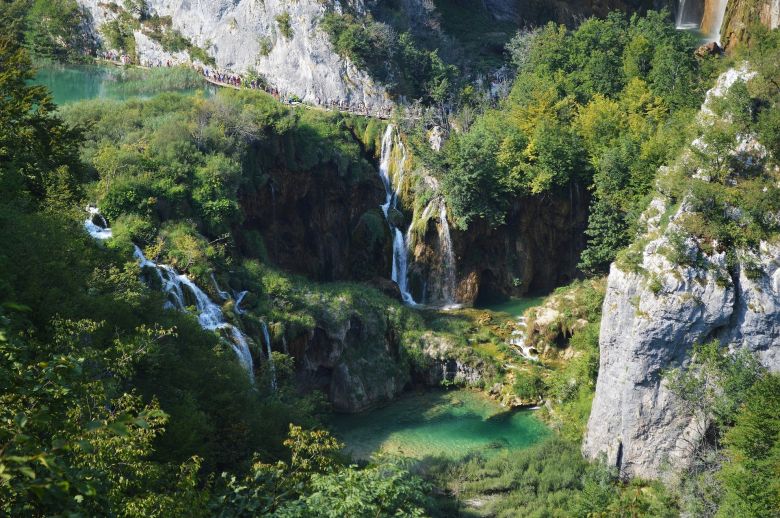 1.The Great Waterfall or the Veliki Slap Waterfall
One of our top choices in the area is the Veliki Slap. It is 78 metres high, being the highest waterfall in Plitvice. You can find it at the end of the Lower Lakes, as the waters of Plitvica Potok River feed it.
2. Sastavci Waterfall or Sastavci Slap
Another jewel of the national park is the Sastavci Waterfalls. These are located on the edge, where the Korana River drops down from 26 metres in height. It is a waterfall popular around the globe due to its attractive colours and interesting setup.
3. Trnina Waterfalls or Slapovi Milke Trnine
Trnina Waterfalls is named after a 19th-century opera singer, who donated impressive sums for nature protection at Plitvice lakes. Locals say that the sound this waterfall makes is somehow magical.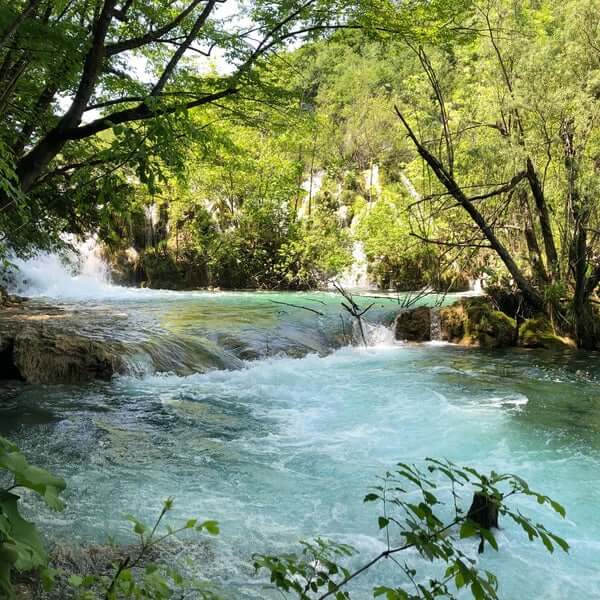 4. Galovački Waterfalls or Galovački Buk
In the middle of Upper Lakes, you will find a welcoming opening. This is a 16 meters high waterfall fed by Galovac and Milino Lakes. It has a heavenly flair, which is why most visitors stop here for a rest.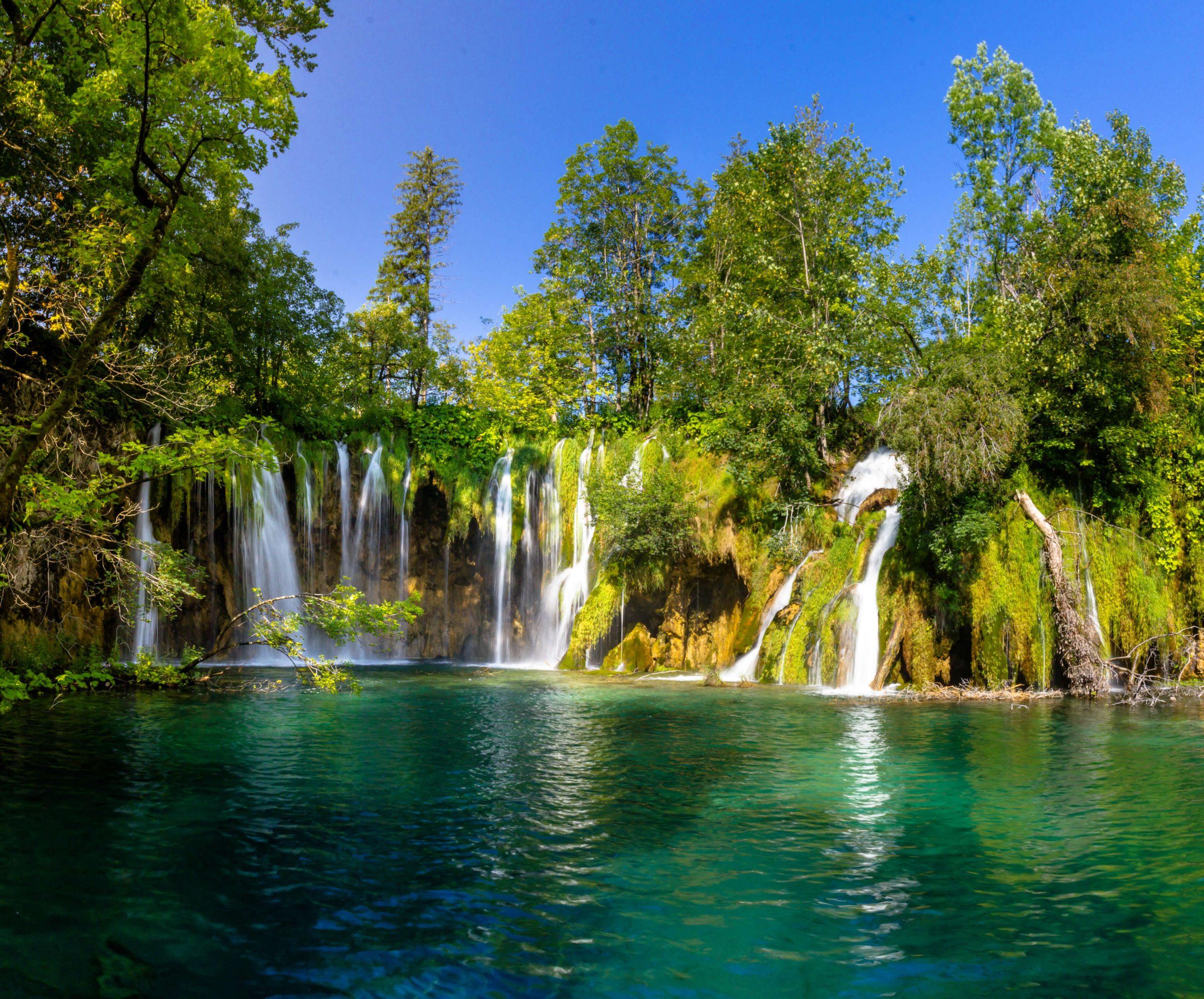 5. Milanovački Waterfall or Milanovački Slap
Milanovački Waterfall is a smaller natural wonder of only 10 meters high. But it is excellent for strolling around it and admiring the lovely view. You can discover it at the barrier of Kozjak Lake, a corner surrounded by rock formations, wood, and plenty of sunlight.
Krka National Park: hiking trails amidst otherworldly waterfalls!
We agree that Plitvice is an iconic tourist destination in Croatia for both natural landscapes and waterfalls. But did you know that the Krka National Park waits to pamper you with the best hiking trails among fantastic waterfalls?
Well, Krka is also part of the UNESCO World Heritage Sites due to multiple reasons. Impressive natural landscapes represent one of those. Also, it is not as crowded as Plitvice. The hiking trails in Krka National Park are the main attraction and are highly valued by Croatians. Plus, it's allowed to swim here! Let's see what to visit:
1. Skradinski Buk Waterfalls
Krka is known for its series of seven waterfalls. The highlight in this area is the Skradinski Buk Waterfall, the most extensive travertine cascade system in Europe. It is one of the most visited areas in the park, due to the turquoise-blue pools and wooden walkways among the trees.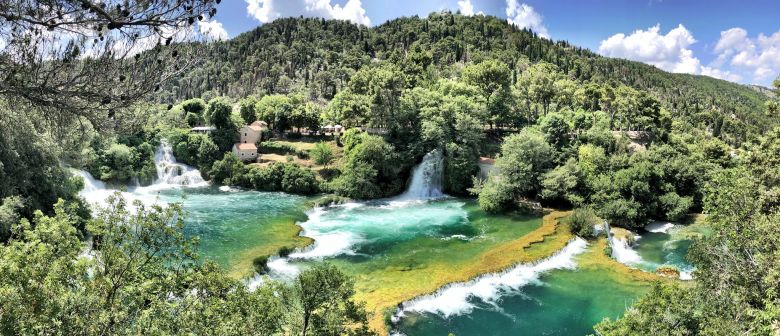 image credit: aiva.
2. Roski Slap Waterfalls
This is another set of falls in Krka with an impressive 27 meters stretch of the river. This section of the park is known for the lovely water falling. But at the same time, tourists come here to climb the steep stairs leading up the mountain for a view of the park from the top.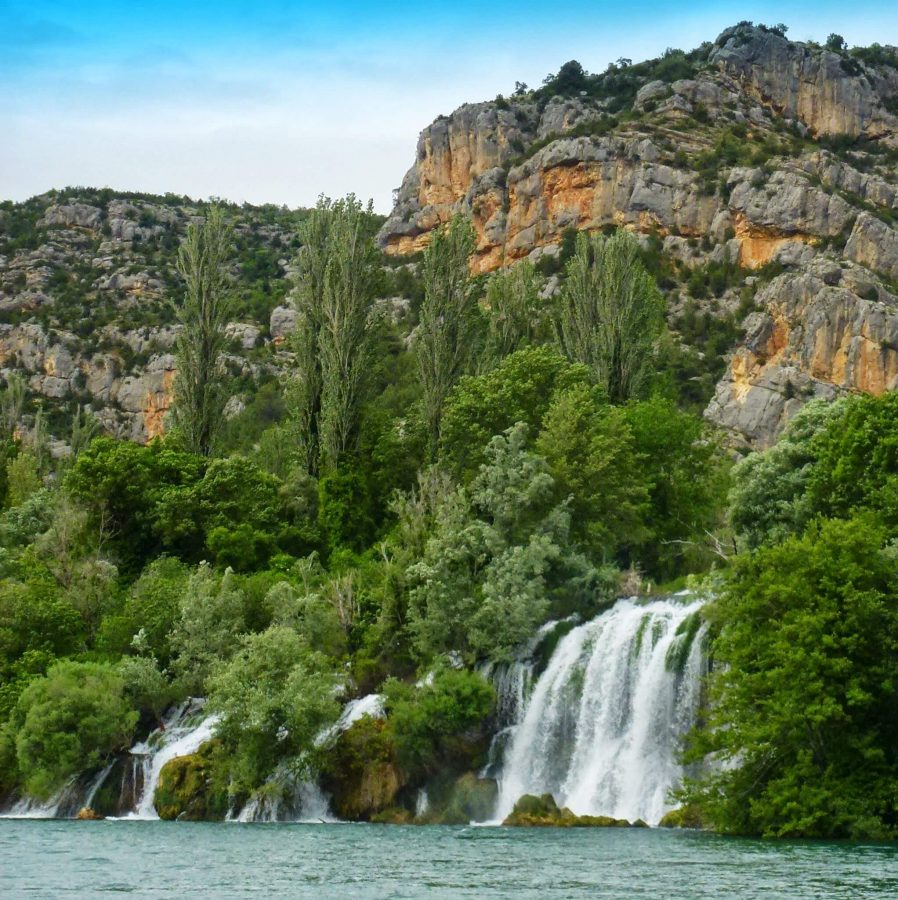 3. Slap Krcic Waterfalls
Slap Krcic is the type of waterfall that comes with an intriguing story. It is positioned between Krka and Krcic River, next to Knin. It is a popular destination among locals, especially during summer, there are plenty of shaded areas to keep you shielded from the harsh sun. Also, plenty of hiking and biking routes are available, and the waterfall itself is more than mesmerizing.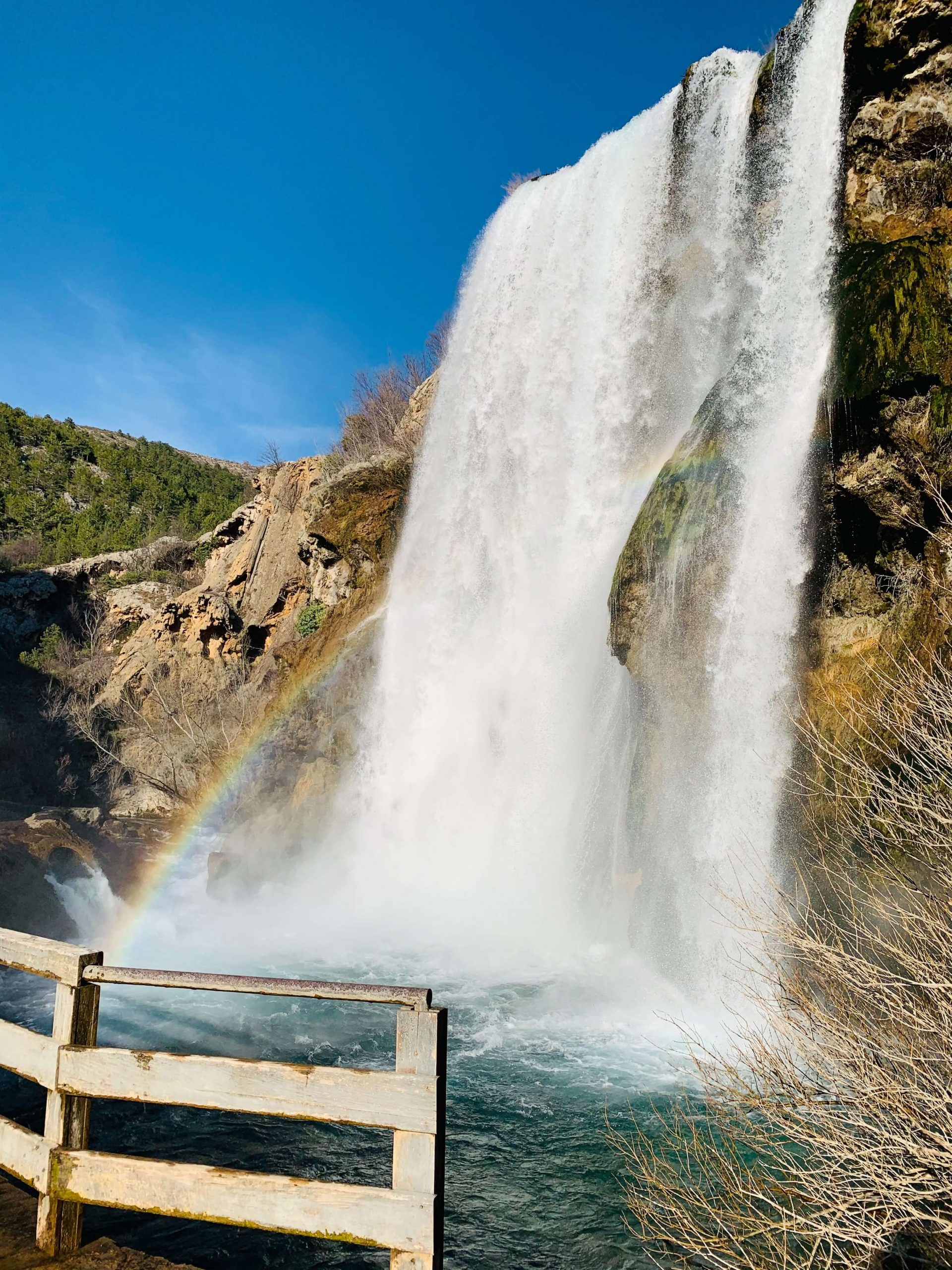 Continental Croatia:

other waterfalls to explore!
The Great Waterfalls of Zumberak represent another go-to place in Croatia for exploring waterfalls. Part of the Zumberak Natural Park, this area in Continental Croatia is beautiful, too.
Sopotsku Slap is the largest waterfall in the region, at 40 meters in height. It has three distinct areas where the water cascades and welcomes its visitors. Other waterfalls to keep a close eye on in Continental Croatia include the Vranjacky Slap, the Slap Ease, the Cerinski Vir, and the Zeleni Vir.
Another waterfall we love in the area is the Mreznica Waterfalls. This is one of the most special natural waterways in the heart of the country, with several waterfalls, springs, mills, and canyons. Indeed, these waterfalls are not as high as Krka or Plitvice waterfalls, but they are unique. And the best part about it is that plenty of pools at the base of the waterfall are suitable for swimming.

image credit: Raftrek Adventure Travel Croatia
The bottom line: chasing Croatian waterfalls
Visiting at least some of these waterfalls, you are creating a hypnotic experience in Croatia. The mesmerizing sound, the falling water, and the overall landscape will make you fall in love with this country. And besides, there are plenty of other activities you can enjoy. Make sure you taste some local dishes and wine, and spend your day as a local would! There are numerous local events organized regularly, which you can attend for a different travelling experience in Croatia.
Frequently asked questions
Where is Krka National Park located?
Krka National Park is located in Croatia, specifically in the Šibenik-Knin County, near the town of Skradin.
Where is Plitvice National Park located?
Plitvice National Park is located in Croatia as well, situated in the Lika-Senj County. It is near the town of Korenica and covers a large area of the Plitvice Lakes.
What is the price of a ticket to visit Plitvice and Krka National Park?
The prices of tickets to visit Plitvice and Krka National Park can vary depending on several factors, such as the time of year, age group, and type of ticket (e.g., single entry, multiple days). It is recommended to check the official websites of each national park for the most up-to-date information on ticket prices and any discounts available for different categories of visitors.