Why windsurf in Croatia?
As you probably know, windsurfing is the leading summer water sports on the globe. It dates back to the beginning of the 20th century, and it was included as an Olympic sport in 1984.
In Croatia, this sport was introduced in the late 70s. And we can tell you that it became an important part of the Croatian culture from that moment on. Both beginner and experienced windsurfers choose Croatia as their destination thanks to the ideal conditions this country has to offer. You will discover some of the most reliable winds, like the mistral, bora, and the southern wind. Besides, numerous windsurfing schools can guide you towards improving your skills. All you need is the ability to swim and willingness to learn how to enjoy windsurfing in Croatia.
When it comes to why you should travel to Croatia to windsurf, we have several reasons to share. The first one is that this country does its best to offer access to premium windsurfing conditions. Secondly, you can always find a villa for rent near a top windsurfing spot in Croatia. And we can tell you from our experience that this type of accommodation will help you enjoy your stay! Moreover, there are several Croatia windsurfing schools that can teach you how to master the winds.
Another thing worth mentioning is that the windsurfing season in Croatia begins in May with the international completion of freestyle surfing. You should also know that most windsurfing spots in Croatia are demanding and feature rocky bottoms, meaning that they are highly recommended for experienced surfers. But rest assured, you can discover beginner-friendly places, too.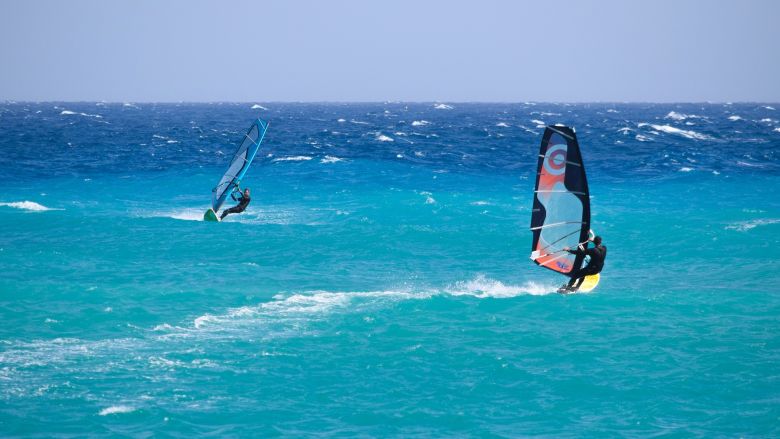 What do I do if I can't bring my windsurfing gear?
This is a common question among windsurfing enthusiasts, so we thought it might be a good idea to share the answer to it. All over the Croatian coast, you'll discover windsurfing rental places. And the best part about these is that you can rent equipment based on your level of experience.
So, it would be best if you didn't worry about not having the proper windsurfing gear for exploring Croatia. Such rental places offer you access to hardware and accessories required to get you safely on the water. The prices vary depending on the area you plan to windsurf, but you can choose to rent your gear for 24 hours, weeks, or weeks.
Can I windsurf in Croatia if I'm a beginner?
As mentioned above, the Croatian coast offers access to both beginners and experts to premium windsurfing locations. So, if you're new to this or you merely not sure you can master this sport, you can choose to join one of the available windsurfing schools. An expert in windsurfing will teach you everything you need to know about water safety and how to manage your gear for the best experience.
Ideally, beginners should use gentle winds that don't exceed 7 knots, while experienced windsurfers can enjoy winds up to 25 knots. Make sure you research the area before booking your accommodation. It is always best to opt for a windsurfing location in Croatia suitable for your level of experience.
Which are the best windsurfing spots in Croatia?
If you're planning a windsurfing holiday in Croatia, you should know you have plenty of choices. We recommend you start by renting a place to stay that has all the amenities you might need. Also, it would help if you looked beyond windsurfing. Most of the surfing spots on the Croatian coast are near beautiful nature and excellent gastronomy. So, you will get the chance to tasting local cuisine, indulge in a wine tasting session, or even go for a Croatian hike.
Next, we shared the premium windsurfing spots in Croatia you should try at least once! Let's see which one is best for your next Croatian vacation!
#1 The windsurfing paradise in Bol, Brac Island
Central Dalmatia has plenty to offer. And this includes exquisite wines, olive oil, and numerous local dalmatian cuisine dishes. But one of the main reasons people opt for a vacation in Central Dalmatia is that this area is home to some of the best windsurfing winds.
So, if you're looking forward to exploring and practice in Croatia's top windsurfing destination, we recommend you visit Bol in Brac Island. Bol is positioned on the sunny coast of Brac, surrounded by the Vidova Gora Mountain. This means that there is a powerful mistral wind traveling in the channel between Brac and Hvar. Overall, Bol is a small and relaxed village with welcoming beaches and a couple of sports facilities.
Our tip is to try the summer morning winds since they are smooth and offer a light eastern wind blow. This is excellent for beginners, as it won't challenge you too much. On the other hand, Bol is perfect for experienced windsurfers after afternoons.
Keep in mind that Bol is home to several windsurf championships thanks to the winds that range from 12 to 25 knots. So, if you're lucky enough, you might get the chance to attend one during your stay.
To access Bol, you'll have to fly to Split, use the airport bus to town and catch a catamaran from Split to Bol.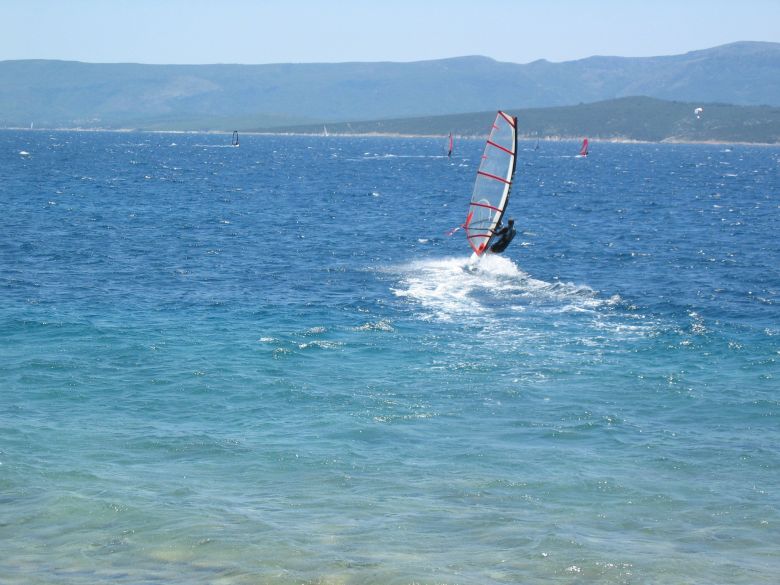 image credit: Yareeh
#2 Learn windsurfing in the most welcoming area: Znjanj in Split
If you don't have a clue on how to windsurf, but you're willing to learn, you should choose as your Croatian vacation destination Znjanj. This location near Split is the best choice for newcomers and beginners, thanks to the professional windsurfing skills.
Since everyone is welcomed here, you should know that you'll face a moderate mistral wind during summer. During spring and autumn, the winds get more robust and aren't recommended for beginners. So, if you're planning to learn or improve your windsurfing skills, you should visit Znjanj during the summer months.
Split is part of the UNESCO World Heritage List, so you can save some time to discover its hidden beauties during your stay. Also, make sure you try some local dalmatian restaurants since most of the food is made from locally-sourced foods and vegetables.
To reach Znjanj, you'll have to flit to Split's airport. From there, you can rent a car or take a bus to the city center. Several boats can take you to and from Znjanj with ease.
#3 A remote location to windsurf South Dalmatia: the Neretva Delta
If you aim to avoid crowded places during your holiday in Croatia, you should consider windsurfing in the Neretva Delta. This is an excellent location with stable thermal winds that range from 15 to 22 knots. Besides, the shallow sea is warm, allowing you to spend your day on the water without discomfort.
The Neretva Delta is a protected area that is gradually gaining popularity among tourists. It features fertile fields and orchards, separated by enjoyable drainage channels. You should know that this area is the leading supplier of most Croatian open-air markets with fresh fruits and vegetables. So, it might be a good idea during your stay to try some seasonal fruits and vegetables.
To access the Neretva Delta in South Dalmatia, you should fly to Dubrovnik. From here, you can rent a car and drive northwest until you reach the coast of Ploce.
#4 A windsurfing holiday with Istrian delicacies and top windsurfing spots: Premantura peninsular, Pula
Istria is popular thanks to its delicacies: the truffles and Istrian wine. But did you know there is more to this Croatian region? Well, you can discover a flat rocky windsurfing spot in Premantura peninsular. It is the best beginner-friendly spot in the entire country because the mainland shelters it. It offers excellent winds that flow from east to west, along with several sage bays.
Premantura is filled with windsurfing rental places to get your gear, and you can discover a couple of training schools. You can also explore the gorgeous beaches and pristine blue waters when the wind is not powerful enough for windsurfing.
We encourage you to try during your stay the Istrian delicacy, truffles. This is the best place in Croatia to indulge in such an exquisite tasting session. But, of course, you shouldn't overlook the flavors and unique taste of local Istrian wines.
To access Premantura peninsular, you'll have to fly to Pula and drive 10 km from the city center until you reach Istria's southern tip.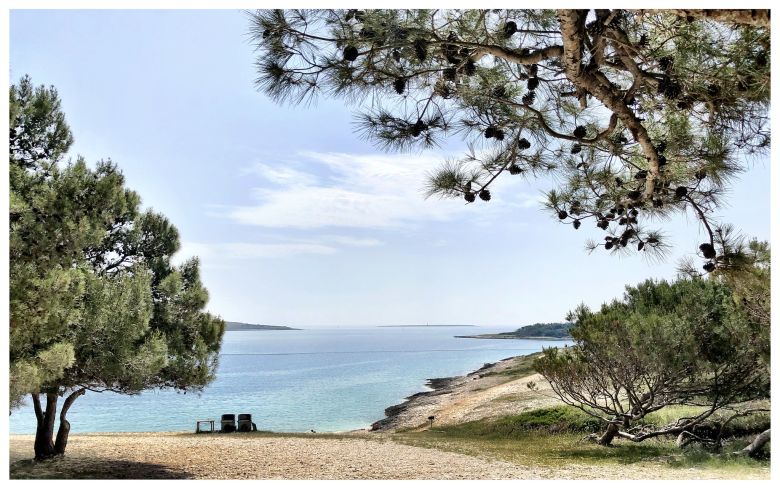 image credit: aiva.
#5 A fine windsurfing venue: Jadrija, Sibenik
Central Dalmatia has a wide array of windsurfing spots. But we can tell you from our experience that Jadrija is the go-to place for any windsurfing enthusiast. This place started as a bathing establishment, but it grew into a premium windsurfing venue. Several winds blow here, ranging from the summer mistral to the autumn jugo.
Keep in mind that it is highly recommended that only experienced windsurfers practice here during autumn and spring. The winds get quite intense and create big waves you'll have to master accordingly.
The best part about choosing Jadrija as your windsurfing vacation in Croatia is that it is nearby Sibenik, the waterfalls of Krka National Park, and the rocky islands of Kornati National Park.
To access Jadrija, you can flit to Split, rent a car and travel northwest to Sibenik. From here, you can use a taxi-boat to cross to Jadrija.
#6 Challenge your windsurfing skills with a premium location in Baska, Island of Krk
If you're an experienced windsurfer, you'll enjoy this location. Baska is one of the top windsurfing spots for professional surfers. The waves can reach up to 1,5 meters, while the winds are more robust than in any other area in Croatia.
Baska is a small village in the Island of Krk. It is popular among tourists and locals due to the gorgeous 2 km long pebbly beach, Vela Plaza. So, if you aim to spend your holiday sunbathing and practicing windsurf, this is the best location for you!
To access Baska, you'll have to fly to the nearby airport of Omisakli. From here, you can travel to the Island of Krk by a rental car, a local bus, or a boat.
#7 Windsurfing on a peninsula of fine wine: Viganj, Peljesac
If you love both fine wines and windsurfing, Viganj in the Peljesac peninsular is the best destination for you. This small village from South Dalmatia is famous in the area thanks to exquisite wines' local production. But many people visit Viganj due to the impressive windsurfing winds. Viganj is positioned in a channel that stretches between Peljesac peninsular and Korcula Island. This means it can offer steady and straightforward to master winds. So, we recommend this windsurfing destination in Croatia for both beginner and intermediate surfers.
Overall, Viganj is family-friendly and extremely safe. You can enjoy a nice flat water area that won't pose any safety risks. Keep in mind that the best time to windsurf in Viganj is from May to mid-September after 1 pm until sunset. This period will get you winds between 14 and 25 knots.
We recommend you consider exploring the cycling paths in the area and a wine-tasting session in one of the premium vineyards available. If you want to explore more of South Dalmatia, a visit to Korcula will reveal impressive medieval stone alleys and Venetian-era architecture.
To access Viganj, you'll have to fly to Dubrovnik, rent a car and drive northwest up the coast.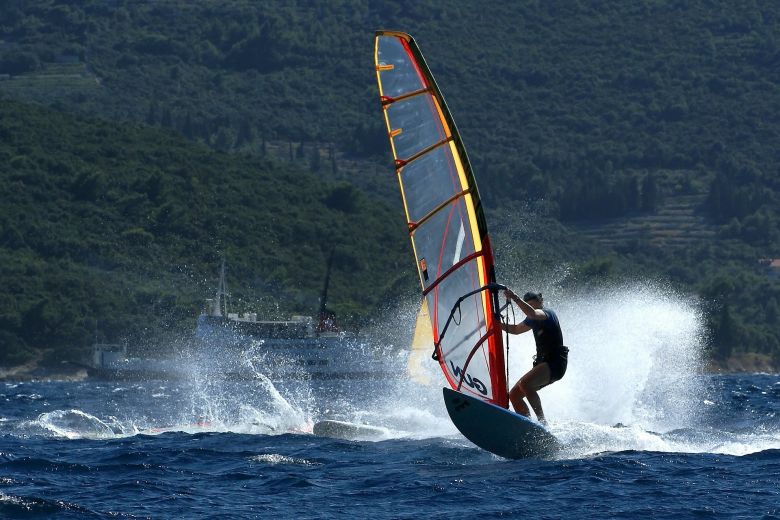 Conclusion
This is everything you need to know about windsurfing in Croatia. We recommend you check local regulations concerning this sport since there might be some restrictions depending on your travel area. For example, if you're choosing a windsurfing spot on a family-friendly beach, you'll have to make sure you don't bother those enjoying the sun on the beach.