Why choose Istrian hiking trails?
Istria has plenty to offer. There are quite a few villas to rent near the beach, while local restaurants are spread all over the peninsula. A stay in Istria can get you the chance to explore local wine production and wineries. But did you know there is one other activity you can try during your visit? Well, Istrian hiking trails have been a must for every nature lover. These will take you in the green heart of Croatia, and you will get the chance to indulge in an otherworldly scenery. Besides, on each hiking route, you have numerous historical landmarks to explore, including
local restaurants
, ancient villages, and many more. The lush Mediterranean vegetation can be observed all over Istria's picturesque scenery. We believe that
Central Istria
has gorgeous hiking trails, mostly near Pazin. But all over Istria, you can discover attractive hills, picturesque Istrian landscapes, and many more. Make sure you look for cascades and waterfalls hidden from the average visitors!
What do you need to know about hiking in Istria?
Each Istrian hiking trail will offer a unique experience. However, you should know that there are some safety concerns worth mentioning. All walks come with some potential risks, as most of them are in the midst of nature. People do not frequent most hiking trails in Istria, so you should be prepared to spend some time in remote areas and tackle some challenging walking trails. It is highly recommended to research the difficulty level of hiking trails before starting your journey. In this way, you will make the best of your stay in Croatia. Make sure you bring with you adequate equipment, including trekking boots, backpacks, and waterproof clothing. Also, Istria's wilderness must be protected, so be sure you do responsible travel. Remove any trash and avoid damage to your surroundings.
The best Istrian hiking trails in nature's heart
Ucka Mountain: the ultimate Istrian adventure!
Ucka Natural Park is one of the most popular areas in Istria. And this happens since it covers an area of approximately 150 square kilometers. Overall, it dominates Istria, and its peaks allow you to observe the peninsula from above. It is the go-to destination in Croatia for hiking, as there was a lot of time invested in making the Ucka Mountains hike-friendly. So, there are plenty of signposts and signs to mark hiking paths, so that you won't lose the way in the park. Of course, you will have to follow some standard hiking rules, since you will be exploring a natural park with lots of untouched natural areas. Keep in mind that Ucka mountains are characterized by steep slopes,
impressive waterfalls
, and intriguing flora and fauna. So, it is highly recommended to opt for a hiking trail based on your endurance and experience level. The following hiking paths are the best in Ucka Mountains!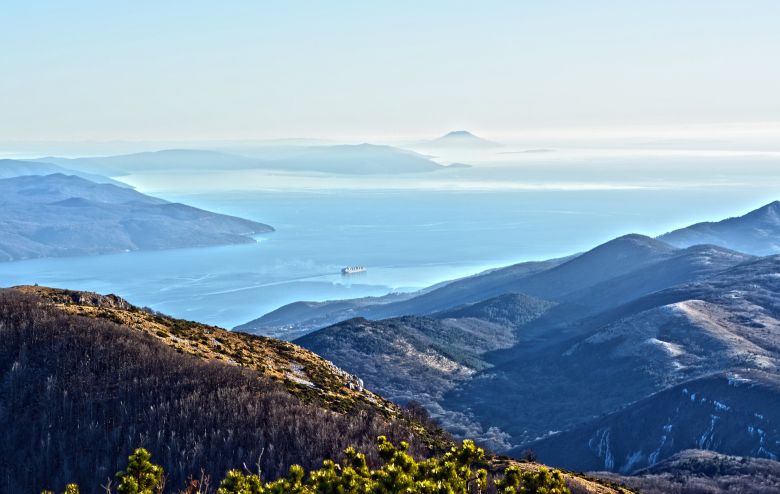 The Plas Hiking Trail
Often called the educational trail, the Plas is located at 300 meters below the peak of Vojak. This is the highest peak in Ucka Mountains, offering you a nice view of the area. The Plas hiking trail has around 2km, and it can be done in up to two hours. It is great for all levels of experience, as it poses little to no challenges (hence, the name!). This hiking trail is filled with endangered plant species and gorgeous Istrian hills.
The Vela Draga Hiking Trail
Another educational trail in Ucka Mountains is the Vela Draga hiking route. It offers an impressive view over the Vela Draga canyon, being ranked as the most beautiful trail in Istria. It is a trail characterized by tall pointy rocks, unique geomorphological gems in Istria. Also, the free climbing and alpine area will allow you to enjoy another interesting outdoor adventure. Just make sure you are adequately equipped for the task!
The Trebisca-Perun Hiking Trail
We do like the Trebisca-Perun Hiking Trail since it offers some challenges. It is recommended for intermediate or experienced hikers, as it has a total length of 15 kilometers. Overall, it takes around seven hours to complete this trail, so you should bring plenty of water and food for your trip. Also, make sure you use comfortable shoes and clothes to avoid any issues. We recommend the Trebisca-Perun trail since it offers access to stunning nature and preserved hamlets. It is a historical path, and you will be able to observe plenty of landmarks important for the first Slavic settlers that reached the Kvarner area.
The Slap Hiking Trail
This is a short trail, and it has only 800 meters. The force of the water created it in the area, and it offers a lovely view of the Lovranska Draga. This hiking path goes through an ancient chestnut forest and finishes near an otherworldly waterfall. So, it might be good to plan a picnic here and have plenty of time to admire the scenery!
The Strazica- Sapacica Hiking Trail
Another easy trail to explore is the Strazica- Sapacica path. It has a total length of 6.5 kilometers, and you can finish it in up to three hours. We do like about it its circular form and overall view over the Cicarija high plateau. It is a remote area filled with parts of outstanding nature. It is not a demanding trail so that you can hike it with your children or the elderly. You get the chance to explore the Istrian countryside and local dishes offered upon request by locals!
Other Istrian trails you must explore at least once!
There are numerous hiking trails in Istria. And, as you might expect, most of those are located near
Porec
, Rovinj,
Pula
or Vrsar. No matter which area you opt to explore, there are quite a few attractions worth paying attention to. Make sure that on your Istrian trails, you stop and indulge in some
local Istrian cuisine
and have a glass of
premium wine produced in the area
. And if you are lucky enough, you will discover a villa for rent near the following hiking routes!
The Porec- Parenzo Across the Lagunas Trail
If you consider staying in Porec, we recommend you explore the Lagunas. And you can do that with the walking path that will take you around the Mulandrija Bay over the stream St. Andeo. It has a total of 4.500 meters, and it can take you up to two hours. When you reach the Zelena Laguna, you will start going uphill to a land trail that will end up in an area with a gorgeous view over the Lagunas. We recommend exploring this trail at night as it is lit and offers a unique view over the area.
Porec City Center – Brulo Bay – Plava Laguna Bay
Porec is an interesting city to explore. But did you know that you can reach with ease the surrounding pine tree forest? You can also explore the route that goes along the sea to the Brulo Bay and Jedro Beach. And moving forward will get you a peninsula tour and access to a stone trail up to the woods. The trail goes to the Plava Laguna Bay and to the Rt Tedule, a resting spot with a gorgeous panorama over Porec. The total length of this trail is 3.800 meters, meaning that it will take you up to one hour and 30 minutes to explore. It is a great choice for all hiking experience levels since there is little to no difficulty on this path.
Via Adriatica Trail from Pula to Dubrovnik
If you are an active and experienced hiker, you will want to make the best of your Istrian adventure. And what better way to do that than admiring the breathtaking views of over 100 peaks along the Adriatic Coast? Well, the Via Adriatica is a trail that you can split into several day trips so that you get plenty of time to rest and enjoy. There are plenty of opportunities here, ranging from one-hour hikes to one-day trips. Overall, this trail is 1070 kilometers long, and it comprises of 14 mountains and 23 peaks higher than 1000 meters. Also, it crosses several lakes and national parks, making it the best hiking trail in Croatia. Make sure you are up to the challenge and bring the proper equipment to finish this challenging route!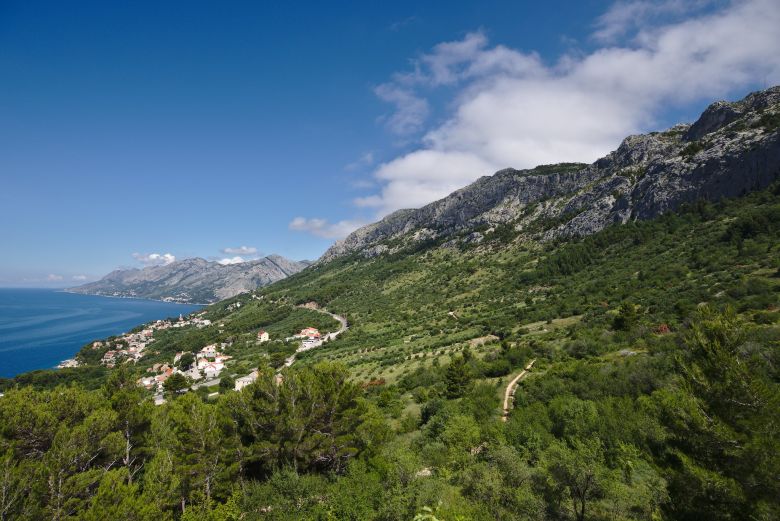 image credit: Piotr Bronkalla
The Seven Waterfalls Trail
For those looking forward to admiring the magical Istrian waterfalls, this trail is the best choice. The Seven Waterfalls Trail is surrounded by lush vegetation and traditional villages. It is a simple half-day hike, recommended for all levels of experience. The trail starts in Buzet, overlooking over the gorgeous Mirna River Valley. We recommend you hike this trail in autumn and spring for the best experience. Overall, this trail takes up to five hours, but we encourage you to stop for a picnic along the river.
The Pazin- Beram Trail
The Pazin- Beram hiking trails is medium difficulty, and it will take you at an altitude of 385 meters. It starts and ends in Pazin, and it will take you around three hours to complete. It is an interesting trail that will allow you to explore Gortan Hill and the Santarija Plateau. Make sure you look for the Pazin Roof waterfall, the highlight of this interesting Istrian route.
The Black Point and Orlic Trail
The Black Point is the landmark of the east Istrian coast. It stands out due to its lighthouse constructed back in 1873. This is a simple and friendly trail with a total length of 10 kilometers. It will take you along the rocky shore, but the highlight of this trail is the oak forest. You will also get the chance to admire a different view of the
Kvarner Bay
from Orlic, the highest peak in the area with 470 meters above sea level.
The Upper Kamenjak Trail
This is one of the best trails in Medulin, and it has average difficulty. It will take you up to two hours to explore the area. And the best part about this walk will be that you can admire numerous historical monuments and natural sights. Also, the Upper Kamenjak Trail will take you to a canyon, which was part of a defensive line from Austro-Hungarian times. Keep a close eye for olive groves, as this vantage point will show you the best of Medulin!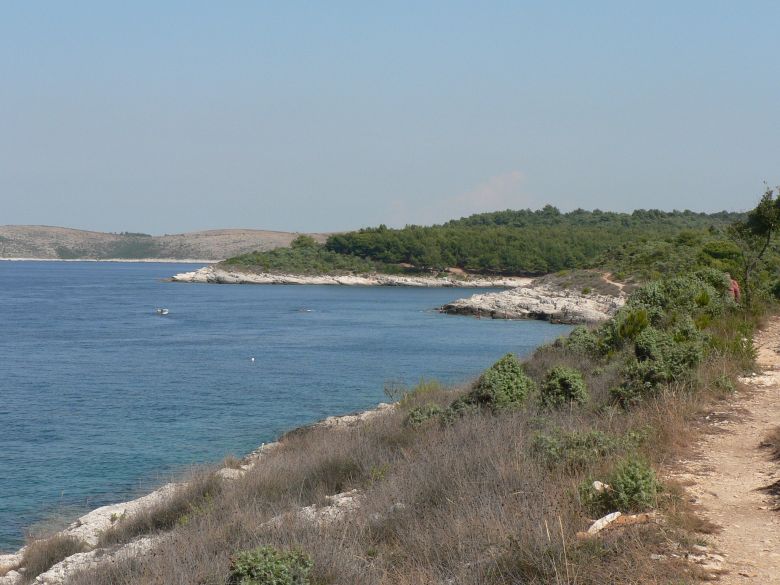 image credit: Alistar Young
The Bumbiste Trail
Another simple to explore the route in Medulin is the Bumbiste route. It has around 2.5 kilometers, and it will take you around 45 minutes. It is a nice area amongst pine trees and unspoiled natural beaches, coves, and islands. We recommend you stop in the small harbor on the route to enjoy an authentic traditional Croatian meal!
The bottom line
There are plenty of other Istrian hiking trails you can explore. It all depends on your endurance, level of experience, and the challenge you're looking for. Istria is a beautiful region with plenty of remote and unspoiled places to admire. And the best part about it is that all the best hiking routes are near important Croatian cities. As such, you can book accommodation near your favorite spot and start exploring the peninsula!