Why choose cycling in Istria?
Well, the main reason why you should consider cycling in Istria is the terrain. Most of the cycling trails here are moderate with some hills, allowing even beginners to explore the peninsula with little to no hassle. But, of course, you can discover cycling trails for experienced bikers, too.
You will bike into impressive valleys, with forests and rivers, and even go higher onto the slopes of hills. There is so much beauty in this Croatian peninsula, which you'll never get bored during your itinerary! You can explore olive groves and vineyards, and even indulge in a wine tasting session. But the best part about choosing Istria as your next cycling adventure destination is that you'll discover all over the peninsula villas for rent. These come with all the amenities you might need during your stay, including a pool and an area to store your bike. So, if you want to enjoy this experience stress-free, this opportunity can suit your needs and expectations. Besides, most villas for rent in Istria are near the beach, getting you fast access to seawater.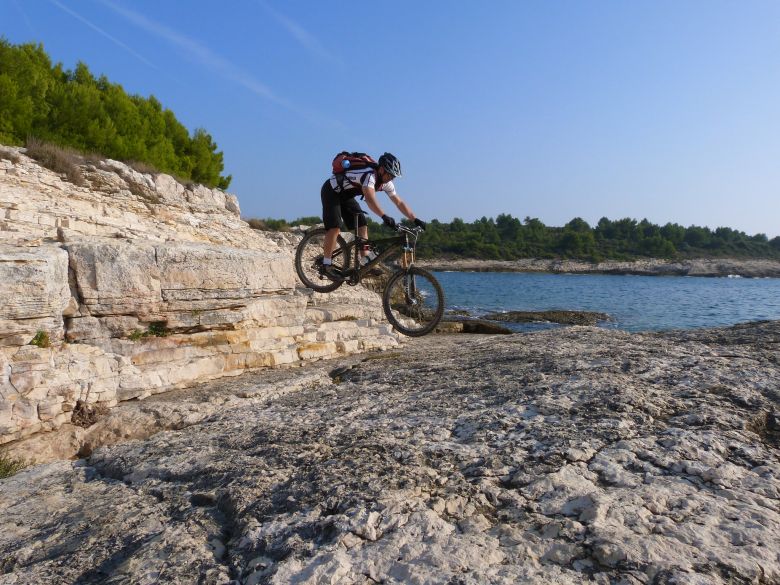 image credit: chiemgau Biking
What do you need to know about cycling in Istria?
There are several rules you need to follow when cycling in Istria. This will ensure you will have a pleasant activity, and you won't bother other cyclists enjoying the scenery. So, before you take your bike on one of the Istrian cycling trails, you should know the following:
You should always use the indicated bike lanes or bike paths; if there aren't any, you should keep to the right-hand side of the road.
If you're traveling with a group (two or more people), you are all obliged to cycle one behind another.
Cyclists younger than 16 must wear a helmet at all times.
Use only open trails, and avoid trespassing on private areas.
Protect the environment, and don't leave your trash behind.
Make sure you master your bike and never lose control of it.
Always let other cyclists on the trail know you're coming.
Please don't interfere with the activity of the animals in the area; avoid scaring them.
Plan your trip and make sure you bring all the required equipment.
You should also know that each biking trail in Istria comes with a road sign that indicates its level of difficulty:
Trails marked with a red sign are recommended for experienced cyclists since these are the most demanding.
Trails marked with a yellow sign are of moderated difficulty but might feature some dangerous areas, too.
Trails marked with a green sign are easy paths good for most cyclists, no matter their experience level.

What are Bike Friendly Points?
If you're planning to cycle in Northwest Istria, you will notice several Bike Friendly Points. These are special corners in a facility and service providers located near a cycling trail. It is great for cyclists to face problems with their bikes. Some of the things you can benefit from include:
cycling maps
contact numbers for assistance
downloadable GPS information for all cycling trails
Wi-Fi
bike racks
tools for servicing your bike
tools for pumping tires
Which are the best cycling trails in Istria?
With so many bike-friendly areas in Istria, one might find it difficult to choose a specific one. But since we're here to guide you towards the best Croatian experience, we shared next to our top choices for Istria's cycling paths!
Embrace the idyllic Istrian countryside and bike past medieval towns, viaducts, and breathtaking tunnels with the Parenzana trail
In its beginnings, Parenzana was an impressive 123,1 km long narrow-gauge railway line connection key points in Europe. And it was linked 33 places in Istria, from Porec to Trieste. And today, it goes through territories from Italy, Slovenia, and Croatia.
The Parenzana route is filled with a rich history since it was the lifeline for almost all villages in Istria. Villagers transported wine, olive oil, Istrian stone, wood, and several agricultural products. And this makes it today one of the best cycling routes in the peninsula.
When it comes to this biking trail's difficulty, you should know that even though it has an impressive length of 120km, it is suitable for almost all levels of experience. It is not demanding, and you can even take your family to explore the route. Still, it is best to cycle with caution and have plenty of rest on the way. If you're planning to complete the entire Parenzana cycling trail, it is best to extend your trip to up to three days. In this way, you will get plenty of time to admire the scenery, enjoy local organic products, discover interesting things about Istria, and even try some local Istrian wine.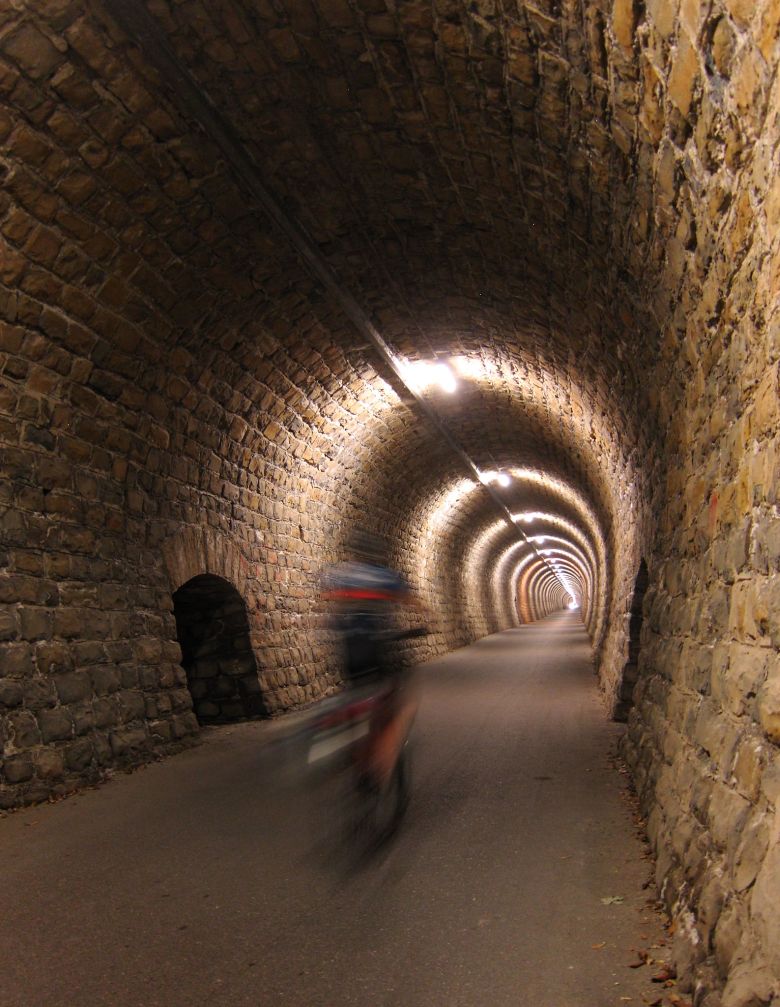 image credit: cpandmd
Indulge into the trail of Delicious Flavors and Adventures
One of our favorite Istrian cycling trails is the trail of Delicious Flavors and Adventures. You can access it from Porec, and it is part of the Parenzana circuit. Still, it comes with medium difficulty allowing almost everyone to explore it. This cycling trail has around 30 km length, and it can get you to several other Istrian cycling and hiking trails. Many people still opt for exploring this specific area since it is packed with wine and olive oil roads. Hence, you might get the chance to taste olive oil straight from the farm!
Experienced cyclists can complete this route in up to two hours. But if you don't master your bike too well, it is highly recommended to have frequent stops to rest. The trail starts at the viewpoint and entrance to the former Parenzana railway. But it will take you slightly parallel to it. So, as you ride along, you will notice there are quite a few turn points that will get you back to the massive Parenzana. We recommend you make a stop at the village of Lasici to enjoy some local Istrian foods. This trail ends in Vizinada, and there are several GPS maps you can use to keep you on course.
History lovers need to explore the Ancient Towns cycling route
Do you love history? Well, this cycling route in Istria can take you to admire the most important ancient towns in Croatia. Starting from Rabac, you will ride your bike to Rabin, Krsan, Pican, Gracisce, Zminj, Barban, Rasa, and back to Labin and Rabac. Overall, this route has 89 km, and it can take around three and a half hours. Keep in mind that the terrain is medium difficulty, and beginner riders should approach it with a lot of care.
We believe this is one of the most beautiful areas in Istria. The Labin rural areas offer a glimpse of the true richness of Croatia. It comes with a lot of tradition, history, and peculiar cities. It is that kind of area in Croatian landscapes that merges mountain tops with the sea. So, if you love both nature and history, try this cycling route during your stay!
Our top tip is to stop for a lunch break in Labin and try the traditional krafi. Also, locals will tell you the legend of St Nice, a famous bishop in the area! Eastern Istria is one of the top cycling destinations for everyone who loves taking their bikes in remote regions to embrace nature!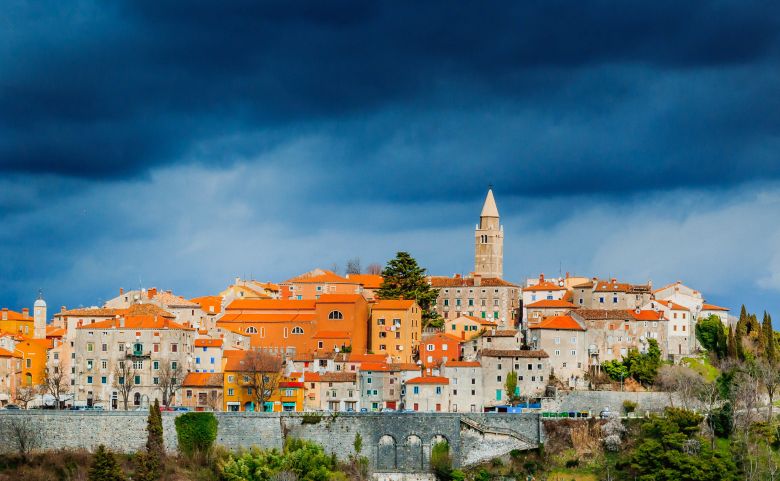 image credit: Jernej Furman
A demanding, but gorgeous cycling route for experienced riders: The Queen Of Istria Trail
If you're searching for a demanding and challenging biking trail in Istria, this is the best choice for you. The Queen of Istria Trail is one of the best for experienced riders that aim to improve their skills. It would be best if you got ready to bike for around six hours, the total time it will take you to complete it. And it is a challenge since it will take you via the most impressive Istrian road: the highway between Plomin and Icici.
Mostly, this biking trail starts in Rabac and takes you to Labin, Vozilici, Icici, Ucka, Vranja, Vozilici, and back to Labin and Rabac. It totals around 120 km, but it stands out as one of the most beautiful in the peninsula. The view over the Kvarner Bay is one of a kind, so make sure you keep your eyes on the road to avoid accidents. We recommend you consider a stop to rest and admire the scenery.
After you pass the Kvarner Bay, you will notice the road will start to climb. And that's the point where things will get challenging! The route will go to the top of the most popular Istrian Mountain, Ucka, the Queen of Istria. It is worth every meter you ride, but you need to be equipped adequately. So, it is best to use a helmet and proper gear to avoid unnecessary injuries.
A family-friendly cycling route to admire rural Central Istria: the San Lorenzo Trail
Traveling with your kids to Croatia can be a beautiful experience. And if your family is used to cycling, this beginner-friendly trail is a great idea for a day's activity. It starts and ends in Sveti Lovrec, being one of the easiest loop trails in Istria. The San Lorenzo cycling trail has 33 km, and it might take you two and a half hours to complete it. Still, if you're exploring it with your family, you should spend your entire day here.
All along this cycling trail, you will discover ancient towns worth exploring. And even the Sveti Lovrec can mesmerize you, which is why we encourage you to make it your final stop. It is one of the best-preserved medieval towns in Istria, named after St. Lawrence's church and dating back to the 8th century. Many people come to visit this place since it has a unique circular shape. It is one of the few settlements originating from the prehistoric period. Still, you should know that most of the fortifications you can admire today date back to the Venetian era.
Our tip is to spend some time to admire the interior of the Church of St. Martin. It is the biggest Romanesque church in Istria, and it still features the 11th-century frescoes, some of the oldest in Croatia.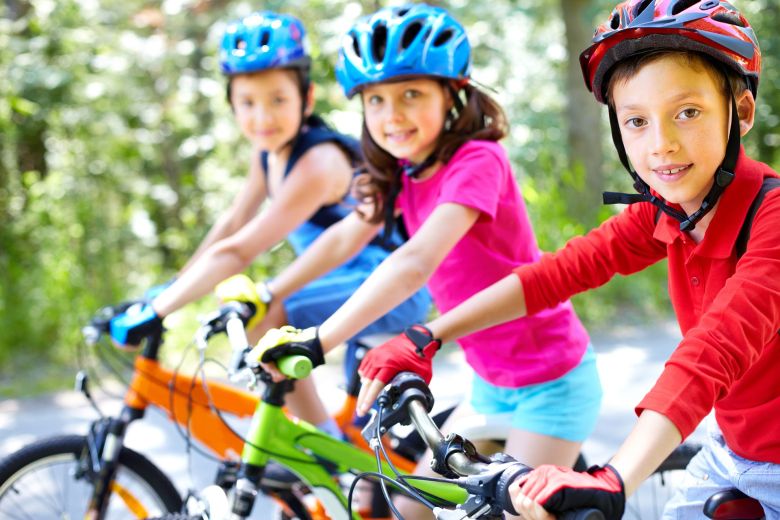 The bottom line
These are our top choices for cycling in Istria. But the best part about visiting the peninsula is that each town is bike-friendly. So, make sure you look for bike paths to explore each Istrian town on two wheels. Because of its natural and cultural richness, Istria is a genuine cycling adventure on the Adriatic seaside. And the best part about it is that it has a welcoming climate and infrastructure to help you enjoy everything it has to offer.
Our top recommendation is to combine your cycling experience with a gastronomic one. Plenty of local restaurants are ready to entice your taste buds. And don't forget about Istrian wine! You will notice several vineyards during your stay, all of which offer on-site tasting sessions. Get ready to explore Istria on your bike and book a villa for rent in your traveling area. In this way, you will enjoy your ride without worrying about accommodation. Also, make sure you understand local regulations about biking in Istria. Fines are higher than you expect, and it always easier to follow the rules and respect other cyclists.