With an impressive coastal backdrop, numerous heavenly islands, and translucent waters, the Adriatic is one of Europe's most attractive seascapes. And if you aim to make the best experience out of it, you should consider island hopping in Croatia. Tourists say this is an island hopper's paradise thanks to its numerous shoals of ferries offering you the chance to indulge in anything ranging from local wine tasting to sky diving.
And if you're planning to set up your next Croatian island hopping itinerary, this article is for you. Read on to discover our top recommendations for an experience worth remembering.
How to get around when you're island hopping in Croatia
There are several ways to jump from one Croatia island to another. Keep in mind that you should choose this based on your preferences and expectations. Some traveling suggestions are more demanding than others. But no matter what you opt for, we believe you will benefit from the best Croatian experience ever!
Joining a party cruiser
If you like parties or simply travel alone, a party cruiser might be the best island hopping solution. You can hop on a cruiser and sail along Croatia's coastline for seven days. And the best part about it is that you will get the chance to explore some of the most popular destinations in the country.
Also, traveling around in a party cruiser offers excellent value for money. You won't have to worry about anything because everything will be pre-organized for you. The downside might be that you won't be allowed to spend as much time as you'd like in one place. Cruisers dock at a place early in the afternoon and leave the next morning.
Improvising with a ferry
Our top choice for exploring Croatia while doing island hopping is the ferry. This is a great opportunity to create the best DIY travel itinerary. You can select your preferred destinations, make unplanned stops, and enjoy your time there without worrying about anything.
The best part about this is that the Croatian islands and peninsulas have a reliable ferry system. There are ferries that transfer you from major port towns (like Split, Ploce, or Rijeka) and several catamarans/ smaller boats to get you going even in the most remote places. Don't forget that island hopping with a ferry will have you book in advance for your accommodation. But since there are plenty of villas for rent near the best Croatian destinations, you can rest assured you will have access to the best amenities and services.
Booking a private yacht tour
If you like your privacy, a private yacht tour is the best choice for you. It comes with a flexible itinerary, and it allows you to spend as much time as you'd like in a location. We do believe this is the perfect choice for those traveling with a group of friends.
The downside might be that this can turn out to be rather costly compared to individual sailing tours. Also, there will be no meals included, so you will have to think about this too.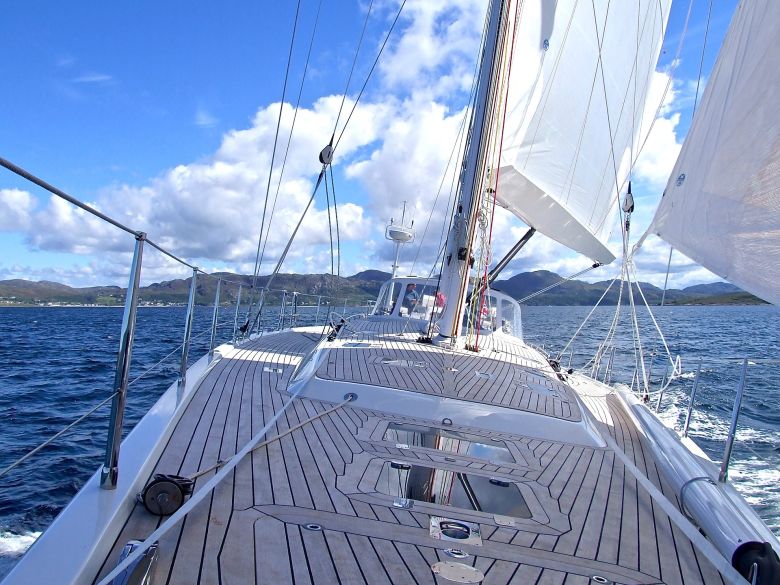 Our tips for budget-friendly island hopping in Croatia
Consider eating at local restaurants, as you will get access to tasty Croatian food at a reasonable price
Try local wineries, since Southern Croatia is extremely popular for its local wines
Make sure you pay close attention for olives and olive oil, as locals sell those items at a great price.
What should you visit while doing island hopping in Croatia?
Mostly, you can go island hopping in Croatia the entire year. Still, sailing to specific islands might be restricted to one a day during winter. Also, you should know that particular ferry routes run exclusively during summer. These include the Veli Losinj – Zadar and the Split – Hvar – Dubrovnik catamaran.
You should know that during high season, July and August, catamarans and ferries get sold out quite fast. So, there is a chance for you to get stranded on a specific island. Of course, you can easily find accommodation, and it shouldn't pose any challenge if you're not on a tight schedule.
Our top choice for island hopping in Croatia is in late spring and early autumn. The weather is welcoming, while the tourist crowds are smaller. Besides, you can get the best value for accommodation and local amenities.
Split
Most island hoppers start their adventure in Split. It is one of the most beloved tourist destinations on the Croatian coast. And the best part about it is that you can start your adventure in Split with ease since it is home to the main airport on the coast.
This is the oldest city in the area. So, you should make time to visit the famous Diocletian's Palace, Marjan Hill, the Ivan Mestrovic Gallery and the Cathedral of Saint Dominus. Also, there are plenty of local restaurants and cafes that serve authentic Croatian cuisines.
Brac
Brac is the third largest Croatian island, and it is located around 50 km from Split. It is famous for its impressive white-pebble beach, Zlatni Rat. Also, you will discover here the tallest peak in the area, the Vidova Gota, at 780m. So, a stop in Brac will get on your itinerary a visit at the highest island point in the Adriatic.
Besides the spectacular view, you will get the chance to explore the impressive Blaca Hermitage eco-museum. You can find it in the southern area of Brac. But our insider tip is to stop for a wine and olive tasting session on this island.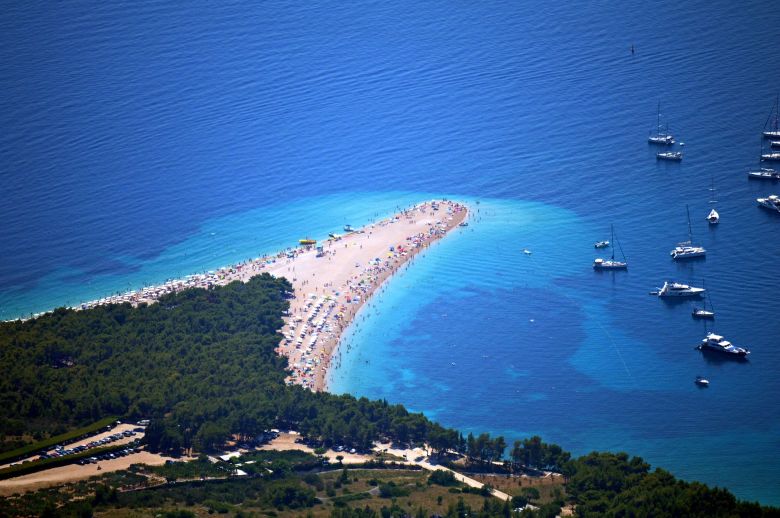 Hvar
Near Brac, you will find Hvar, another famous island in Croatia. An exciting thing about Hvar is that it cans its own secluded islands and coves. So, if you want to spend some time in a heavenly landscape, this is the best island hopping destination for you.
Make sure you walk up the fortress for the best view over the island. Also, pay close attention to the Mediterranean atmosphere in restaurants, pubs, and bars.
Korcula
One of the best places to visit in Europe is Korcula. It is known as the home of Marco Polo, and it is packed with medieval walls and towers. It is a fortified harbor with a 14th-century central square home to the Cathedral of St. Mark.  
What we like most about Korcula are its coves and beaches. So, make sure you take both an old town tour and an island tour. You will be surprised by the sand beaches here and the impressive turquoise waters. Also, our tip is to look for a Moreska dance performance to entice you during your stay in Korcula.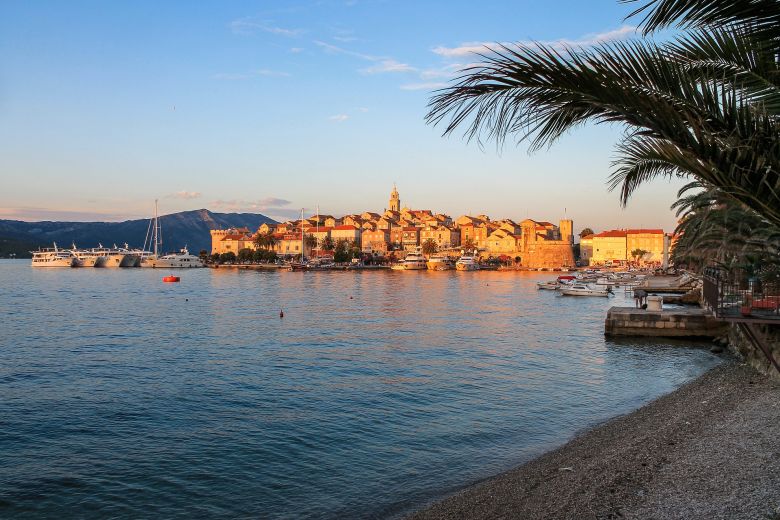 Mljet
If you are an outdoor enthusiast, Mljet is a must-see for you. It is home to one of the most beautiful Croatian National Parks: the Mljet National Park. This park includes the western area of the island and a sea belt of around 500m wide. And you should know this is one of the oldest islands in the area, with the first mention dating back to 950 by the Byzantine Emperor Constantine VII Porphyrogenitos.
So, you should include in your itinerary a visit to the National Park. But at the same time, we recommend you hike or bike to the nearby Benedictine monastery on the isle in the middle of Veliko Jezero.
Dubrovnik
Indeed, this is not an island per se, but it is a must-see during your Croatian adventure. It is on almost all ferry routes in the area, which is why Dubrovnik shouldn't miss from your island hopping to-see list. It stands out thanks to the distinctive old town and the surrounding 16th century stone walls. Dubrovnik is one of the most impressive European destinations, and it will get you access to the all-time popular baroque church St. Blaise.
We recommend you visit the Renaissance Sponza Palace and the Gothic Rector's Palace, too. And, of course, a walk around the paved Stradun is a must-do for reaching out to the best local restaurants and shops.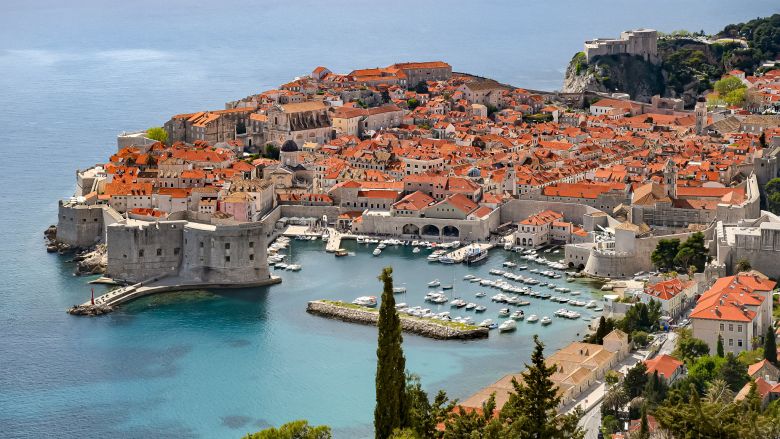 image credit: Jorge Franganillo
Elafiti Islands
Well, the lesser-known Elafiti Islands are the most underrated Dalmatian islands. And you should know these are easily reachable from Dubrovnik. It is a heavenly-looking archipelago, which you can reach with one of the tourist boats sailing from Dubrovnik.
We recommend this destination for island hoppers looking for remote sandy beaches and promenade walks. And, of course, even though the Elafiti Islands are sparsely populated, there are quite a few elegant villas for rent and exquisite restaurants to try.
Brijuni
Brijuni is at around 15 minutes from the mainland. And it stands out since it is both a national park and a historical anomaly. It was the go-to place for haunting for Tito, the post-war leader. Still, many island hoppers come here due to the remote location, several Roman ruins, and dinosaur footprints.
Zadar's islands
Zadar is not as crowded with tourists as you might expect. And because of this, you can easily indulge in some island hopping. The islands near Zadar are becoming more and more popular among tourists since they are both remote and less touched by humans.
Our top choice is the island Iz, located between Uglijan and Dugi Otok. It is home to around 600 locals, who live by fishing and olive growing. Pay close attention to local shops, since you will discover some ceramic goods made by them.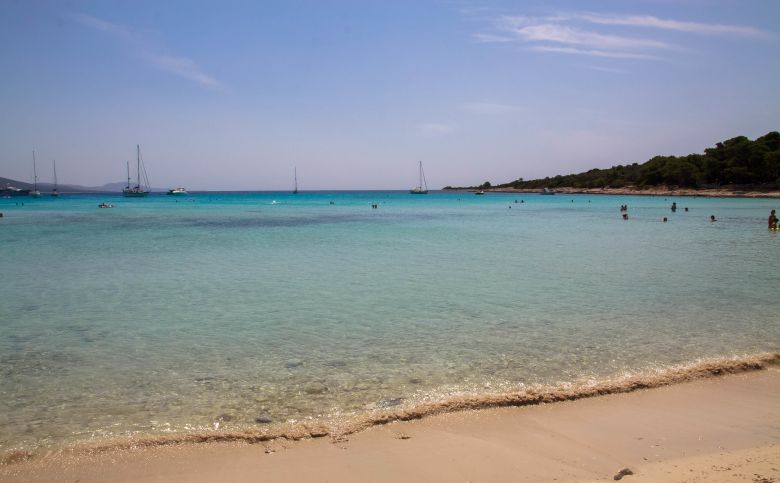 Image credit: Greta Ceresini
Susak
No matter the time of the year you will visit Croatia, you will find in Mali Losinj a boat that leaves for Susak. This is an idiosyncratic island on the south-western edge of the Kvarner Bay archipelago. It is a nice island to visit, and you will get the opportunity to meet locals who speak Italian.
We recommend you try one of the numerous local dishes made from locally harvested fresh fish. Also, it might be a good idea to discover a tree with plenty of shade and enjoy the quietness of this island.
Zlarin
The Dalmatian town of Sibenik gets you fast access to Zlarin. And if you're wondering what this place is, you should know you're not alone. Few people know about Zlarin, which is why it represents a great island hopping destination. Cars are banned on this island, so you will get the chance to explore a paradise of pine forests and sandy beaches.
The bottom line
So, these are our top recommendations for island hopping in Croatia. Of course, you can opt for a classic island hopping itinerary in Croatia. And this will take you from Split to Dubrovnik via Brac, Hvar, and Korcula. But why not get more adventurous and try the additional islands we listed above?
There are plenty of ferries that can get you going all around Croatia's islands. All you have to do is decide which ones you want to visit. And we do recommend you plan a vast trip in which you include as many islands as possible. Just make sure you book accommodation ahead of your arrival, and, of course, that you check local timetables for ferries and catamarans.
Besides this, get ready to explore marvelous remote areas, turquoise waters, and welcoming beaches. Don't forget to try local Croatian dishes and pamper yourself with a local wine tasting session. And depending on the area you visit, you might get lucky enough to taste some locally produced olive oil or truffles.