What do you need to know about traveling with your dog to Dalmatia?
There are plenty of dog-friendly places in Croatia, especially when it comes to Dalmatia. Several villas for rent offer access for pets, too, along with a wide array of services. But before booking your trip, you should make sure you meet the travel regulations for pets in Croatia. 
Traveling to Croatia with a dog means that it needs to comply with the following:
Your dog needs a valid pet passport and health certificate.
Your dog needs to be microchipped
Your dog needs a rabies vaccination
Also, you should know that all over Dalmatia, pets have access to dog-friendly areas. This applies to beaches, too, so you should look for a sign indicating that your dog is welcomed.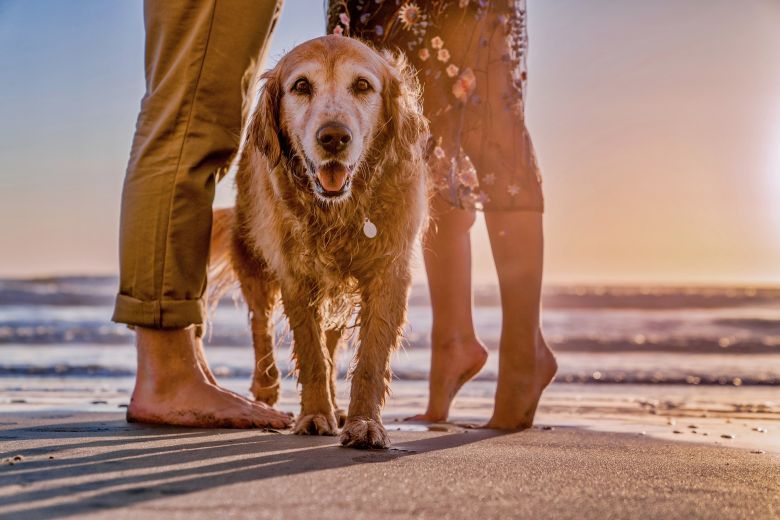 Split: lovely dog-friendly accommodation and beaches!
We love the villas for rent in Split, as they have private pools, several amenities, and nearby local restaurants. But the best part about traveling to Split is that almost everything is pet-friendly. There are several non-swimming and dog beaches you can check out in this area.
Beach Kasjuni
One of the top beaches in Dalmatia, which you can enjoy with your dog is Kasjuni. A small forest surrounds this idyllic place. It attracts plenty of visitors because of its position on the steep coast of the Marjan peninsula. It is not as crowded as you might expect, so it can turn out to be a good option for those looking forward to enjoying some quality time with their furry friends. 
Beach Kastalet
Split is filled with several dog-friendly places, including the Kastalet beach. It is at only 15 minutes from the city, and it has a remote flair. There are little to no services available here, but it is great to spend the time with your dog and enjoying the sea.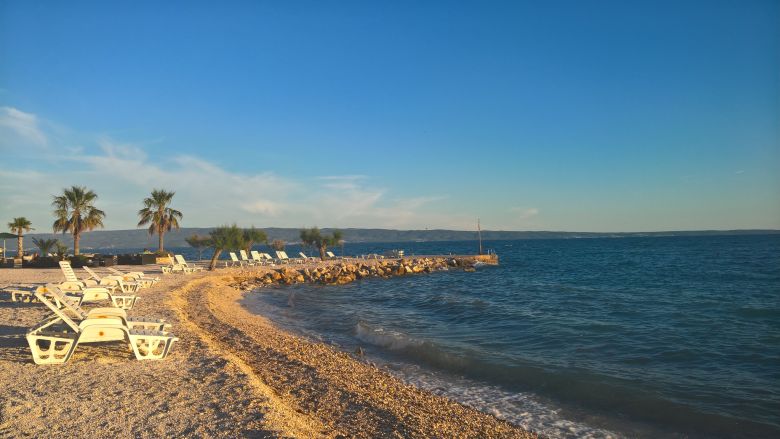 Trogir: unknown pet-friendly place!
Trogir is known all over Croatia due to its impressive beaches near the city center, on the Trogir Riviera, Drvenik, and Ciovo islands. And many people believe there are no pet-friendly places since it is a tourist hot-spot. But you should know there are plenty of dog-friendly villas to rent in the area, along with pet-friendly beaches. 
Beach Kastela
Recently, Kastela beach near Trogir became dog-friendly. It offers any equipment you might need to enjoy your day at the beach with your furry friend. Keep in mind that you will have to walk your dog on a leash so that you don't disturb other people visiting the beach. Overall, this is an unknown dog-friendly area in Trogir, worth taking into account.
Dubrovnik: check out the most dog-friendly beach in Dubrovnik!
Dubrovnik is the type of city that plenty to offer, no matter what your interest is. This city is filled with historical landmarks, iconic local restaurants, and several Croatian traditional amenities. And the best part about it is that you can find pet-friendly areas for pet owners. So, your dog can swim, run and frolic in the sand in the following dog-friendly beaches in Dubrovnik.
Dance Beach
Dance beach is considered the best dog beach in the area. It has a beautiful stone setup open to the sea and the Miramar bay. The water is blue and extremely clean, and your dog will be allowed to spend his day swimming. All you have to do is look for the dog-friendly area on this beach and comply with the regulations. Overall, this is the oldest beach in Dubrovnik, and it was designed to suit the needs of both dog owners and tourists.
Privlaka Beaches
Privlaka Beaches are another pet-friendly area in Dubrovnik. Dogs can enjoy the sandy, shallow water, but you should know that you need to use a leash. Pet owners need to clean after their pets, as it is common sense everywhere in the world. You should know that this is a family-friendly beach, too, so you might want to look for a remote corner in Privlaka Beaches to enjoy your stay. 
Beach Slano
Slano is a picturesque area in Dubrovnik Riviera, featuring a welcoming beach. Some parts of this beautiful beach are suitable for dogs, so you can spend your day admiring the olive groves and thick pines. It is a unique place to travel with your furry friend, as you will both get the chance to enjoy unspoiled nature and sun.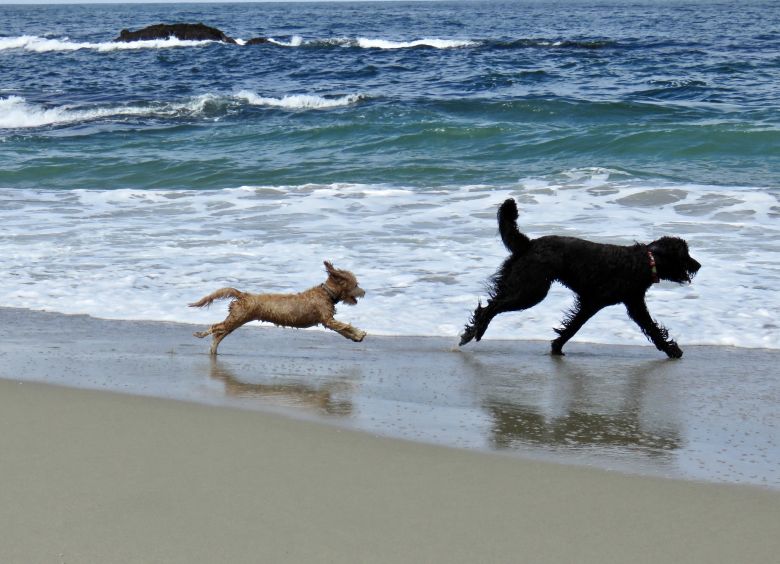 Zadar: the oldest inhabited Croatian city that welcomes dogs!
Indeed, not many people know that parts of Zadar beaches are dog-friendly. And locals say this happens since there are not many people traveling with their pets in the area. Still, you can discover plenty of accommodation solutions, which allow you to bring your dog. There are some areas where you can stroll with your pet during the day, as revealed below.
Beach Duboka Draga
At first glance, this area in Zadar might not appear to be a traditional beach. But we believe this is one of the best dog-friendly beaches in Dalmatia, due to the intriguing setup. Overall, it is an unspoiled, dirt, and sand area with several zones created for dogs. You can walk, bike, or stroll with your furry friend.
Beach Zaton
Beach Zaton is recommended for families and those looking for a traditional beach setup. You should know that a small part of this beach was designated for dogs. During your stay in Zadar, you might want to check out the nice sand and clear waters around Zaton beach.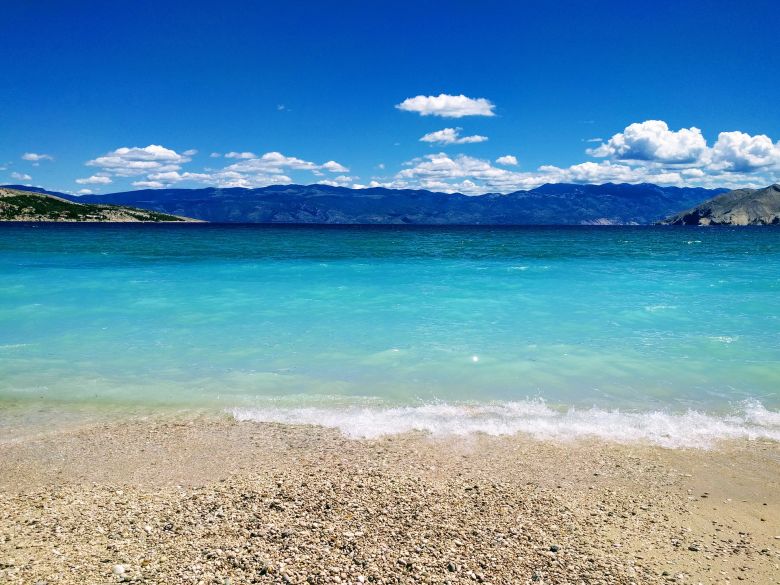 Sibenik
Sibenik is the place to go for enjoying Croatian islands, beaches, and national parks. Some say this is the most beautiful medieval city in the country, and we couldn't agree more. Positioned on the edge of deep blue water, there are quite a few beaches in Sibenik that allow you to bring your dog. 
Beach Terranea
Located six kilometers from Sibenik's city center, this is the go-to spot for festivals. At the same time, this beautiful beach offers an enticing view over the bay. But the best part about it is that you can stroll with your dog here. Of course, you will need to be careful about your dog's behavior and keep him on a leash. There are plenty of families and tourists visiting this spot yearly.
Beach Stara Skola
Even though this beach is in the center of Vodice, it can e quickly reached from Sibenik city center. It is the official dog-friendly beach in the area, so you will see here numerous pet owners. Fine pebbles, clear sea, and a nice view over the port attract many owners and their furry friends. Besides, there are quite a few amenities located directly on the beach. Also, not many people come here to sunbathe, which is why it is an excellent place to stroll with your dog near Sibenik.
Makarska
Makarska is a nice natural harbor town, popular among tourists. It attracts many people yearly due to the numerous accommodation options, all of which come with a full-service. Hotels, or villas, all come with high-quality amenities and proximity to top entertainment sites. And the best part about exploring the Markarska Riviera is that you can bring your dog with you.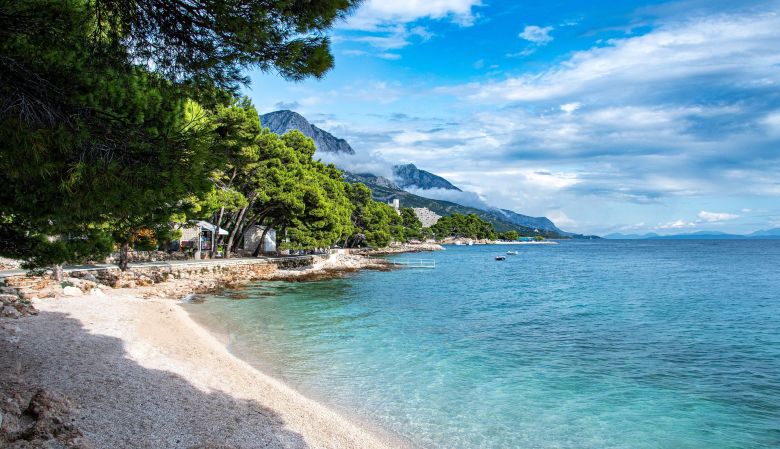 Beach Cvitacka
Makarska aims to suit the needs of all its visitors, which is why it recently transformed a part of Cvitacka Beach into a dog-friendly area. It is a small section of pebble beach, tranquil and welcoming. There are little to no visitors here, so you can rest assured you will relax. Keep in mind that there is almost no shade on this beach, and it can get rather hot during midday. There is plenty of space for your dog to run and enjoy the sun. And if you take a short stroll, you can reach the pine trees which surround the beach. Make sure you bring food and drinking water for your dog, as you most likely won't find some on Cvitacka beach.
Hvar
Did you know that Hvar is the most extended island in the Adriatic Sea? Well, it is one of the most beautiful places in Europe, and it is part of Split-Dalmatian county. Overall, it is not overly populated, but it stands out due to the vast array of local restaurants and wineries. On the island of Hvar, you will discover two settlements without any inhabitants, Humac and Mallo Grabje. And besides this, some dog-friendly places will welcome you and your furry friend.
Beach Zarace
A small section of Zarace Beach was transformed into a dog-friendly area. And this happened since plenty of accommodation options in the area welcome pets. Mainly, Zarace represents a rocky cliff in the southern area of Hvar, near the village Zarace. Lush vegetation and clear blue water waiting for you to explore. The pebble beaches are completed by challenging rocky cliffs so that you can explore this natural wonder with your dog. We do believe Zarace is great for active dogs, as you get several walking trails and areas for dog swimming.
Brac
Brac is one of the most visited places in Dalmatia, as it is near Split and several other important landmarks. It is a dry island, and you won't discover here the impressive vegetation of different areas in Croatia. Still, numerous dog-friendly spots along the rocky shores are worth checking out. And the best part about Brac is that there are quite a few villas to rent near an olive tree plantation. 
Beach Zlatni Rat
Zlatni Rat is one of the most popular beaches on this island, and it attracts a significant number of tourists yearly. Still, it is a good place in Dalmatia for dog owners, as they can relax on this clean beach. Keep in mind that only a small portion of this beach is pet-friendly. Also, you are allowed to walk your dog here only if the place is not crowded.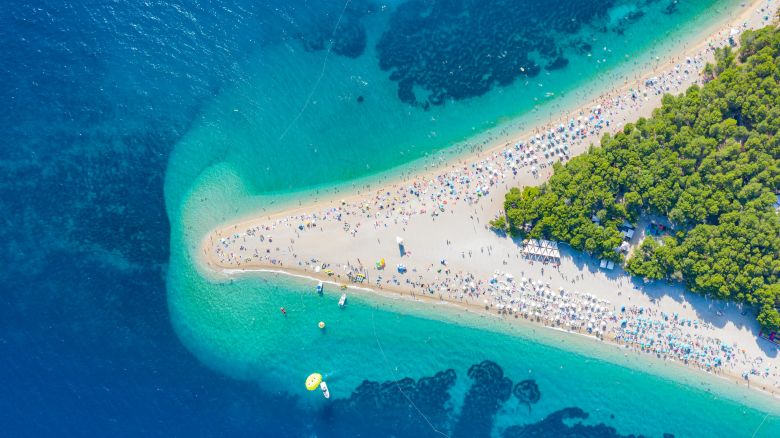 image credit: dronepicr
Korcula
Korcula is a heavenly part of Dalmatia with otherworldly sceneries. You can discover some pet-friendly places to stay, but you should know that this island is not as dog-friendly as you might expect. Indeed, some spots allow you to come with your furry friend, but you should be careful not to disturb other people enjoying the sun. Our recommendation is to take your dog for a stroll early in the morning or in the evening when crowds get smaller.
Beach Vela Luka
This is a small, secluded beach, perfect for those looking forward to escaping the urban buzz. It has a lovely clove surrounded by greenery, making it the best place in Korcula to go with your dog. You can both enjoy the pebble beach and turquoise water, but you should know that this beach has no services, such as restaurants, lounges, or shops.
The bottom line
Mainly, there are numerous dog-friendly beaches in Dalmatia, as mentioned above. With a bit of research, you can discover your next vacation spot. We recommend you request additional information about traveling with dogs in Croatia, as you will have to comply with local regulations. In most cases, you will have to look for pet-friendly beaches and walk your dog on a leash. And, of course, you should clean after your furry friend and make sure he doesn't disturb other people on the beach. So, choose your pet-friendly beach and enjoy the time spent in Croatia at a dog-friendly accommodation!