Welcome to the sun-soaked paradise of Crikvenica, Croatia, a charming seaside town that offers a delightful palette of attractions for every kind of traveler. In this stunning Croatian gem, the past meets the present, creating a beautiful mix of cultural history and modern life. From historic landmarks to azure beaches, from food treasures to nature's hidden jewels, Crikvenica has much to offer.
Whether you are seeking a quiet, relaxing rest, an adventure-packed holiday, or a culinary exploration, this guide will reveal the best of what Crikvenica has to offer. So tighten your seatbelts and let us make sure your holiday vacation in Croatia leaves you wanting to come again!
Where is Crikvenica, Croatia?
Nestled in the region of Kvarner, Crikvenica is a picturesque coastal town in Croatia, tucked away on the Adriatic Sea's eastern shores. It is situated about 35 kilometers south of Rijeka, the third-largest city in Croatia, making it an accessible destination for both local and international visitors. Istria is just around the corner, making Crikvenica a great location to cover much more localities.
Historically known for its fishing and maritime industry, Crikvenica has evolved into a popular tourist destination, loved for its sunny Mediterranean climate and breathtaking views. The town is a part of the Crikvenica Riviera, which includes the picturesque towns of Selce, Dramalj, and Jadranovo. This stretch of the coast is celebrated for its pebble and sand beaches, clear blue waters, and panoramic vistas of Kvarner Bay and its surrounding islands.
The region is well-connected by various modes of transport, including roadways, airways, and waterways. Rijeka Airport, located on the island of Krk, about 20 kilometers from Crikvenica, serves as the nearest international airport. Regular bus services connect Crikvenica to major Croatian cities, while ferries offer a scenic route to the surrounding islands, giving you many opportunities to explore this part of Croatia to the core.
When considering safety in Croatia, you shouldn't be worried. This country is one of, if not the safest countries to live in in Europe. There are instances though, so you should never be too relaxed, as it is for any other place in the world.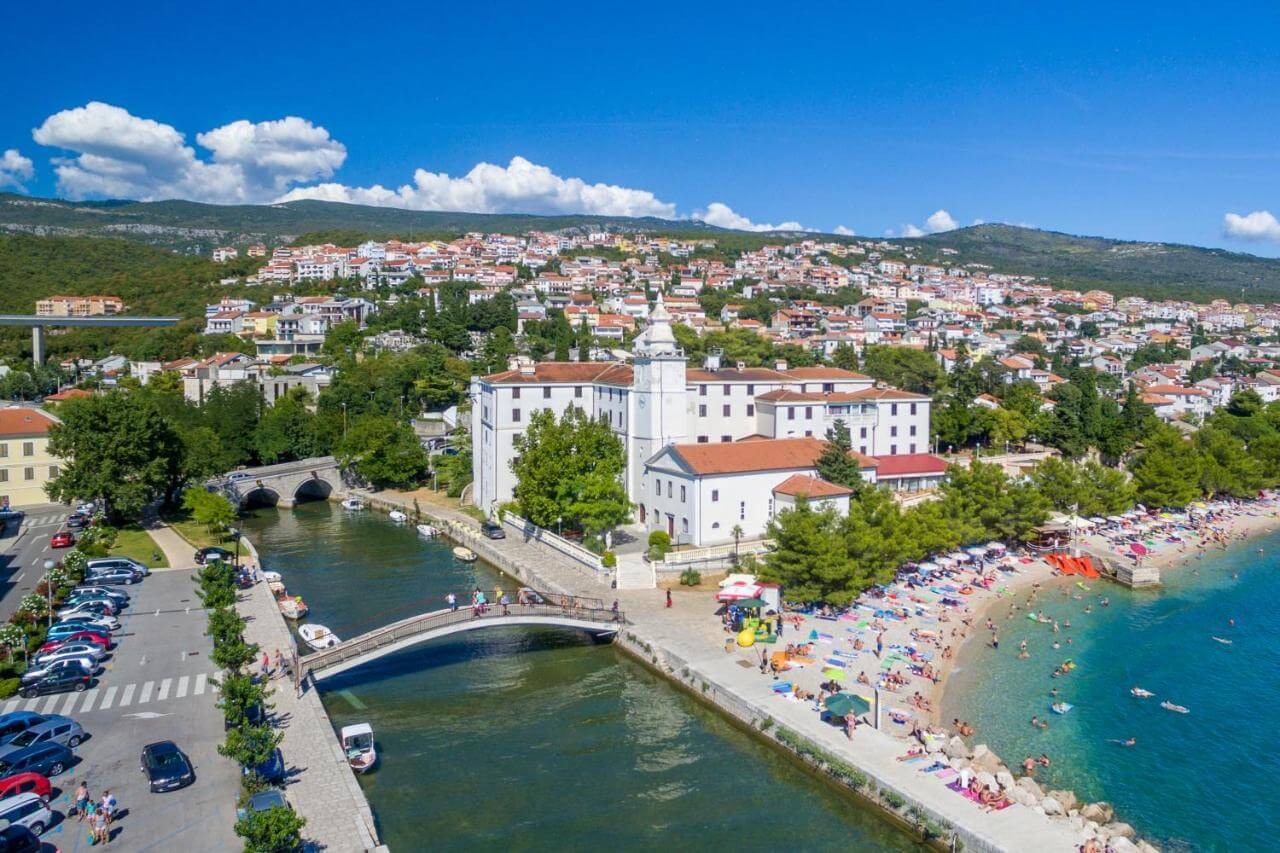 Sights in and around Crikvenica
Crikvenica is full of spectacular sights for visitors to explore. It is famous for its sun-kissed beaches, with Crni Molo being one of the most popular. With its mix of sand and pebbles and crystal-clear waters, it's every swimmer's and sunbather's delight. A short distance away, Podvorska Beach, a charming cove, promises a quiet getaway. For those seeking healing, the therapeutic mud found here is a must-try.
The town's cultural heritage can be seen in its various monuments and buildings. The Church of the Assumption of the Blessed Virgin Mary, an elegant monument built in the 14th century, stands as a testament to the town's history. The Crikvenica Town Museum offers intriguing exhibits of the local culture, history, and past.
Just outside of Crikvenica, explore the verdant Velebit Nature Park, an adventurer's dream with its hiking trails and breathtaking views. For wine connoisseurs, the surrounding region boasts vineyards offering tours and tastings of local Croatian wines.
Festivals and events in Crikvenica
Crikvenica is not only a town rich in natural beauty and cultural heritage but also one of numerous festivals and events. These events reflect its rich traditions, gastronomic delights, and the lively spirit of its people.
Every summer, the Crikvenica Riviera plays host to the International Folklore Festival, a lively event bringing you folk dances, music, and costumes from different cultures around the world.
Another favorite is the Crikvenica Days festival, where locals and tourists alike come together to celebrate the town's anniversary with various entertainment programs, concerts, sports activities, and fireworks.
Foodies will relish the Fishermen's Week, an annual event durin summer days that celebrates Crikvenica's fishing traditions. The festival includes fish-themed gastronomic delights, traditional music, and a vibrant fish market.
If you're traveling with a dog, Crikvenica hosts the unique Dog Beach Party, where dogs and their owners can participate in various competitions and enjoy the beach together.
Lastly, don't miss the Advent in Crikvenica event held every December. It transforms the town into a winter wonderland with festive markets, concerts, and culinary delights, offering a magical end to the year.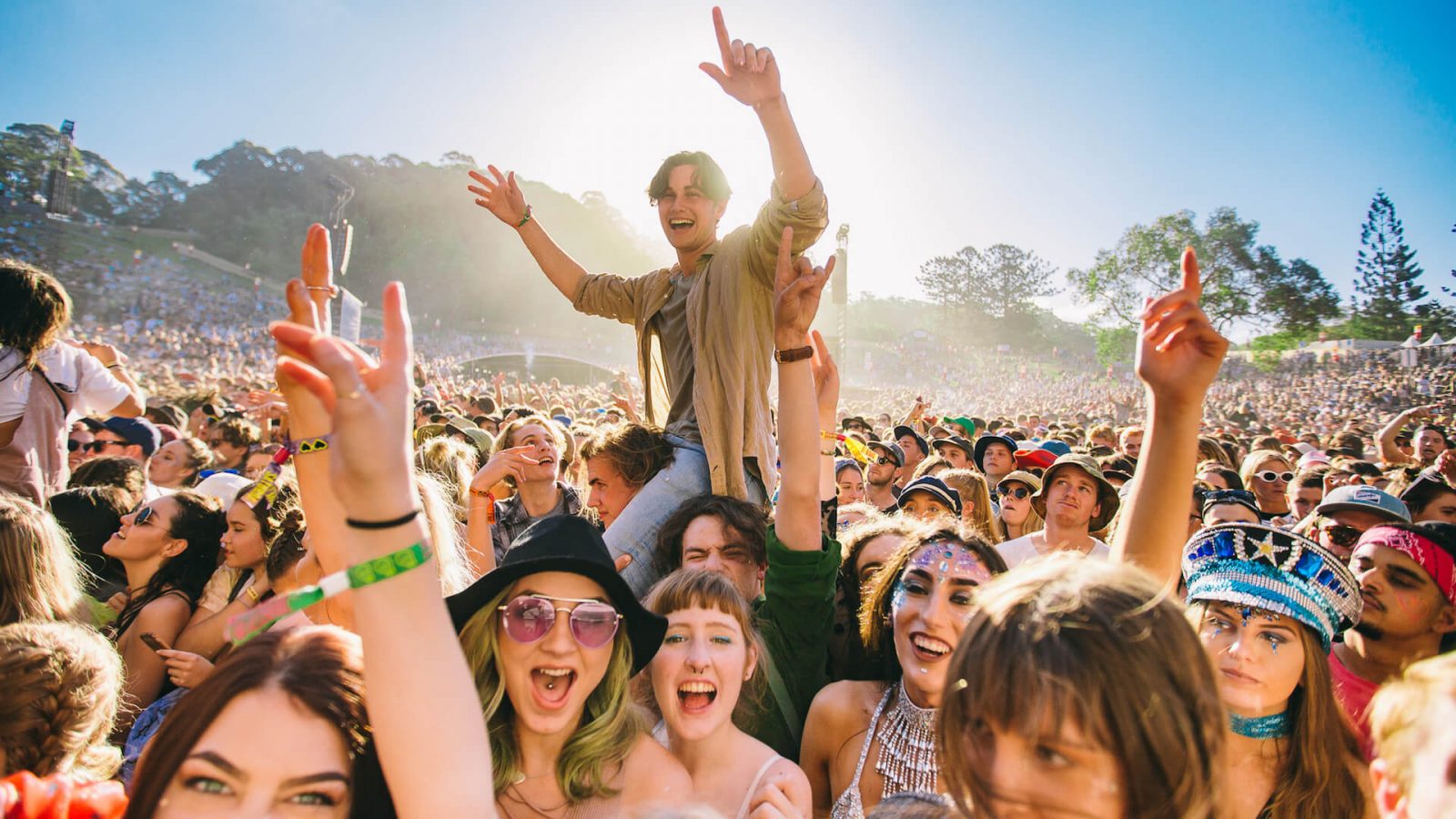 Crikvenica Aquarium
The Crikvenica Aquarium is an incredible world beneath the sea's surface, representing the magnificent marine life found in the Adriatic Sea. Housing over 150 species of fish and marine creatures across its 30 displays, the aquarium offers visitors an intimate look into Croatia's underwater biodiversity. From electric rays to seahorses, from octopuses to sharks, the aquarium provides a unique opportunity to learn about these spectacular creatures. Interactive exhibits further enhance the visitor experience, making it an engaging excursion for all ages.
Particularly popular is the touch tank, where guests are allowed to interact gently with certain types of sea creatures like starfish. Besides the marine displays, the aquarium also houses a terrarium, home to several reptile species. The Crikvenica Aquarium is not just an entertaining visit, but an educational one, reminding us of the vibrant life beneath the waves and our responsibility to protect it.
Take a walk at its coastal walk
There's a special charm in exploring a town by foot, and in Crikvenica, the experience is nothing short of magical. The town's beautiful promenade stretches along the coastline, offering a leisurely walk with the Adriatic Sea as your constant companion. The walkway is lined with charming cafes, restaurants, and ice cream parlors, perfect for a relaxing break while enjoying the stunning sea views.
On one side, the crystal-clear waters splash against the shore, and on the other, the town's vibrant architecture, from modern hotels to historic buildings, forms a perfect mixture for walking at any time of the day. The coastline is also filled with numerous beaches, each with its unique charm, inviting you for a swim or sunbathing.
The walk comes alive during sunset, as the sky paints itself in shades of orange and red, and the town lights begin to twinkle, creating a mesmerizing spectacle. Walking down the Crikvenica coastline truly is a beautiful way to experience the town's enchanting seaside ambiance.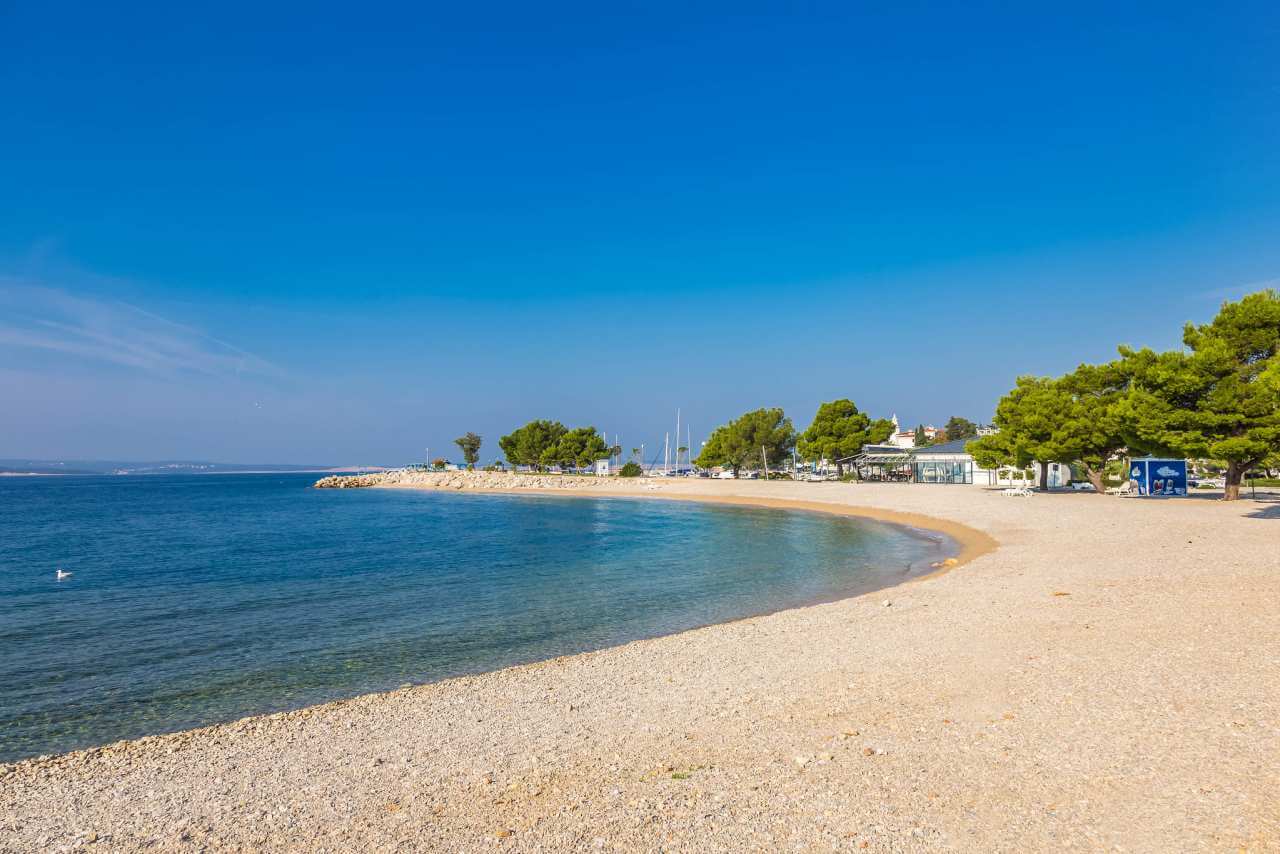 Other things to do and see in Crikvenica
Apart from its beaches and historical attractions, Crikvenica offers several experiences you might enjoy. If you're a fan of outdoor activities, the town is surrounded by hiking and biking trails with stunning views over Kvarner Bay. For history lovers, the old Roman path that leads from Crikvenica to the neighboring village of Tribalj is a must-walk. On the way, you can visit the Church of St. Anthony, an ancient archaeological site, and enjoy the panoramic views of the Vinodol Valley.Adventure-seekers may want to try scuba diving, with the region's underwater world being home to a variety of fascinating marine life. And if you're in the mood for a shopping spree, the town center is full of boutiques offering everything from fashion to local souvenirs.
FAQ
Where to eat in Crikvenica?
Crikvenica boasts a vibrant gastronomic scene. For a taste of the local cuisine, visit "Restaurant Burin" known for its excellent seafood dishes. "Galija" is another popular restaurant serving Croatian and Mediterranean cuisine with a contemporary twist. If you're a pizza lover, "Pizzeria Gušti" is a must-visit.
Where to stay in Crikvenica?
Crikvenica offers a range of accommodations to suit different budgets and preferences. For a luxurious stay, consider the "Hotel Kvarner Palace", a four-star hotel overlooking the Adriatic Sea, or some of the numerous villas for the best experience. If you prefer more budget-friendly options, "Hotel Katarina" near the town center or the numerous private apartments available for rent could be great choices.
What is the best way to get to Crikvenica?
The best way to get to Crikvenica depends on your starting location. If you're traveling internationally, the nearest airport is Rijeka Airport, from which you can take a taxi or a bus to Crikvenica. If you're already in Croatia, you can use the bus network that connects Crikvenica with major cities like Rijeka, Zagreb, and Zadar. For those who prefer to drive, Crikvenica is well-connected via motorways. For a more scenic journey, consider the ferry services operating between the islands and the mainland.