Istria's highlights: it must have a place in your itinerary!
No matter if this is your first time in Croatia, you should know that Istria is one of the best places to start exploring. Istria is simple to navigate, and this means you can stay in one area and do day trips to explore it all. And the best part about it is that you have access to premium villas with pool for rent to suit your needs and expectations. So, book your accommodation and get ready to explore a rather unique area: Istrian small hill towns.
This peninsula is popular thanks to its premium wine producers, but it can offer other gourmet experiences such as an olive oil tasting session. Also, it is a top destination for outdoor enthusiasts, with numerous cycling routes and hiking trails. But the main highlight of Istria remains its picturesque villages.
The iconic countryside in Istria is unique since it is one of the few remaining zones in Europe that still preserve the authentic flair of ancient villages. All over Istria's hilltops, you'll discover medieval fortresses, ancient villages, and indicators of its impressive history. But, of course, it is a fantastic opportunity to spend as much time as possible outdoors. Gourmet food, premium wines, truffles, olive oil, and impressive local dishes will make you want to stay forever!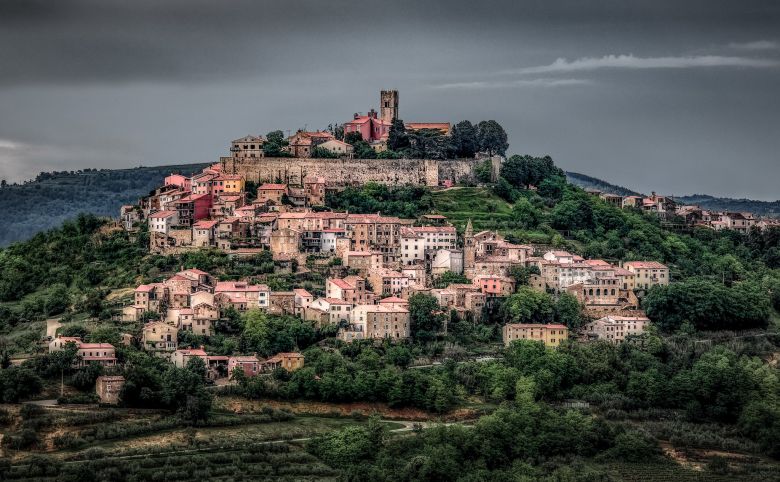 image credit: Bernd Thaller
The most gorgeous small hill towns in Istria
Small hill towns offer gorgeous views over the countryside and represent a key aspect of the entire Istrian region. And we can say from our experience that such small and wonderful hilltop towns will offer a breathtaking view of the sea! There are numerous areas worth visiting, all of which providing an authentic village flair. No matter if you want to taste truffles or simply explore the rich Croatian history, you should add in your itinerary one or more of the following small hill towns in Istria.
#1 Folk art, traditional music, and authentic Croatian cuisine in Groznjan
Let's start with Groznjan. It is one of our top choices when it comes to discovering another side of the Istrian peninsula. It is a medieval town that still preserves the original constructions. You can find it on the hill at around 220 m above sea level with a gorgeous view over the Mirna Valley. And the best part about Groznjan is that it is home to some exciting vineyards and olive groves.
It is an attractive Istrian location to visit because it still preserves the authentic medieval village flair. It is decorated with the famous Istrian stone, and it follows an interesting layout. Houses were constructed near one another, while the streets are cobbled and mysterious. This small hill town organizes the Jazz Festival yearly, but there are a couple of other artsy activities to enjoy. For example, there are numerous art galleries in this town. Make sure you try some of the authentic Croatian dishes while visiting Groznjan.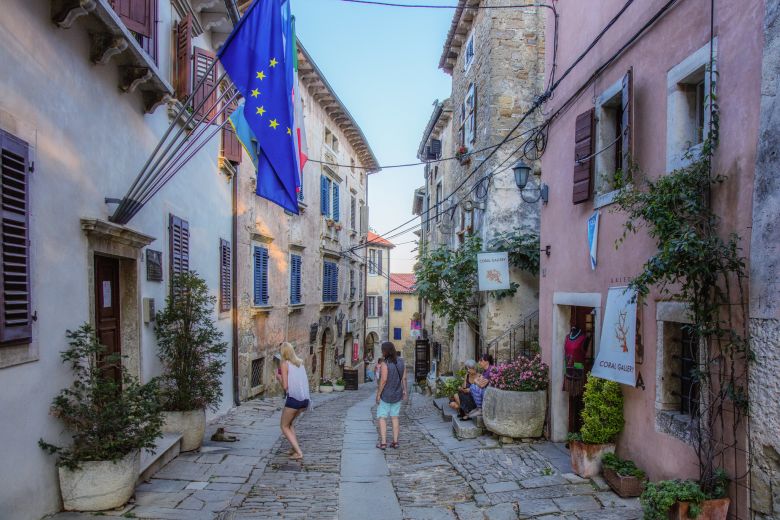 image credit: Arnie Papp
#2 Film festivals, 13th-century architecture, and welcoming locals in Motovun
Motovun resembles quite well Groznjan, but it is a bit different. Also a small hill town in Istria, it has busier and bigger streets. It has a historic center with 13th-century architecture preserved at its best. So, make sure you stroll its streets and stop to admire the impressive 13th-century bell tower. You'll be impressed by how good it looks! An interesting fact about Motovun is that it is home to the Istrian film festival, meant to encourage independent films to step into the spotlight.
Motovun is located on a 280m hill above the Mirna River, which is why it provides a breathtaking view over the region. Make sure you taste some black and white truffles since this is one of Istria's premium destinations for truffle hunting. Also, there are a couple of traditional restaurants, souvenir shops, and art galleries worth checking out!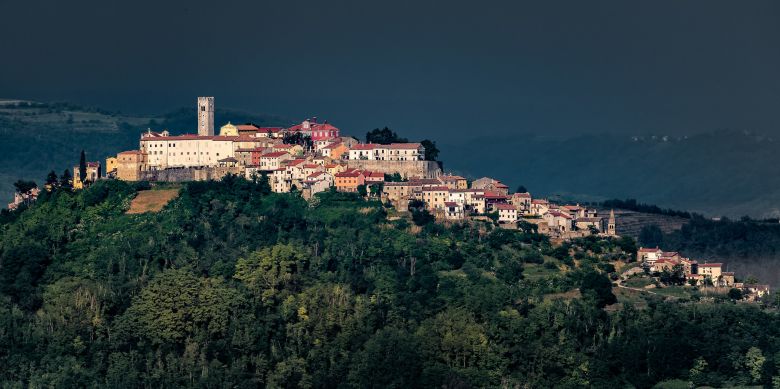 image credit: Bernd Thaller
#3 The heaven of truffles and the charm of the old village Livade
Well, Istria is the go-to European destination for gourmet lovers. And if you want to enjoy an authentic truffle tasting experience, you shouldn't miss the chance to do so in one of the small hill towns in the area. Keep in mind that most hilltop towns have truffle shops because of their proximity to the forest. But we recommend you make a stop in the small village of Livade. It is close to Motovun, and it has a powerful countryside flair. And the best part about it is that you can taste black truffles during spring and summer, while in autumn you can enjoy the rare white truffles. White truffles are the most expensive in the world, which is why it is a must-try activity during your stay in Istria!
Our pro tip is to check the Giancarlo Zigante restaurant. It is the best truffle restaurant in Istria, and it is part of the Guinness Book of Records due to the world's largest white truffle uncovered. It would also be best if you took the time to explore the countryside surrounding Livade since it showcases how locals spend their days harvesting the Istrian soil.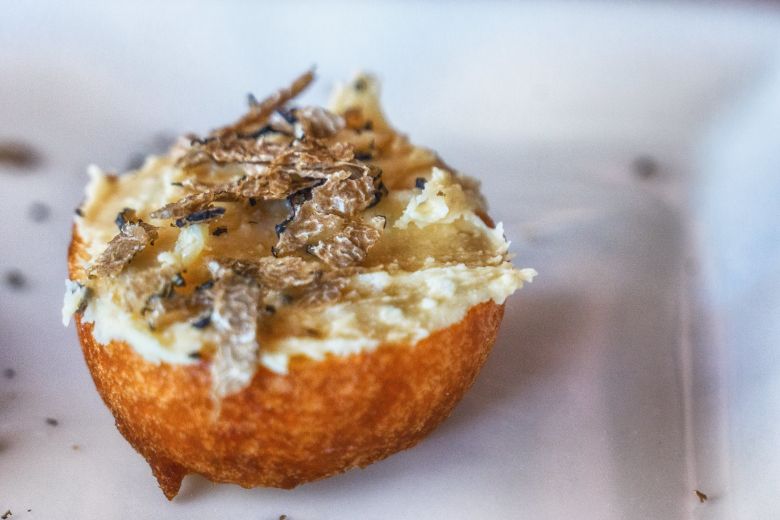 #4 The Venetian-inspired charming medieval town Oprtalj
A lesser-known small hill town in Istria is Oprtalj. It has an authentic medieval charm since most buildings are the original ones constructed in the town. Oprtalj is positioned above the Mirna River, and it has some lovely town walls. Keep an eye for the Venetia loggia since that it is the best spot to admire the hills and olive groves surrounding it. It is a remote area, so you won't have to worry about tourist crowds. Just enjoy the brightly colored houses!
Just outside Oprtalj, you'll discover the two leading olive oil producers in Istria. So, make sure you join an authentic olive oil tasting session for the best Istrian experience. And, of course, you can always have lunch with a local to get a glimpse of how their day is unfolding.
#5 The fortified medieval hilltop town Boljun
If you love history and want to spend the day in a well-preserved medieval castle, a stop at Boljun is a must. It is one of the best medieval towns in Istria, and it is a key passing point for those traveling to the base of the Ucka Mountains. It provides an impressive view over the Boljuncica valley and Ucka Mountain, which is why you shouldn't miss it.
Boljun was a small fortified town in Central Istria, and you can still see those particularities. The well-preserved medieval castle will get you a glimpse of the intriguing Istrian history.
#6 Wine tasting and traditional omelets in Buzet
In case you didn't know already, Istria can always surprise you with something intriguing. And Buzet is here to prove you that fact. This town in Istria is home to some of the best omelets recipes you'll ever try! And that's not all. Straight in the hillside lies a bunker where the Italians used to store an impressive 80,000 liters of water during the 1930s. After this, it was transformed into a bunker, ending up today labeled as the most famous Istrian winery. It is owned by world-famous winemaker Dimitri Brecevic, who distributes old-style wine made from local Istrian grape varieties. So, you'll get the chance of an authentic tasting experience for a premium wine distributed internationally!
Keep in mind that in Buzet, you can admire a gate that dates back to 1547. It shielded a medieval old town, a church, and some cobbled streets. So, it is worth checking out! Also, a truffle hunting festival is organized here in September since it is a top area to harvest the hard to find white truffles.
#7 The smallest town in the world is Hum from Istria
Did you know that there is a small Istrian town featured in the Guinness Book of World Records? Well, this is Hum, the smallest town on the globe! It is a pretty hill town to check out, but you should get ready to face a serious tourist crowd. Due to its small dimensions, it can get crowded no matter the season you're visiting it in!
Besides this, it is an interesting place to visit, as it has a pretty charm, nice medieval buildings, and impressive views over the Istrian peninsula. It has an ancient flair with a powerful picturesque layout.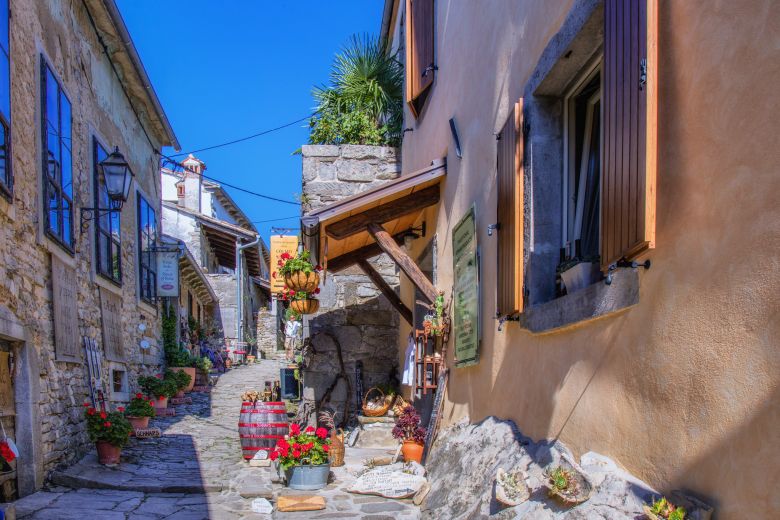 image credit: Arnie Papp
#8 Professional wine tasting in Momjan
If you love wine, but not only, you must include in your itinerary a visit to Momjan. This is a nice hill town in Istria famous for its wine production abilities. But besides this, it stands out as a good place to start exploring the natural wonders in Istria. The best scenery you'll get is on the gorgeous medieval castle of Momjan. This is home to the Kozlovic winery, which waits for you with premium wines and awesome snacks.
There are several Istrian premium wines you can taste here. But you should know that the restaurants are worth a try, too. Locals say these are the region's finest, so you should get ready to entice your taste buds with authentic Croatian dishes and fine wines.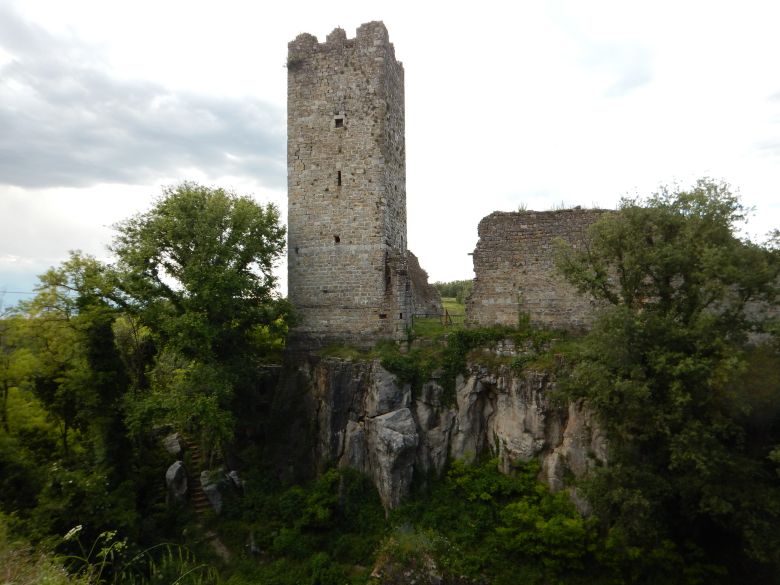 image credit: Gord Webster
#9 The hidden medieval town Gracisce
There are little to no facts about this intriguing small hill town in Central Istria. But we can say from our experience that Gracisce can stir one's imagination. It preserves the medieval layout, and it has a wide array of churches positioned one next to another. And what is even more intriguing is that some gravestones have a cross bone sign. Make sure you take the time to explore this mysterious site!
Besides this, there are a couple of nice local restaurants where you can rest and admire the views over Istria. You should also know that each Easter, Gracise organizes a wine fair with a great atmosphere and a powerful traditional vibe. So, if you're visiting Istria in spring, it might be a good idea to include Gracisce in your itinerary.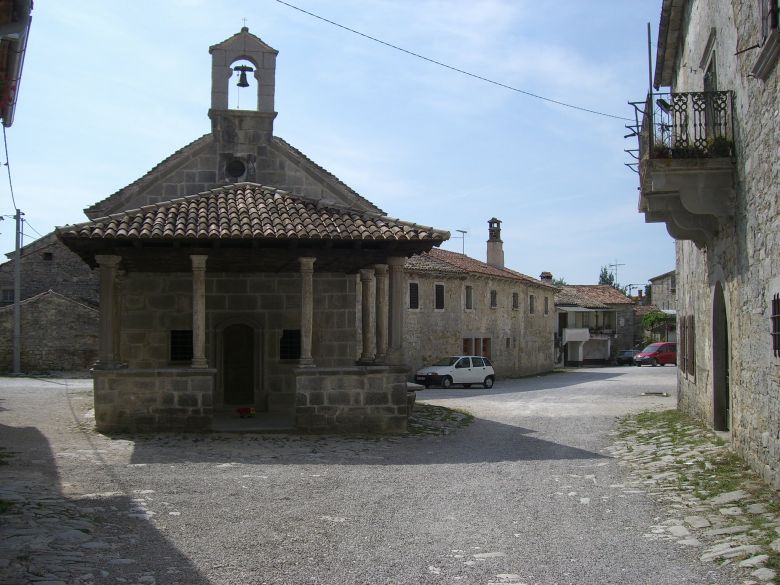 image credit: Peter Collins
#10 Coal historic sites, artsy events, and a powerful traditional vibe in Labin
The entire Labin area was a key meeting point for those exploiting the coal mines. Even though nowadays this isn't a thing anymore, Labin stands out as a gorgeous hill town worth exploring. Its steep, narrow streets are charming, while the old town is home to a wide array of historical palaces.
And the best part about exploring Labin is that it is home to some of the best artsy events in Istria. Art enthusiasts have plenty to explore here, ranging from art ateliers to galleries. Besides, summer is the time of the year in which Labin hosts music festivals for both locals and tourists. Don't forget to try some premium seafood dishes at one of the local restaurants.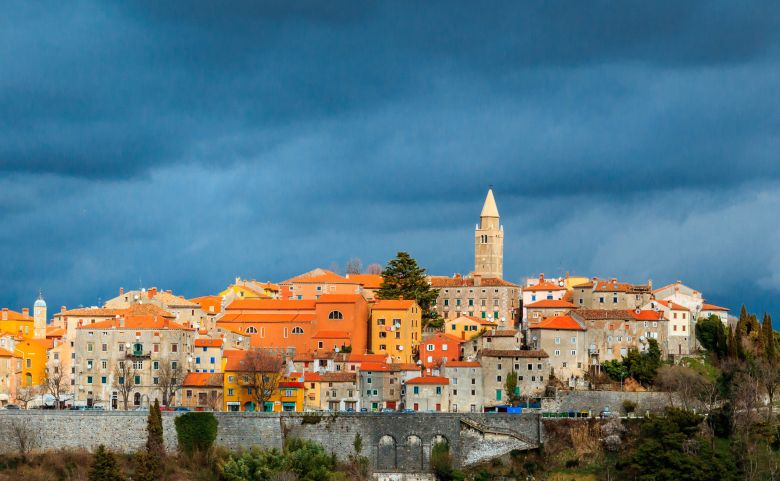 image credit: Jernej Furman
The bottom line
So, these are our top choices for exploring the small hill towns in Istria. It is best to create an itinerary before your arrival since there are numerous picturesque places worth exploring. We do recommend booking a villa with a pool prior to your arrival to avoid unpleasant situations. Besides, such accommodation with getting you plenty of liberty to explore Istrian hills without worrying about curfew hours.
Make sure you pack adequate gear since most small Istrian towns are accessible with a small hike. Comfortable shoes are a must if you want to explore the region without worries!