So you are a golfer coming to Croatia? You have a good taste.
If you are coming with your golf buddies, you'll have a great time.
If you are a golf lover traveling with family, don't be sad, you can still sneak out to one of Croatia's golf courses. But where are good golf courses in Croatia? Are there any? 
Croatia is an extremely popular vacation destination. People from all around the world are coming here to enjoy the Adriatic sea and Mediterranean food. Families with kids, young couples and seniors love Croatia because we can offer a lot to you, no matter who you are. So what can Croatia offer to golfers?
Most Croats never held a golf club in their hands.
That doesn't mean you can't enjoy a mix of relaxation and excitement on one of the golf courses in Croatia. We made a list of top 3 golf courses on the Croatian coast (and islands). 2 of them are in Istria so you can leave your family on a nice beach or in a luxurious villa and run away for a couple of putts.
Split 1700 – golf course with 6 holes and no dress code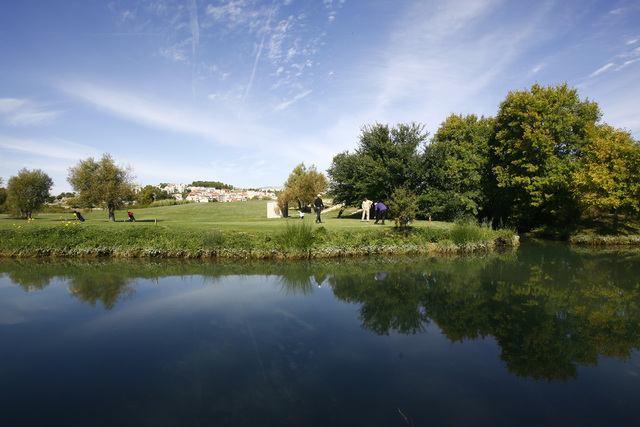 Split is one of the jewels of Europe, but that (more than) 1700 years old city doesn't care much about golf. Croats often say that Split is "the best sports city in the world". That is most likely true if you consider how small Split is and the number of world-class athletes it produces.
Sadly, none of those stars play golf, but that doesn't mean you can't play your favorite sport in the biggest city in Dalmatia. Actually, it does, but that is only a technicality. Split 1700 golf course is located in Stobreč (a suburb of Split). If traffic isn't clogged it takes 5 minutes to reach Stobreč from Split.
Golf course in Split isn't big, it isn't extraordinary by anything, but if you are near Split and have a burning desire to play golf at least you have a place to do it.
With just 6 holes this golf course isn't big, but it is never crowded. Also, it is very cheap.
Daily ticket for adults is 100 kn during the week and 120 during the weekend. Ladies have a 50% discount and kids up to 14 years pay 40 kn per day.
Another plus is that Split 1700 has no dress code and you don't have to make any reservations. At one moment you can swim in the sea, 10 minutes later you can play golf on a beautiful field. 
If you don't bring your golf equipment to the beach, don't worry. You can rent it for 70 kn per day on the golf course in Stobreč.
Pros – cheap, no need for reservation, relaxed (no dress code), 50% discount for women
Cons – only 6 holes, not very big, it may be too relaxed to some serious golf players
Where to stay in (near) Split?
We want you to feel like a member of the royal family in Croatia and you can get that kind of comfort in one of the villas for rent in Split. 
Breathtaking three bedroom villa with air-conditioning Split is perfect if you seek privacy. Nobody will be there except you. It's located in a center of Split and if you don't feel like walking to the beach private pool is always a nice refreshment after a game of golf.
Delightful villa in Split (Podstrana) has everything you and your family could need. The bonus for golf lovers is a location. Podstrana is a suburb of Split and it is very very close to the Split 1700 golf course.
Brijuni golf course – the first ever golf-resort in the world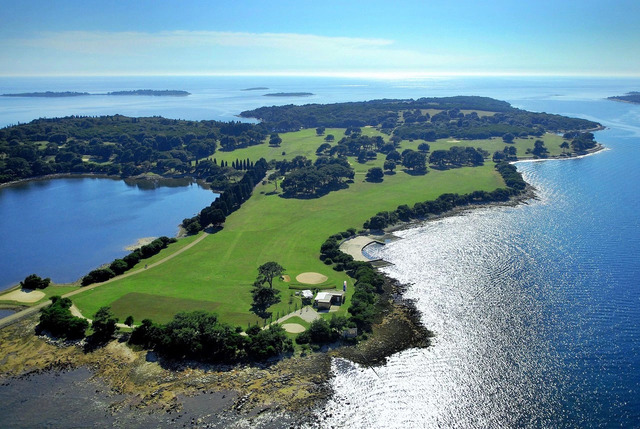 Something completely different from the golf course in Split can be found in Brijuni national park.
14 islands near Pula in Istria are very popular among tourists, but golfers are going crazy about them. 
Have you ever played golf while mouflon or deer cheered for you? No? 
Nobody did. Mouflons and deers don't care will you finish a hole below par, but you can see those magnificent animals on Brijuni while playing golf. And they aren't the only animals there. The whole park is some kind of open ZOO.
Brijuni offer an astonishing experience because of the warm weather (you can play golf throughout the whole year) and almost 100 years of tradition. When the golf course and resort were built in 1922 it was the first golf resort in the world. Since then golfers from all around the world are enjoying on this 18 holes golf course. 
Beginners, amateurs, passionate players and professionals gather there to sharpen their skills while looking at the green fields and smelling the sea. If you are a company owner and you don't know where to organize team-building Brijuni golf course has everything anybody could wish for.
Fun (and fascinating) fact about golf course on Brijuni is that the course takes care of itself. Nobody waters it except the rain. No pesticides are used to keep the grass alive. Brijuni might be the most natural golf course you will visit in your life. 
Pros – location (national park full of animals), tradition (open since 1922), completely natural, 18 holes, good for beginners and professionals
Cons – location (it may be a problem for some people to reach Brijuni)
Where to stay near Brijuni?
National park Brijuni offers accommodation, but since you found our page we can conclude that you have taste for nice things. That is why we'll show you a couple of luxurious villas near Pula. You can make them your base and go on excursions or golf from there.
Villa Vignola – nice, comfortable ground floor holiday home is a spacious villa for rent which allows pets and offers 100% privacy. Perfect for families with small kids and seniors because there are no steps.
House Vilana – newly built holiday home – if you are coming to Istria to go to Brijuni and play golf this house will answer all your prayers. Fažana is a town from which a boat to Brijuni departs a couple of times a day and House Vilana is just 15 km from Fažana. If you ignore the convenient location this house is still one of the best places you'll ever see.
Adriatic golf club Savudrija – are you ready to take on the "Monster"?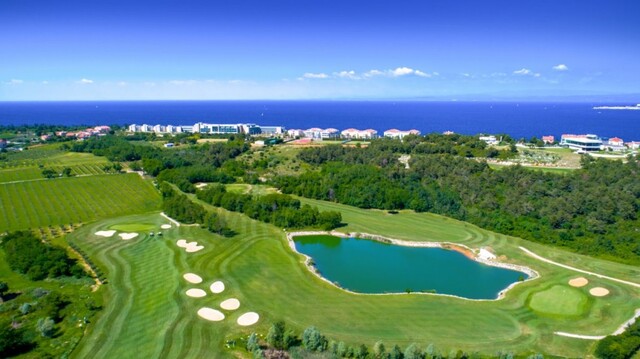 Brijuni might be the perfect golf course for players who want to relax and rest. The Adriatic golf club in Savudrija is perfect for relaxation, but it has one exception. This golf club is famous for a hole named "Monster". 
Soon, you discover that the name is well deserved.
The Adriatic golf club is a baby compared to Brijuni. Opened in 2009 this field is still new but it has made a name for itself thanks to breathtaking views of Adriatic sea, 5 tee options on every hole, big size and the Monster.
Diethard Fahrenleitner, the architect of the Adriatic golf club planned everything to the smallest detail and thanks to him Istria has a world-class golf course. 
It doesn't matter if you are a pro or a noob, the golf club in Savudrija will become your favorite golf course in Europe after the first hole. When you get to hole 13 you will realize why you can't come here only once.
When you have 6360 square meters to build a golf field you can allow yourself to create a "Monster". 556 meters long 13th hole in Savudrija was named "Monster" shortly after the opening of the club. You start from the elevated tee box and you have to avoid a specimen tree and a pond. Golf doesn't get much more exciting than that.
The majority of guests in the Adriatic golf club are returning golf lovers who fell in love with this golf course. Make a reservation now and get ready to face the Monster. Once you do it will haunt you forever. 
Pros – just 10 years old, big, 18 holes, good for beginners and professionals, the Monster
Cons – I don't see any
Where to stay near Umag?
The Adriatic golf club is a full-service club which means you can sleep there, eat there and most importantly, play golf there. We understand that you want privacy and that is why we'll show you 2 of our favorite villas with pool for rent near Umag. And as you know Umag is just a short drive away from the Adriatic golf club.
Villa San Niccolo – old Istrian house located in the small village of Saint Nikola will show you a new level of privacy and luxury. Walls covered in stone and wooden ceilings are representing the old style of building, but the house has everything you may need.
Villa Mala – lovely holiday house with pool is the place for you if you are coming with your family. If you can rent it just for you and your better half it becomes a perfect romantic nest that might turn your thoughts away from golf.
No matter which golf course you will choose you will have a nice time. When you play golf that is nice already, when you play in on some unique golf course it becomes a memory for a lifetime. Why wouldn't you play a game to remember in Istria?