Why choose Dalmatian hiking trails?
Croatia gets you to access to impressive landscape diversity. And choosing a Croatian holiday to hike Dalmatia might be the best choice you'll ever make! Any of the top hiking trails in Dalmatia will get you through a wide array of karstic mountains, ancient villages, and impressive views over the dalmatian islands. And the best part about hiking Dalmatian trails is that you can find with ease villas for rent. We believe this is the best accommodation you can have since it will get you all the services and amenities you might need to relax after a day spent outdoors. Of course, there are several other reasons why you should hike in Dalmatia. Besides the breathtaking panoramas, you'll get the chance to explore several iconic mountains, natural parks, and
local dalmatian cuisine
. Just make sure you bring adequate gear, including comfortable hiking shoes. Some of the hiking trails in Dalmatia can turn out to be more challenging than you expect.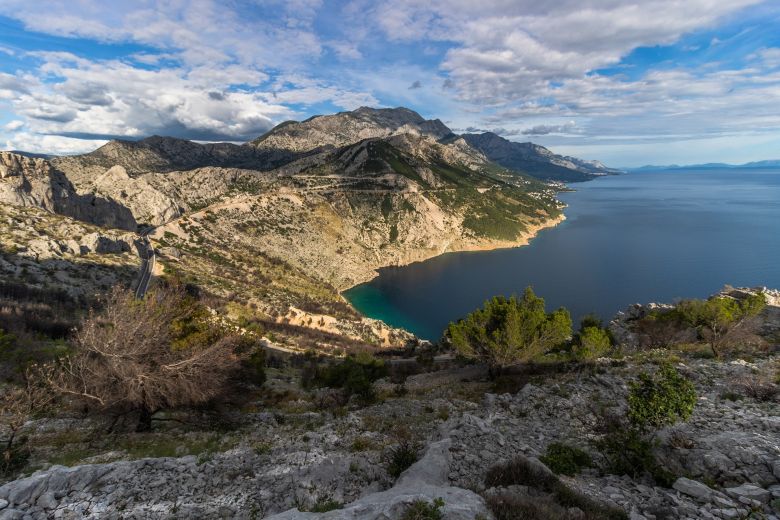 What do you need to know about hiking in Dalmatia?
If you're planning a hiking vacation in Dalmatia, you should start by booking accommodation near the area you aim to explore. It might also be a good idea to check out local regulations meant for those spending time outdoors. We recommend you use the following advice on hiking in Dalmatia.
#1 Get informed and follow local regulations
Any hiking trail in Croatia has to be treated with respect. So, if you're planning a hiking holiday in Dalmatia, you should be ready to respect the natural wonders. This means that you should never leave your trash behind, and you shouldn't alter the environment you explore. The local flora and fauna is most likely part of a natural park, meaning that you face serious fines if you do such actions.
#2 Bring adequate hiking gear
It would help if you never hiked in Dalmatia without proper equipment. No matter the season you're planning to visit, it is best to bring reliable hiking boots, waterproof clothing, and a backpack. Also, it might be a good idea to take plenty of water with you. Some of the Dalmatian hiking trails are demanding, and you risk getting dehydrated before reaching your destination.
#3 Have a nutritious meal before hiking
It would help if you never went for a hike on an empty stomach. So, make sure you have enough energy to stroll around by having a nutritious breakfast. Avoid fast foods and fried foods.
The gorgeous Dalmatian hiking trails that will leave you speechless!
Now that you know how to get ready for your next trip to Croatia, we can move on to the best Dalmatian hiking trails you need to explore at least once! The inland of Dalmatia is so beautiful that it will impress you beyond words. You'll get the chance to explore remote natural locations, picturesque villages, and traditional stone architecture. All hiking trails listed below will offer easy to moderately challenging paths. Keep in mind that some can turn out to be more demanding due to the rocky hills or lack of open terrain. So, it would help if you chose a hiking trail in Dalmatia based on your endurance and level of experience.
The perfect hiking challenge for experienced hikers: Biokovo
Biokovo is recommended for experienced hikers with a lot of experience on stony trails. There are fifteen hiking trails around Biokovo, yet you should know that only seven of those have drinking water available for people passing by. It is best to choose the path based on your level of experience, and, of course, to bring plenty of water and provisions. No matter which trail you opt for, you'll get the chance of admiring the best rocky sceneries in Dalmatia: Staza, Ravana Vlaska, Strbina, Vosac, and Jure. Most people choose hiking in this area since it is one of the best Dalmatian Natural Parks. The Biokovo Natural Park is home to several forest trails and local wildlife. So, make sure you are respectful and don't disrupt the activity of the animals living in the park. Spending a day immersed in Bikovo will mesmerize you with one-of-a-kind natural wonders, landscapes, and local flora and fauna. It is one of the least crowded hiking trails in Dalmatia since it requires a lot of experience to complete. Keep in mind that most hiking trails in Bikovo National Park will take you around six hours to complete. So, you should be ready for a demanding day!
Admire the sunrise on one of the most accessible hiking trails in Dubrovnik
If you're visiting
Dalmatia
and planning to stay in the gorgeous Dubrovnik, we've got the perfect trail for you! This is recommended even for complete beginners, and you can explore this trail early in the morning. It has around 8 kilometers, and we can say from our experience that it will take you to the perfect spot for admiring the sunrise over
Dubrovnik
. This early morning hiking trail in Dalmatia will start at the base of Srdj hill. This is a mountain that rises above Dubrovnik, and it has around 412 meters high. Exploring this beginner-friendly hiking trail will help you admire an impressive panorama of the entire coast stretching as far as the Peljesac peninsula. So, this is one of the main reasons why we recommend you hike it before sunrise. Of course, this path is less crowded during the early morning, and it allows you to enjoy the fresh morning air without disturbances. Keep in mind that it will take up around two and a half hours to explore the Srdj hill.
Explore the highest peak in Croatia: The Dalmatian wonder Dinara Mountain
Dinara is a mountain range positioned on the border between Croatia and Bosnia and Herzegovina. You can reach its top via the Glavas village with a total hike duration of four hours. We recommend you explore this path in Dalmatia if you're an intermediate or experienced hiker. It can turn out to be challenging as soon as you reach its half. Anyhow, if you start this hiking path from the Glavas village, you'll pass by impressive natural sceneries until you reach the ruins of a fortress and a picturesque tower. We encourage you to make a stop at the Martinova kosara. You can find this hiking shelter halfway through the trail. It is an iconic landmark for hikers since it used to be a shepherd's summer cottage. Even though this might not seem like a demanding hike, it is best to explore it from March to November. Only experienced hikers are encouraged to explore it during winter months. Also, you should bring comfortable clothes, trekking shoes, and water supplies. Our pro tip is to stop upon your return for a meal in the Glava village. Here you can enjoy a local Croatian dish prepared by one of the locals. And the best part about it is that they will share some insights on the Dalmatian history you never knew about!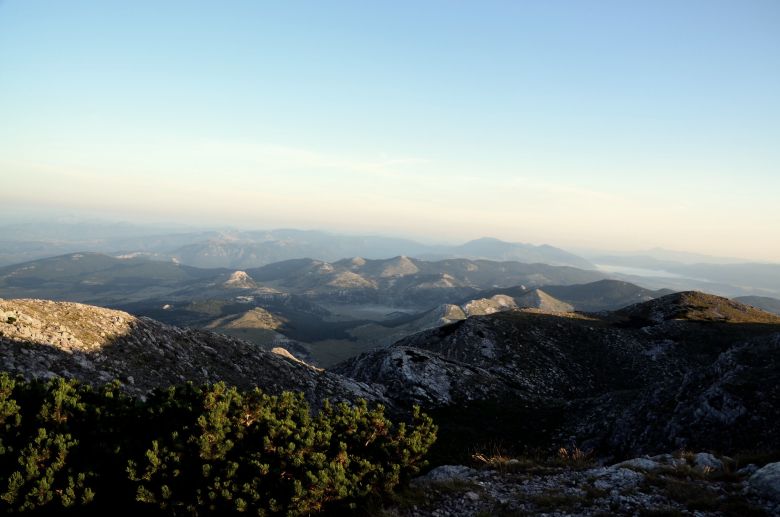 image credit: Michael Pollak
A hidden hiking jewel in the beautiful Vidova Gora
If you did a bit of research on the best Croatian vacation spot, you most likely discovered that the go-to place for sunny beaches is Vidova Gora in Brac. And indeed, this is a great place to enjoy the long summer days and turquoise waters. But did you know that Vidova Gota is also the highest peak of Brac? Well, you can use this hiking path in Dalmatia to take your vacation to the next level. And the best part about it is that you can explore it with your family, too! It is not demanding, and it can take you to the best spots in the area. You can start climbing in Bol and move to the top based on the marked path. You'll reach the most impressive view over Vis, Hvar, the Peljesac peninsula, and Zlatni rat beach. Pay close attention while exploring the trail because there are several archeological monuments worth exploring. This trail has around 16 km length, and it can take you up to six hours to explore it. So, we recommend you plan a stop to rest and bring plenty of water.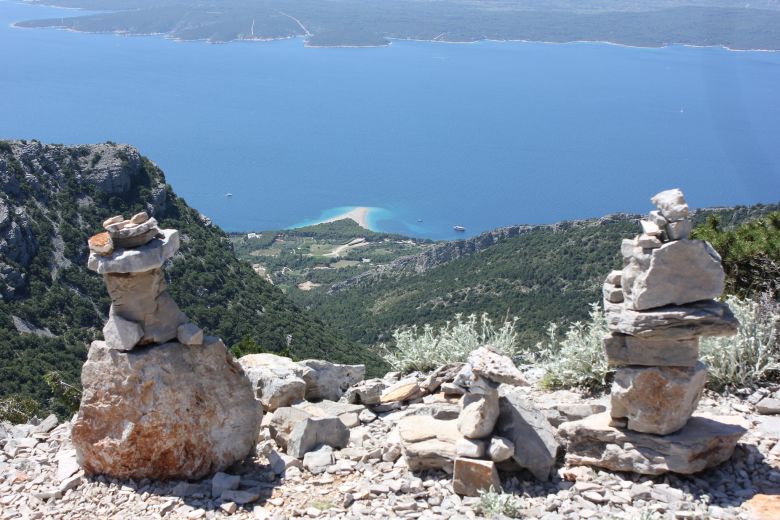 image credit: NH53
For an adrenaline boost, climb and hike the Via Ferrata in Cikola Canyon
If you're an adrenaline seeker and an experienced hiker, this is for you! Climbing and hiking the Via Ferrata can offer you the experience of your life! Only experienced hikers are allowed on this path, and in most cases, you'll have to book a hiking session with a group coordinated by an expert. Via Ferrata can be translated as "the iron path," and we can say it stands up to its name. This is a demanding hiking route built of steel cable, metal steps, and ladders fixed directly to the rocks. It is an outstanding opportunity to explore a different side of Dalmatia, and it will take you up to the impressive cliffs and viewpoint at the end of the trail. Even though prior mountaineering experience is not required for this trail, we recommend you consider it only if you have strong hiking skills. You'll have to use professional climbing gear, such as a harness and helmet. You can reach this trail with a 25 minutes' drive from Sibenik. Experts recommend having professional trekking shoes and clothes, along with a functional backpack.
Hiking in the Velebit mountains range: the best day trip in Dalmatia
The
Velebit mountains
are home to the Paklenica National Park. This is a 95 km area famous for hiking. Keep in mind that his national park was designed to protect the ecosystem in Dalmatia, so you should be careful not to damage local flora and fauna. This national park is the best location to explore untamed nature in Croatia. It features more than 150km of hiking trails suitable for all levels of experience. So, make sure you choose a path based on your skills so that you enjoy your day amid natural wonders without any problems. We encourage you to attempt to reach the peaks of Vaganski Vrh, Liburnija, and Sveto Brdo, as these offer the best views over the mid-Adriatic archipelago. The downside is that these trails are one of the most demanding in the park, so you shouldn't take this adventure if you're not an experienced hiker.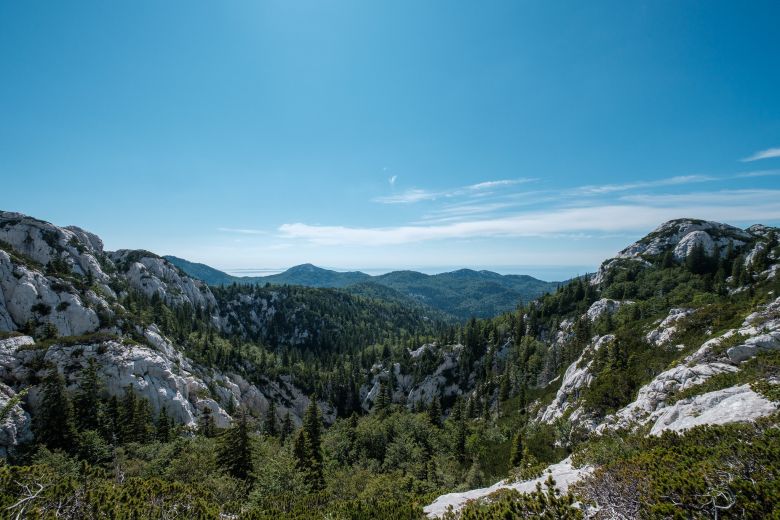 Indulging in premium local wines and hiking the Postup region
If you're visiting Dalmatia, you need to get an authentic
wine tasting session
. And the best way to do that is by hiking the Postup region. It is the leading wine-growing region on the Peljesac peninsula with plenty of vineyards and impressive sea views. It is a beginner-friendly hiking path, but you should know it can take you several hours to complete it. So, get ready for walking, but don't forget to include a stop on the way. Also, check out the picturesque village of Podobuce at the end of the hike. Here you can try some local Croatian cuisine and reward yourself for the trip.

image credit: Gian Luca Garattoni
Conclusion
This is our guide for hiking in Dalmatia. It is a great area to explore on foot, and the best part about it is that it will get you access to plenty of local foods and wines. So, make sure you opt for a hiking trail suitable for your endurance level. And, of course, that you book your accommodation before your arrival. In this way, you'll enjoy your Croatian vacation without worries and the best services available.