So you're coming to Croatia for a break but don't like the usual type of holiday - hotels, swimming pools, and the like. You're probably the adventurous type and prefer a more rough-and-tumble type of vacation. Well then, camping is right for you!
Croatia is well-known around the world for its natural beauty, eight national parks, many natural reserves clean water, fresh air, parks, and mountains. So why not take advantage of all that beautiful nature while you're visiting? Why stay in a classic hotel when you can go camping?!
What Campsites in Croatia Have to Offer
The many camps in Croatia, over 500 of them in total, vary greatly when it comes to what they have to offer. You can find camps ranging from the simple, adventurous ones offering the bare necessities, and only the bare land to set up your tent or park your caravan, to the more luxurious ones where you can find various facilities, rent a mobile home, perhaps a bungalow, and even go glamping! From fully-equipped camps to mini-camps, there's plenty to choose from.
When looking for the right campsite for your needs, we suggest looking for ones that offer either one or both of two things: the lush vegetation of the Mediterranean, and/or the crystal-clear sea and beautiful beaches.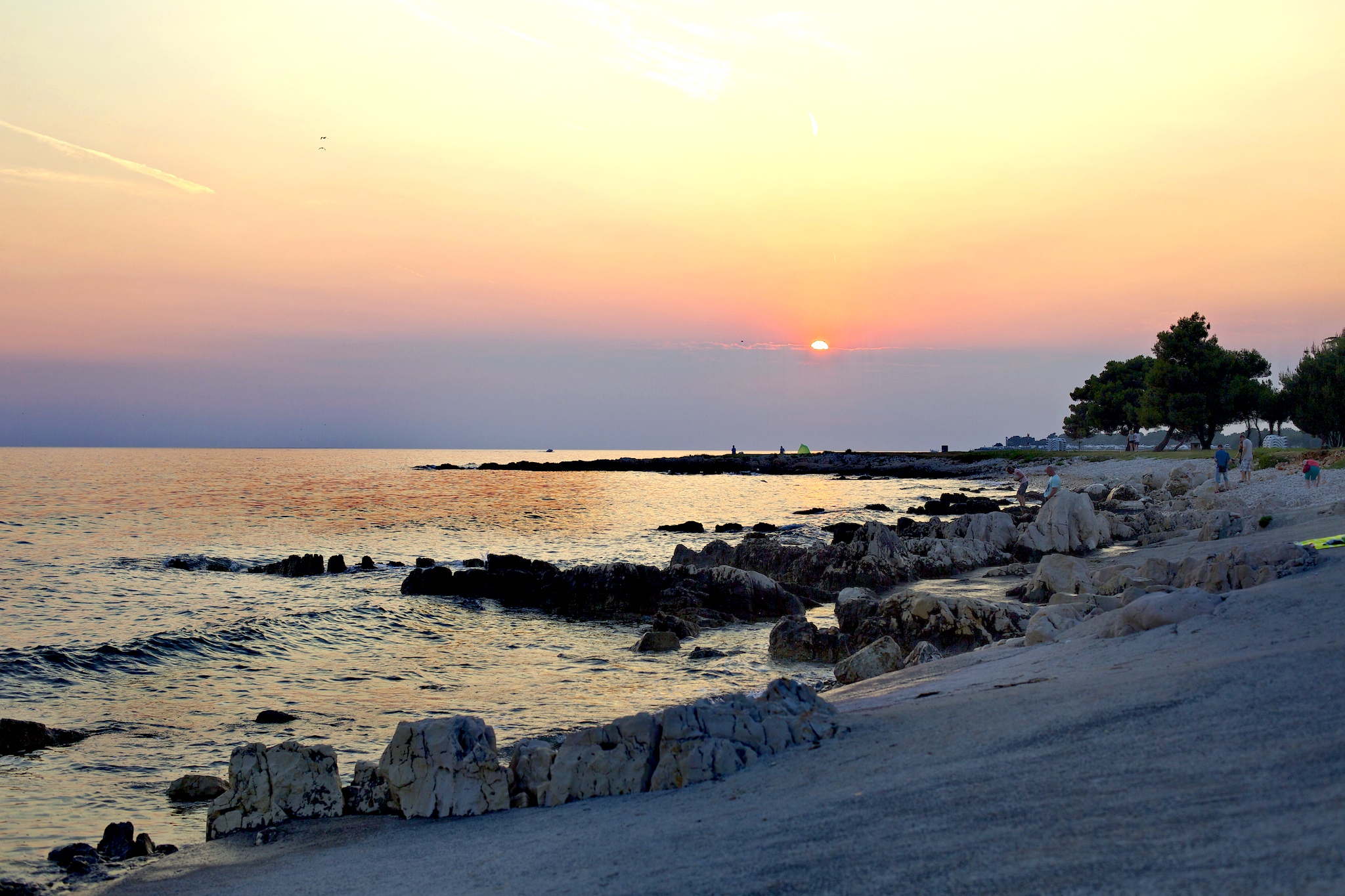 If you're looking for a slightly more glamorous camping experience, you can opt for a camping site that offers extra things to do such as sports and recreation facilities, playgrounds for the kids, shopping locations nearby, and more than just the basic sanitary facilities.
Whether you're going alone to meet new people, with friends to have a great time, or with the family to bond, and perhaps give your kids an experience they'll never forget, Croatia can offer you all that on its camping sites! 
If you're arriving with your family, there are special family camping sites that offer entertainment for all ages, including mini clubs for the children, swimming pools with toboggans and all kinds of attractions, creative workshops, and sports competitions which are fun for the entire family! 
Just don't forget to rent a car while you're here because many of the campsites are hard to reach otherwise. But that's the beauty of it. The further you are away from the hustle and bustle of the cities, the closer you are to nature!
The Best Camping in Croatia - Istria!
Istria, a Croatian peninsula on the border with Slovenia and Italy, is particularly popular among campers because of all the natural beauty it offers, and especially because it's surrounded by the clear Adriatic Sea on all three sides! Since it's so close to the border, many guests from all over Europe come here to camp.
Apart from campsites, you can find beautiful beaches, many cultural sites, architectural landmarks, olive and wine roads, many gastronomic venues to visit, and so much more in Istria!
When it comes to the campsites in Istria, they're generally surrounded by pine woods and evergreen underbrush, which make camping so much cooler and fresher in the hot summer months. And don't forget about that wonderful, mild, Mediterranean climate! 
The beaches near the campsites are nicely shaded as well. On top of that, did we mention that the Istrian sea is the warmest in Europe? And among the cleanest with as many as 50 Istrian beaches owning the Blue Flag symbol. You can find a wide array of beaches, from completely secluded ones where nature remains untamed, to the neatly paved ones which are much more easily accessible, and also often contain attractions, including many water sports such as snorkeling, windsurfing, and paragliding.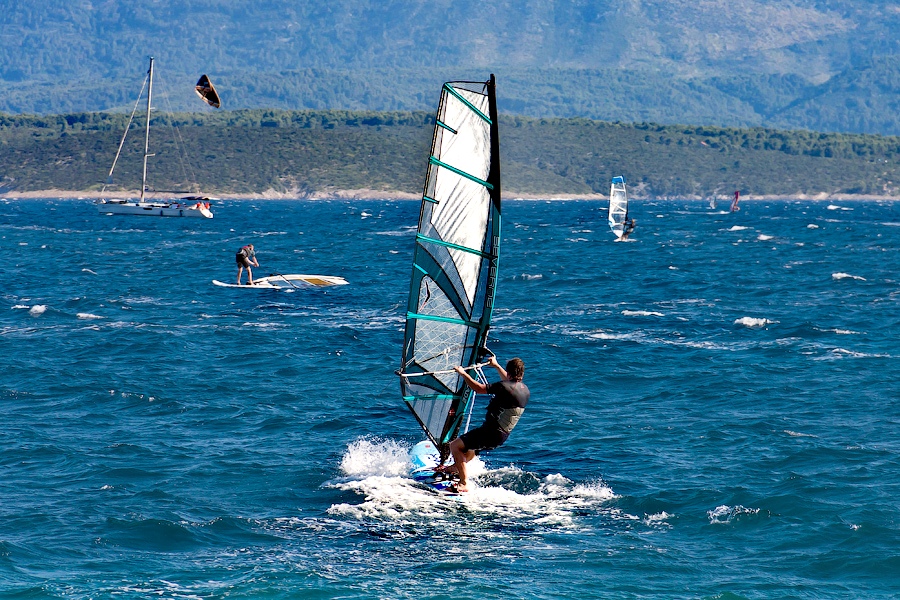 Near the numerous campsites in Istria, you will also find many other activities to try out, such as cycling (almost 3000 kilometers of cycling trails), tennis, golf, volleyball, beach volleyball, horseback riding, rock climbing, hang-gliding, caving, hiking, and, for the even more adventurous types, wine and olive oil tastings (there are over 60 wine cellars throughout Istria!), as well as other gastronomic events.
In total, Istria has more than 70 campsites which can accommodate more than 100.000 campers. If you look them up on a map, you'll see that they are mainly situated along the West coast from Umag in the north to Medulin in the south.
That's a lot to process. But don't fret. With this big guide to camping in Istria, we'll help you choose the best camping site for your needs and desires!
Tent Camping in Croatia
Starting from the very basics, if you're going plain tent camping in Croatia, or Istria (bringing your own tent, or arriving in your caravan or motor home), the first things you have to check is what each campsite has to offer.
The first thing you should check is whether the pitch you're booking has an electricity connection, a running water connection (sometimes they might have only one, or both, or perhaps even none!) and maybe even a Wi-Fi connection if you need one. 
To check if the particular campsite you've been eying has what you need, visit their website, give them a call, and book your spot. And keep in mind that many campsites aren't open year-round, but generally during the "camping season" which runs from about April to October.
And by all means, make sure the place you want to set up really is a designated camping site because, in Croatia, you can't just set up camp wherever you want. This kind of "wild camping" is forbidden, especially in national parks and nature reserves. So, technically, there is no "free camping" in Croatia, unless you have your own motorhome and decide to park it somewhere nice and scenic.
Now that we've gotten you better acquainted with campsites in Istria in general, how about we introduce you to some of the best locations to visit? We'll be starting from the northern part of Istria and slowly moving our way south towards Pula, the largest town on the peninsula.
Camping around Umag
Camping Park Umag is the largest and generally best-equipped campsites in Istria, but also on the Adriatic. I can accommodate up to 12150 campers! It offers many amenities (such as a swimming pool, grills, showers, food delivery), activities (a mini club for children, playgrounds, tennis, basketball, football, and volleyball courts, water sports, organized biking, hiking, etc.) and a great infrastructure, but also campers for rent, and much more.
Several other campsites that have very high ratings and a larger number of plots include Aminess Maravea (which also has tents for rent!) and Stella Maris.
If you're looking for something a bit smaller, we recommend one of the several mini-camps around Umag, including Camping Bencic and Kastanija (near Novigrad), or perhaps some of those around the small fisherman's village of Savudrija near Umag like mini-camp Camping Koncar, Savudrija, Zak, or Veli Jože. These kinds of mini-camps are usually much more secluded, calmer, and the nature around it is generally left intact and pristine. However, they still have a very solid infrastructure, are well-organized, and ensure you won't end up hungry!
Camping around Poreč
Several campsites around Poreč are considered to be premium, luxury camping resorts, including Istra and Lanterna. Such premium locations generally offer a wide variety of camping facilities and options: tents, cozy camping homes, camping chalets, modern camping suites, premium camping villas, private pools, glamping tents, and so on. This makes these locations a great option for family campers.
Many other campsites around Poreč also offer a great variety of things to do, including coffee shops, restaurants, sports facilities, and family-based activities. We'd recommend you have a look at Bijela Uvala, Zelena Laguna, or Ulika.
If you're around Poreč, you might also want to check out the camping sites near the coastal village of Funtana which prides itself on its beautiful beaches and top-notch restaurants, as well as a fun-for-all Dinopark and aquapark nearby. When it comes to campsites around Funtana, we recommend Puntica, Polidor, and some others in the region of Vrsar-Funtana such as the slightly larger Valkanela, or Koversada (which offers campers for rent).
Camping around Rovinj
One of the larger campsites near the town of Rovinj, where you can see the beautiful hilltop church of St. Euphemia, is Polari. It is connected to the town itself by a scenic promenade perfect for cycling or walking. Apart from the basics, it also contains a pool with many pool-related activities to try out.
There are many other camping sites around Rovinj including the extremely well-equipped and rather large Valalta, Mon Perin, and Veštar, or several mini-camps including Mon Paradis.
Camping around Pula
Pula, the biggest city in Istria, is best known for its ancient Roman remains, including the amphitheater Arena. Apart from culture, Pula also offers many things to do for party-lovers with its rich nightlife. Campers too will find a lot to do around Pula, whether it's just an escape into nature, or partying on the beach. 
There are four larger campsites in the vicinity of Pula, or the smaller, quaint town of Fažana nearby: Bi-Village, Pineta, Brioni (near the Brijuni National Park), and Stoja, but also many mini-camps and even a luxury, glamping campsite.
Nudist (FKK) Camps in Istria
Some of the camps we've mentioned so far are naturist/nudist campsites, but just to set them apart from the rest, we decided to mention a few separately for those of you who want an all-in natural experience. 
Many experienced campers would agree that naturist camping is the best camping experience you can have. The popularity of naturism in Croatia has risen ever since 1953 when Croatia became the first European country to officially welcome naturists. When it comes to the number and capacity of naturist campsites, Croatia is the third country in Europe!
When searching for naturists campsites, you'll be able to recognize them by the sign "FKK" (German for "free body culture"), so look out for that label.
Koversada is the first naturist commercial campsite in Europe, and currently the most popular one in Istria. Apart from Koversada, it's also worth mentioning Camp Kanegra and Finida (near Umag), Ulika and Istra (near Poreč), Valalta, and Camp Kažela (near Pula).
A side note though, there are several types of naturist campsites in Croatia. Some cater only to naturists, some are mixed (accommodating naturist and non-naturist campers, with separate zones for each), and some are non-naturist, "textile" campsites, but have a nudist beach.
Now that you know your way around Istria and its main camping sites, we hope you'll have a great time exploring the region and relaxing in its natural beauty. All that's left is to choose the right campsite for you, be it a quaint, mini-camp, a more luxury camping site, or anything in between. Whatever you choose, we hope you return home after your vacation a happy camper!