Istria is a Croatian region famous for its unique blend of history, culture, and natural beauty, and the abundance of villas in Istria allows travellers to experience all of this in utmost comfort and style.
This historical crossroad of diverse cultures, today reflects the influences of its rich heritage. Whether you seek relaxation by the sea, cultural exploration, or culinary delights, Istria offers a unique and unforgettable experience.
Location of Istria
Istria lies in the northwest of Croatia, located between the Adriatic Sea and Italy on the west and Slovenia on the north.
This strategic position made Istria vital to the region's economic growth throughout the Austro-Hungarian Empire. Later, Istria's culture and heritage were influenced by its proximity to Italy, which can still be seen in the region's architecture, language, and cuisine.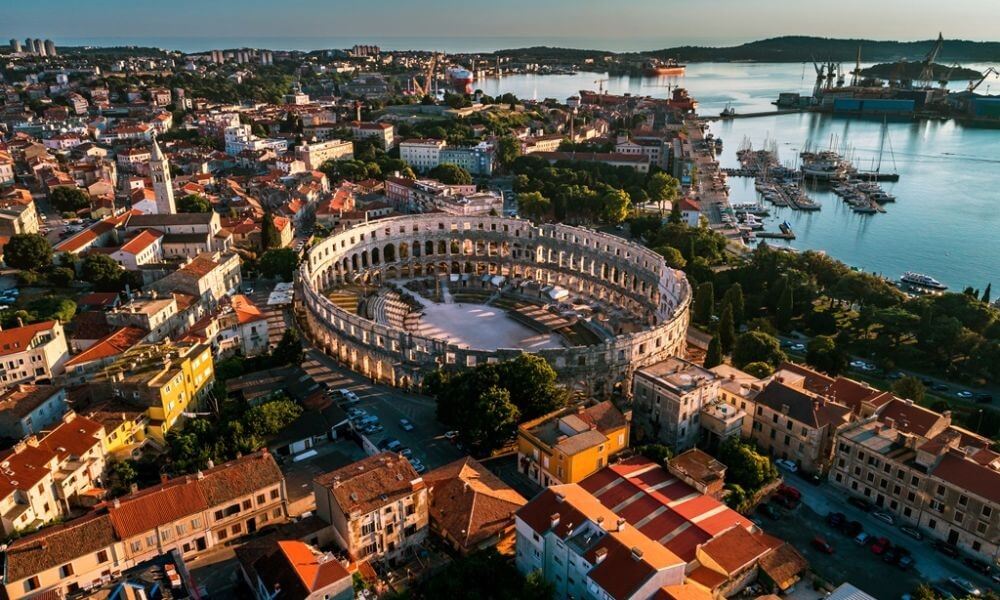 How to get to Istria?
Thanks to its position, reaching Istria is an easy process and travelers have multiple options to get to this charming peninsula.
If you're travelling by plane, Istria has an international airport located near Pula. This airport is the main connection between the peninsula and multiple European cities. Those without a direct connection with Pula can fly to Istria over Rijeka or Zagreb Airport.
You can visit Istria by car if you prefer taking the scenic route and have enough time to enjoy the journey. The beauty of travelling to Istria by car is the freedom it offers. You can set your own pace, stop when and where you choose, and explore the charming detours and less-visited spots that might not be accessible by other means of transportation. Each stop you make will offer an opportunity to taste local cuisine, sample Istrian wines, and discover hidden gems.
Istria is well connected by bus and train with major cities in Croatia, including Zagreb, Rijeka, and Split. While this might be a budget-friendly option keep in mind that this will be a slower way to travel.
When to visit Istria?
Istria's Mediterranean climate makes it a perfect year-round destination.
Like in most parts of Croatia, summer is considered to be the peak of the tourist season. The weather is warm and perfect for enjoying the beautiful Istrian coastline. It's ideal for beach lovers who want to explore beaches in Istria, water sports enthusiasts, and those who want to experience Istria's vibrant nightlife.
Spring and Autumn offer pleasant weather, fewer crowds, and lower prices. It's an excellent time for exploring the region's historic sites, hiking, and tasting the local cuisine.
Although less crowded, Istria has its charm in the winter. You can visit the region's charming towns, enjoy traditional cuisine, and experience local festivals and events.
The option to rent a villa when visiting Istria is a fantastic choice throughout the year, offering a cosy and private home base to fully enjoy the region's attractions, whether it's a sun-soaked summer retreat, a tranquil spring or autumn exploration, or a cosy winter getaway in this versatile Croatian gem.
Wherever you decide to travel, villas in Croatia provide comfort and flexibility for all types of travellers.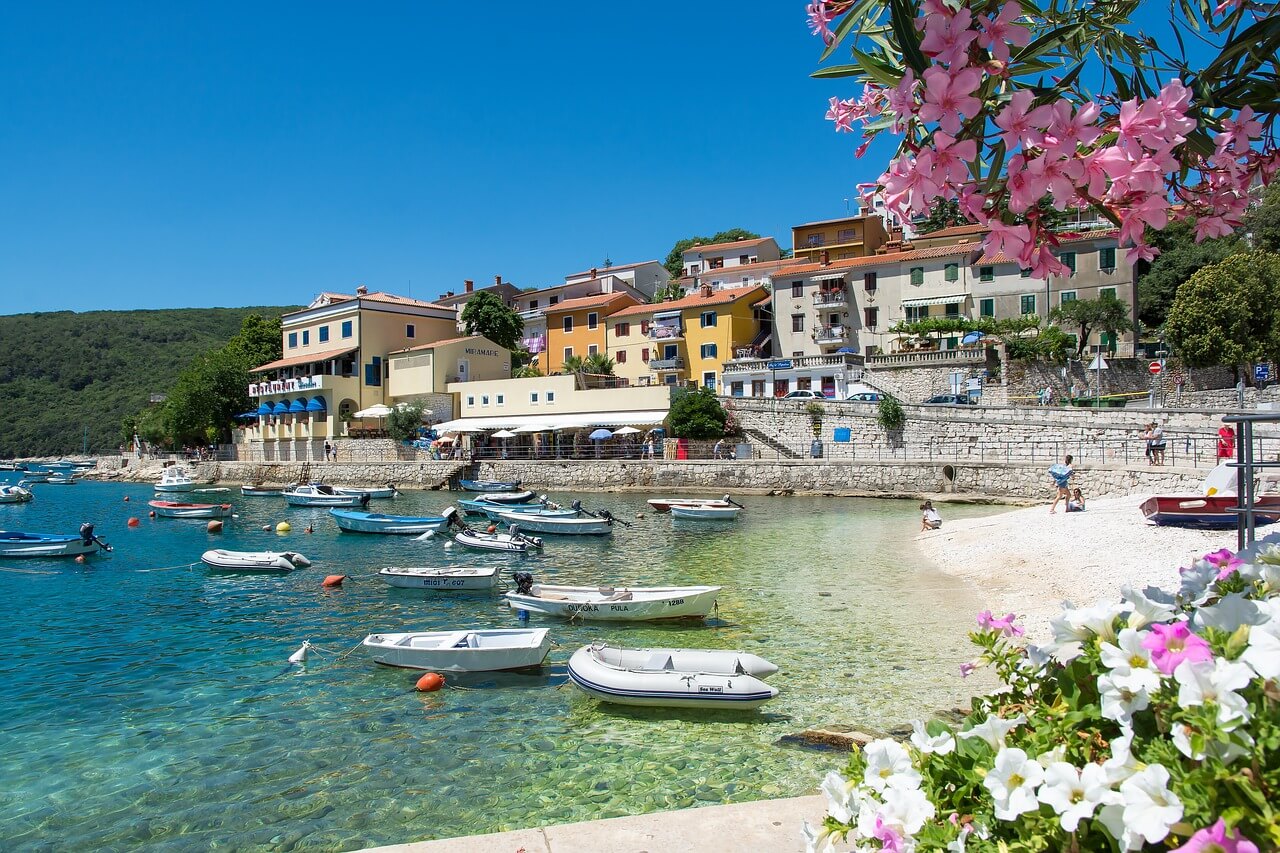 Interesting facts about Istria
Due to its unique location and history, Istria has a multilingual population. While Croatian is the official language, many Istrian people also speak Italian.
The language is not the only historical heritage, Istria has many well-preserved Roman monuments, including the Arena in Pula, an ancient amphitheatre that today hosts cultural events and concerts.
The region is also known for its charming hill towns in Istria like Motovun, Grožnjan, and Hum, where you can wander through cobblestone streets and admire stunning views.
Istria is renowned for its truffle production, particularly the elusive white truffle. The Motovun Forest is famous for its truffle hunting, and you can savour truffle-infused dishes in local restaurants.
Most beautiful places in Istria
Istria, with its captivating landscapes and rich cultural heritage, is home to a multitude of beautiful places that are worth exploring.
Pula is an Istrian gem that beautifully combines history with contemporary life. The city's most iconic attraction is the Pula Arena, a remarkably well-preserved Roman amphitheatre. This colossal structure stands as a testament to the ancient past and often hosts cultural events, including concerts and film festivals.
Rovinj is a picturesque coastal town that seems almost fairytale-like. Its cobblestone streets and colourful buildings cascade into the crystal-clear waters of the Adriatic Sea. The old town's crowning jewel is the St. Euphemia Church, which offers panoramic views of the town and its picturesque harbour from the top of the hill.
Poreč is a captivating town with a rich history and a vibrant modern vibe. The town's most precious location is the Euphrasian Basilica, a UNESCO World Heritage site renowned for its well-preserved Byzantine mosaics. In addition to its historical charm, Poreč offers a lively nightlife scene, with bars, clubs, and restaurants.
Motovun is a charming hilltop town that exudes a medieval ambience and provides panoramic views of the surrounding countryside, including lush vineyards and forests. Motovun is also famous for hosting the annual Motovun Film Festival.
The Brijuni Islands, located just off the Istrian coast, form the Brijuni National Park, known for its natural beauty, wildlife, and historical significance. The islands were a favourite retreat of Yugoslav leader Josip Broz Tito, and you can still visit his former residence.
You can enjoy all of these locations to the fullest by staying in comfortable and spacious family villas in Istria that provide a home away from home for your memorable journey.
FAQ
Where are airports in Istra?
Pula Airport is the primary international airport in Istria, while Rijeka Airport and Zagreb Airport also provide access to the region.
Why do Istrian people speak Italian so well?
Istria's history shows strong Italian influence and a significant Italian-descendant population, which has helped maintain the Italian language alongside Croatian.
What is the best time to visit Istria?
Istria caters to year-round travel, with different seasons offering diverse experiences.