Dalmatia is a perfect destination for a family vacation. With its beautiful coastline, charming towns, and warm Mediterranean climate, Dalmatia has something for everyone. If you're planning a trip to Dalmatia with your children, renting a villa can be an excellent choice for accommodation. Here are the top five villas in Dalmatia that are perfect for families. Do not forget and check for the kids-friendly guide to Croatia for your summer ideas.
Villa Caper in Biograd
Located in the picturesque town of Biograd, Villa Caper is a fantastic choice for families. This spacious villa offers a comfortable and luxurious setting with all the amenities you need for a memorable stay.
With multiple bedrooms, a fully equipped kitchen, a private pool, and a spacious garden, Villa Caper provides enough space for the whole family to relax and enjoy their vacation. The villa is also conveniently located near the town centre and the beach, allowing easy access to nearby attractions. Check out our list of the best family activities in Dalmatia and pick what suits you the best.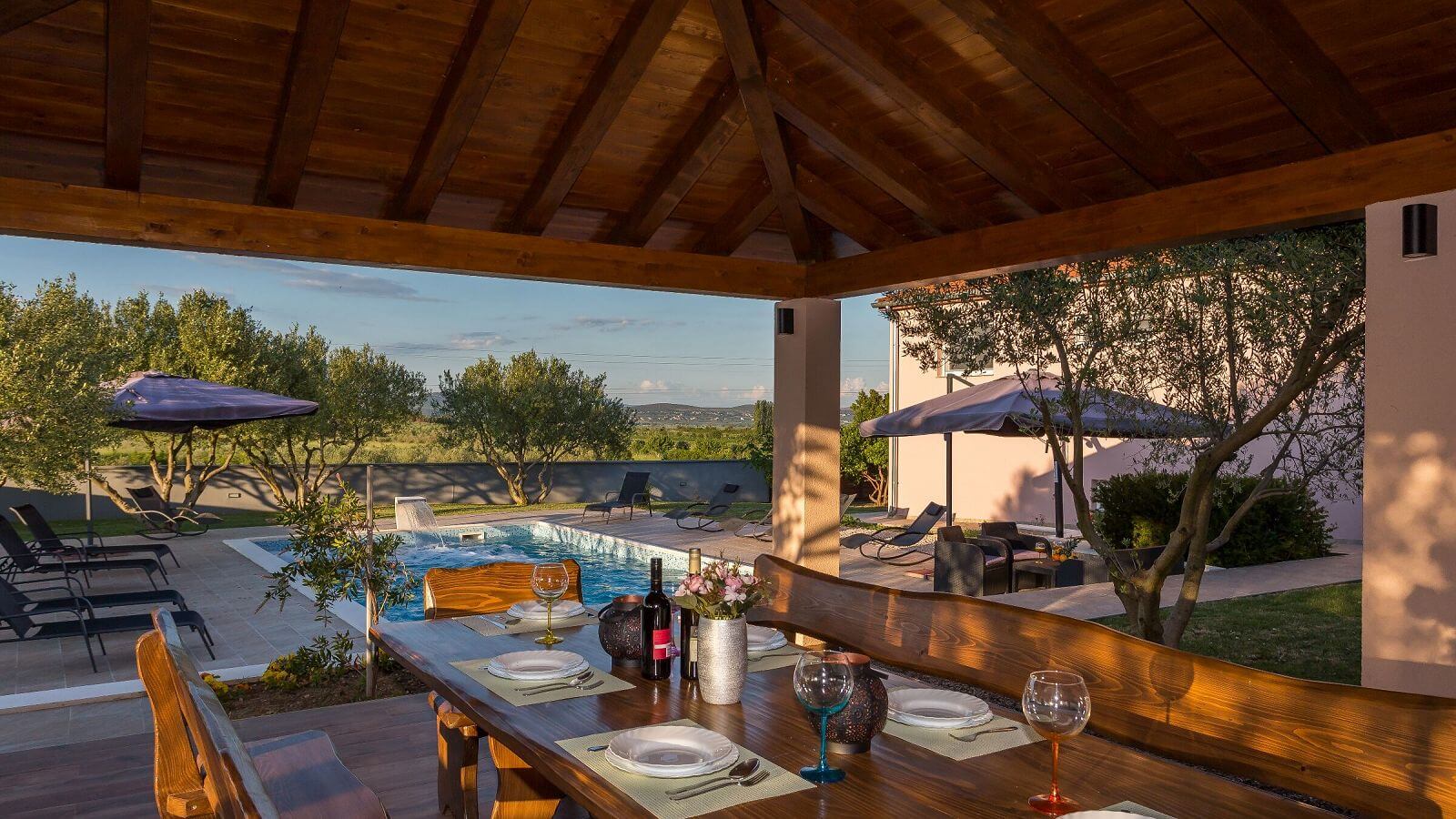 Villa Blue Wind near Nadin
Villa Blue Wind is situated near the charming village of Nadin. This is another excellent option for families. This beautiful villa is a renovated traditional house. It offers stunning views of the surrounding countryside and provides a peaceful and serene atmosphere.
The villa features spacious rooms, a modern kitchen, a private swimming pool, and a large outdoor area for children to play. With its tranquil setting and proximity to nature, Villa Blue Wind offers a perfect retreat for families seeking relaxation and quality time together.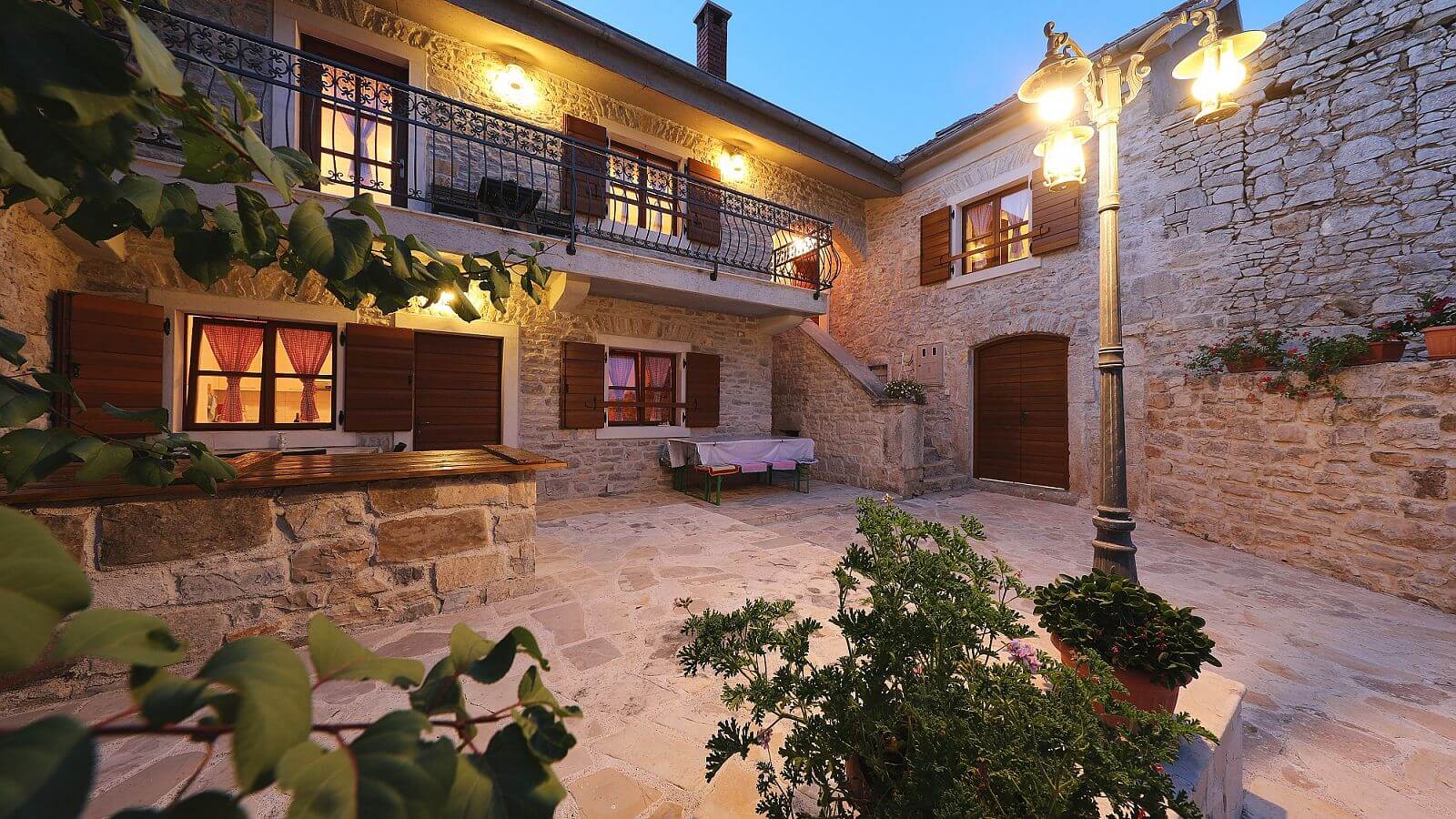 Villa Centovi Dvori near Trogir
Located near the town of Trogir, Villa Centovi Dvori is a charming villa that combines traditional Dalmatian architecture with modern amenities. The villa offers comfortable bedrooms, a fully equipped kitchen, a private pool, and a beautiful garden.
With its proximity to Trogir's UNESCO World Heritage Site and the beach, Villa Centovi Dvori allows families to explore the rich history and culture of the region while enjoying a comfortable and convenient stay.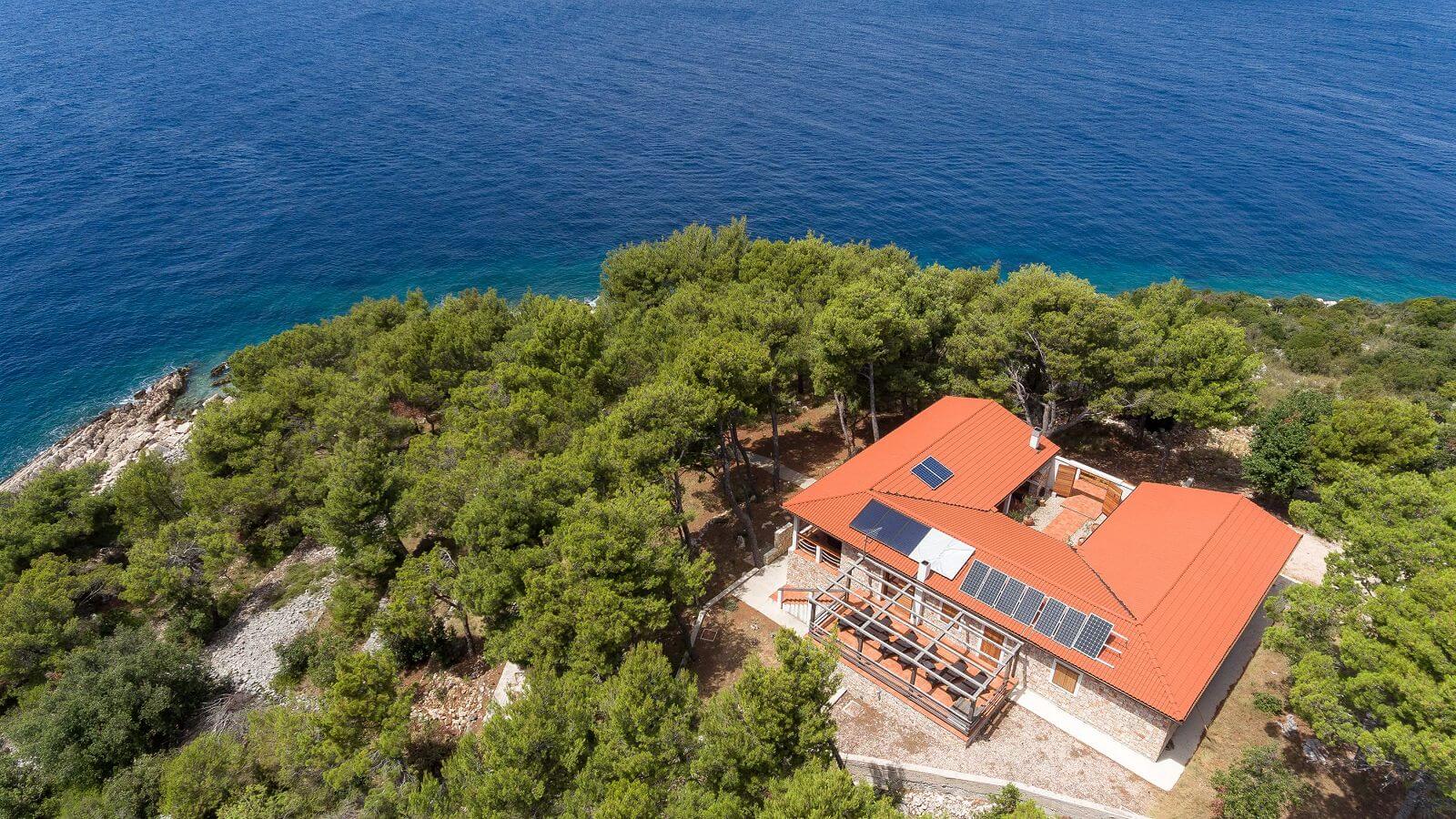 Villa Rosada
Villa Rosada is a perfect choice for families seeking a beachside vacation. It is situated in the idyllic village of Zaton near Zadar, This modern villa features spacious accommodation, including multiple bedrooms, a well-equipped kitchen, and a private pool. The highlight of Villa Rosada is its proximity to the beach, allowing families to enjoy sun-soaked days by the sea. The villa's serene location and easy access to nearby attractions make it an ideal option for a family vacation in Croatia.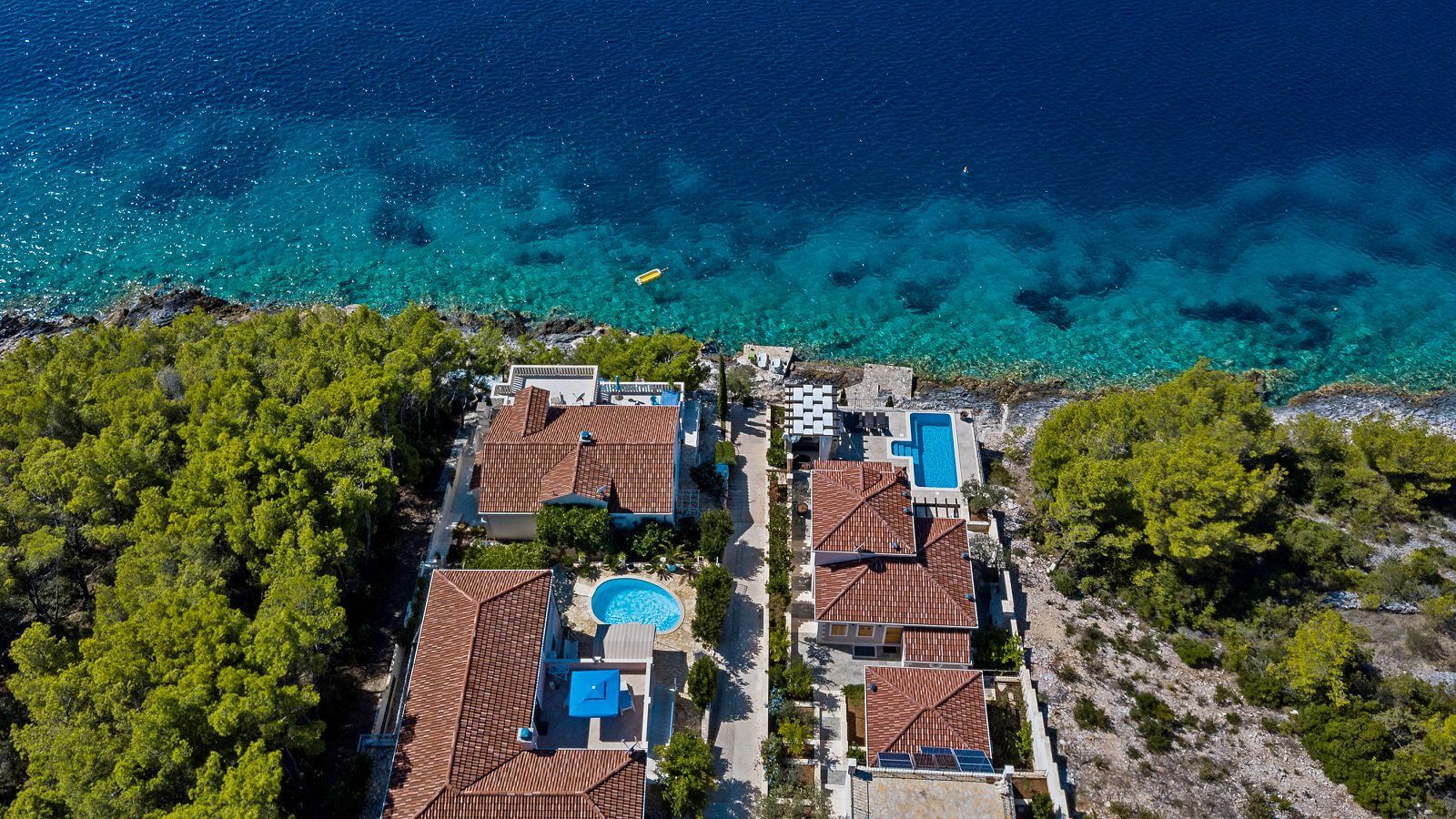 Villa Blažen
Villa Blažen located in the charming town of Šibenik, offers a unique combination of modern comfort and traditional charm. The villa has stylishly decorated rooms, a fully equipped kitchen, a private swimming pool, and a spacious terrace with breathtaking views of the Adriatic Sea. With its central location, Villa Blažen allows families to explore the historic town of Šibenik, visit nearby national parks, and enjoy a wide range of activities.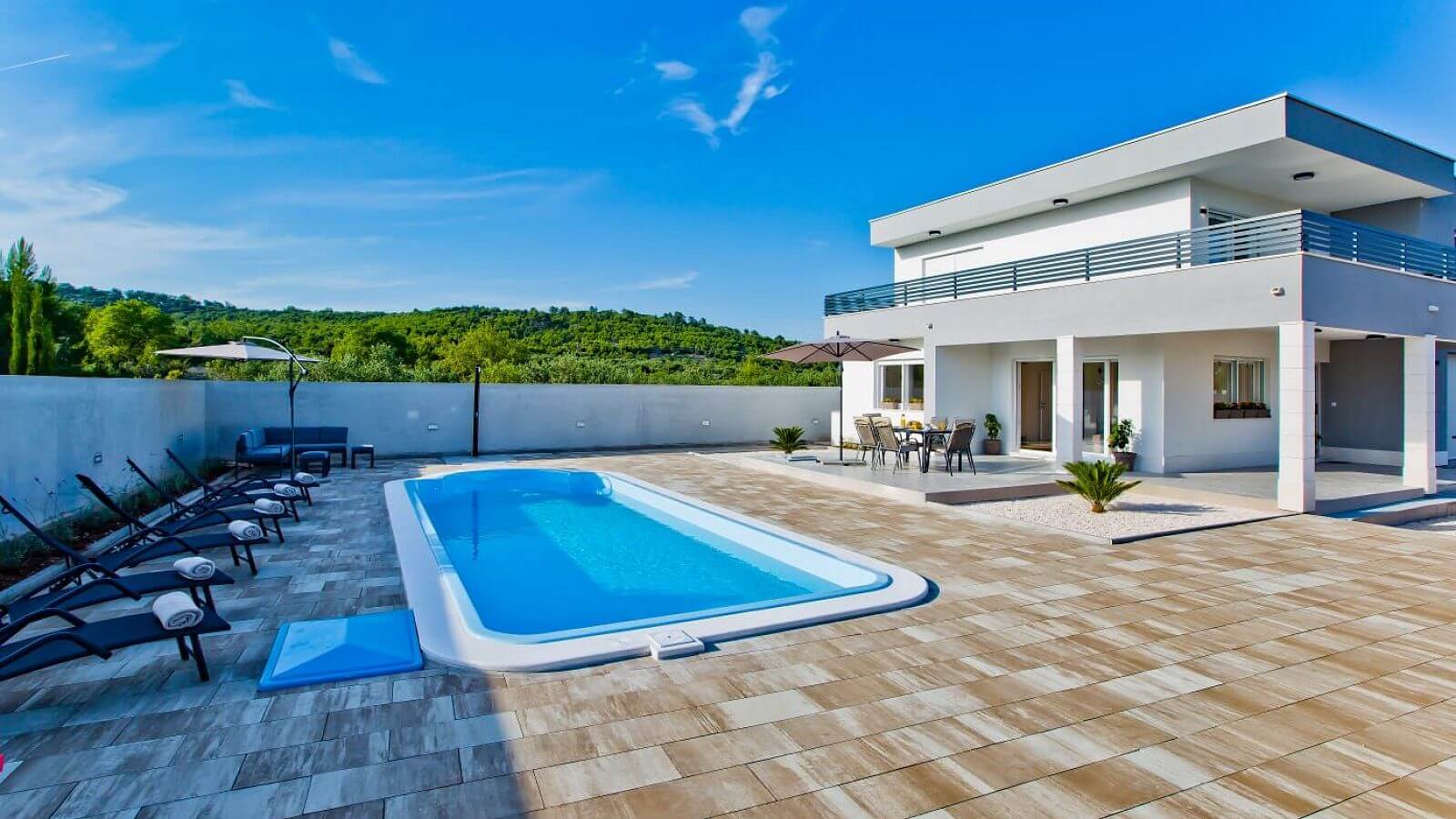 Best things to do with your family in Dalmatia
Dalmatia offers an array of exciting activities for families to enjoy during their vacation. Here are some of the best things to do with your family in this beautiful region.
Explore the stunning beaches: Dalmatia boasts numerous beautiful beaches where you can relax, swim, and build sandcastles with your children. From secluded coves to vibrant coastal resorts, there is a beach to suit every family's preferences. Check out our guide to the best beaches in Croatia.
Discover natural wonders in Croatia: Dalmatia is home to breathtaking natural wonders, including cascading waterfalls and crystal-clear lakes. Plan a day trip to visit the famous Plitvice Lakes National Park or Krka National Park to marvel at the stunning beauty of these natural attractions.
Book family-friendly boat tours: take your family on a boat tour to explore the beautiful coastline and nearby islands. Many tour operators offer kids-friendly boat tours that include swimming, snorkelling, and other adventures.
Discover underwater beauty: Dalmatia is renowned for its clear turquoise waters, making it an excellent destination for snorkelling and diving. Enjoy an underwater adventure and explore vibrant marine life, hidden caves, and fascinating shipwrecks. There are diving centres along the coast that offer diving and snorkelling experiences, providing an unforgettable glimpse into the underwater world.
Visit a Sea Turtle Rescue Centre: if your child loves animals, a visit to the sea turtle rescue centre can be an educational and rewarding experience. In Dalmatia, there are a few centres that work towards the conservation and rehabilitation of sea turtles, such as the Sea Turtle Rescue Centre in Primošten. Your child can learn about these incredible creatures, their habitats, and the efforts being made to protect them.
Visit historical sites: Dalmatia is steeped in history, and exploring its ancient sites can be both educational and exciting for the whole family. Take a trip to the city of Split and visit the impressive Diocletian's Palace, a UNESCO World Heritage Site. You can also explore the well-preserved Roman ruins in the town of Salona or the historical fortress of Fortica in Omiš.
Engage in family-friendly activities: Dalmatia offers a wide range of family-friendly activities, such as cycling along scenic coastal paths, hiking in national parks, or participating in water sports like kayaking and paddleboarding. Check out our list of the best family activities in Dalmatia here for more ideas. These activities you can enjoy in the Northern Adriatic as well. In that case, consider these kids-friendly villas in Istria for you to stay.
Experience Croatian culture: immerse your family in the rich cultural heritage of Croatia by visiting historical towns, exploring ancient ruins, and attending local festivals and events. Croatia is known for its warm hospitality and family-friendly atmosphere, so you can expect a warm welcome wherever you go.
FAQ
Is Dalmatia safe to visit?
Yes, Dalmatia is generally a safe region to visit. The local authorities prioritize the safety and well-being of tourists, and the crime rate is relatively low. However, as with any travel destination, it's always advisable to take common precautions and be aware of your surroundings. After your first summer vacation here in Croatia, you will no longer have to ask yourself if Croatia is for vacation.
Do Croatian people like animals?
Croatians generally have a positive attitude toward animals. Many households have pets, and animal welfare is considered important. You will find pet-friendly accommodations, parks, and restaurants that welcome pets in Dalmatia. If you're planning to bring your pet along, make sure to check out our list of pet-friendly beaches in Croatia here for the best spots to enjoy the sea and sun together.
Are there a lot of pet-friendly beaches in Croatia?
Yes, Croatia is known for its pet-friendly beaches. Many beaches and coastal areas allow dogs and other pets, although some may have specific rules or designated areas. Before visiting a beach with your pet, it's recommended to check the local regulations and ensure you have the necessary supplies for your pet's comfort.