There is no better way to enjoy the chilly winter than by lounging in a heated pool. We have compiled a list of luxury villas in Istria with heated pools for your viewing.
Istria – the most beautiful region in Croatia
Istria is a peninsula located in the Adriatic Sea. The coastline of Istria measures approximately 620 kilometres. The climate in Istria is Mediterranean, with mild winters and warm summers, which makes it the perfect spot for some of the best villas in Croatia.
The region is home to many beautiful villages, towns, and cities, as well as a number of important historical sites. Some of the most popular tourist destinations in Istria include the city of Pula, the town of Rovinj, and the seaside resort of Rabac.
The region's coastline is dotted with numerous small islands, which can be reached by boat from any of the major towns and cities.
The region is also home to some of Croatia's best-known wine regions, including Motovun, Buzet, and Grožnjan. Istria is also an ideal destination for a winter vacation, with plenty of activities on offer to keep visitors entertained.
Benefits of a Winter Vacation in Istria
When the temperature outside starts to drop, the appeal of a warm, sunny destination becomes all the more irresistible. And what could be better than renting a villa with a private heated pool? Istria is an ideal winter getaway, offering plenty of activities and attractions to keep you entertained, as well as plenty of chances to relax and rejuvenate. Here are just a few of the benefits of spending your winter vacation in Istria:
1. Warm weather – When you rent a villa with a private heated pool in Istria, you can enjoy sunny days and mild temperatures even during the winter months.
2. Stunning scenery – Istria is home to some truly breathtaking landscapes, from rolling hills and vineyards to quaint towns and villages. No matter where you go, you're sure to be impressed by the natural beauty of this region.
3. Delicious food and wine – Istrian cuisine is mouth-wateringly good, and there's no better way to enjoy it than by pairing it with some of the region's excellent wines.
4. Plenty to see and do – From exploring ancient ruins to indulging in some retail therapy, there's no shortage of things to do in Istria. Whether you're looking for adventure or relaxation, you'll find it here.
5. Friendly locals. The people of Istria are known for their warmth and hospitality, so you can expect to feel right at home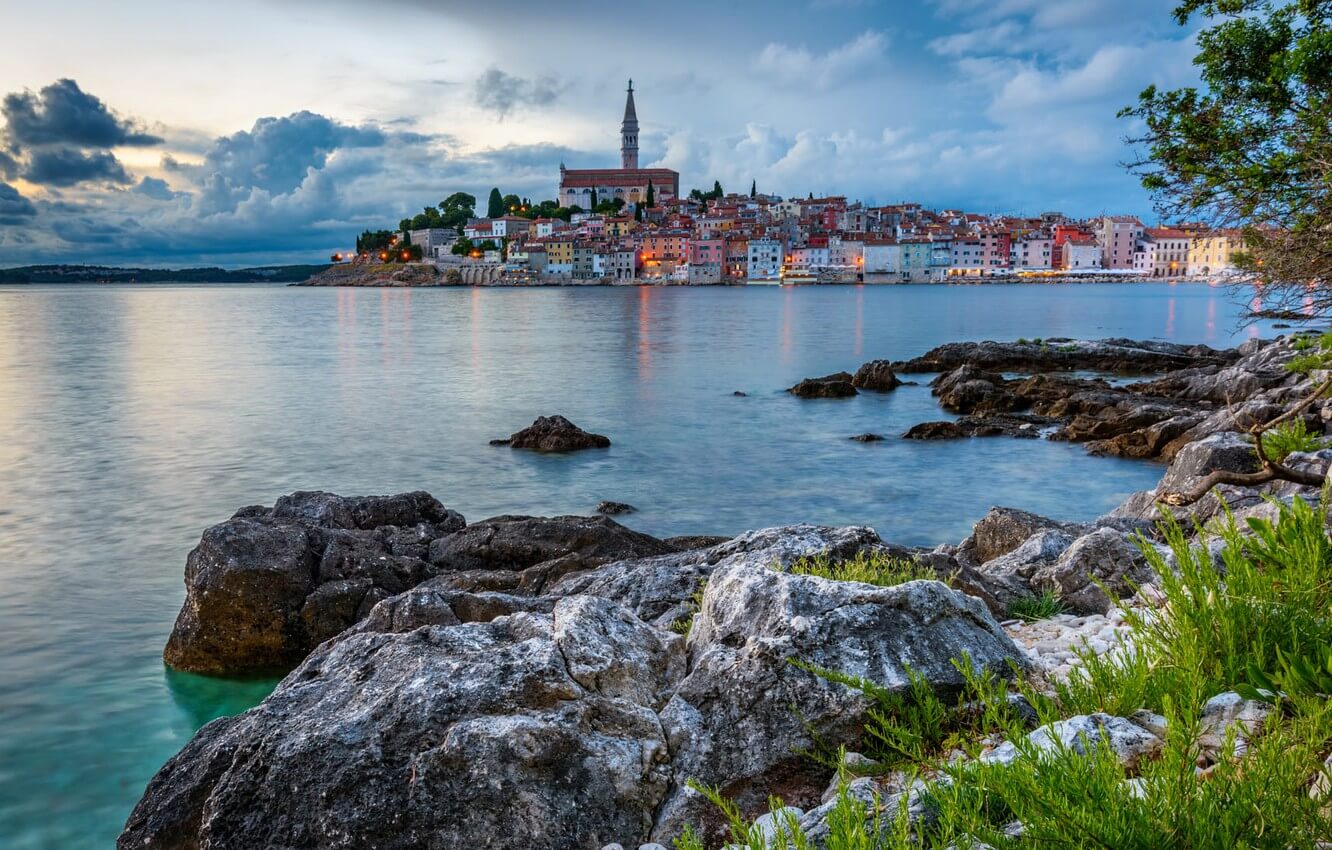 Best Villas with Heated Pools in Istria
Istria is a beautiful region in Croatia that is perfect for a winter vacation. There are many villas with heated pools that you can rent, so you can enjoy the warm weather and the beautiful scenery.
There are numerous villas in Istria that come equipped with heated pools, making them the perfect choice for a winter getaway. Here are some of our top picks:
Villa Mia: this villa is located near Kanfanar in central Istria. The house distinguished itself with stunning design which was designed by one of the leading Croatian designers, and with high quality designer's furniture made by reputable Italian and Croatian manufacturers.
Villa Luka: Villa Luka is located 3 km from Labin and 8 km from Rabac which has its beautiful beaches and various holiday entertainment.
Villa Karla: This beautiful villa is located in the southern part of Istria and is only 15 km away from Pula. In a few minutes by car or taxi you can reach numerous restaurants, shops, ATMs, petrol stations and cafes.
Make sure to check out more of our villas, like villas in Rovinj, to make sure you choose a perfect destination for yourself.
Enjoy luxury and comfort at Villa Mia
Villa Mia is a new villa with a pool located in Šivati village, near Kanfanar, in central Istria. This house distinguishes itself with an astonishing design by one of the leading Croatian designers and high-quality furniture made by reputable Italian and Croatian manufacturers.
On 930 sqm enclosed property Villa Mia offers guests a 33 sqm large swimming pool, a spacious covered terrace with summer kitchen and dining table as well as 2 parking spaces.
Villa with pool with surface of 188 sqm on two floors, 8 people max. Ground floor: Living area with fully equipped kitchen, dining table and sofa, satellite TV and fireplace; One bedroom for two people (single bed), shower & toilet; 1st floor: 3 bedrooms for six people (double bed), satellite TV and shower & toilet; Balcony on the pool side of the house.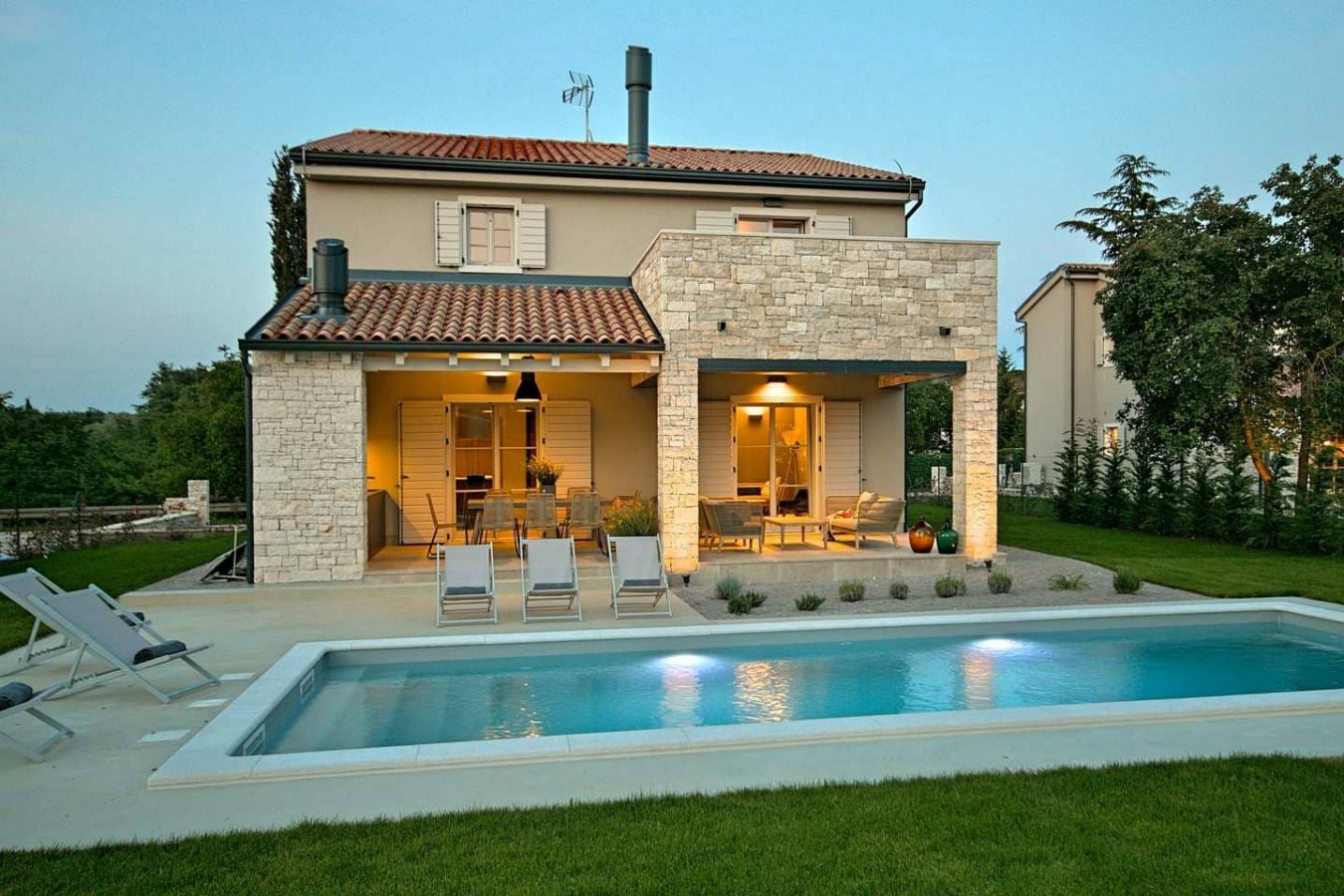 Take a look at the beautiful surroundings: Villa Luka
Villa Luka is a stone's throw away from beautiful Rabac and the city of Labin. You'll have a 24-square-metre pool just outside your front door, in addition to access to an outdoor swing for kids and a barbecue.
The accommodation spans 90 square metres, featuring two bedrooms with double beds, one bedroom with two single beds and bathtub/shower combo.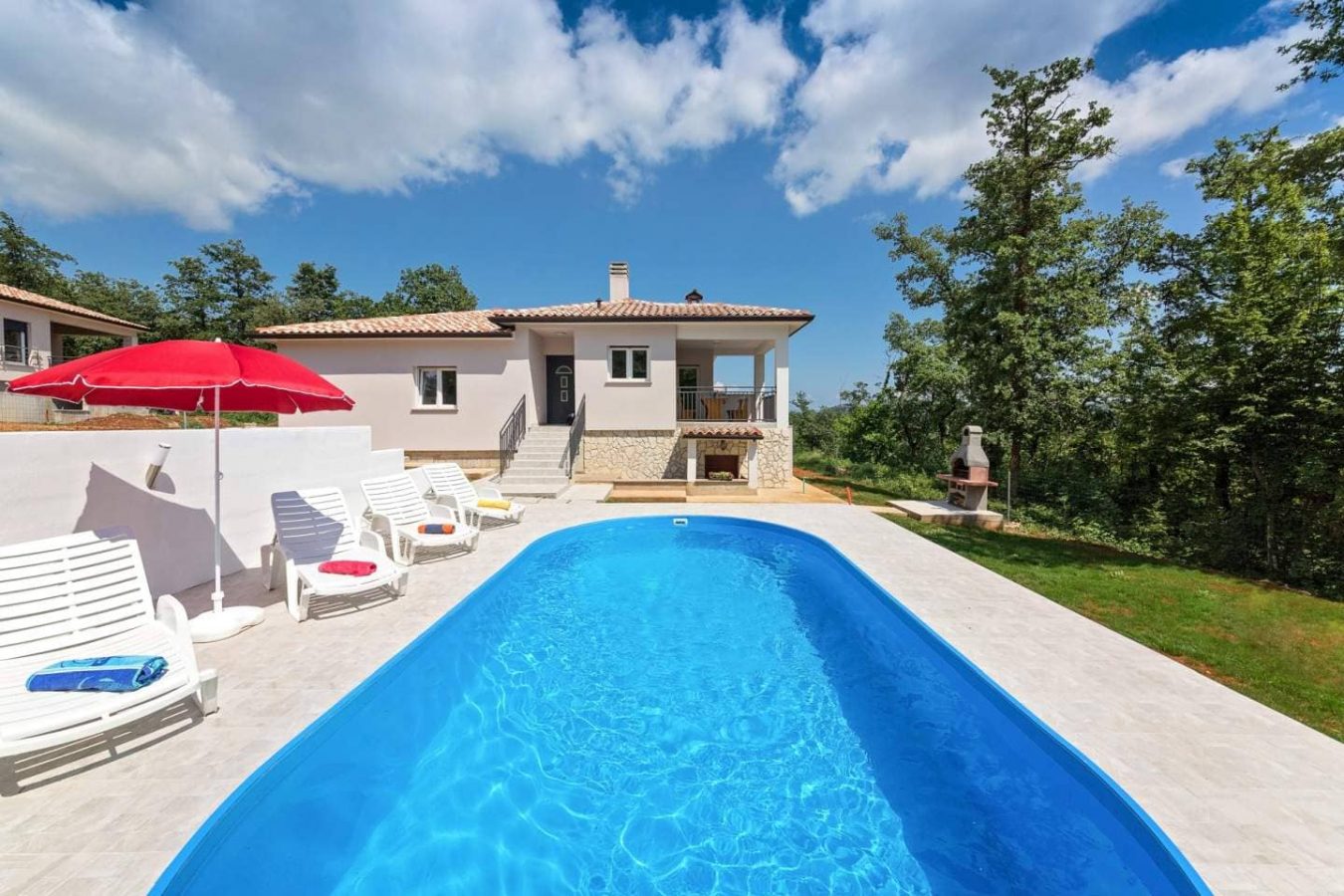 Villa Karla is a wonderful place for vacation
Villa Karla is a beautiful new holiday home with a swimming pool located on the edge of Divšići village. It's located in southern Istria and is only 15 kilometres from the city of Pula. In a few minutes by car you can reach numerous restaurants, shops, ATMs, petrol stations and cafes.
At 5200 sqm the guests have a 32 sqm swimming pool, a barbecue with a dining table, covered terrace with garden furniture, deck chairs, sun umbrella and parking space. The Villa Karla has an area of 140 sqm and even includes two floors.
There's a living room overlooking the pool on the ground floor as well as a dining room, fully equipped kitchen and bathroom. On the first floor there are two double bedrooms each having its own bathroom with shower/ toilet. Pet supplements will be charged per pet per day.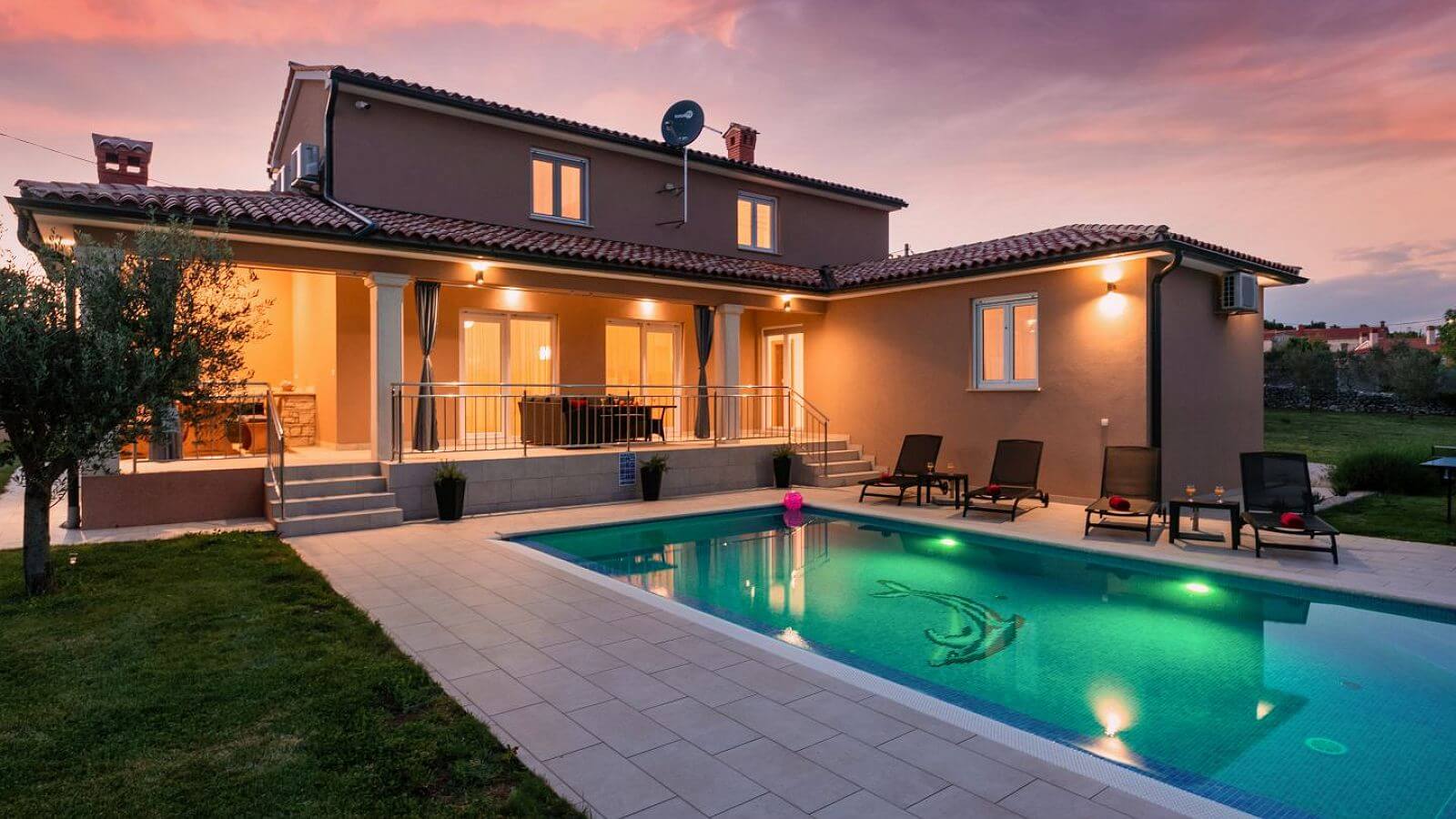 Conclusion
If you're looking for a winter vacation destination with plenty of activities and stunning scenery, Istria is the perfect place for you. And what better way to enjoy the region than by staying in one of its luxurious villas with a heated pool?
With this list of the best villas with a heated pool in Istria, you'll be spoilt for choice when it comes to finding your dream accommodation. So, whether you're planning a romantic getaway or a family vacation, make sure to check out these amazing properties!