Croatia has it all because of its vast waterfalls, high mountains, beautiful coastlines, stunning lakes, and forests. Are you looking for a fascinating history, ultimate sailing getaway, food, and wine escape? Let's visit Croatia. Croatia is famous for its small towns and has been regarded as one of the top tourist destinations. But let's talk about Trogir.
Trogir, a town situated between Zadar and Split, is the perfect place to start your trip to Croatia. Being an offbeat place in Croatia, this is going to be one of the best places to visit post-pandemic. Nick-named as the 'Stone Beauty' or the 'Little Venice,' Trogir has always been a historic place on the Dalmatian Coast. This town is one of the perfect examples of preserved medieval cities in Europe and has some Old World European Charm. This town is the perfect place for aimless wandering and leisurely exploring. It is secluded on a tiny island and protected by medieval walls.
Are you planning a trip to Croatia? Let's put Trogir on your itinerary.
What To See In Trogir
Kamerlango Castle
At the tip of the town, lies Kamerlango Castle. A 14th-century fortress, this castle still stands proud at the waterfront. The structure was built by the Republic of Venice to guard the city and control access to the harbor. Tourists can walk up to the walls of this castle and sit on them to feel the cool breeze and spend a lazy afternoon doing nothing and enjoying the ultimate view of distant mountains and sweeping views of Trogir. In recent times, the city's various events and concerts take place inside this castle. Thus, although being one of those towns where there are not many historical places, Trogir is indeed a great place to visit.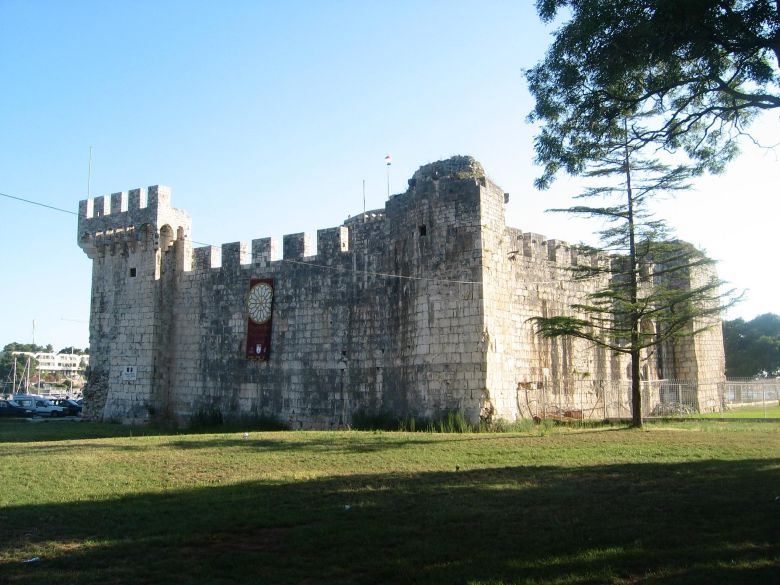 image credit: pululante
The Cathedral at St. Lawrence
A Roman Catholic Church, constructed in Romanesque-Gothic Style, St. Lawrence Cathedral is a UNESCO listed site. One can also climb the church to the top of the bell tower for the best 360-degree views of Trogir, including the town hall in the center. The most imposing monument of the city, this cathedral illustrates all the styles that succeeded one another in Dalmatia.
Maze of Marble Streets (Walk the old town)
Lovely Maze of backstreets and other historic buildings cannot be ignored. This town is famous for its small streets in this small town. The Old town of Trogir was voted as the best city island in the world by National Geographic in 2015. One can find small boho shops inside the streets where one can find lots of handmade souvenir products from the local artists.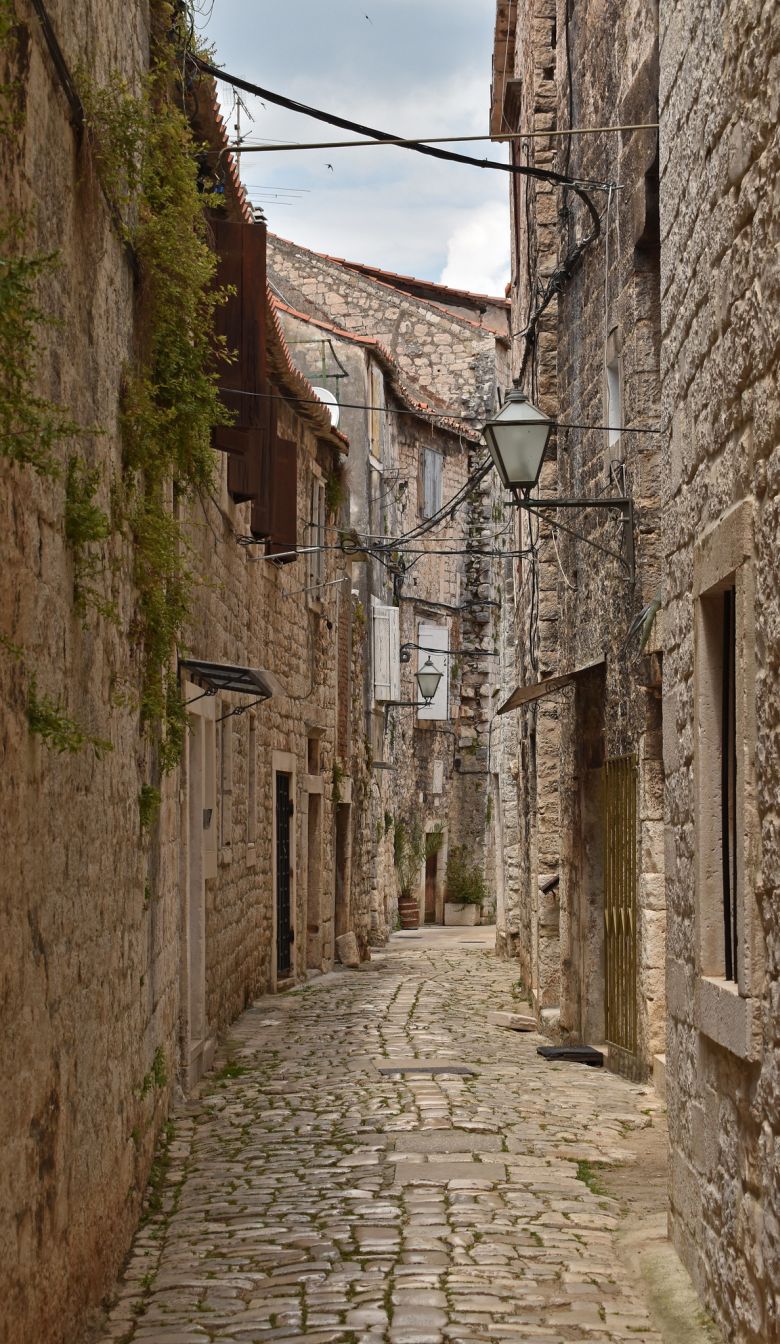 image credit: Harshil Shah
What To Do In Trogir
Pantan Beach
Situated on the delta of river Pantan, this is one of the most famous beaches in the town of Trogir. About a half kilometer long, spending time on this beach can be quite a different experience in itself. Sandy, on one side, and pebbly, on the other hand, this beach is the best place for families with kids. This beach also has a beautiful pine forest on one side, where one can rest during hot summer days. Tourists love to spend time on the beach during the evenings, watching the sunset and having drinks by the bar. There is also a possibility of renting deck-chairs and beach umbrellas. Kids love to spend time over here, playing volleyball, tennis, and badminton.
One can also rent an apartment or villas with a pool near the beaches in Trogir. Thus, while on your trip to Trogir, this is the best place to spend your evening and make some memories enough for your lifetime.
Local Farmers Market
Trogir is famous for its locally produced olive oil. Situated little far away from Trogir, Brac is an island on which one can find vineyards and olive fields. More commonly known as the Green Market, this market has lots of cafés and bars. With a great variety of fresh fruits and vegetables, many locally made dried fruits and candied fruits are also available. This particular farmers market is famous for its liqueurs, olive oils, and lavender products. Lavender is an essential part of everybody's life here. Thus, this is the must-visit place when on a trip to Trogir, Croatia, if one wants to explore the city truly like a local.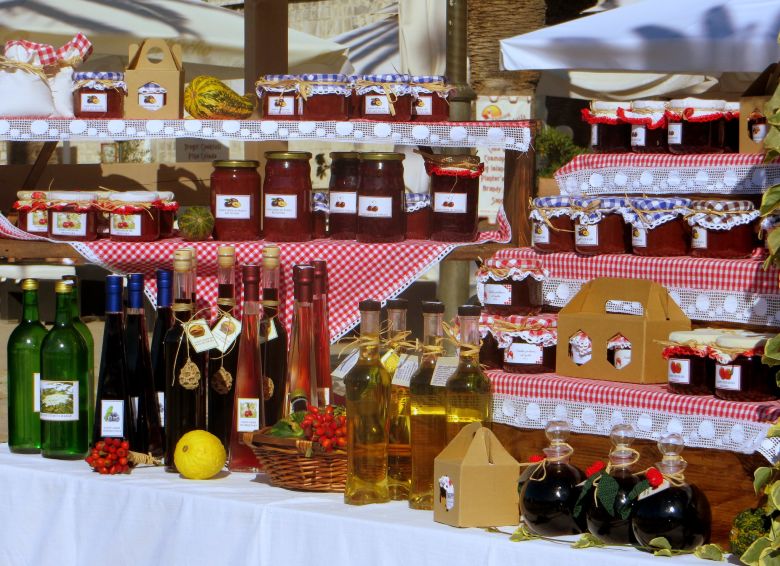 image credit: Carine06
Stroll along the Promenade
The heartbeat of the city rests at the promenade of Trogir. A line of fluffy palm trees on one side, and a parade of yachts on the other side docked in azure water is what you will experience while strolling on this promenade. While strolling on this long walk, one can very clearly be mesmerized by the city's shining stone walls, burnt orange rooftops, sparkling seas, and blue-grey mountain ranges. Well, what else is needed to make your trip a memorable one?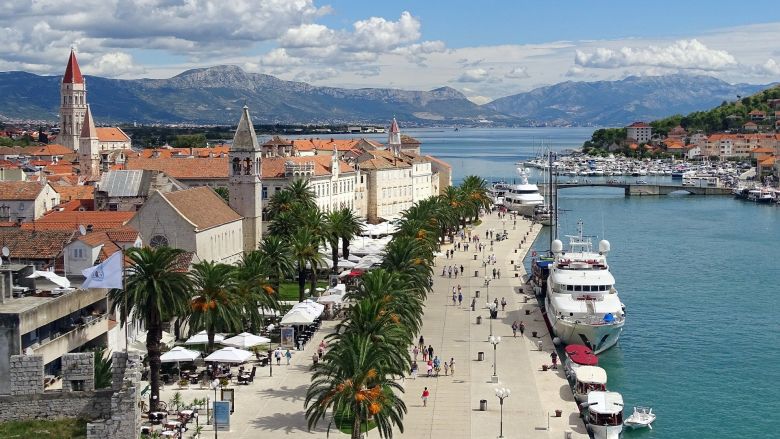 Enjoy Local Cuisine & Seafood
Trogir has been regarded as Croatia's oldest fishing and harbor town. Seafood is a kind of local cuisine of Croatia, which one should experience. The delicious blend of olive oil along with locally grown spices makes the mouth-watering. Restaurant Dionis at Waterfront is probably the most famous restaurant in this town, and a massive tray of three types of pasta with tuna, mussels, shrimp, and crab is a must-try dish here.
But are you not a fan of seafood? One has to try the local cuisine when on a trip to Trogir.
At the end
Thus, Croatia is undoubtedly one of those places which have been on the top list of every tourist. And when on a trip to Croatia, why not experience this World Heritage site and spend a day just strolling around the streets and grasping the age-old aroma of Venetians and Romans. All we need to do is pack our bags, book a ticket and fly all the way to Croatia as soon as we can.