If you're looking for a perfect place for your next vacation, Istrian Riviera in Croatia is a choice that is very hard to beat. Not only can you book loads of beautiful luxury villas with pools over there, but the whole peninsula is absolutely brimming with ancient history, culture, excellent food and loads of things to do and see. Picturesque towns, fantastic beaches and exquisite wineries all deserve a place on your itinerary. And Istria is really not that big, so you can get pretty much anywhere with a car, no matter where you're staying. Still, some sights and activities stand out from the rest, so here's a list of the best things to do in Istria this summer. Read on and prepare to fall in love!
Things to do in Pula
We start this article off with the largest city in Istria. There are plenty of incredible things to do in Pula, primarily because of its Roman heritage. Yes, this city was founded more than 2000 years ago and contains some truly stunning examples of Roman architecture. By that, we primarily mean the incredible Pula Arena, a huge and perfectly preserved amphitheater that is still used for concerts and various events to this very day. Out of all things to do in Istria, visiting this unbelievable place is certainly number one. The Temple of Augustus, dedicated to the very first Roman emperor, is at the very centre of the city and another splendid example of the city's Roman roots. Finally, Arch of the Sergii completes the set of main ancient sights in Pula.
Best beaches in Pula
Pula beaches will also interest you given that Istria is famous as a summer destination. Indeed, there are quite a few of excellent places for a swim to choose from. Ambrela beach, for example, is among the most popular destinations around, especially for families with children. Spacious and with an easy entrance into the sea, it's suited for pretty much everyone. Havajka (Hawaii beach) is also among the most popular Pula beaches as it has nice cliffs from which you can practice your diving skills. Of course, there's more to this place than that, and the pebble part provides plenty of opportunities to just relax and enjoy. Apart from these, there are plenty of other notable beaches in and around the city, such as Gortanova, Valkane, Saccorgiana and others, or you can head out to nearby Medulin to enjoy some fantastic sandy beaches.
Considering all of that, renting out one of the villas in Pula really sounds like a great idea. You will be able to enjoy some incredible sights, relax on some of the best beaches in Istria and be well connected to the rest of the peninsula.
Things to do in Rovinj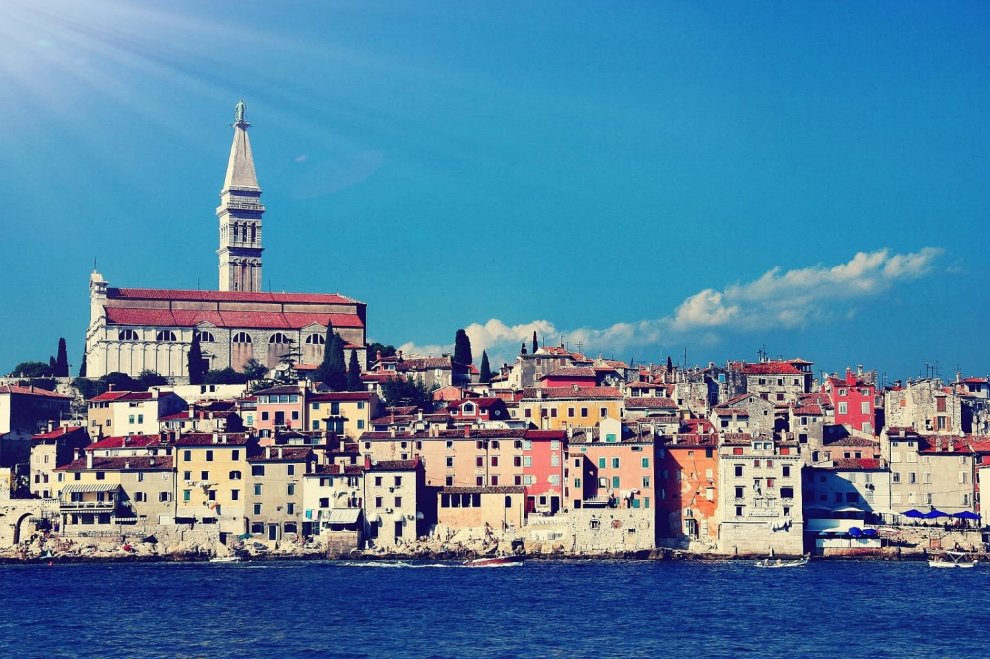 On to the next fascinating city in Istria. Rovinj is smaller than Pula, but incredibly beautiful, so there is a lot to see. If you're looking for a stellar example of a small Mediterranean town, this is it. All of the most important things to do in Rovinj from a historical and cultural perspective are in the Old Town, which is a fascinating network of the medieval narrow streets on Rovinj's tiny peninsula. Don't worry, you can't get lost – the place is simply not big enough for that – so you can relax and soak in all of that incredible vibe and enjoy the atmosphere. Also, go visit St. Euphemia Cathedral and climb its tower for a fantastic view of the red roofs below.
Best beaches in Rovinj
As for Rovinj beaches, don't worry, there are plenty of great places around here, too. Punta Corrente is a fantastic example of that because it is surrounded by lush nature and incredibly serene. Honestly, it's like it has popped out of a fairy tale or something. Baluonta beach (also known as Monte) is right in the city centre and easily accessible, so why not dive in after a bit of sightseeing? Lone is a beach outside of the city centre, but with all the amenities anyone could ever need.
So, imagine booking a luxury villa, preferably with a pool, in Rovinj. A beautiful old town nearby to explore, interesting beaches and great food to enjoy, all while staying in an immensely beautiful stone house or maybe a more modern edifice. Sounds great, right?
Things to do in Poreč
The trio of cities in Istria to visit ends with Poreč, another incredibly old and lovely place, also approximately 2000 years old. Poreč is widely known in Croatia for its tourism because it has been a tourist destination for more than 150 years, so choosing it as your base of operations could be a great decision. When it comes to things to do in Poreč however, there are plenty of options. As is the case with most Croatian coastal towns, there is plenty of history here, so a stroll through Poreč's Old Town, with its Decumanus street will show you the remains of the Roman Period. The Zuccato Palace is a wonderful example of Gothic architecture, but you absolutely must see the Euphrasian Basilica, a UNESCO World Heritage Site whose origins go back to the fourth century AD.
Istralandia and best beaches in Poreč
Before we get to Poreč beaches, we have to mention the water parks you will have access to around here. Aquacolors Poreč is within city limits, whereas Istralandia is about 10 miles north, towards Novigrad. Both are excellent and offer plenty of things like slides, artificial waves, pool… the whole package!
Now, Poreč's coastline is 37 kilometres long, so you are bound to find a spot somewhere for a nice dip. However, if you head out to the small island called Sveti Nikola, you will find a stunning sandy beach called Val Maro you can enjoy. Bijela Uvala is also a good choice because of the number of amenities this beach offers, whereas Tarska vala has loads of secluded places where you can fully relax and get away from it all for a while.
Therefore, if you decide to rent a luxury villa in or close to Poreč, you will be able to enjoy a little bit of everything. History and culture, as always, but modern attractions like water parks and places long stretches of bars and restaurant will be close, too.
Free things to do in Istria
As you can see, there are plenty of things to explore, but there are some things in Istria that can be considered hidden gems and that are completely free at that. Finding them could really deepen your understanding of this part of the world and its history, so if visiting one of the aforementioned places be on the lookout for:
Small Roman theatre in Pula: it's completely free to come and see it, although some archaeological work and reconstruction may be under way there. Still, for no fees you get to see another great piece of Roman architecture.
Church of the Holy Trinity: in Rovinj, climb towards this church for a spectacular view. Don't let the climb scare you, it's well worth it!
Floor mosaic in Pula: Explore the city centre thoroughly and find the fascinating floor mosaic known as The Punishment of Dirce. It was discovered by accident in the aftermath of Allied bombing in WW2 and can be seen for free.
Jazz in the lapidarium: Every summer, a free jazz festival is held in the lapidarium of Poreč's Heritage Museum. Usually, once a week you get to enjoy some pretty smooth tunes in this great place.
A few final words…
Hopefully, you now know that there are so many things to do in Istria, no matter which town you choose as your base. And the stuff described here is just the tip of the iceberg! The peninsula is not that big and you can be anywhere on it in a reasonable amount of time, no matter where you're starting from. Therefore, you will be able to see fascinating examples of Roman architecture, enjoy breathtaking beaches, taste fantastic food and generally have a vacation of a lifetime. Yes, Istria is that wonderful and you don't have to limit yourself to just one town. Rent a car and explore!
All that's left for you to do now is to choose your destination and then book the luxury villa you like best for the ultimate summer vacation. There are plenty of those all over Istria, and through