Are you looking for a luxurious stay in the top Mediterranean destinations? Look no further! We've got all the information necessary to make the right decision when choosing where to spend those dreamy holidays!
We have made a few comparisons on the expenses you might typically have during your stay in this inviting part of Europe – from hotels and villas to the everyday costs. 
Daily expenses
In the average prices are included 1 meal, 1 museum/event ticket, transport and souvenirs per person: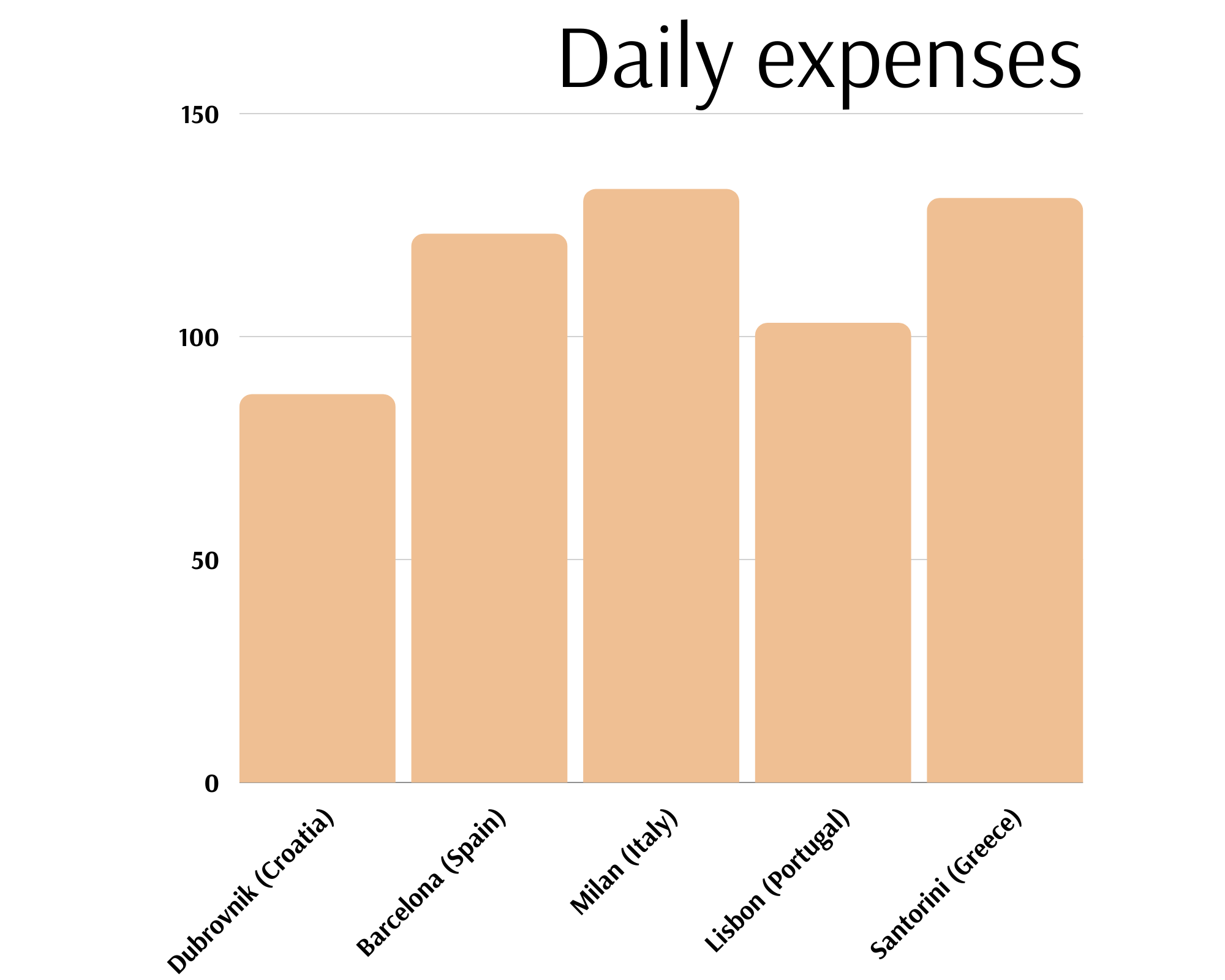 Seems like one day in Milan equals almost two days in Dubrovnik!
Now we can break down these averages, and go deeper into the prices. Let's look at the situation with the accommodation – villas, hotels, apartments. 
Accommodation
This is what the 5 star hotels look compared from city to city:
5* hotel prices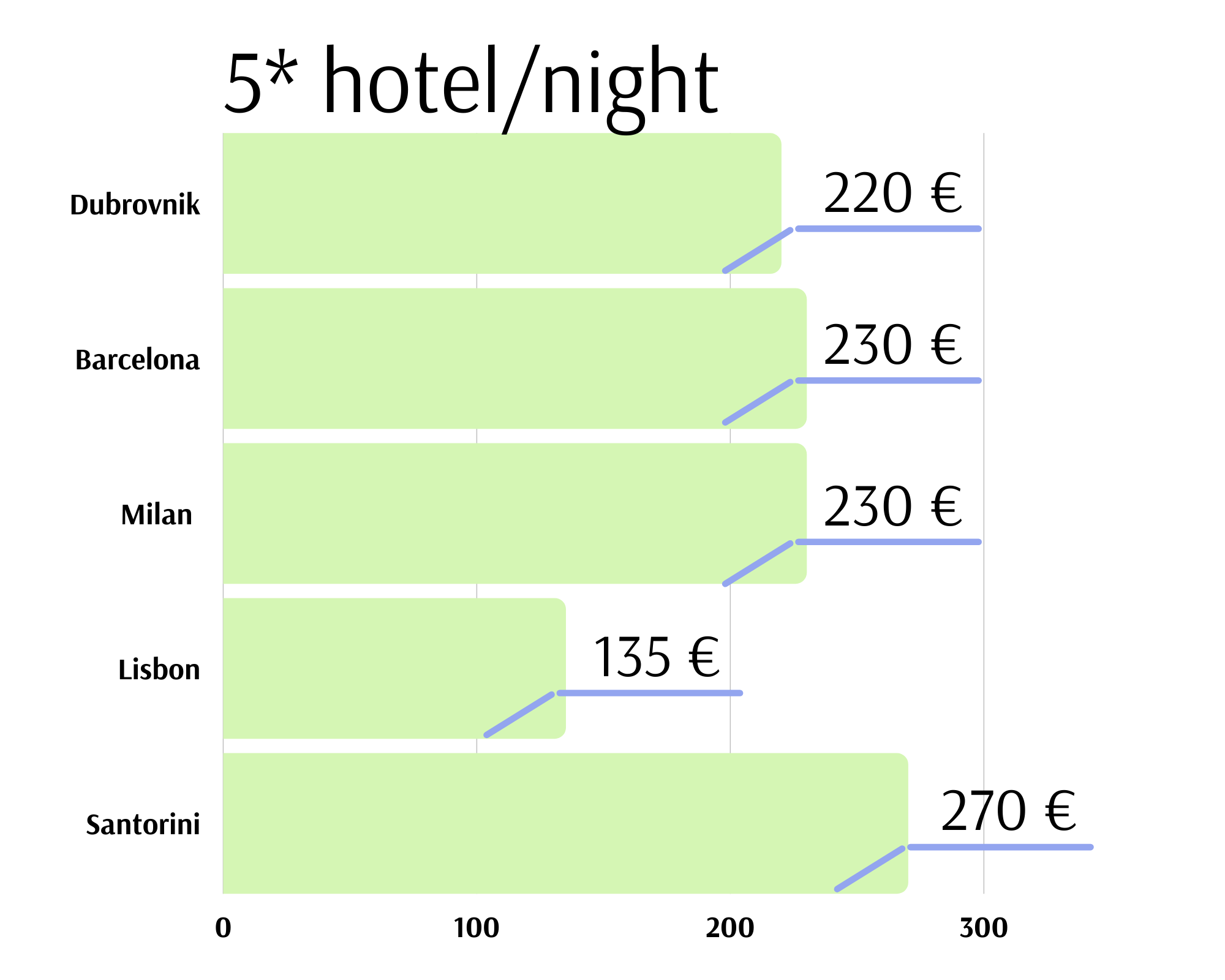 The cheapest in 5*hotels is Lisbon with 135€ per night/person! The prices go up for the other destinations listed. 
When it comes to villas though, it's a different story.
Villa price ranges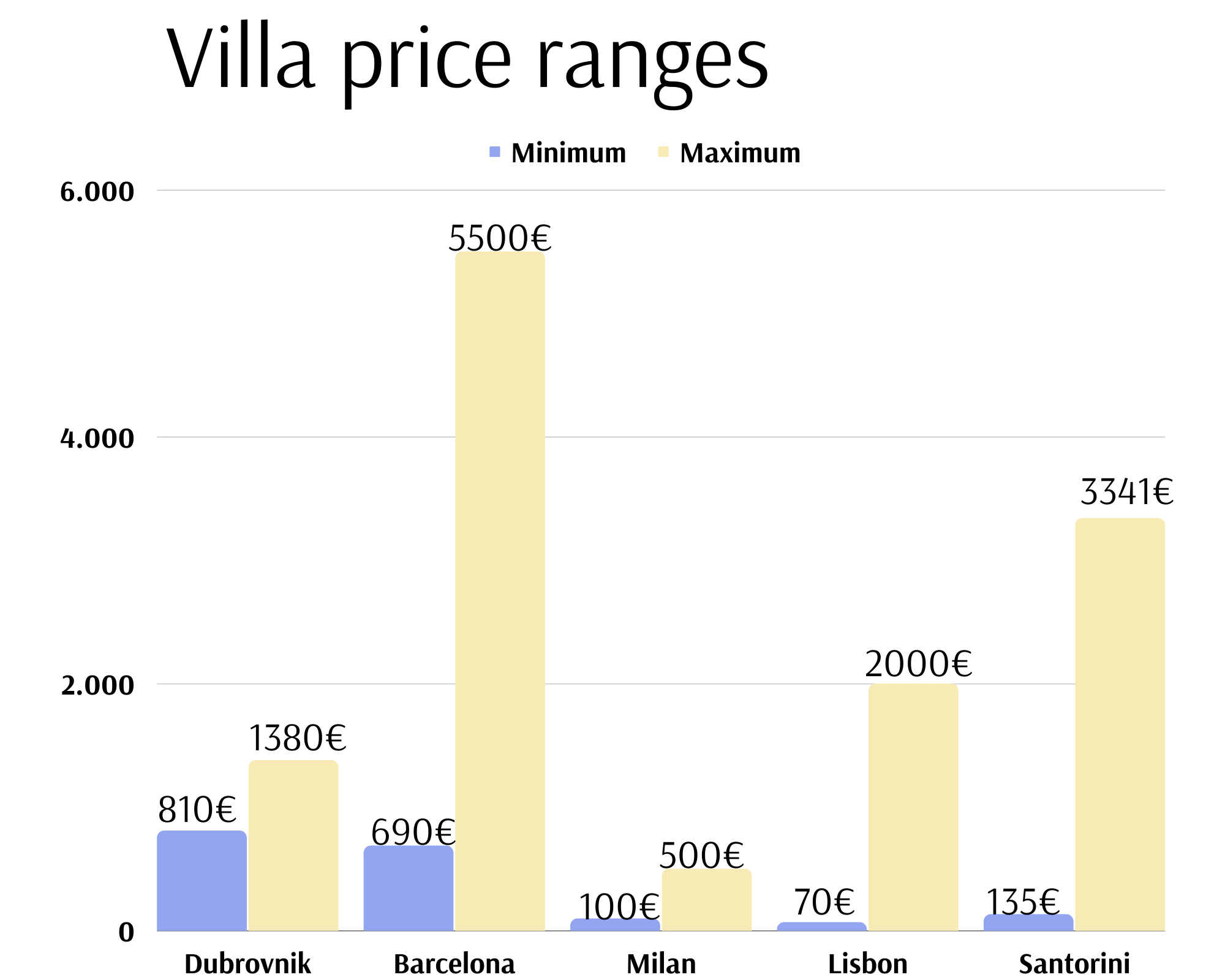 As you can see, prices may vary a lot in the same city. The most expensive villas can be found in Barcelona. The minimum price is not so different in all of these destinations, while the cheapest villas overall can be found in Milan and Lisbon. 
Milan is the most pleasing to the eye, but beware, this is only because Milan has only one or two villas to offer. Therefore, this "cheap price" is actually not an average price, but the only price there is!
For those who enjoy smaller accommodation units, apartments might be the right fit for you!
Apartment prices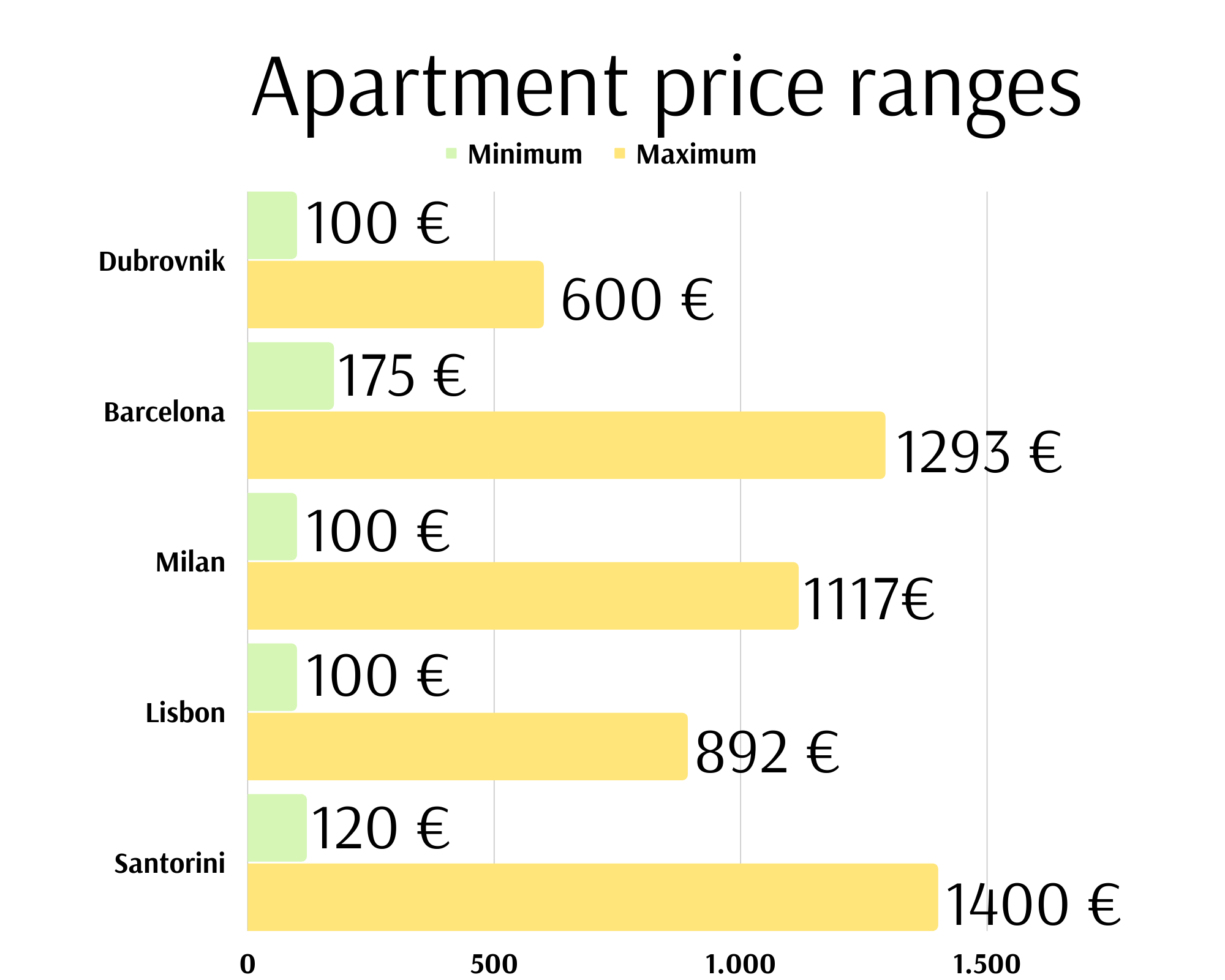 The priciest is for sure Santorini, but the best deals can be found in Dubrovnik, for the maximum price of 600€!
Let's take a look at what we can actually get for all of these previously listed prices in the different cities. We will limit our budget to 700€/night and explore our options!
What does 700€ in terms of accommodation mean in these cities?
700€/night villa in Barcelona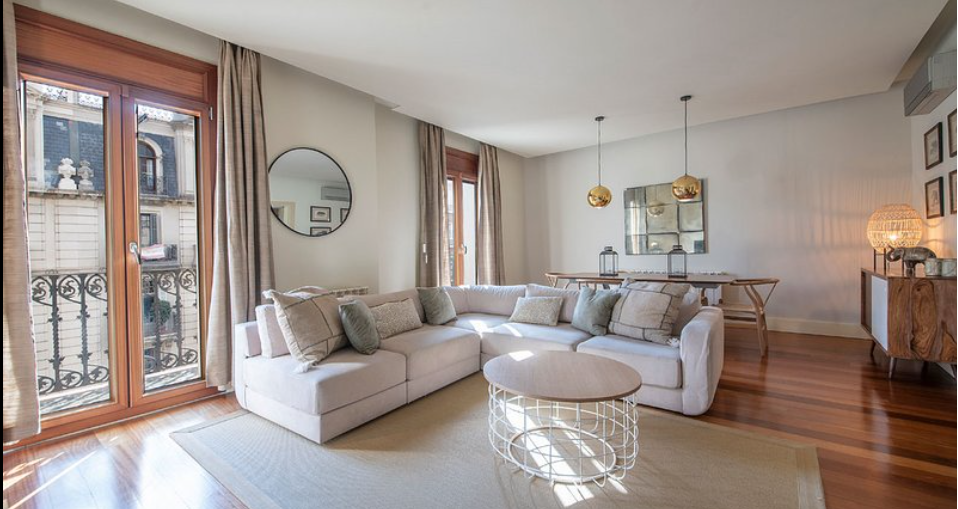 Beautiful interior, right? Keep one thing in mind: in Barcelona, you'll probably find a perfect apartment for 700€. Villas are ''a bit'' more expensive.
This is what you get in Milan …
700€/night in Milan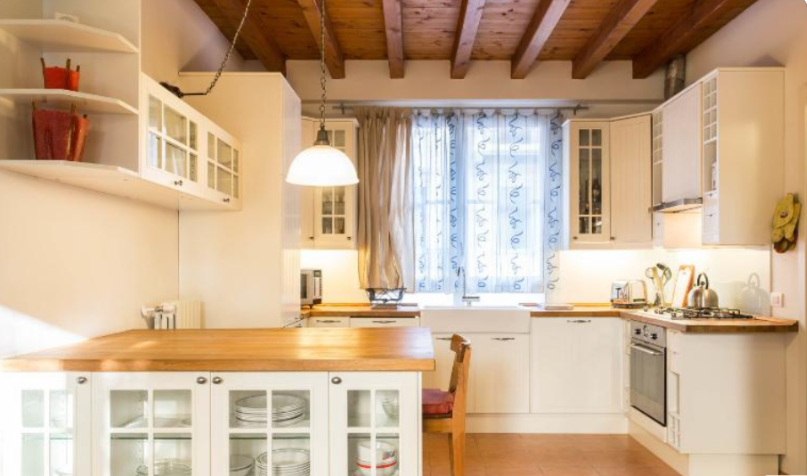 Also not a villa. Sorry to tell you, but Milan actually has quite a poor accommodation offer. As an urban city, you'll probably find apartments and condos before holiday villas. Of course, we're talking about a 700€ price per night.
700€/night in Santorini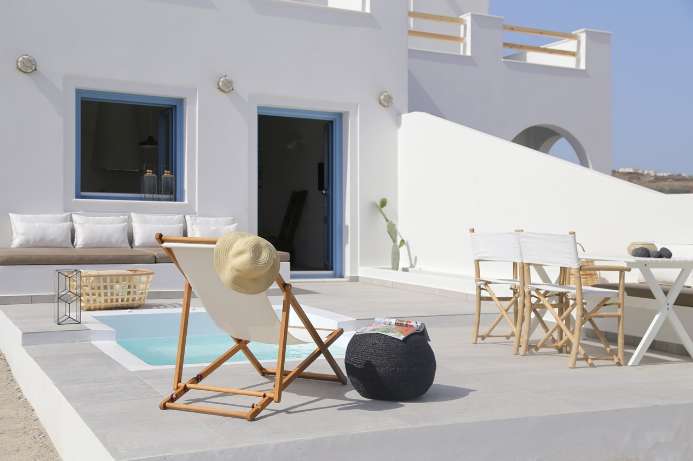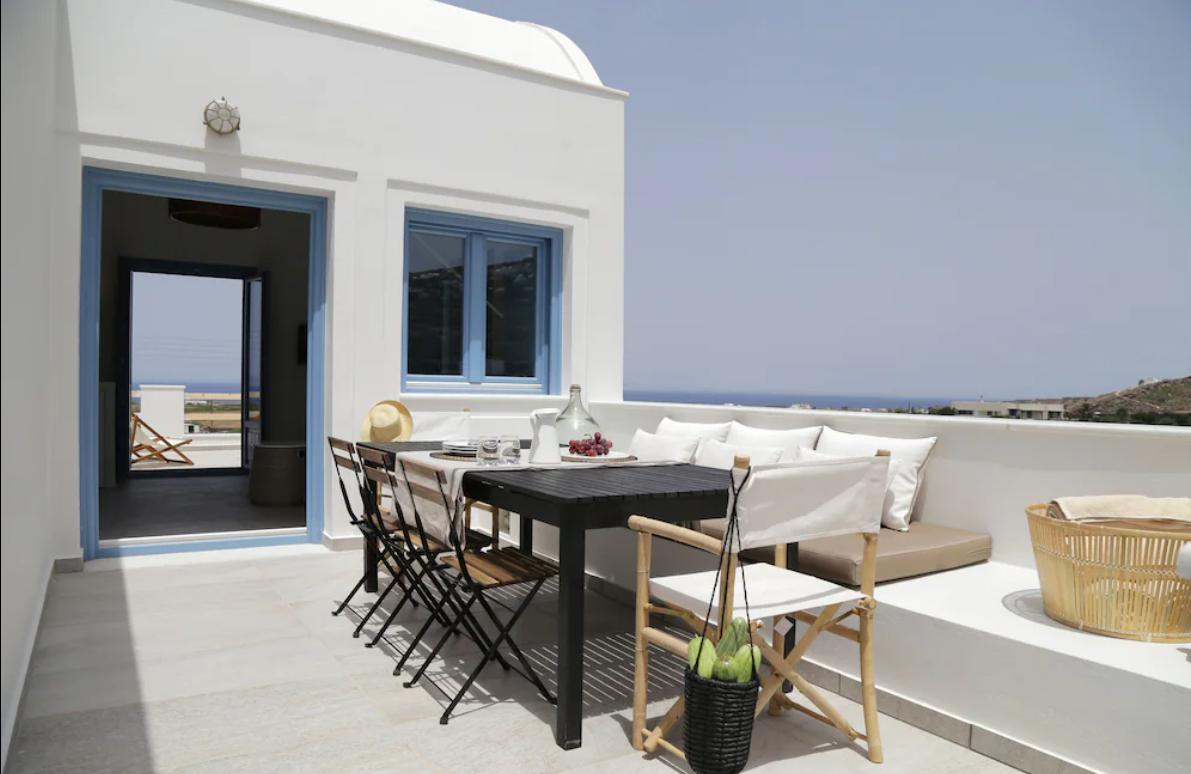 A little pool, fresh air and a good old Greek style. What else could you possibly need? Oh, a little bit of luxury and a view would be nice, right? Let's peek into another Mediterranean country where you'll find just that!
700€/night villa in Dubrovnik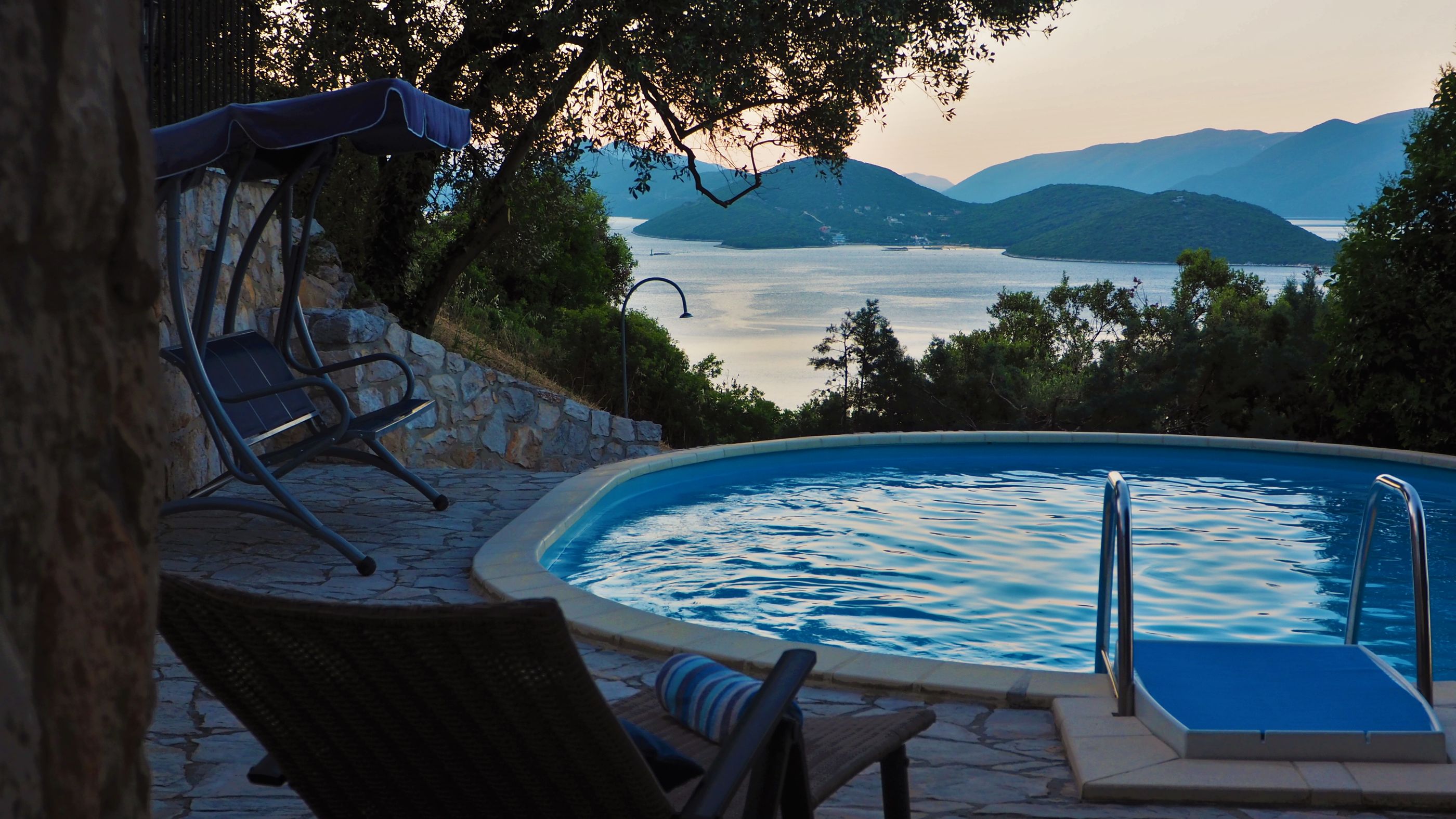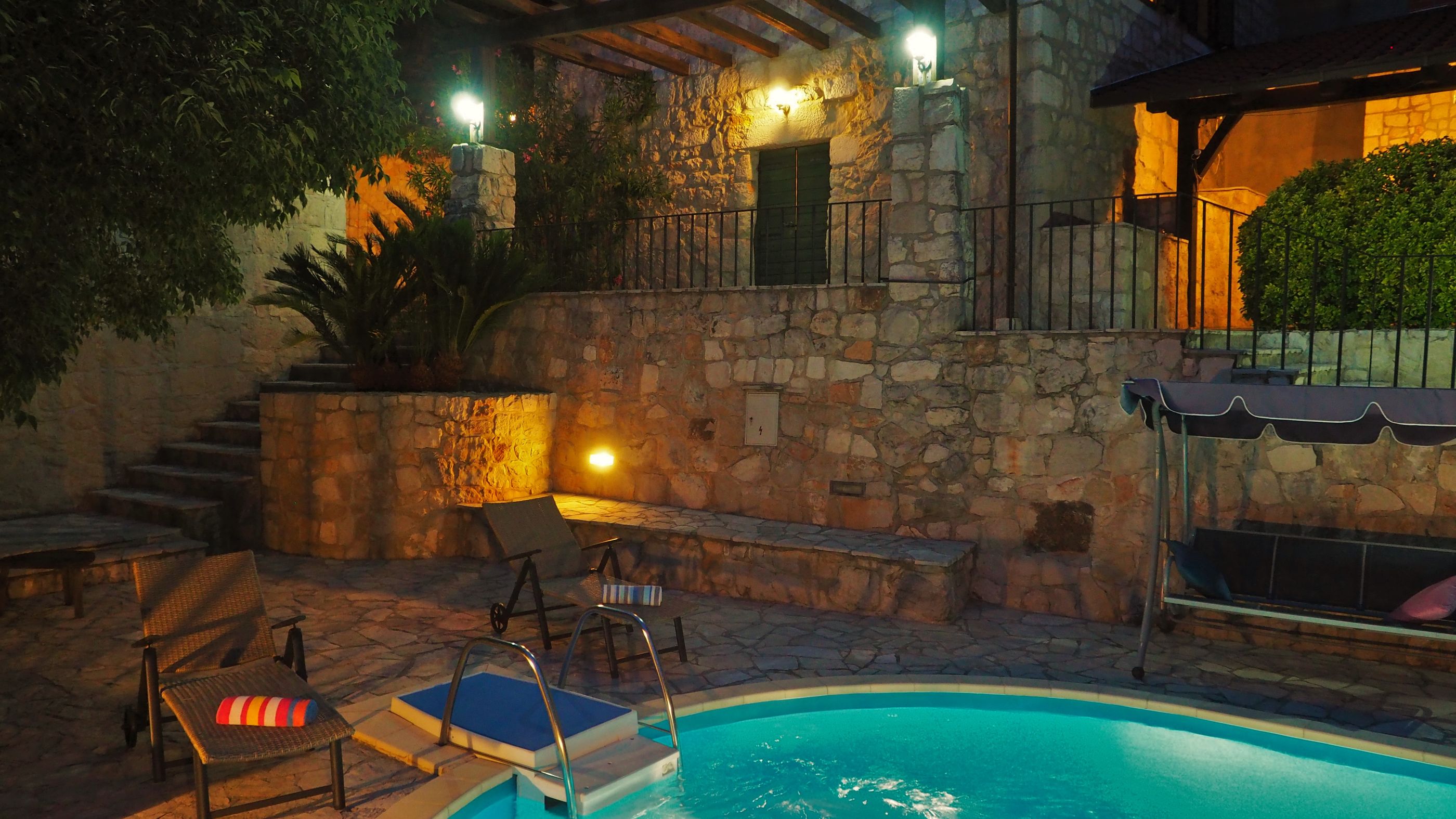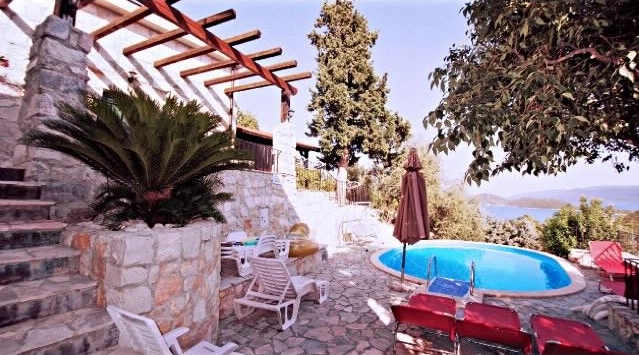 Right, so in Barcelona and Milan you could barely afford an apartment and in Dubrovnik you get a stone-house with a pool? Exactly! If you're wondering where I can find that the answer is simple – Villa Bamboo!
Here is something more similar to Croatia…
700€/night in Lisbon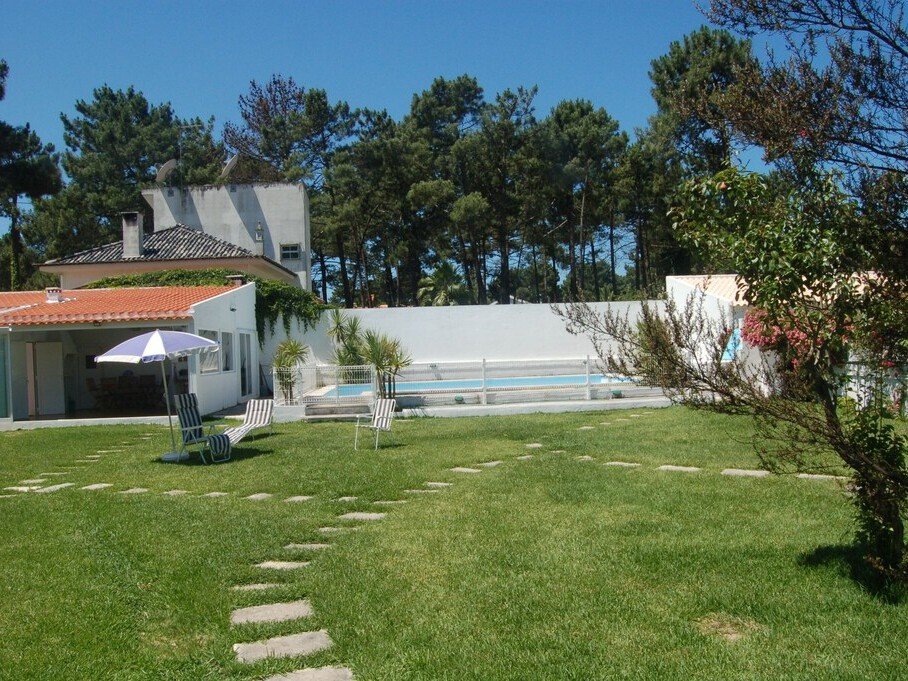 For that money, you can also rent an apartment!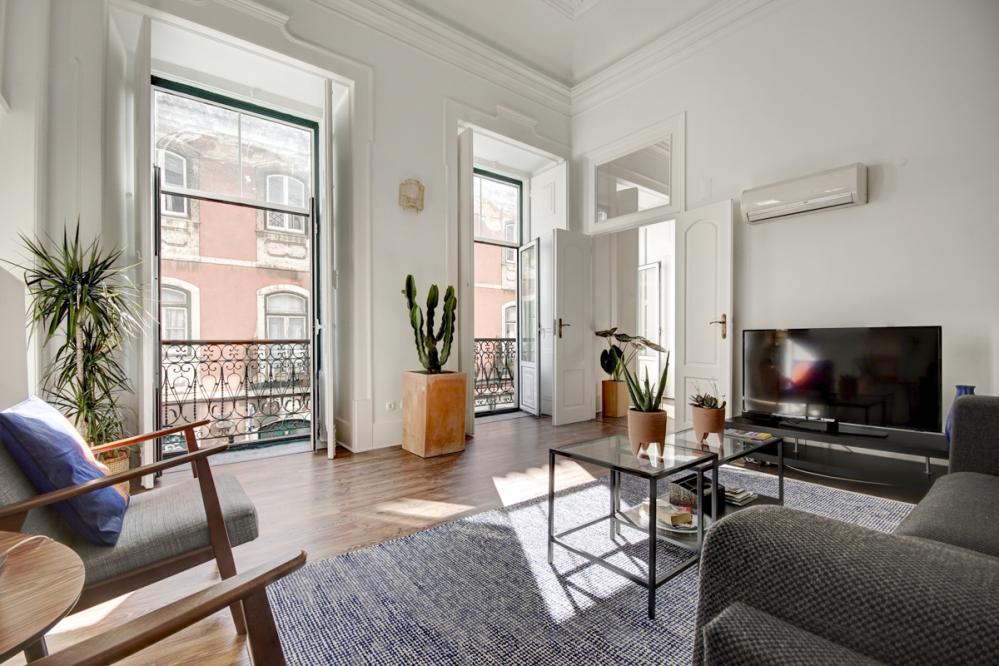 Now, let's see what we can get in each of these cities for the same amount of money but for different activities! 
Food & drinks
What can you get for 100€ in each country?
In terms of food, your night out in a restaurant in Dubrovnik or Santorini will probably look like this: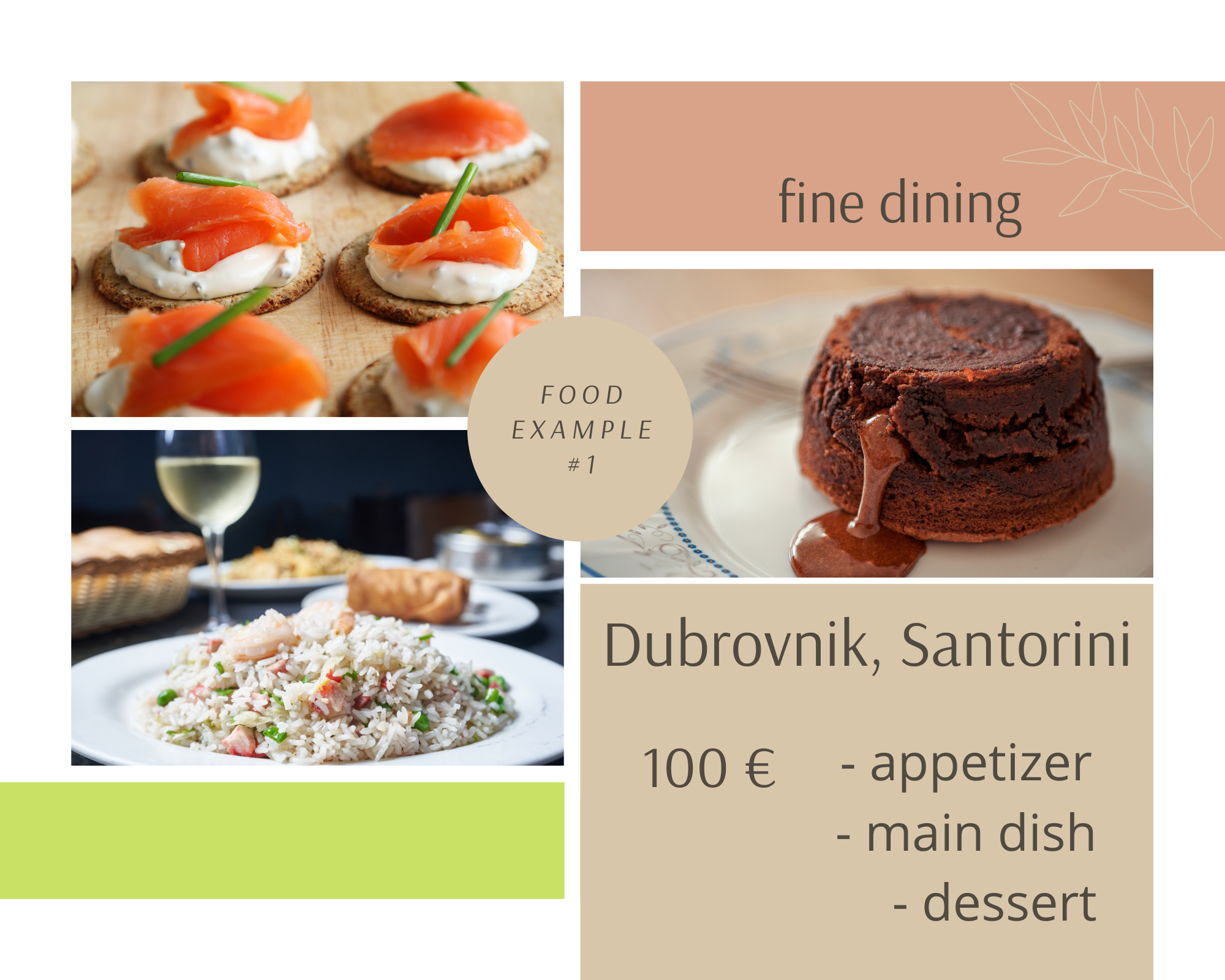 A full three-course meal to try the best domestic, traditional Croatian or Greek recipes, as well as a chance to experience fine dining in Michelin-star restaurants!
On the other hand, in Milan, Lisbon and Barcelona, your dinner will probably look like this: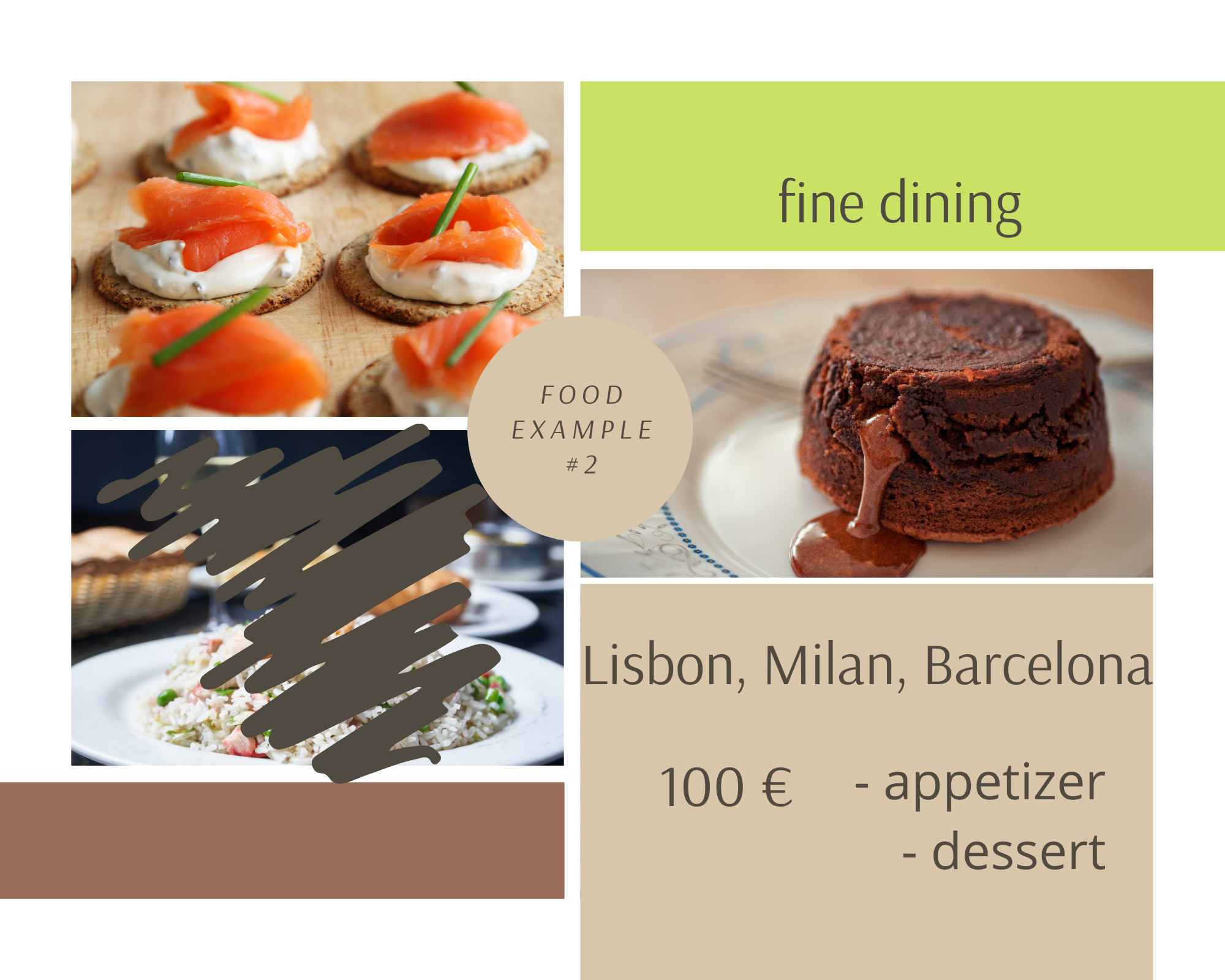 Yeah, it looks like you might stay hungry. Well, it could be good if you're on a diet and don't want to be tempted… I guess?
What about the transport? 
How will you get around the city?
The first, obvious answer is – taxi. Here are the average taxi prices, but also examples of car and bike rentals!
Taxi, bike- and car-rental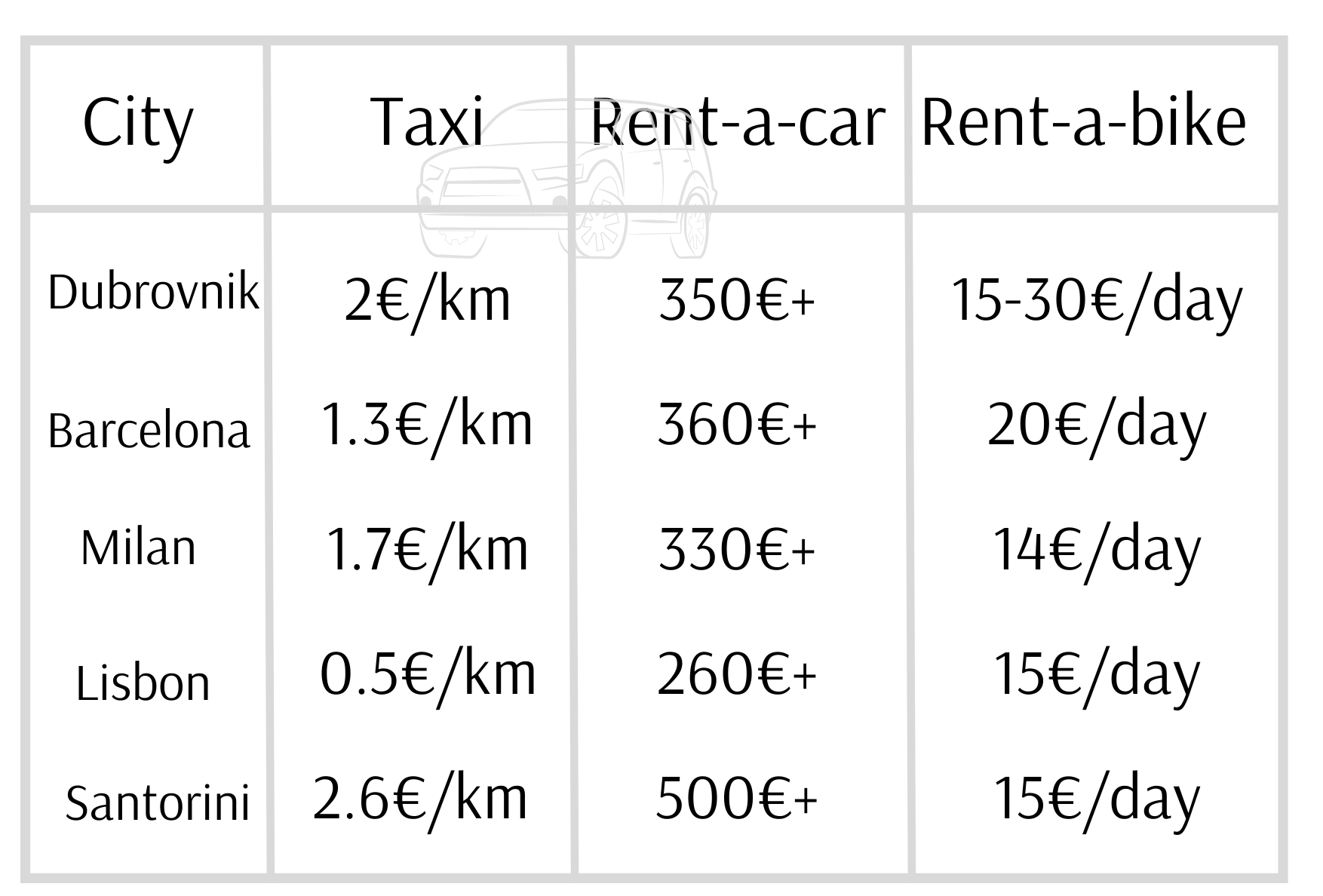 In conclusion, we can single out Santorini as being the most expensive city for taxi transport and renting a luxurious car. On the other hand, Lisbon is the cheapest in the same context. 
You may have noticed – the majority of these holiday destinations are well-known for hot, sunny holidays. That's why we can't miss out on one of the best parts of a luxurious holiday – charters.
If you're a sea-lover and can't wait to sail into the sunset, let's see what these cities have to offer you!
Charters – sailboats, catamarans and yachts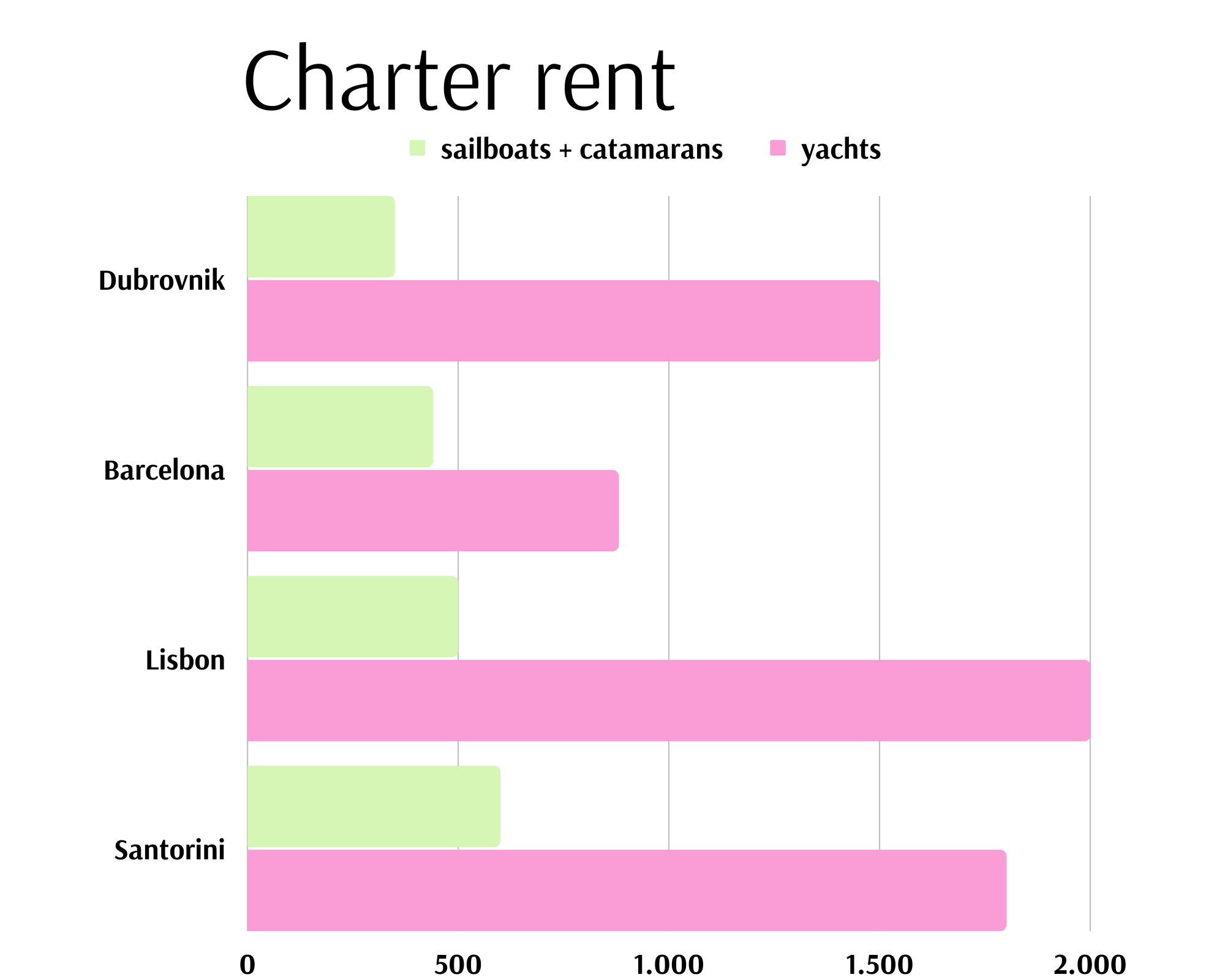 Geography hack: Milan is not on the coast, so I guess that's not happening. Sorry Milan. 
Most travellers consider it expensive, but it looks like Dubrovnik has the cheapest sailboat rental prices of cca. 350€ per day. On the other hand, the cheapest day at sea in Santorini will cost you 600€.  
Now for the ultimate luxury and hedonism – yacht rental!
Again, Dubrovnik and Barcelona seem to be the cheapest, with Barcelona coming as low as 880€ per day! Lisbon and Santorini, famous and attractive for luxurious travellers, are asking for 500€ on top of that price for the same thing. Even if you are the richest man in the world, why not spend that 500€ on something else?
Here we have some options for you. Are you a culture-lover? Do you prefer fun-nights out? Perhaps museums, shows and going out for drinks might be your go-to holiday activities.
Average costs for shows and concerts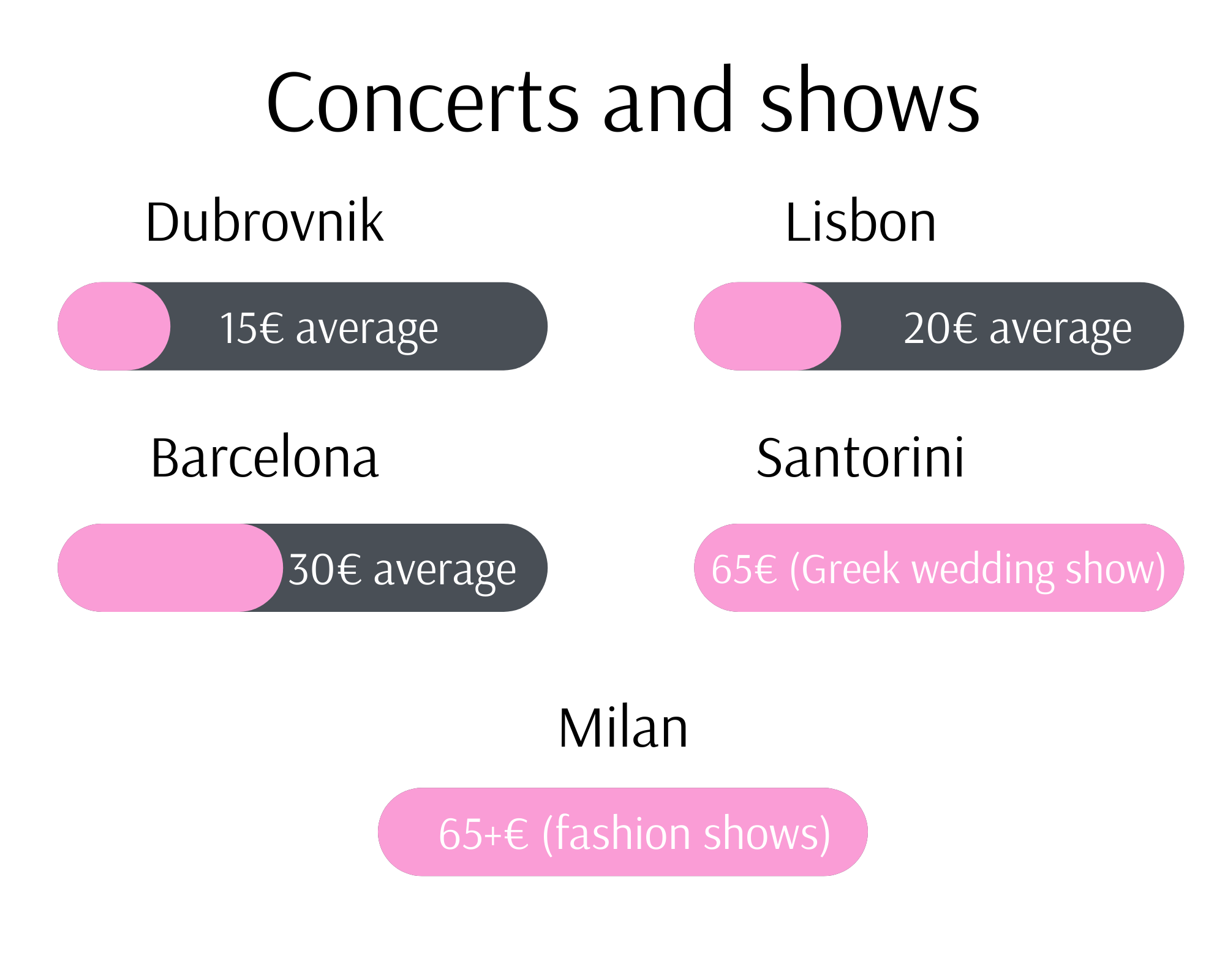 Every city has a unique offer, obviously, which is why these prices vary so drastically. This doesn't mean you can't find a 20€ concert in Milan or a 60€ concert in Dubrovnik. 
Dubrovnik is known for Summer festivals, Barcelona for flamenco shows, Milan, of course, for fashion shows, Lisbon for Fado concerts, while Santorini offers a chance to see a whole Greek wedding show!
Museums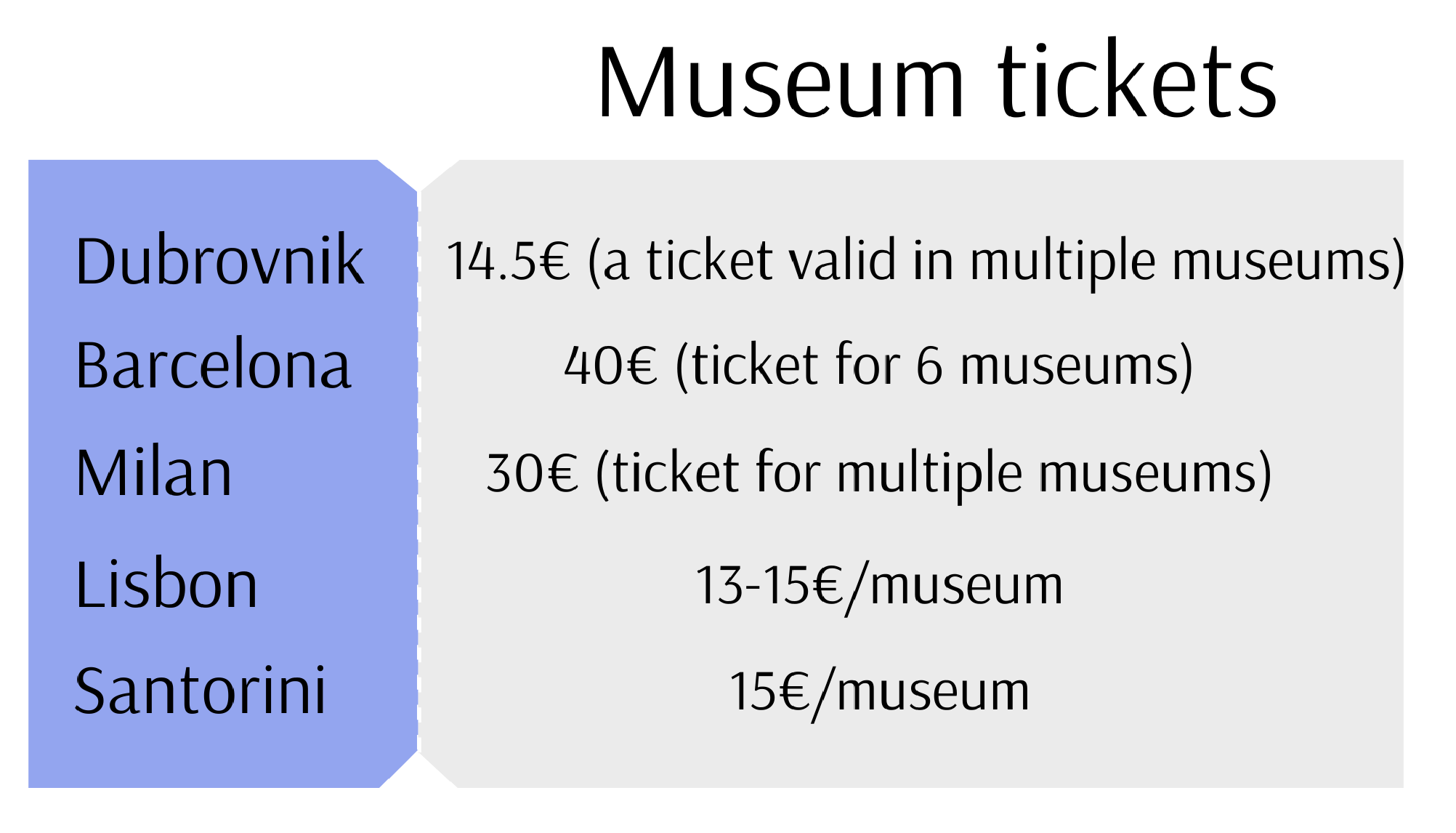 Multiple museums in Dubrovnik, Barcelona and Milan are available with one ticket. However, Lisbon and Santorini in general charge about 14-15€ for one entry ticket (to only one museum). 
When we weigh the options, Dubrovnik is extremely inviting in terms of meeting its history and culture – for only 15€ you can enter many city museums!  
And now, after a long, exhausting day, it's time to hit the bar!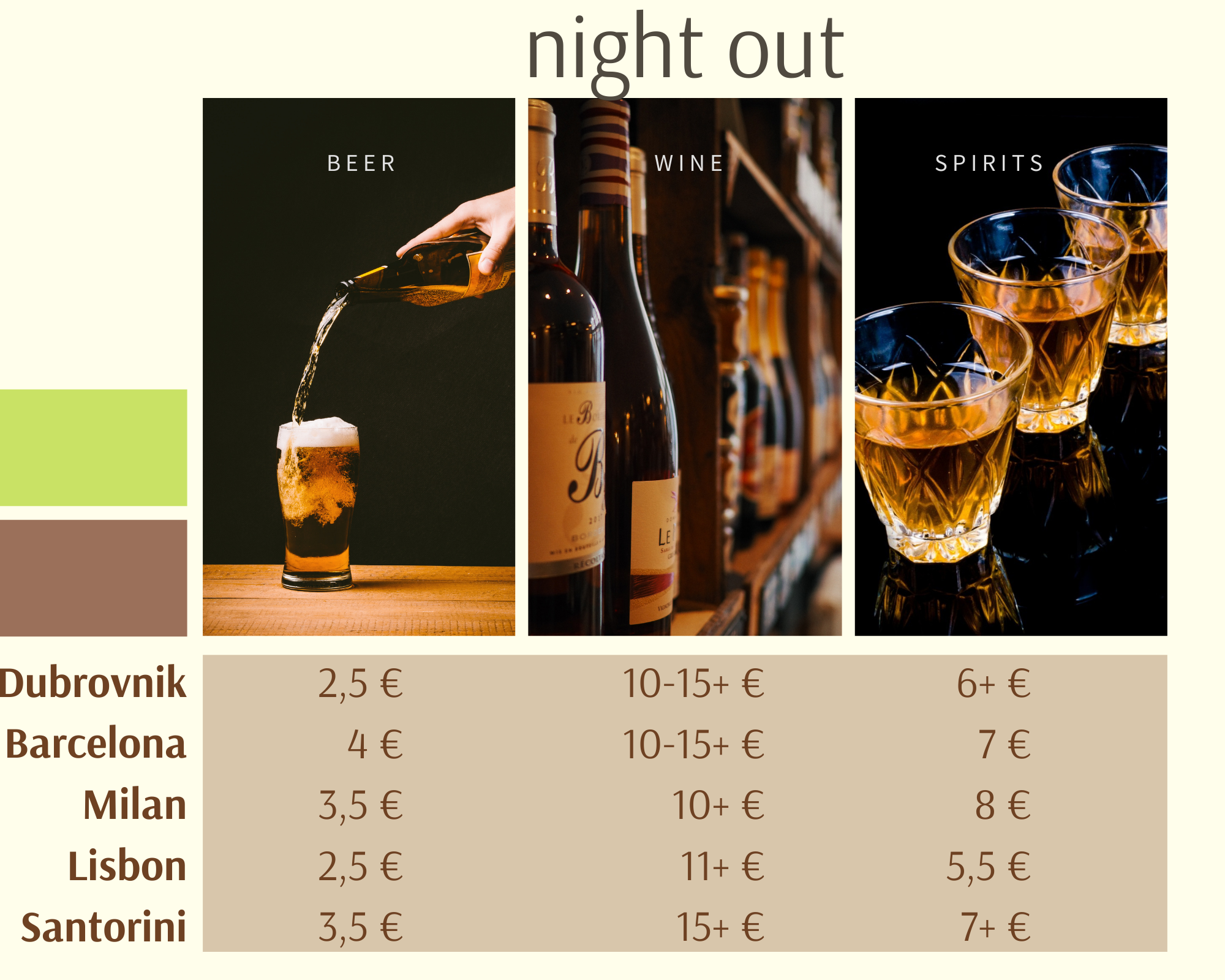 If you are going out in Dubrovnik, this is what you can expect: for a bottle of their cheaper wine (15€), you could drink one spirit and two beers! When it comes to one-glass drinks, spirits are the most expensive (more than 6€), while the wine varies the most – you can drink a glass of wine for 5€, but also for 25€! Beer is, of course, the cheapest, with an average price of 3€.