Have you ever seen those breathtaking photos of somebody swimming in a pool that seems like it has no end, looking out at the horizon? Maybe you have also wondered where you can find these types of locations, and if that is the case, you have come to the right place.
Even though most people would immediately think of exotic places such as Bali when it comes to infinity pools, we have found that many accommodation options are offering them in Europe, such as villas in Croatia.
The beauty of an infinity pool
The most famous and well-built infinity pools have one purpose in mind – they aim to confuse the lines between nature and that which is made by man. So, how do architects achieve this appearance, and what makes an infinity pool different from a regular pool?
Well, the main difference between an infinity pool and a regular one is that an infinity pool appears to have no walls around it. Rather, its construction aims to be "invisible". Most infinity pools, therefore, look like the water is running over the edge and into the skyline, and they are accompanied by beautiful landscapes.
This is achieved by using a combination of different glass materials, which makes these types of pools very attractive in holiday destinations, and many regions are building them with villas. They can often be found along different parts of the Croatian coast, for example in villas in Dalmatia, or luxury villas in Istria.
The water that overflows the infinity pool runs down to a lower basin. From there, it is pumped back into the upper pool which ensures zero waste. Sometimes, there will be a few lower pools which create an even deeper idea of a never-ending waterfall.
It is all a visual trick, which makes you feel like there is no separation between your surroundings and the water. You can also find these types of pools on the rooftops of famous and luxurious hotels, at exclusive spas, or well-known hilltop homes.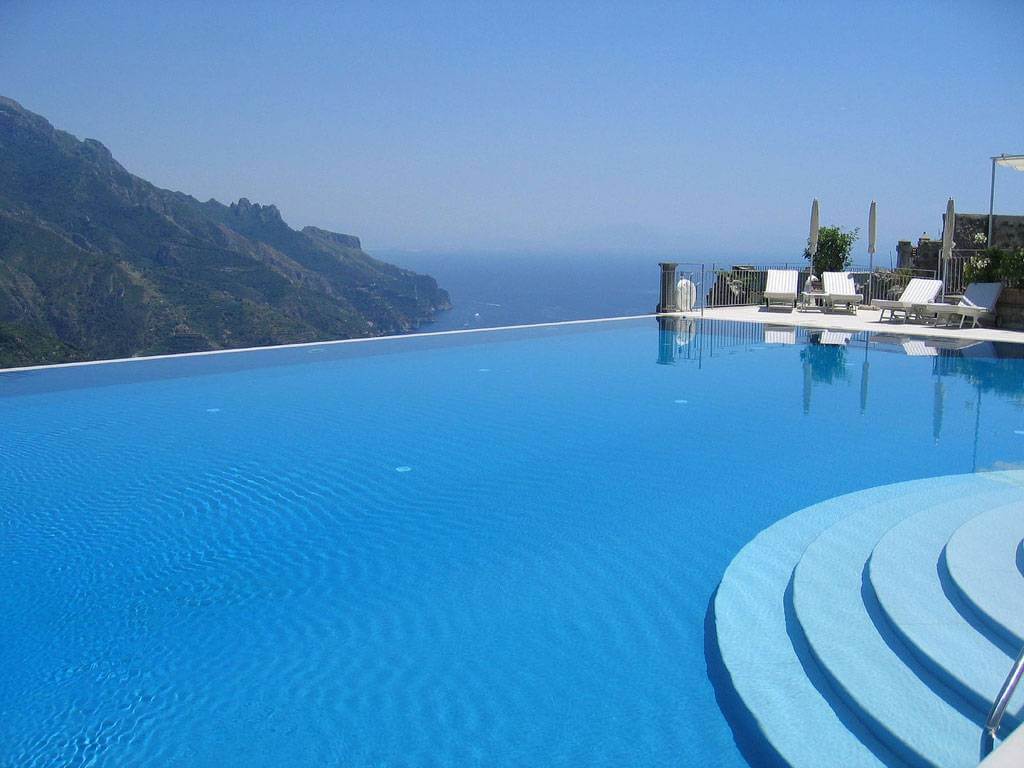 Advantages of infinity pools
One of the main reasons why infinity pools have grown in popularity over the past few years is that they are a perfect way to soak up the sun. Some people prefer holidays away from sandy beaches and big, loud crowds, so they will opt for more private options, like villas with pools.
Having your private place to relax, grab a cocktail in your hands, and spend hours looking out at the wonderful nature surrounding you is often a top choice for the best vacation. If you are holidaying with kids and the rest of the family, you can throw in a bunch of inflatables and let the fun begin!
If you aim to make your social media friends marvel at how restful life can look, infinity pools will do the trick. Have someone take a photo of you leaning on the cascading waterfall at the edge of the infinity pool, capturing whatever environment is in the background.
That's how those famous influencers create those amazing posts where they are overlooking mountains, oceans, or large cities.
Luxury villas with infinity pools
If you like the idea of these infinity pools, as we have mentioned before, you might especially enjoy them alongside villas. Infinity pools are usually followed by sunbathing and lounging areas specifically set in outdoor surroundings. They might come with fire pits and food halls.
Most of the time there will be different home design styles used to accentuate the outdoor pool area. For example the Mediterranean style will include the use of natural materials and a mix of indoor plants to achieve that effortless vacation mood. Neutral colored authentic stone is commonly found around the infinity pools.
The villas can have various rooms inside. Many include a gym area, sauna, spacious rooms, glass doors, marble patios, terraces, hot tubs, private boat docks, are completely fenced and surrounded by nature. Based on your preferences, you can pick the perfect one for your next vacation. Their best part – they are surrounded by nature, forests and skylines which is easy on the eyes as you are looking out of your infinity pool.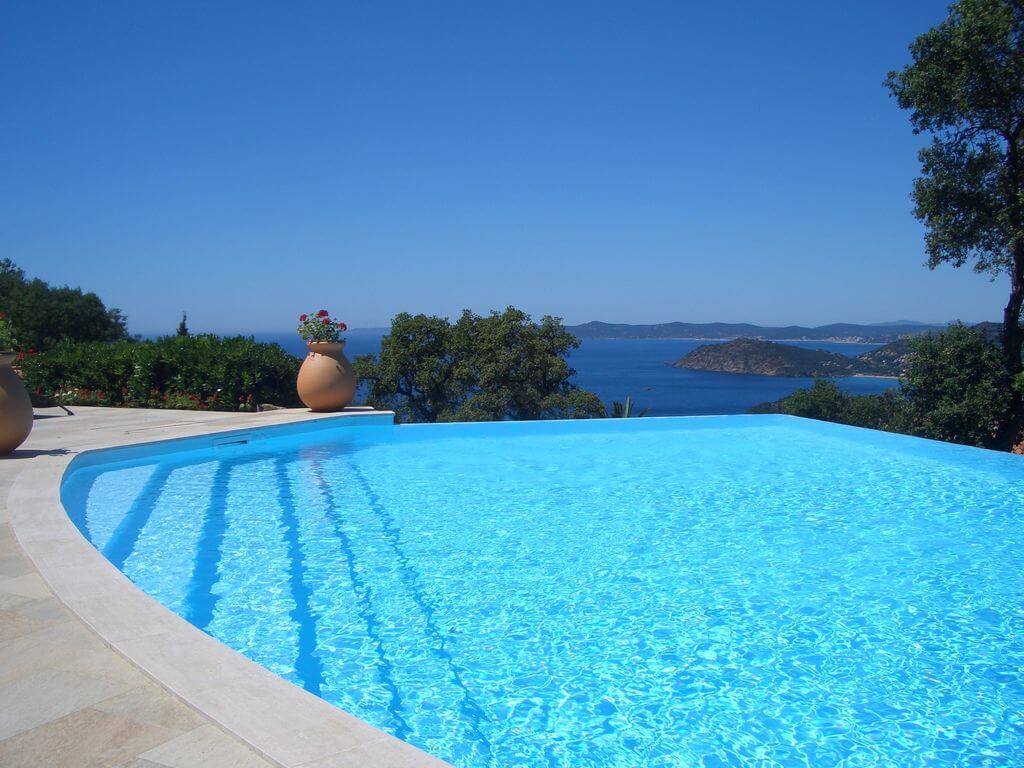 Infinity pool maintenance
Maintaining an infinity pool will require a bit more effort than a regular one. It will involve all the normal things such as having to test the water, adding chemicals, vacuuming, brushing and skimming weekly.
Along with that, extra steps for maintenance include sanitizing and cleaning the basin that catches the water, adding more water sometimes in order to make up for the accelerated evaporation, and checking/cleaning filters and pool pumps frequently.
Due to the visual aspect of an infinity pool many people have questioned about their safety. However, infinity pools are just as safe as regular swimming pools. The water cascading over the age does not increase any risks of floating over the side of the pool.
The only injuries that might occur are those due to negligence. It is possible to also add railings, barriers, stairs and ramps if needed, as a safety measure for children or those with mobility difficulties. In case you are really worried about kids jumping over the edge, some infinity pools have fences which will help make sure that is not an option.
Conclusion
Infinity pools are a new hit feature in luxury accommodation options. They work as a visual trick, their design creates an illusion of never-ending water running over the edge of the pool and as such eliminates the barriers between nature and man made constructions. You will often see them along villas, in elite hotels, on rooftops and famous spas.
They are known for creating the perfect vacation setting of relaxing by the pool, enjoying absorbing the sun rays, and lounging around with a cocktail in hand. Infinity pools are suitable for all family members and equally safe.
Often they are accompanied by amenities such as fireplaces, marble or various authentic stone terraces, Mediterranean design styles and most importantly – breathtaking views. Book your next vacation in a villa with an infinity pool and enjoy feeling elite any time of the day.