Why Spend Your Holiday In A Villa With Pool?
Croatia has plenty to offer in terms of top tourist attractions. And most tourists say this is the best holiday destination in Europe. Every Croatian region offers access to natural parks, outdoor activities, blue flag beaches, and excellent local cuisine!
Choosing your next Croatian destination can be rather simple. You'll discover here everything you need ranging from locally crafted wine to premium olive oil. But if you want to have an excellent stay, you should follow our next recommendation.
The best way to spend your holiday in Croatia is in a villa with a pool. It can be a relaxation oasis! And since it offers access to all amenities you might need, you can rest assured your vacation will be hassle-free.
One of the reasons why you should consider a private Croatian villa for your accommodation is safety. Since traveling has changed a lot due to the pandemic, you might worry about interacting with other people. Luckily, a private villa with a pool won't expose you to any health risks. Moreover, it can offer a lot of peace of mind considering the security you'll benefit from compared to standard hotel rooms.
Spending your holiday in a villa with a pool is excellent because you'll have plenty of liberty to create your own schedule. You won't depend on a curfew hour, and you'll be able to serve your breakfast at any time. Besides, you'll have access to premium amenities, being an asset for you, especially if you're traveling with kids. So, you'll have a fully equipped kitchen for the best Croatian stay.
And no matter if you're looking for a family-friendly or pet-friendly Croatian destination, a villa with a pool can help you. Kids will love the private pool, while your furry friend will enjoy the time spent in the garden.
Why Is A Seaview Fantastic?
Croatia is home to a gorgeous landscape, especially on the shoreline. So why not spend your holiday in a villa with a sea view? Well, we can say from our experience that this is the most relaxing thing you can do!
A villa with Seaview will keep you close to the sea. And the best part about it is that you can start your day in complete privacy, admiring the shoreline. Of course, there are several other advantages of a villa with a sea view.
This will get you closers to the top blue flag beaches in Croatia. Moreover, you'll be able to spend your day strolling around gorgeous scenery. And, of course, a villa with a pool will get you closer to top Croatian attractions!
About Villas In Istria
Istria is a gorgeous area to visit, being popular among cycling enthusiasts. The peninsula is home to some of the best cycling trails for both experienced and inexperienced bikers. You can discover hilltop towns, impressive old villages, and an overwhelming natural landscape. And the best way to do that is by booking a villa with a pool in Istria. This accommodation type will offer plenty of flexibility to explore the area hassle-free.
Istria is rich in forests and rivers, offering you the chance to explore a different side of Croatia. You can stroll around among olive groves and vineyards, and if you're lucky enough, you can stumble upon a wine tasting event in Istria. And the best part about this area is that most private villas in Istria have a Seaview.
About Villas In Dalmatia
If you want a unique Croatian experience, a visit to Dalmatia is a must. Dalmatia is popular thanks to its beautiful countryside and impressive national parks. But one of the reasons why tourists visit Dalmatia is the proximity to the beach.
Hvar Island is one of the most popular destinations in Dalmatia. It is home to a wide array of hiking and biking routes, premium beaches, and local restaurants. But you can discover every corner of Dalmatia with ease if you book a villa with a pool. It will offer an impressive sea view, ease of access, and a lot of liberty to do even island-hopping.
The Best Croatian Villas With A Seaview
#1 Villa Maru With A Seaview Over Kvarner Bay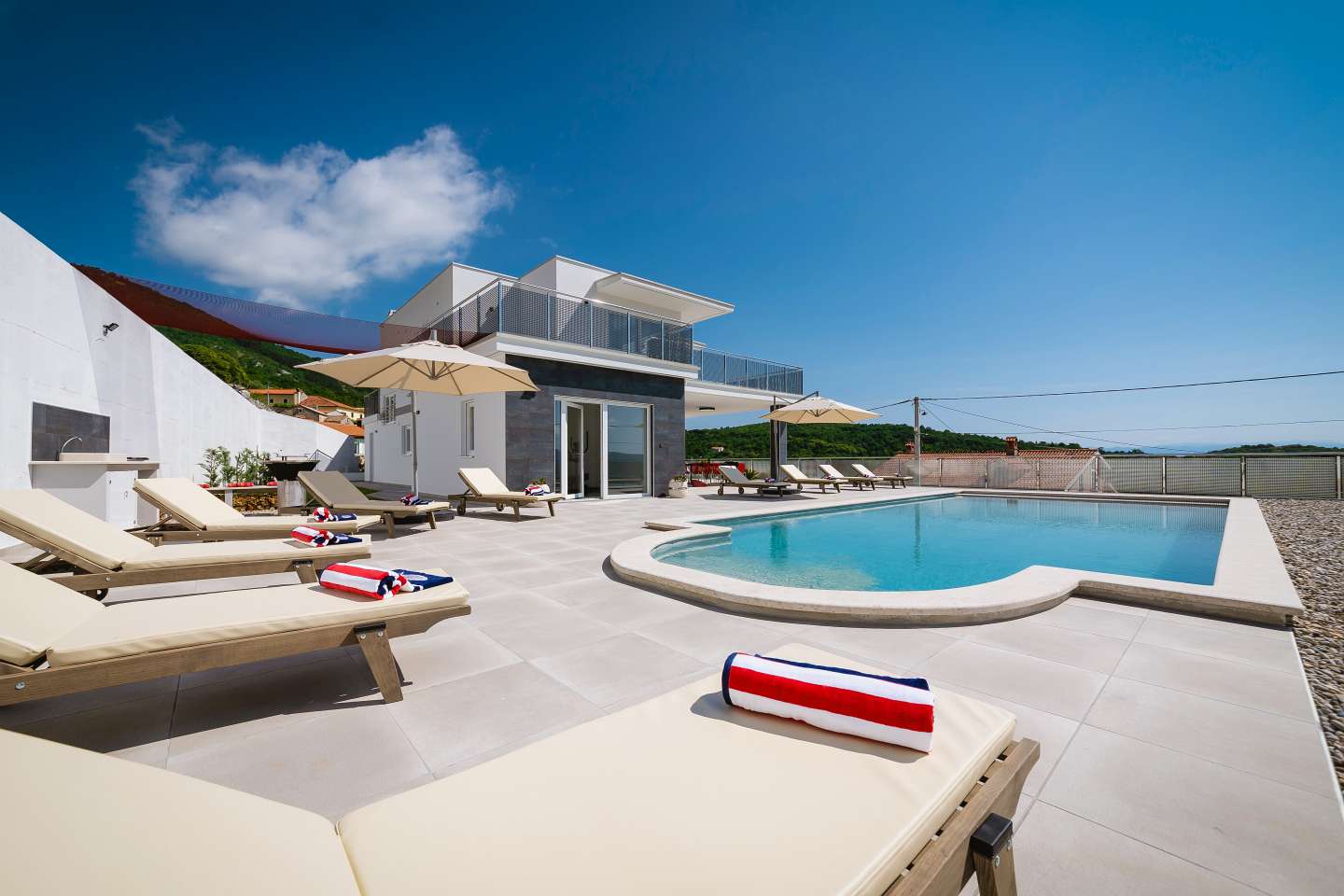 Villa Maru is shielded from tourist crowds, but it is a great choice if you want fast access to Opatija and Rabac. It is a villa with a pool that will entice you with the view over Kvarner and nearby islands.
#2 Villa Lukas Markovic With A Panoramic View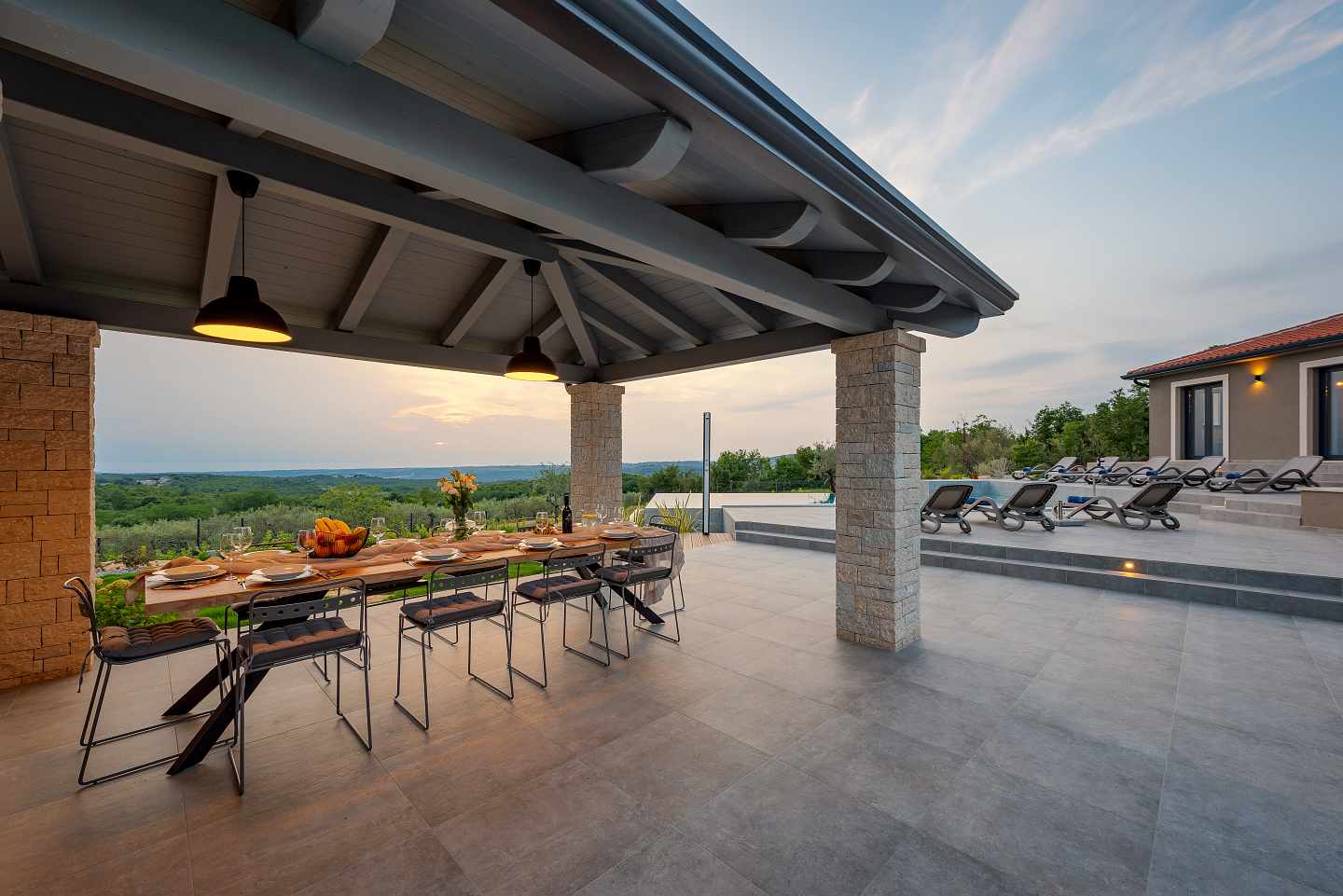 This villa with a pool is a modern house with up-to-date amenities and a unique position in Central Istria. It is a good choice for those looking forward to spending time on a terrace looking at the sea. If you're lucky, the panoramic view will get you a glimpse of the Alps.
#3 Villa Terani With Child-Friendly Amenities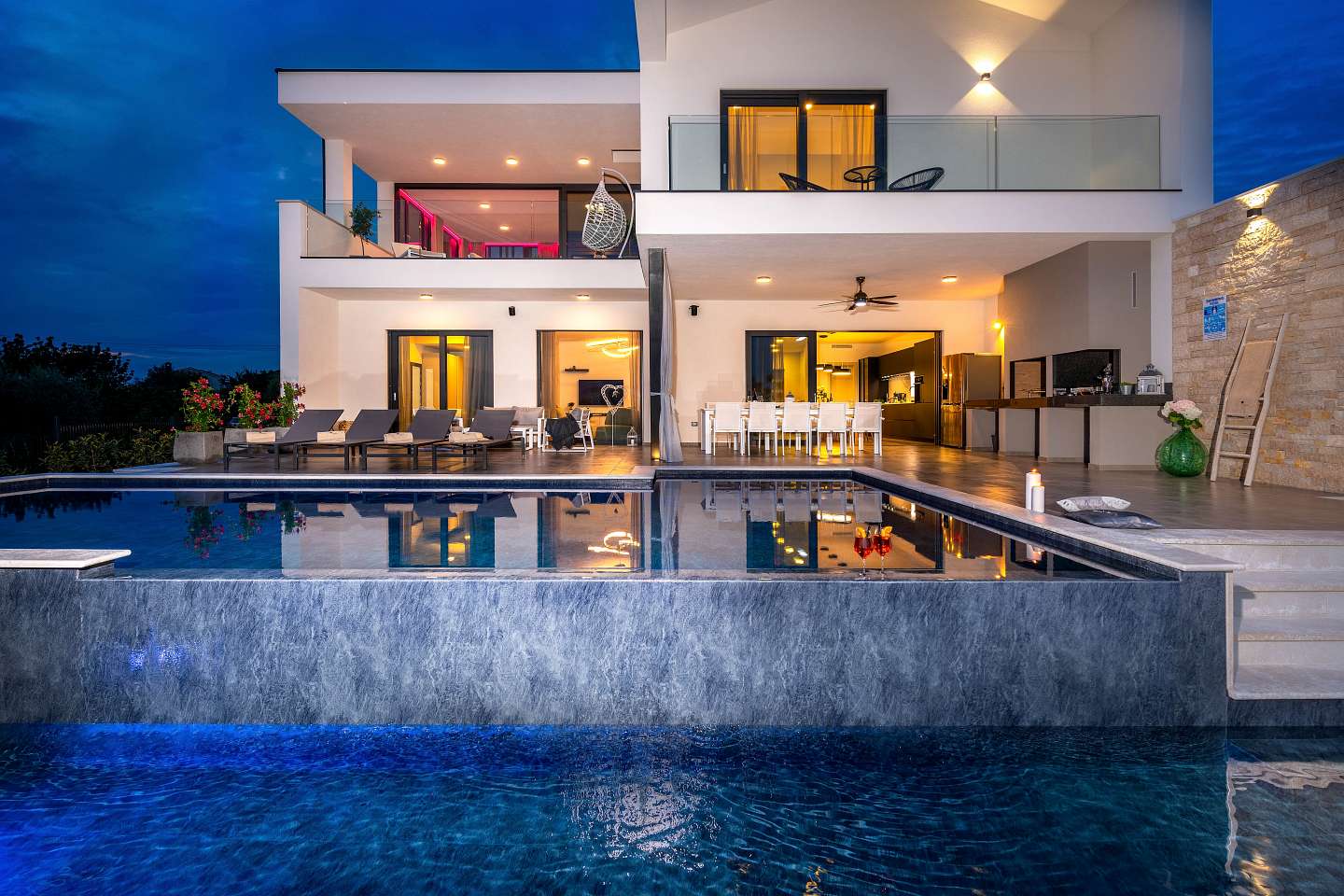 If you're searching for Croatian accommodation for large families or child-friendly, this villa is the best solution for you. It is a luxury compound, with a large swimming pool, terrace, and well-equipped kitchen. It is one of the best villas with a pool in Istria, Porec.
#4 Villa Sine Near The Best Blue Flag Beach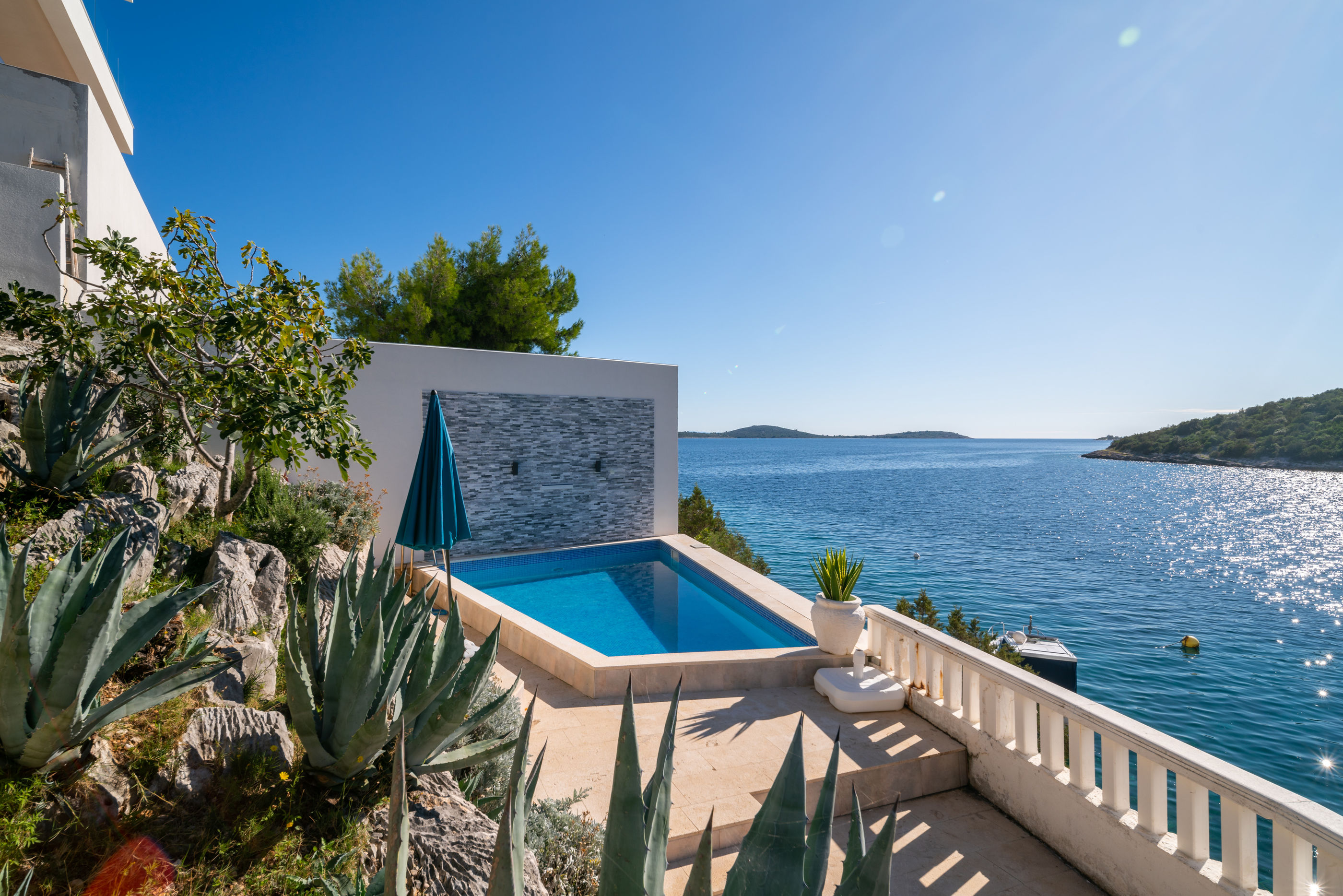 A quiet vacation at Villa Sine can be achieved with ease since it's located in a small coastal town in Vinisce. The villa is located near the shore with a heavenly sea view, surrounded by a gorgeous natural landscape.
#5 Villa Vesa With A Picturesque Seaview in Trogir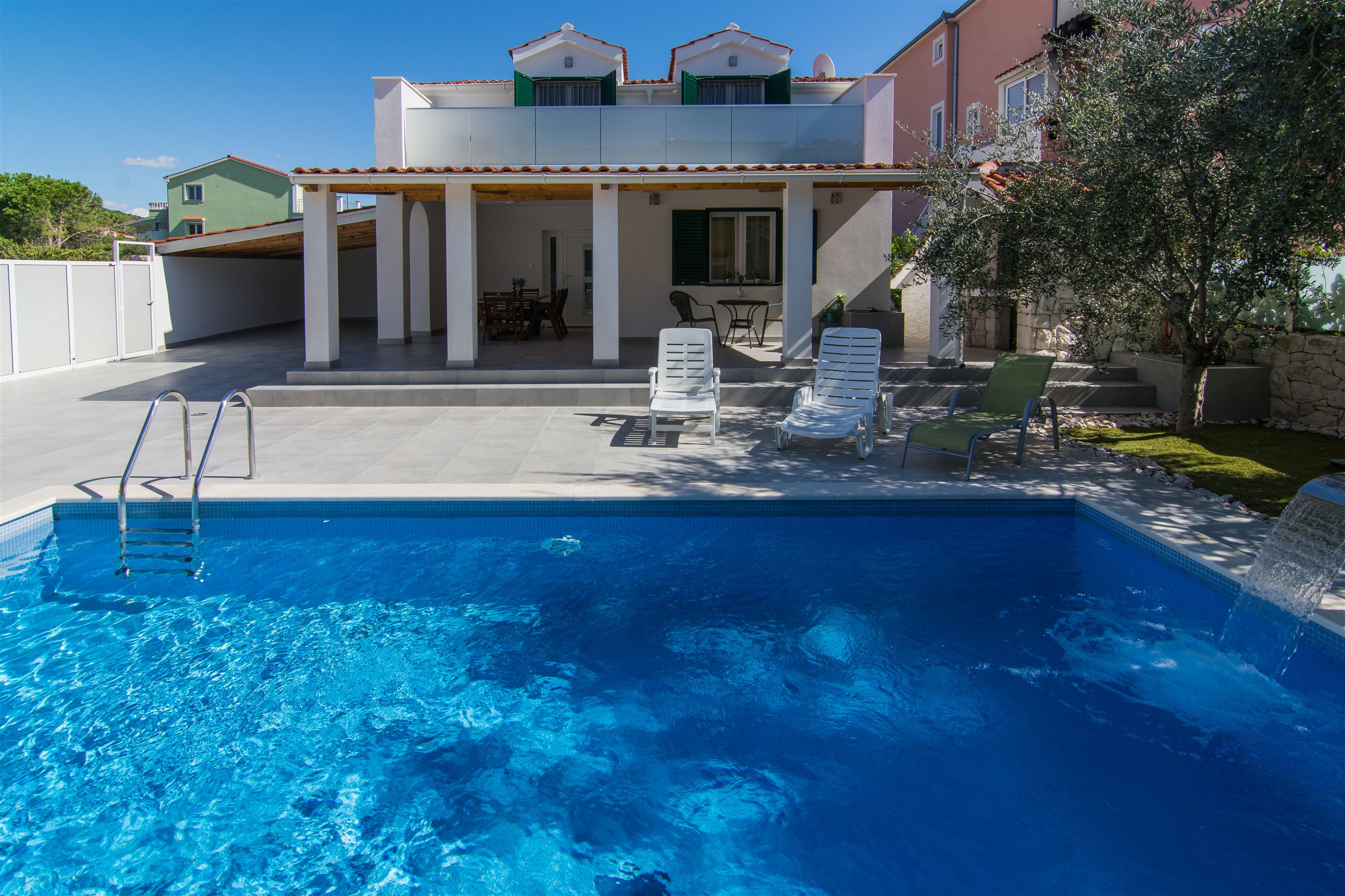 This villa is positioned 50m from the sea, and it is near Trogir. It is a good choice, especially for those looking forward to a pet-friendly villa with pool.
The Bottom Line
Booking a villa with a pool is a good choice if you want plenty of liberty to explore Croatia. And visiting areas such as Dalmatia can offer ease of access to explore the nearby islands. No matter if you opt for Istria or Dalmatia, you'll get the chance to explore local cuisine, wines, and historical landmarks. A Croatian villa with a sea view is a perfect opportunity to unwind and relax.