A resort town in Central Dalmatia, Makarska, is the town known as 'Croatia Riviera.' A small town with beautiful buzzing beaches, this is an excellent place for those who love to spend their summers travelling in Europe.
Makarska has long appealed to the tourists, either to soak up the sun or to party late at night. Beach parties, sunset, and sunrise parties are some of the best things to do in Makarska. The land boasts a combination of beautiful mountains on the one side and the Adriatic Sea on the other side.  This town is an epitome of a classic summer-by-the-sea. Not only the beaches, but this town holds a great history with an exquisite combination of nature. 
Planning a trip to Croatia? Makarska should be on the must-visit list. 
What to See In Makarska?
Whenever we think of visiting a place, the first thing we do is to search for the places to visit. Thus, we have curated the top things to see in Makarska, which should be on your itinerary for the Makarska trip.
Krka National Park
One of the few waterfall national parks around the world, Krka National Park, is situated along the Krka River in Southern Croatia. For nature lovers, the colorful pools with a spectacular backdrop offer to swim in pristine waters. 
This is where you want to visit with your friends and get soaked in sun-bathed warm water in Skradinski Buk Waterfall (top tourist place). Boasting some of the most serene natural wonders, there are hundreds of waterfalls pouring into small pools that are green as emeralds. Other highlights to the park include the small island of Visovac and Roski Slap Waterfall. Thus, this becomes one of the top places to visit in Makarska, Croatia.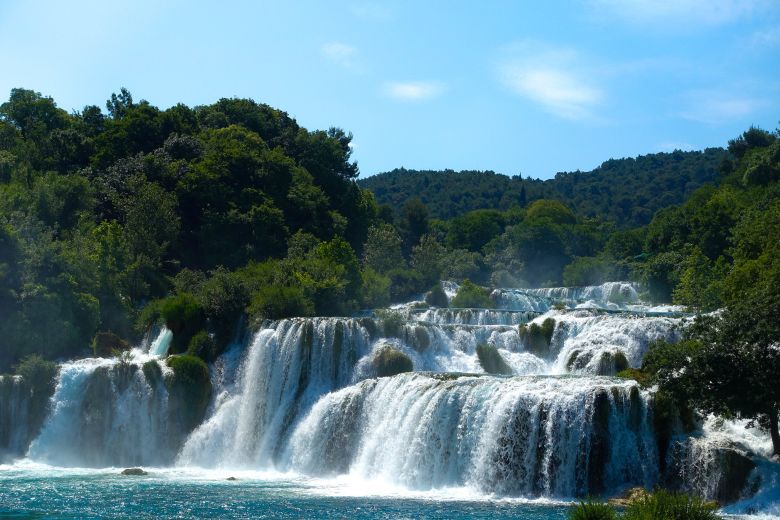 image credit: Mikka Luster
Svetiste Vepric
A wooded Catholic Pilgrimage site, Svetiste Vepric, is a Croatian sanctuary dedicated to Our Lady of Lourdes. It is a natural cave surrounded by many hills and creeks running in the valley. Various sacred sites like a chapel, an outside altar, several confessionals, a Way of the Cross, etc. can be seen inside Svetiste Verpic, each of which has their purpose in the sanctuary. This is a top place to visit in Makarska because of its natural beauty and peaceful surroundings. 
February 11th, March 25th, August 15th, and September 7th-8th hold special importance for pilgrims to visit this holy place. 
Kacic Square
Located in the middle of the town, Kacic Square is the oldest monument in Makarska. Surrounded by great restaurants and wine bars, this is the place to experience the nightlife when in Croatia. This square looks isolated in the off-season. While during summers, the evenings are lively with restaurants and street artists entertaining the tourists with local music and dance. Just a block away from the harbor, people love the waterfront and the cool breeze that keeps blowing. An evening at this square while visiting churches, eating, and drinking at night is the perfect way to experience this square.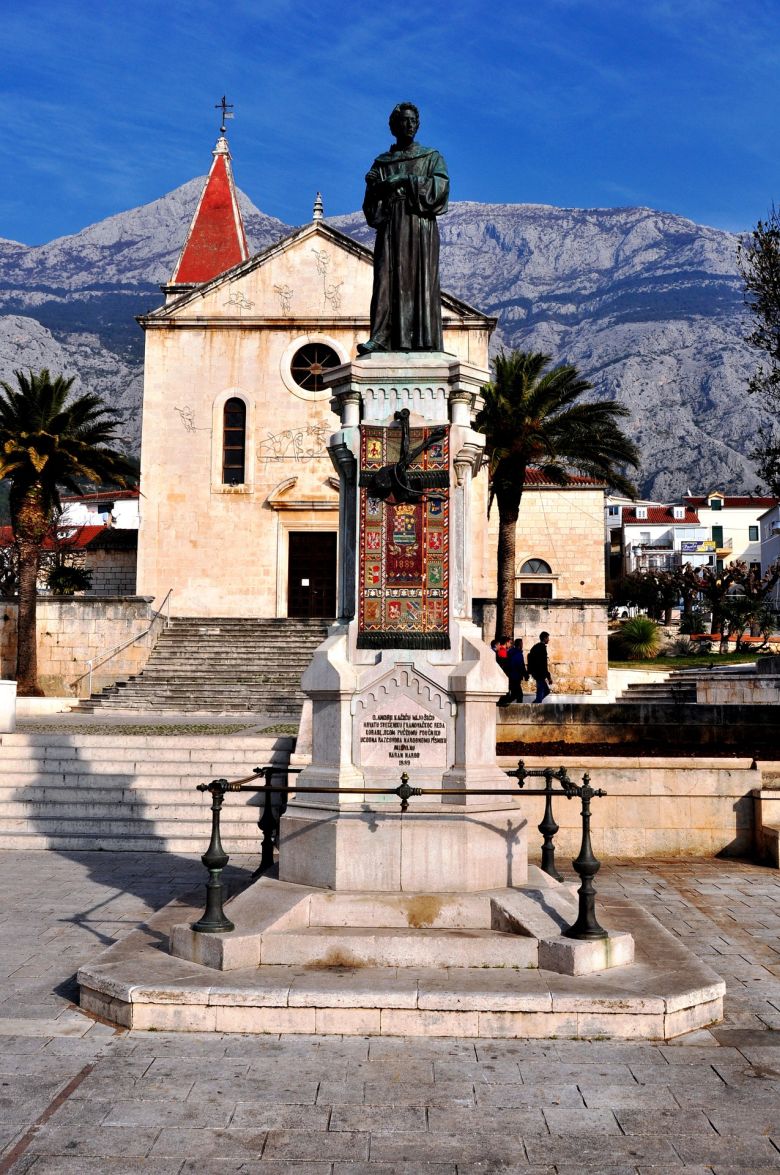 Franjevacki Samostan Monastry
Christianity is the main religion followed in Europe. Thus, every city has its cathedrals and monasteries. Franjevacki Samostan Blazene Djevice Marije Monastry is one such place. An exquisite cathedral, beautifully carved from outside, and breathtaking from inside, one can experience the greatness and feel peace, love in the arms of the beloved god. 
The stunning mosaic behind the altar with a domed roof and a picture of Franciscans of the area is one of the ignored places in Makarska, which one should visit on a trip to Croatia. But, one can live like a local when we go out and do activities which will help us carve future memories. 
What To Do In Makarska? 
Regardless of the season, Makarska offers lots of things for tourists to make their trip a memorable one. 
Hit the beaches
Who doesn't love to spend their day, tanning in sunlight, and doing water activities? Makarska is famous for its forgotten beaches. Southern Europe is all about its beaches, and Croatia is no less. 
With a partially shaded path, Nugal Beach presents pleasant views and scents from pine trees. It takes around 30 minutes from the city center of Makarska to reach this beach, also known as "The Nude Beach." A pebbled beach, surrounded by cliffs, can reach this beach only by foot or by a boat. There are so many villas with pools where you can stay, from where you can see the view of the Adriatic Sea. Moreover, these pools are situated near the beach, giving an exclusive experience for the trip.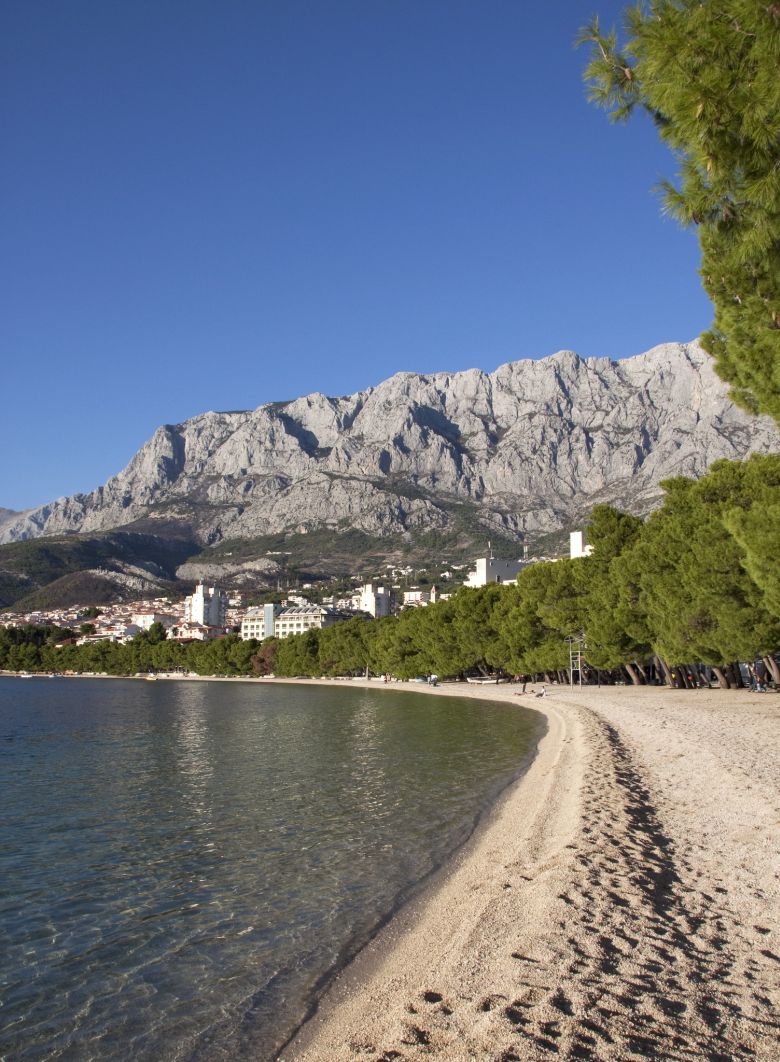 image credit: Tony Hisgett
Watch the sunset
Mind-boggling beaches, far away in the land where mountains meet the sea, one loves to watch sunsets sitting with their partners and just gazing deep into the sea. Indeed, by witnessing the beauty and awe of a sunset, the calming and the beautiful moment can only occur when we are at an exotic place like Makarska. The sun casts a pink due over the mountains during sunset at Croatian Dalmatian Coast. Thus, rightly said, one can never see enough sunsets. 
Water Sports
What better way to have fun with your friends at beaches other than exploring various water sports? There are always locals fooling around with various water sports like snorkeling, rafting, water polo, or kayaking along the main beach. This exotic place offers lots of options to enjoy the summer like a real European. 
Hiking
Being a place where the mountains meet the sea, tourists love to go hiking with to engage with mind-blowing oceanic views. The top of the St. Jure, the highest peak in the region, is one of those hikes which one should go to. This hike takes around 7 hours to go one way, but the view is mesmerizing that you won't be able to experience such a thing in your life.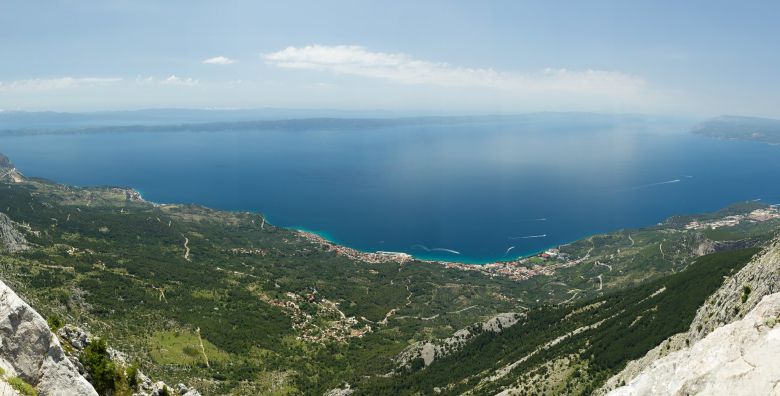 image credit: Breta Valek
Explore the nightlife
Exploring the city during the day, one would love to relax at the end of the night, while chilling out with friends and having local Croatian food with drinks. Night clubs, sunset parties at beaches which go on till sunrise, will make you rolling and drinking for the time you are there. Even if you are not a party animal, there are plenty of bars and restaurants along the promenade where you can sit and chat while having relaxing drinks. 
Conclusion
Thus, Makarska is one of the most exotic places to visit in Croatia, a perfect blend of nature and beachy life. The streets are highly inspired by ancient Italian architecture. Thus, we feel that this is the perfect getaway place for everybody planning a trip to Croatia. 
And when you are here, do try out Villsy's villas with pools, specially curated for a luxurious and comfortable stay. We are sure you will make lifelong memories here.